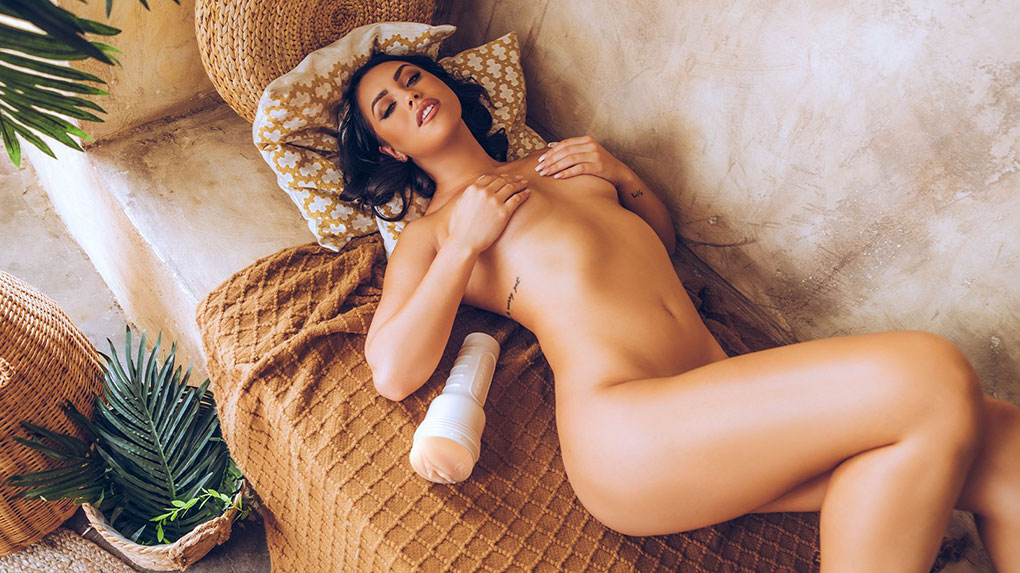 In a sea of masturbators on the market, there's only one beacon of light that everyone instantly recognizes. It's the name that is often on many a man's lips and the toy that revolutionized the market over 20 years ago. Considering just how big of an impact these toys had, I simply had to devote an entire page to them. So, without further ado, today I present to you the infamous, glorious, world-changing – Fleshlight Girls.
Look, I know we all know about Fleshlight Girls. We know them, we love them, and we probably own more than one of them. However, did you know that the Fleshlight started as a way to relieve frustration and was marketed as a discreet sperm collection device? You didn't? Well, let me tell you all about that and more!
All The Available Fleshlight Girls
🏷️ Products Reviewed: 26
🥇 Best Product: Stoya Fleshlight
📅 Last updated: September 16, 2023
Fleshlight Girls 101 – What Are They Really?
I am a huge fan of pretty much all Fleshlight Girls. Now, I haven't had the opportunity to try each and everyone, but the ones I have, have blown my mind. It's really no wonder that the Fleshlight Girls are the most popular masturbators out there.
But, for those who have been living under a huge rock and those who might not know about these lovely ladies, let's see what Fleshlight Girls actually are.
A Fleshlight is a masturbatory sleeve. Each one has four different parts – the plastic casing, the cap, the end cap, and the pièce de résistance, the sleeve.
It sounds simple, but this particular toy is anything but. What started as a humble sleeve in a plastic shell back in 1995 is now the Beyonce of sex toys; everyone knows about it, and everyone has tried (or wanted to try one). What's more, these toys have become so widespread that their name has become synonymous with the word "masturbator."
However, not all male masturbators are Fleshlights. Likewise, Fleshlight Girls aren't really ordinary sleeves. They are a unique line of Fleshlights that are replicas of the private bits of famous porn stars. Each of the Fleshlight Girls sleeves has an entry that is a beautiful, realistic replica of one porn star's vagina or anus. Although lifelike, Fleshlight Girls also have a specific cartoon-ish quality, making them even more attractive.
This business move that the company made in 2008 launched the brand into even bigger heights. Even today, they are dominating the market. Although they've had several launches for new lines of products in the previous decade, no toy can top the popularity of Fleshlight Girls.
But how did they come to be?
Fleshlight Girls Rewind – How Fleshlight Girls Came To Life
The history of the Fleshlight sex toy brand is a rather interesting one. Back in 1995, the founder, Steve Shubin, wanted to buy a sex toy that would help him get some relief during his wife's high-risk pregnancy. Disappointed by the selection that was available on the market, he decided to make his toy. Because that's what you do when you can't find a toy you like, right? You say "fuck it" and throw $50,000 at the problem and come out the other end with a stellar sex toy.
Luckily, since Steve did it more than 25 years ago, you don't have to. In Steve's defense, the market really was abysmal back then. The masturbators were either ugly and offputting or vague and bland, and they all looked like rubbery sandworms since they didn't have an outer shell.
Fleshlight solved that problem and, in 1998, hit the market. It was an instant hit, especially when their Sex-In-A-Can line came out. Who knew that men were dying to have masturbators that looked like beer cans? Well, Steve and the gang, apparently.
They also knew another thing. Every dude (and I do mean EVERY SINGLE ONE) dreams of fucking a porn star. Don't lie; the thought has crossed your mind a time or two – the things I'd do to that girl if I could get my hands on her. Well, now you can, at least by proxy.
Fleshlight Girls were born out of the desire to bridge the gap between the unattainable porn stars and their audience. They are fantasy brought to life, all in a handy, practical plastic casing. What more could a man want?
But How Did The Porn Stars Get Roped Into It?
Well, "roped into it" is somewhat of a strong statement. The leap from having the entire world look at your pussy and having men around the world fuck into a replica of it isn't really that big.
Fleshlight Girls are made by Interactive Life Forms, a company founded by Steve Shubin. It's somewhat of a family company, considering that a couple of his sons work with him as well. And it was actually Steve's son that came up with the idea of monetizing the expanding popularity of the adult film industry. He saw an opportunity in bringing in girls that were at the height of their popularity back then and molding the Fleshlights after them.
This idea, although revolutionary, wasn't completely new, considering that the company already had a molding system developed. They knew how to do it; it was just a matter of getting the right girls to come in and "model."
At the end of the day, that wasn't a challenging task. All they had to do was call the girls and have them come in for a fitting.
Related
The Nitty-Gritty Of The Molding Process
Mr. Shubin patented the Fleshlights with a specific material in mind. To this day, that compound has stayed the same. Of course, the Fleshlight brand made particular changes to make it more pliable and supple, which is why today, we have the skin-soft sleeves that we oh-so enjoy.
As for the molding process, it's not as difficult as one would think. As many of you probably guessed, it involves some plaster and an accommodating chair. In order to get the most beautiful end result, the girls have to be as excited as possible during the molding process. That isn't as easy to pull off, given how cold the plaster is. But they get them all nice and plump, place the plaster, pull it off, and reverse the mold into clay.
And just like that, you have a future Fleshlight model!
OK, But What Kind Of Material Do They Use In Production?
All of the Fleshlight Girls are a combo of ABS plastic and Superskin material. The plastic, of course, is on the outside, while the inner sleeve is made out of the now-famous Superskin synthetic material.
Fleshlight Girls and the Fleshlight brand actually made Superskin famous. If it sounds familiar, it's because many toy manufacturers jumped on the Superskin train when they saw all the marvelous benefits it has.
In short, Superskin is:
Latex-free
Body-safe
Highly realistic
Soft and supple
Heat retentive
How To Pick The Best Fleshlight Girl For You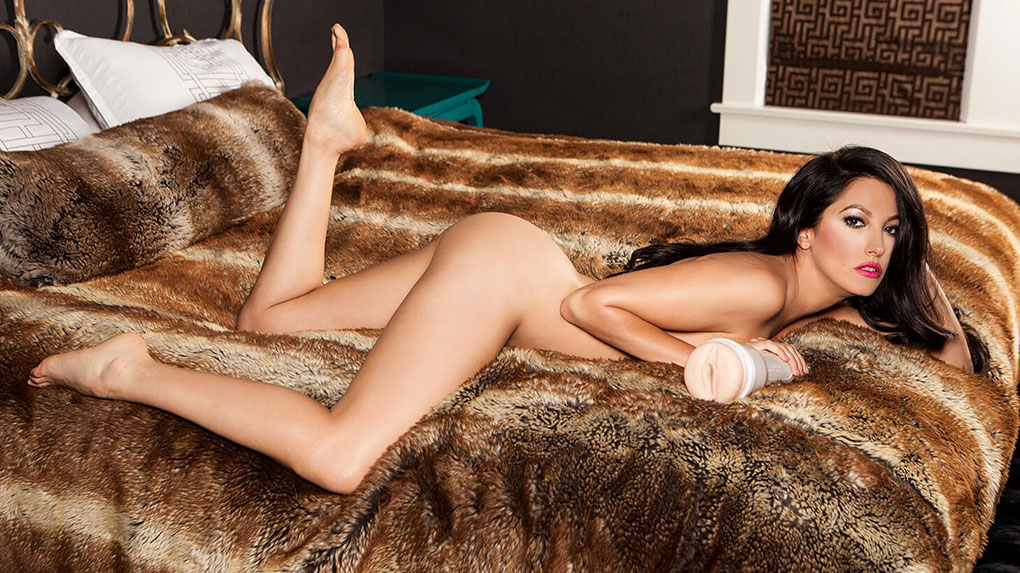 To be honest, when it comes to picking the best Fleshlight Girl, it's all about personal preference. However, there's more than outer appearance that you need to think of. If you're a massive fan of a specific Fleshlight Girl, then you probably already know which is the best Fleshlight Girl for you. In my case, it's Stoya, and not only because her sleeve is called Stoya the Destroya. That's just a happy accident.
But, if you aren't like me, and you don't have a favorite porn star among the Fleshlight Girls, how do you make your choice? Well, you could always go for the tightest Fleshlight Girl or the one you find most visually appealing.
Fleshlight Girls have many different textures inside. The bestseller is the Lush texture that you'll find inside of Abigail Mac's tight little pussy. So, if tightness is what you're going for, you might consider getting that one.
However, before you rush and click on that "add to cart" button, consider some other factors as well.
The Sleeve
First and foremost – are you a butt dude or a pussy dude? Which heavy pot do you like to dip your Pocket Rocket into? That's the first decision you have to make. Fleshlight Girls usually come in two forms. You can take your pick between the lady sleeve and the butt sleeve.
Both are equally realistic and look quite like the butts and vaginas they were modeled after. However, the butt sleeves are generally tighter than the lady sleeves, especially in the entrance area (duh). However, keep in mind that when picking between a specific Fleshlight Girl's sleeve type, no matter which option you opt for, you're also choosing a texture.
Since butts are tighter than vaginas, butt sleeves have smaller openings and tighter chambers. Some might find that thrilling while others don't like as much pressure, so they opt for something looser. As I said, it's all about personal preference.
The Texture And Color
Once you pick the sleeve type, you can go one of two ways:
pick the porn star you'd like to fuck (by proxy)
or choose a texture that you like
When it comes to the texture, Fleshlight Girls are a land of variety. Each of the Fleshlight Girls has a specific texture inside that usually has several different chambers that are filled with nodules, ridges, and bumps. They are all there to make your experience better, more pleasurable, and unforgettable.
Some of the fan-favorites among many different textures that Fleshlight Girls offer are:
Lush
Let me get this out of the way right now – every Fleshlight Girl structure looks like the inside of an alien torture chamber. However, it's that look that you can thank for every glorious nut you bust. So, get over it.
Anyway, as mentioned, Lush is one of the tightest textures, and you'll find it in Abigail Mac's Fleshlight Girl. It has several chambers that will keep a tight grip on your Sexcalibur, as well as ridges and nodules that will massage that cum right out of you.
Treat
Inside of Elsa Jean's butt, you'll find a real treat in the form of the Treat texture. It has more constricted chambers than Miss Jean's vagina sleeve and five different sections that will drive you wild.
Epic
If you're a Stoya fan but want a butt sleeve rather than a lady sleeve, you can feast on Stoya's ass and thrust your dick into the wonderful Epic texture. It starts tight and a bit bland but then switches things up about halfway and takes you for one of the wildest rides of your life.
Obsession
Jena Haze is already someone we all obsess about, but with her lady sleeve's Obsession texture, our fascination will hit an all-time high. Obsession was properly named given that it's a texture that starts off just like it finishes – hard, intense, and unforgettable.
Silk
Silk is one of the non-pink sleeves, which is completely appropriate, given that it graces the insides of Ana Foxxx's lady sleeve. It has more prominent ridges and bumps that are more than worthy of this Ebony Goddesses' sleeve.
Material And, Of Course, The Sensation
As I already mentioned, all Fleshlight Girls are made out of the Superskin material. So, there isn't much to choose from in terms of material. However, considering that Superskin is only compatible with water-based lubes, some people might not think it's the best choice. I respect that and, even though those people are wrong, I won't argue anything else. I'll just say that if you aren't a fan of the Superskin material, then Fleshlight Girls might not be for you.
Finally, we come to the most important factor of them all – the sensation. Of course, the feeling you're going for is a matter of personal preference. What's more, the sensation also has a lot to do with the inner texture of the sleeve. Since I already talked about that at great length, I won't repeat myself.
The only way to actually get the sensation you're going for is to pick the perfect appearance and texture combo. Appearance plays a great part in the overall impression you'll get once you get your hands on one of the Fleshlight Girls. So, choose carefully!
Related
Don't Let Your Fleshlight Girls Get Dirty!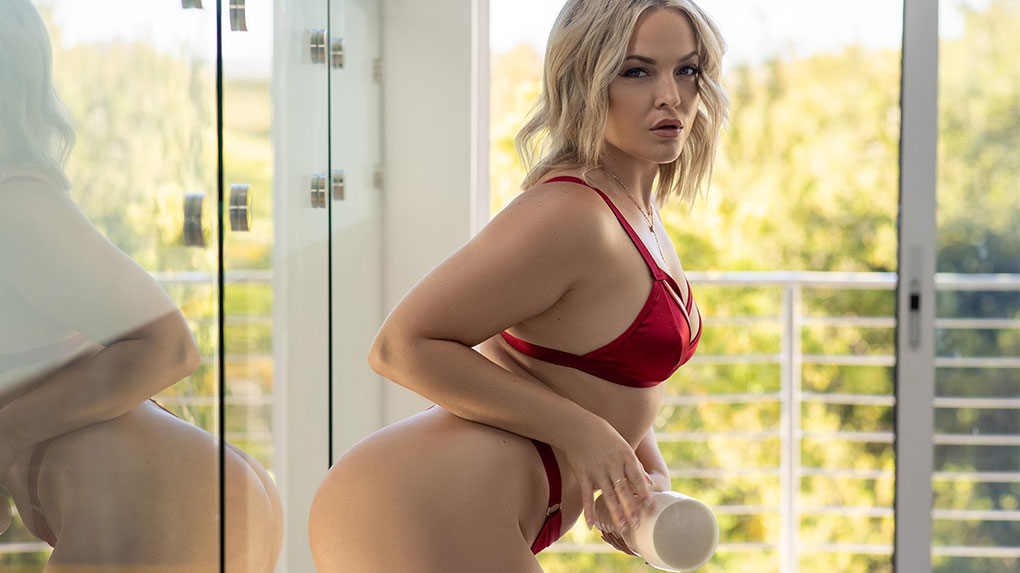 Now, as always, I have to spare a moment or two to talk about hygiene. Keeping all your sex toys, not just the wonderful Fleshlight Girls, is imperative.
Luckily for you, the Fleshlight brand has made their girls really easy to clean. As I already explained, every Fleshlight Girl has four parts. Out of those four, you only need to clean one (the sleeve, of course). So, unscrew both the upper and the bottom cap, and take your lovely sleeve out of the plastic casing. Once you've done that, use some mild soap and warm water to clean the sleeve. You can also use any sex toy cleaner that you have on hand.
The sleeve has to be completely dry before you put it back into the plastic casing. If you don't have the patience to wait, use the pencil method. Wrap some cloth around the blunt end of the pencil and push it inside of your sleeve to dry it. Be gentle! Fleshlight Girls deserve to be treated like royalty.
Now What?
Well, after you clean and dry the toy, put the sleeve back into the plastic casing and screw both caps on. Once you've done that, you can store your Fleshlight Girl anywhere you want. The outer plastic sleeve will keep the soft and supple Superskin safe and ready for subsequent use.
Storing really isn't a problem with any Fleshlight product. After all, they were made to push out the sleeves that had no casings off the market. What's more, the general idea behind the product was that it was supposed to be discreet and practical. So, storing is quite simple – just shove it anywhere you want. As long as you don't forget where it is, you're golden!
How To Get The Most Bang Out Of Your Fleshlight Girl
Using Fleshlight Girls, no matter which one you pick, is pretty self-explanatory. However, there are a couple of tips I'd like to share. These will come in handy to everyone but especially those who are new to the sex toy world.
Always Use Lube
As excellent as they are and as realistic as they might seem, Fleshlight Girls aren't self-lubricating. So, you always need to use lube when playing with them. Sadly, that takes away from the fantasy. But then again, does it really?
Anyway, because the Superskin material is only compatible with water-based lube, always go for that option. If you use another type, you might end up damaging your toy.
If You're Aiming For A Realistic Feel, Warm It Up
As I mentioned, Superskin retains heat. That means that after a while, you'll feel the material getting gradually warmer and warmer. That's a great feature, right? Yes, but you can take it a step further. Why thrust into a cold sleeve when you can heat it up and feel as if you're fucking into a real vagina (or a butt).
There are heating rods available on the market that you can push into your Fleshlight Girl and heat it. However, if this is too much of a hassle for you, you can also put the inner sleeve under some warm water.
Try It Hands-Free
You can use your Fleshlight Girl by sliding it up and down on your schlong, holding it with your hand and thrusting into it, or hands-free. I prefer the hands-free option because it's more realistic. Furthermore, it gives me the liberty to do whatever the hell I want with my hands (like twist my nipples or something).
The hands-free Fleshlight Girl experience takes a bit of preparation. On the bright side, you can make it happen in a variety of ways. All you have to do is wedge the toy somewhere and make sure it keeps steady while you do your thing. You can use two sofa cushions, pillows, under your mattress (if you have a high bed frame), etc.
Of course, you can also buy a Fleshlight Mount that's made specifically to make hands-free sessions possible.
Everything You (Still) Want To Know – Fleshlight Girls FAQ
Can I Use The Inner Sleeve Without The Outer Shell?
Technically, you can take the sleeve out and use it as it is. However, the feeling will be completely different and, simply put, not as good.
Will Any Fleshlight Girl Accommodate My Big Size?
All Fleshlight Girls are around 8.9 inches long. Out of that, approximately 8.5 inches is the insertable length. However, even if you're one of the lucky few who's packing a more-than-9-inch-dong, you'll still be able to enjoy any Fleshlight Girl. You just won't be able to go in balls-deep.
Most Fleshlight Girls have a maximum circumference of 7 inches, which is more than enough (even for the thickest of fat cocks).
Is A Fleshlight Girl Worth Buying If I Have A Below-Average Dick?
I know many men who gave up on the idea of getting a Flashlight Girl because they get intimidated by the almost 9-inch size. Given that most textures have different chambers and that the final chamber is usually the tightest, most fun one, I can see how someone who has a 5-inch penis might lose interest in buying a Fleshlight Girl.
However, keep in mind that pretty much all textures in all the chambers (including those at the very beginning) are excellent. So, I definitely think that these sex toys for men are worth the money no matter your size. You'll be able to enjoy them either way.
Can I Come Inside On My Fleshlight Girl?
No doubt about it, the answer to this question is a hard yes. They are easy to clean, so there really is no reason to jizz anywhere else but inside.
Will The Material Tear During Rough Play?
Superskin is soft and supple but also very durable. If you care for it properly, clean it after every use, dry it carefully, and store the toy away from sunlight, you should have many years of fun ahead of you. However, depending on how hard you go when you play, there is a slight chance of some wear and tear. But, keep in mind that you'd have to go really, really hard at it in order to rip it or damage it in any way.
A Few Parting Words
Fleshlight Girls revolutionized the market, but they also revolutionized the way we wank. Sure, their impact might not be as apparent to you as it is to me, but I see what the company did when it comes to destigmatizing male masturbation. They also successfully bridged the gap between porn stars and their audience, and for that, I applaud them.
Are you as big of a fan of Fleshlight Girls as I am? Do you have a favorite? Let me know; we can compare notes!
Disclaimer
Our articles feature affiliate links. If you appreciate our content and would like to show your support, you can consider buying your new sex toys using the links we provide. Every purchase made through our links helps us earn a small commission, without any additional cost to you.