One of the greatest advancements in solo sex technology comes to us from none other than the masterminds at Kiiroo. Only a few weeks ago, they introduced a new product that's supposed to wipe the floor with any other strokers (I'm looking at you, Fleshlight Launch). I've managed to get my hands on this little marvel, and have written a Kiiroo Keon review to blow your minds. So let's jump right in.
💡 Attention, everyone! Get ready for exciting news! Kiiroo Keon just leveled up with a mind-blowing upgrade! It's now compatible with FeelMe AI, the revolutionary app that turns adult content into interactive experiences. Don't miss out! Click here for pleasure-filled possibilities and let the adventure begin!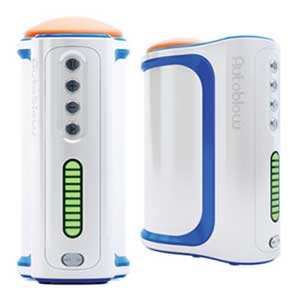 Autoblow A.I.+

Hands free blowjob toy

Heavy duty motor

Powered by artificial intelligence

Interchangeable sleeves

Body-safe materials

Plug it into any electrical outlet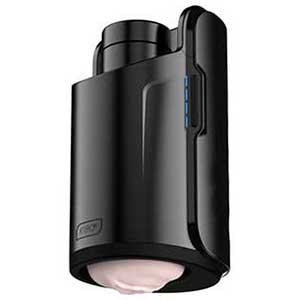 Kiiroo Keon

Automatic stroker

Sliding scale of speed

Elegant and discreet

Real-feel masturbation sleeve

Connects to video chat platform and VR porn

Easy to store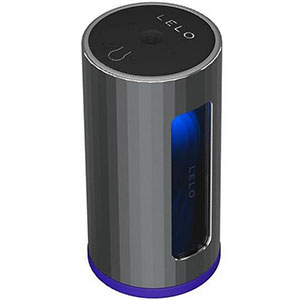 Lelo F1S V2

Hands free blowjob machine

Long-lasting charge

Fully waterproof

Powerful sensations

Realistic artificial skin material

Easy to clean

Promo Code: "HAPPYBF" - 15% Off
What Is Kiiroo Keon?
The Kiiroo Keon is the newest toy in Kiiroo's line, and it's one of the most advanced and interactive things on the market right now. It's a smart, automatic male masturbator that has a ton of different features to satisfy every sex fiend in the world. In fact, to enjoy the Keon, you don't technically even need to have a skin flute, but I'll get to that a little later.
The toy's main selling point, and the reason I decided to write this Kiiroo Keon review in the first place, is its interactivity. In simpler terms, this has got to be one of the best toys in the world if you like jacking off with someone. It could be a pornstar, your partner who's halfway across the world, or even the person sitting right in front of you.
From what I've seen so far, Kiiroo's Keon is a massive improvement of the Launch. It's taking the sex toy industry in an amazing direction. But enough dicking around, let's get into what you all want to know  - how the Keon feels.
Kiiroo Keon and the Feel Stroker
The Feel stroker, which is designed to go with Keon, can also be used as a standalone blowjob toy. It's pretty much the same size as most Fleshlights, and it has a cooter opening.
The outside case is a mix of ABS plastic and polycarbonate (PC), which are two extremely sturdy and durable materials. Since it's made to work inside the Keon, the Feel stroker doesn't have any grips on the case. That makes it a bit more difficult to work with when you're using it on your own.
Feel's sleeve is 100% TPE, which is a super soft rubber-like material that's in most high-quality toys nowadays. On the inside, there are a ton of spiral ridges that feel incredible on your lap rocket. They will turn you on and get you off faster than you can say Oooh, what does this button do?
Click Here To Check The Up To Date Price
Kiiroo Keon Specs
Okay, let's do a deep dive into Keon's specs and see what makes it so special. The first thing you should know is that, on its own, it's pretty lightweight, and it only weighs 10.5 oz. But the Feel stroker comes in pretty heavy, with 28.2 oz.
I also wanted to talk about battery life in my Kiiroo Keon review because it's pretty damn impressive. Inside the toy, there's a 16,8V, 700 mAh battery, which can last anywhere between 30 minutes to 2 hours. Of course, that all depends on how you use it.
It takes about 4 hours for the toy to fully charge, but you have to plug it into an outlet. Charging the Keon by plugging it into a laptop is virtually impossible, and I don't recommend trying it.
Keon's case is pretty similar to the RealFeal, but in addition to PC and ABS plastic, there are also silicone buttons. Overall, I think that it's pretty durable, and accidentally dropping the toy on the ground wouldn't cause much damage.
Feel Technology

Now let's get into the main event, and the reason you all tuned into this Kiiroo Keon review – the trademark Feel technology. With this toy, you can completely immerse yourself into content, and feel what the actors/stars are feeling; blow by blow. And it all starts with downloading the Kiiroo app.
Syncing up With Your Favorite Pornstars
If you've ever watched porn and wanted to join in on the fun, now's the time to do it. By connecting to the app, you can have virtual sex with a whole bunch of the hottest pornstars on the planet.
Feel technology is compatible with a few different websites, including FeelXVideos, FeelMe, UFeelTV, and of course, the big daddy, Pornhub. If you're not tech-savvy and don't know how to connect, Kiiroo has made an instructional video, which is really informative.
Syncing up in Virtual Reality
If you're someone who likes POV porn, you're going to love the Feel technology. Basically, it works almost exactly as the interactive content, and it all goes through the app. You have to connect the Keon, as well as your VR headset, and you'll see and feel everything first hand.
If you don't own a set, but want to know what it's like getting a blowjob from a pornstar, I recommend buying the Kiiroo VR headset. It came out when Titan was released, and it got good reviews all around.
Syncing up With a Partner
Long-distance relationships are really tough, especially because you can't touch or feel your partner whenever you want. And sure, sexting can be fun, but if you want to get close to the real deal, you need the Keon & Pearl special.
Thanks to the Feel technology, you and your partner can sync up your two toys, no matter where you are. So if they're playing with the Pearl, you'll feel exactly what they're doing. On the app, there's even a video chat feature, which lets you see your partner's face as they're getting (you) off.
The Manual Functions
Of course, sometimes you probably can't be bothered to mess around with VR or different apps, and you just want to fly solo. As expected, the Kiiroo Keon shines there, too, and it shines much brighter than the Launch.
All you have to do is put a buttload of lube inside the stroker, and on yourself, and hit start. Again, if you don't want to fiddle with the app, you can use the buttons on the side of the Keon to change the speed and stroke settings.
What's cool about this masturbator is that, when you crank the speed up to high, and the strokes to low, it can go as fast as 230 strokes per minute. Yeah, it is as amazing as it sounds.
Do you know how most people say that toys can never be as good as the real deal? Well, if you show me a person who can go 230 strokes per minute, I'll gladly give up my job, and never use a male sex toy again. But for now: Keon 1 – Humans 0.
Double Action
Do you remember how earlier in my Kiiroo Keon review I said that you could use the toy with a partner right next to you? Well, it's completely true, but it'll require just a little bit of DIY, and a toy that has some suction ability.
Basically, all you have to do is get a toy (dildos or longer anal beads would work best) and stick it to the top of the Feel stroker. Then, put that toy into your partner, get the Keon on you, and hit Start.
You two could have a blast using the Kiiroo Keon together, and you'd be going through the same motions together. As I said, this is just a little lifehack if you don't have any other interactive Kiiroo toys or if you're in a pinch. But it's honestly more than worth trying it.
Click Here To Check The Up To Date Price
Fleshlight Launch vs. Kiiroo Keon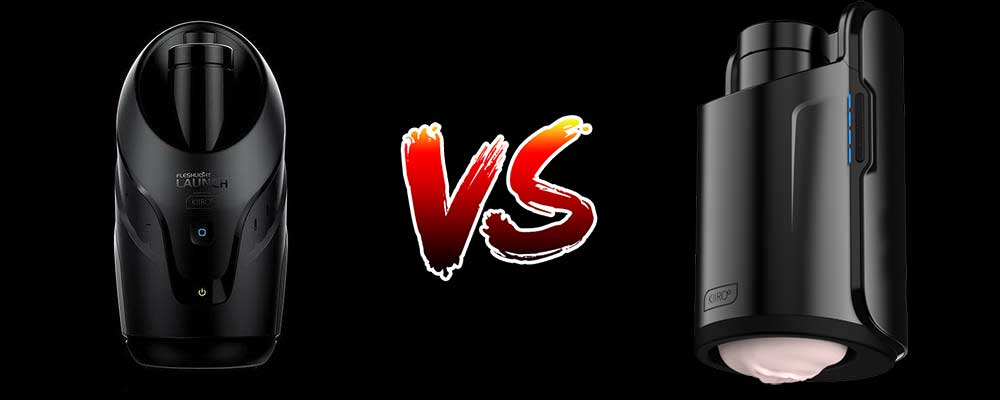 Given how many shots I've taken at the Fleshlight Launch in my Kiiroo Keon review, I thought that I'd settle the score. So I decided to do a head to head battle, and compare the old school vs. new-gen to see who comes out on top.
The Design
First, let's talk about the design of both toys because I definitely have a favorite, and (spoiler alert) it's the Keon. On the surface, the two look fairly similar, but it's a totally different ballgame when you have them on you.
For starters, Keon is lighter than the Launch, which means it's much easier to hold. Also, it can stand on its own, and you don't have to hold it the entire time while you're playing.
But I could've overlooked these minor things had it not been for the buttons. You see, when you hold the Launch in your hands, chances are, you're going to press something on accident.
Luckily, Keon doesn't have that problem since the buttons are on the back. So it's solely up to you what you're going to press, and there's a slim chance that you could accidentally push the wrong thing.
The Performance
When it comes to performance, again, there are no two ways about it – Kiiroo Keon is better. It's faster, it's stronger, and it feels much better when it's on you.
But the thing that won me over was the sound. Every time I turned on my Launch, especially after I've had it for a while, it kept getting louder. It was almost impossible for me to turn the stroke and speed settings up without waking up my whole neighborhood. Okay, I might be exaggerating a little bit, but it's still super loud.
Keon doesn't have the problem, even when you crank it all the way up. So while I think that the Launch has its place in history, and it definitely started a movement, it's just not cutting it anymore. Keon is more innovative, easier to handle, and the settings are more enjoyable.
Related
Cleaning the Kiiroo Keon
If you have the Fleshlight Launch, then you already know how to clean the Kiiroo Keon. But I thought I'd use this part of the Kiiroo Keon review to explain it for the novices out there so that they don't accidentally mess up their fancy, new toys.
When you're done beating your meat, get up, and get to a sink as soon as you can. Don't wait for your juices to stew inside the Feel stroker because that's not only gross, but it can also ruin your toy.
You need to get the stroker out of the Keon before you do anything. Then, you'll need to take off the cap by twisting the bottom part. Once the cap's off, you can gently take the sleeve out. The keyword here is definitely gently because if you try to yank it out, you risk having your baby batter fly across the room. So just go slow and steady, or you'll be cleaning jizz off your wall.
After that, get some toy cleaner, and squirt or spritz a few pumps right into the sleeve. If you don't have one, I recommend Kiiroo's cleaner or the one from Lovehoney. They're both sprays, and they're super easy to use.
After a few minutes, you can rinse the sleeve with some lukewarm water, and leave it out to air dry. If you've left some lube fingerprints on Keon's case, just grab a wipe, and go over it once or twice.
Where Kiiroo Keon Falls Flat
Okay, here's the thing. I absolutely love this toy, but I hate the lack of diversity. For starters, you can only use it with the Feel stroker, and nothing else. Right now, there are no other strokers in Kiiroo's line that are compatible with the Keon.
Another thing that was a letdown while writing this review is that, unfortunately, Keon can't be used with a Fleshlight. I had hoped that since the Launch was a collaborative effort, maybe Keon would play well with others. But that just wasn't the case.
Now, since the line is so fresh, I'm sure that Kiiroo will expand it at some point, but it's kind of a bummer that there weren't any options right out of the gate.
Another minor issue that I wanted to mention in my Kiiroo Keon review, and one that you probably picked up, is that the cleanup can be a bitch. I mean, by the time I've taken the Feel out of the Keon, and then the sleeve out of the stroker, I am so over it. But I guess that that's the price you have to pay for a breathtaking blowjob.
To Sum up
That's all I have for my Kiiroo Keon review, and I hope you guys enjoyed it. I wholeheartedly recommend grabbing this toy while you can with the original sleeve. Keon is truly on the cutting edge of technology, and it's running circles around most masturbators nowadays. Honestly, it's not something you'll want to miss out on.
Click Here To Check The Up To Date Price
Product Specs:
| | |
| --- | --- |
| 🏷️ Name: | ⭕ Kiiroo Keon |
| 📁 Type: | ⭕ Male Masturbator |
| ⚙️ Features: | ⭕ 230 Strokes Per Minute |
| 🛠️ Materials: | ⭕ TPE |
| 📅 Last updated: | ⭕ September 16, 2023 |
Disclaimer
Our articles feature affiliate links. If you appreciate our content and would like to show your support, you can consider buying your new sex toys using the links we provide. Every purchase made through our links helps us earn a small commission, without any additional cost to you.