A lot of men I talk to associate male anal play with homosexuality. But straight, gay, or anything in between – the physical male body still feels extreme pleasure when the prostate is stimulated during sexual activity. It's a scientific fact. The prostate is a small gland between the penis and the bladder, and produces fluids to protect the sperm which is released when a man ejaculates. Massaging this area (accessible a couple of inches inside the anus) can cause increased ejaculation, and crazy intense feelings of pleasure. In many cases it's not unusual for men to climax solely from massaging of the prostate. So again – no matter your sexual orientation, if you've got the parts, you're going to want to give these prostate massagers and anal toys for men a try! (Trust me!)
Prostate massagers are basically exactly what they sound like – a male sex toy aimed at massaging the prostate. Good prostate massagers are ergonomically designed to ensure they reach the prostate at the best angle for the highest level of pleasure. These prostate toys can come in a variety of styles, sizes and stimulation options depending on what you're looking for.
Similar to the toys I just mentioned, these are once again designed to reach the prostate at the right angle for optimal pleasure. But these have a few more bells and whistles in most cases – and of course, as the name suggest – they including vibrations. Vibrations increase the stimulation of both your prostate and surrounding area which, well, just wait until you try it. Words can't describe the intensity of this pleasure.
Once again these are designed to hit the prostate for added stimulation. However, unlike the vibrators or massagers, butt plugs don't need as much attention. Many men will insert them near the beginning of their sexual play session and leave them in while they continue on to increase the sensations. Not only does it feel good when it hits the prostate, but the muscles of the anus will contract around the plug during orgasm increasing the intensity of the sensations.
Back in the day, anal beads were 3 -5 small plastic or glass balls held together in a line with string that were to be (DUH!) inserted into the anus. And then of course, pulled out during sex. The idea is that while inserted they massage the prostate, and when you pull them out, your sphincter muscles tighten and this creates as highly intensified orgasm. That feeling when you pull the beads out just as you're reaching climax? I can't even explain – you'll just have to try it yourself. Anal beads these days though come in a wide variety of styles so look for that below.
Best Prostate Massagers in 2020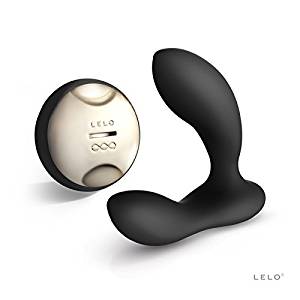 Lelo Hugo

Remote controlled

2 optional vibrators in both base and tip

Stimulation for both perineum and prostate

Medium-size suitable for all levels

100% waterproof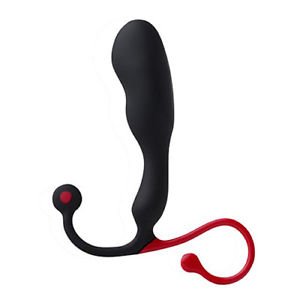 Aneros Helix Syn

Velvet touch silicone for smooth entry

Hands-free play

Good size for beginners

Anatomically designed for optimal pleasure

High quality, FDA-approved materials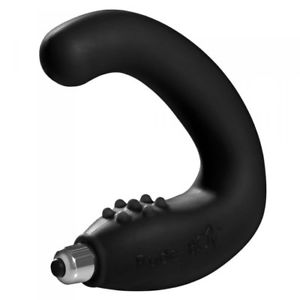 Rocks-Off Rude Boy

Perineum and prostate stimulation

Optional bullet vibrator

Flexible, medical-grade silicone

Hands-free

Great size for beginners
Welcome to the world of some of the best prostate massagers on the market! First on the list is the Aneros Helix Syn – this is a basic but beautifully designed prostate toy. The seamless, smooth material makes it incredibly comfortable and easy to use, and the s-hook at the base not only makes it easy to handle and insert, but it also ensure the toy will stay in place without worrying about it slipping further inside. The shaft is the perfect combination of flexibility and sturdiness so that it enters easily and curves just right to hit the prostate each and every time you play. You can then simply leave it inserted and continue to masturbate or play with your partner – or stroke it back and forth. Whatever feels best to you!
Next we've got the Lelo Hugo. This is an amazing prostate stimulator that also has the option of vibration is you wish to use it. If not, simply don't turn it on. But I bet that won't last. This beautiful male anal toy actually has the ability to massage your perineum (that super sensitive spot between your balls and your anus) as well as reaching inside to hit that prostate. And I'm telling you – you're going to be loving this. Add in some masturbation (or real sex if you're so lucky) and you're not even going to know what has hit you. All three spots stimulated at the same time is a serious game changer. Plus, did I mention it has a remote control?
But if you want the same style of pleasure without the hefty price tag, take a look at the Rocks-Off Rude Boy. This is another male masturbator aimed at both the perineum and the prostate. Now, it doesn't have a remote control, but it does vibrate if you want it to, with the removable bullet vibe. Because the bullet vibe sits in the base, you'll have a lot more vibration on your perineum and less on your prostate. Lots of men prefer it this way, but it's all really a matter of preference. You'll have to try it yourself to be sure. You'll be seriously amazed at how intense your orgasm become when you're using one of these.
Related
Best Prostate Vibrators in 2020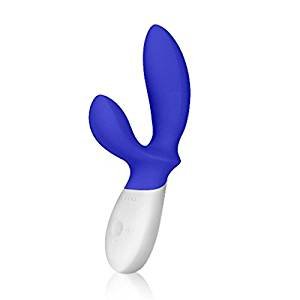 Lelo Loki Wave

Unique rabbit-style design for men

'come -hither' movement for increased pleasure

Dual motors - one in each head

10 pleasure settings

100% waterproof & rechargeable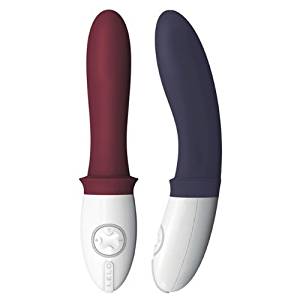 Lelo Billy

Ergonomically designed for comfort

6 pleasure settings

Slender tip with wider base

Easy-control buttons on base

100% waterproof and rechargeable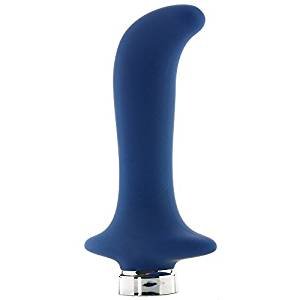 Diver Rechargeable Anal Vibe

Hooked 'pleasure tip' to hit the perfect spot

10 different vibration patterns

Tapered tip for easy insertion

Rechargeable

Hypoallergenic, smooth material
The Lelo Loki Vibe is basically the male equivalent of the infamous 'rabbit-style g-spot stimulator' for women. The Lelo Loki Vibe has two heads – the longer one strokes the prostate internally, while the shorter head massaged the perineum. In all my years of experimenting with male sex toys, I have never experienced something quite like this. This is absolutely the Maserati of male anal toys – 100%! The company refers to the motion of the larger head as the 'come-hither' motion and it's incredibly satisfying. Plus, you've got 10 different vibrational settings to choose from so you're sure to find something that suits you. It's 100% waterproof, and the charge last a long time (especially since you probably won't be able to last too long with this thing going anyways!)
Okay – so the Lelo Loki is one of the best prostate vibrators you can find, but it also comes at pretty significant price tag. If you're not ready to spend that much just yet, then the Diver Rechargeable Anal Vibe or the Lelo Billy are good bets. The Diver is much simpler than the Loki, but the sensations are still great. It's got a tapered tip that makes for easy insertion, and then the base gets gradually wider. This make sit great for beginners, as you can ease your way in. The vibe is at the base, so that's where you'll feel most of the vibrations – but the way your anus contracts around those vibrations – you'll be in heaven. You can sort through the 10 different vibe modes by just pressing the bottom of the base to change it up during your play.
And that brings me to the Lelo Billy. This is a sleek and slender anal toy for men. The slender top and flared base with a gentle curve makes it easy and comfortable to use. There is a control dial on the base that makes it really easy to use during play – whether on your own or if a partner is in control. As will all Lelo products, you'll notice the very satiny smooth finish that makes it so easy and comfortable to insert and pulse or thrust inside. Free of any uncomfortable seams, you'll love the way this prostate vibrator feels!
Related
Best Butt Plugs for Men in 2020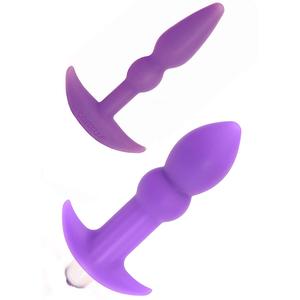 Tantus Perfect Plug Kit

Two sizes to ease your way up

Great for beginners

3-speed removable bullet vibrator

Completely waterprooof

100% ultra-premium silicone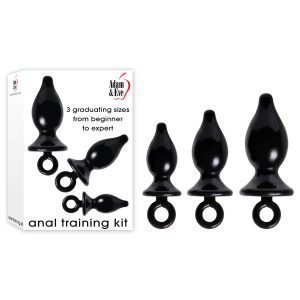 Adam & Eve Anal Trainer Kit

3 graduated plugs, great for beginners

Stretchy safety rings

Tapered tips for easy entry

Soft comfort makes it easy to wear

Versatile and comfortable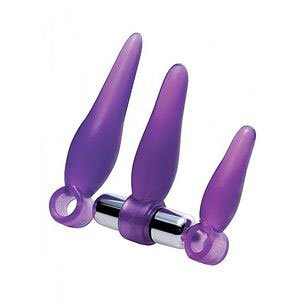 Vibrating Fanny Fiddlers

Work from beginner to intermediate

Optional vibrating bullet

Easy-grip loops at base

Tapered tip for easy insertion

Soft material for comfortable wear
Butt plugs can be intimidating. I get that. I mean, some of the ones I've seen both online and in real life are just insanely wide. Just looking at some of them give me the heebie jeebies. But not all butt plugs needs to be terrifying. And that's why I've chosen my favorite plug sets that allow you to ease your way into the fun with each set carrying at least two different sizes. The first one is the Tantus Perfect Plug Kit which has two different-sized butt plugs. Both the smaller and the larger one are great for beginners, and include a 3-speed bullet vibe that you can remove if you're not into that. There is a noticeable difference between the two, but nothing too crazy to make you yelp.
Next we've got the Adam & Eve Trainer Kit. This one comes with three different butt plugs that are very bulbous in shape instead of the previous longer and more slender style. The round style will create a more obvious entrance and exit obviously – which many men love. However, keep in mind that this a more progressive kit than the others I have on this list. The small plug starts at 1 inch diameter. The large Tantus plug is 1.2 inches wide, and the largest in the Vibrating Fanny Fiddlers is 1 inch – the same size as the beginner size of the Adam & Eve. So keep this in mind. If you're looking to start very small, the Adam & Eve isn't it. The largest plug goes to 1.5 inches in width.
And then like I said we've got the Fanny Fiddlers. This is a real great one for beginners, as the smallest size starts at 0.75 inches, and progress slowly – 0.8 inches, and then 1 inch for the largest diameter. Great for beginners, not so great for those well versed in anal play. The Fanny Fiddlers also have an optional bullet vibe that you can attach to the safety ring at the base. This allows for added stimulation and can be felt also around the anus opening (hello to a nice rim job!) and the perineum. Plus, it's got a nice wide pull at the base which is an awesome safety feature, as well as a way to make play easier. (for more on that see the '10 things you need to know before buying a prostate massager' below).
Related
Best Anal Beads for Men in 2020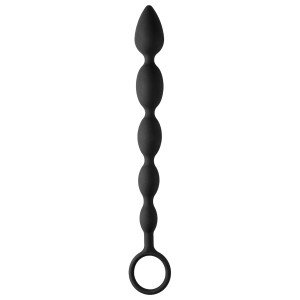 Tantus Vibrating Progressive Beads

4 beads from 0.75" to 1.75" diameter

Great for all levels of anal play

11" length for added prostate stimulation

Comfortable, smooth fit

3-speed waterproof vibe included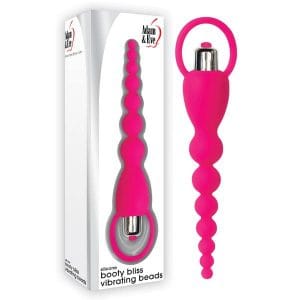 Adam & Eve Booty Bliss Vibrating Beads

Progresses from 0.25" to 1.0"

Insertable up to 6" in length

7 vibration options

Tapered tip for easy insertion

Smooth and comfortable material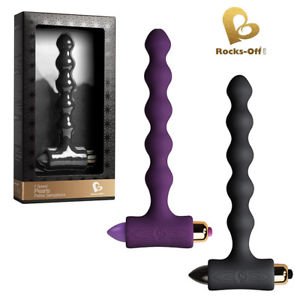 Rocks Off Pearls Sensations Plug

5 bumps at 0.75" wide

Smooth material for easy entry

Insertable up to 5"

7 modes of vibration

Slim width great for beginners
Anal beads from come a long way from the early days where they were usually glass, plastic or metal balls attached with string… (hygiene problems much?) Now they're typically all one piece of silicone or similar materials that are easy to clean and store. Such as the Vibrating Progressive Beads. These are really fun. They got from a slim 0.75 inches in the first bead to 1.75 inches in the last. And although that last measurement may be intimidating to some, don't worry – you can go at the pace you like, bead by bead.
Next we've got the Adam & Eve Booty Bliss Vibrating Beads which have less space between each ball. This is neither better or worse – just strictly a preference thing. Like for me? I prefer a bit more "string" between the balls to make the stretch a little more intense. And remember – putting the beads in is one thing. Pulling them out is a whole other story. And let me tell you – when you learn how to pull them out at just the right time, your orgasm is going to be out of this world.
Okay.. I got a caught a bit there in memory lane. The next set of beads is the Rocks Off Pearls Sensations Plug – and this one is a bit different than the rest. Each bead is maximum 0.75 inches in length. But here's the thing – they're all the same size. Whereas the other two I mentioned gradually increase in diameter, this one has all 6 beads the same size. Again this most definitely comes down to preference. If you like the feeling of the tightening of the anus as you insert or retrieve the beads, but have no desire to really go the distance, then this is a great option.
How to get the most out of your anal sex toy
10 things you should know before buying anal sex toys for men
1.

Use anal-specific toys
This is more important that you probably think. When I first started using anal toys, I wondered why I couldn't just use a woman's cheap vibrator – 4 inches long oughta be good enough right? But what I didn't realise is that your butt can actually suck things inside. Yes. You heard me correctly. If you still something up your butt that isn't meant for that (ie. doesn't have a wide base) the toy can actually be sucked inside. Why, you ask? Your sphincter muscles are very strong. And they can carry things up inside the anal cavity if there is nothing stopping them. So make sure you have anal-approved toys.
2.

What does a prostate massager come with?
Here's the thing – there are a ton of companies on the internet that are all selling sex toys. And a lot of them are selling complete crap. I've actually purchased some before that show pictures of their products with accessories, storage bags, etc. and when the product actually arrives, none of that is included. So make sure you really read the fine print and understand what it comes with.
3.

Does size matter when it comes to prostate massagers?
Okay okay… I get it. Men hate the term 'size matters'. It has left so many of us feeling inadequate. I get it. But when it comes to anal play, size really does matter. If you start too big, there's a HUGE chance that you're going to hate it. Which is why it's important to just start slow. Or um, small. Use a prostate massager that is not too wide. And ensure that it has a nice tapered end so that you have an easier entry. Male anal toys can be SO MUCH FUN – but if you're the type to start at the finish, then you're going to find it very uncomfortable. So find something that's made for beginners – like the butt plug packs that go up in size, and go slow. If you do it this way, I promise you'll love it.
4.

Quality or quantity?
In my world, quality always far outweighs quantity. From food to friends, quality is key for me. But when it comes to even the best prostate stimulators, it's important to really choose quality over anything else. The lining of your rectum is thin, which allows it to absorb things that you don't want to absorb. So especially in the case of prostate toys, you want to make sure that anything you use is medical-grade material and has little to no seams in the material that could potentially cut or tear your delicate skin in the anus. Medical-grade silicone is always a safe bet, as it's super silky smooth for comfortable insertion, and it will never ooze dangerous chemicals into your body. There are plenty of other safe materials out there too, but just make sure you read ALL the information before buying.
5.

Vibrating or non-vibrating prostate massagers?
This is really just your own personal preference. I mean, I can't say I really understand why some men don't like vibrations at all – but I also feel there's a time and a place for that type of toy. I'll tell you right now. If I put in a toy that's milking my prostate, vibrating on my perineum AND I'm trying to have sex with my partner… damn. I think I'd last about 20 seconds. However, if you knock off the vibrations, I could last a lot longer. So these are things you have to think about. Even for solo play. I love to just see how much stimulation I can take. I also like to see how long I can last. So just choose your weapon wisely, my friends.
6.

Lube, lube, and more lube
I can't stress this enough. Lubrication is a very important part of any type of anal play.
Your anus doesn't produce lubrication the way, say, an aroused vagina does. So it's incredibly important that you lube up! But keep in mind that while silicone and oil-based lubricants may last longer per application, water-based lubricants are the only type that are guaranteed NOT to harm your prostate massager. The other types of lube can wear down the material, making them last only a fraction of their avery lifespan. And we don't want that now do we.
7.

How much are male anal toys worth?
When you start taking a look at the best prostate toys on the market, you're going to find that they vary widely in price. Anywhere from say $5.00 for a simple butt plug, to over $300 for other prostate massagers or vibrators. But unfortunately, I can't tell you how much to pay, because you're the only one who knows what you really want. For me, I have no problem paying a few hundred bucks for something if I know that it's going to bring me intense pleasure, and last for several years. So let me ask you – how much is having the best orgasms of your life worth to you? And then go from there.
8.

Know your materials
As I said, toys can start for as low as $5.00. But keep in mind that old phrase 'you get what you pay for'. Now, that's not to say that there aren't some really awesome toys out there that doesn't cost a ton – but overall, you're going to find that cost and quality typically correlate. But of course, we're living in the internet days, and there are always scams out there. Make sure you know what materials to buy – ie. silicone is a great, hypoallergenic material and usually used for higher quality toys (with a higher price tag). Cheap plastics are just that – cheap. And especially for anal toys, you don't want to insert cheap and possibly toxic materials inside your anus. Be sure to purchase only toys made of high quality materials.
9.

What's the best brand of prostate massagers?
I get this question a lot, and I honestly just don't have an answer. There's a ton of great brands out there – each with their own niche market and favorite designs. So this is where it again comes down to personal preference. And that being said, of course, quality is a key factor here too. All of the brands I mentioned above are great. And it stands to reason that any brand that is a household name should be of high quality as well – or they never would have made it there. So do your research, read reviews, know your materials, and decide your brands based on that.
10.

What's the best way to store and clean your prostate massager?
This is a topic that a lot of people don't necessarily think about until they already have the prostate massager at home and they've used it, and then think 'okay, now what do I do??'. But it's really best to be prepared for when this time comes. You'll want to wash the toy with a mild soap or specialized toy cleaner and then rinse off. Make sure you clean it thoroughly soon after play, and then let it dry completely before storing. This will ensure you don't get any mildew or funky smells. Either put it in its own storage case (if it came with one) or my favorite trick – wrap it up in an old t-shirt and put it in a shoe box at the top of my closet.
What you should avoid when buying anal sex toys
Conclusion
I hope that I have encouraged you to dive into the world of prostate massagers and vibrators. I know that some men have a hard time jumping into these toys, but if you're here and you're on the fence… JUMP! Because you're clearly curious.
And for those of you who already know that you like this type of play, then I hope you find some new favorite toys in my list of favorites above. I've had a real good time trying them out, and I bet you'll have an even better time choosing (and using) your own favorites. Enjoy!