So when I used the original Autoblow years ago, I was blown away. (pun absolutely intended) But the original toy seems like eons ago at this point, and the sex toy technology has come a long way! The original basically seems like a dinosaur these days, but thankfully the ever innovative Brian Sloan (creator of this wonderful product that makes men's lives infinitely more tolerable) is always ahead of the curve. The same guy who actually created the 'most beautiful vagina' contest, has now combined the world's best technology (artificial intelligence) with male sex toys!!! #mancrush #yougottatryit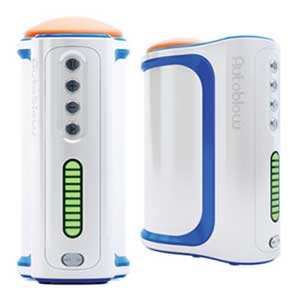 Autoblow A.I.+

Hands free blowjob toy

Heavy duty motor

Powered by artificial intelligence

Interchangeable sleeves

Body-safe materials

Plug it into any electrical outlet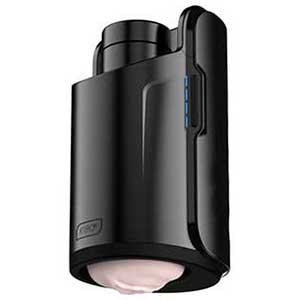 Kiiroo Keon

Automatic stroker

Sliding scale of speed

Elegant and discreet

Real-feel masturbation sleeve

Connects to video chat platform and VR porn

Easy to store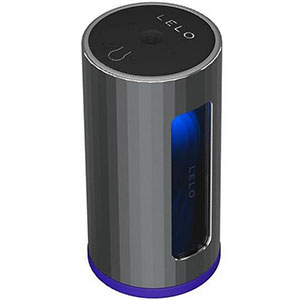 Lelo F1S V2

Hands free blowjob machine

Long-lasting charge

Fully waterproof

Powerful sensations

Realistic artificial skin material

Easy to clean

Promo Code: "HAPPYBF" - 15% Off
Wait… what?! This is the most tech advanced sex toy out there?
Okay… I don't actually know the legit answer to that, but if I were to guess based on my extensive experience in the field, I would have to say yes. In this review I will be explaining just how intensely crazy and innovate this product is. And it all begins with the fact that has not been created with the usual 'vibration style 1, 2, or 3' but rather the team behind this amazing toy actually sat through 6,000 minutes of porn (sounds like a hard job, right fellas?) and input data about all the blowjobs on the screen into a computer algorithm that then found similarities of 16 different styles of blowjobs that the women on screen were giving. And then, of course, they bottled these real-life blowjobs into this machine. And I know what you're thinking… it sounds a bit crazy and far fetched. But just wait until you feel this machine on your cock, and you'll be a believer. I can assure you that.
Related
Why is A.I. such an important feature?
If you haven't experienced this technology in a male sex toy in the past, then you're likely not going to understand just yet why it's such a selling feature. However, what I'm here to tell you is that it's pretty epic. And here's why:
You don't always know what's coming. This is probably the most exciting feature of the A.I. because just like a real blowjob from a real woman (or man, if that's your thing) you don't always know what you're going to get. Because of the built-in intelligence, you can put it on a setting where it actually behaves randomly, based on the data of real life blowjobs. So that sneaky tongue move you felt in real life? You might get to experience that here, but you just don't know. Unlike most of the toys on the market that just have different vibe style that once you select that pattern, that's what it is until you shut it of… this once changes things up and keeps you on your toes – very often a great point of eroticism for many men.
Even the presets are awesome. That's right. Even when you choose one of the previously allocated patterns, you're still going to experience something that is very similar to real life. Because each setting was based on real blowjobs by real women in porn, (and combined with the crazy gripper inside the machine) you're going to get a sensation and movement that is incredibly realistic – far more so than any other automatic blowjob machine I've used in the past.
How to use it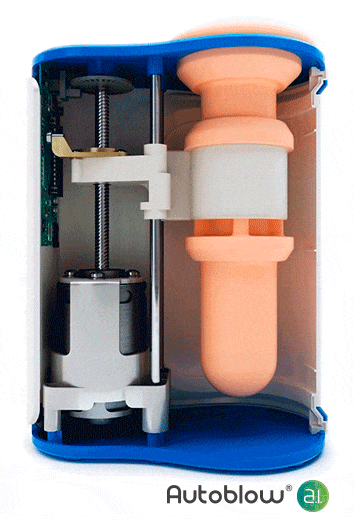 This is one of the easiest male sex toys to use because it's fully automatic. That being said, for those of you that are unfamiliar with this type of product, I'll lay it out for you here:
Step 1: This machine plugs straight into the wall (no batteries) and so the first step is to plug it in.
Step 2: Put on your favourite porn. (this is totally optional but definitely recommended)
Step 3: Lubricate yourself. Seriously. This is a very important step. Choose a high quality water-based lubricant and lube that $H*! Up!
Step 4: Stick it in. (you know what I mean)
Step 5: Turn it on and choose your setting, speed, etc.
Step 6: (optional) Get as close to orgasm as possible and hit the wonderful 'pause' button to stop. Wait a bit, and then continue. The more times you do this, the better your orgasm.
Step 7: Clean up. Not just you… the toy too.
Click Here To Check The Up To Date Price
The best things about this amazing blowjob machine
I'd love to tell you that writing this Autoblow AI article is all about you guys, but I really did have a lot of fun doing it… 🙂 And it truly is one of the best toys on the market, and this is why:
The amazing stroker. Okay so… this new design of stroker is unlike anything I've seen in any of the other toys that I've used (and that's a lot!). So the way that the inside of this toy grabs onto your dick, it's very much like when you're getting an amazing blowie and she's also using her hand in all the right ways. It's like a double whammy. And that's what it's like every single time you're getting head from this thing. It's incredible, and a sensation like you'll never duplicate.
The 'pause' button. One of the reasons I love male sex toys or blowjob machines is because I'm in complete control over everything. I can sit back and relax and enjoy the sensations, but really I am in control over the feelings with a few pushes of a couple of buttons, right? And so this is why I love the new addition of the 'pause' button so much. This is the only toy I know of that when you stop it and then start it again it will remember the settings you had it at previously, which means it's not wasting your time trying to reset the settings and getting it feeling good again.
Artificial intelligence. To be honest… I've watched a lot of those Black Mirror episodes on Netflix, and the thought of artificial intelligence used in a sex toy scared me at first. But once I had the opportunity to try it, I realise that this really is the way of the future. The fact that the toy can replicate a human feeling so well is literally mind-blowing.
Ease of use.  Super easy to use, and super easy to clean (just take out the sleeve and rinse with soap and water) this doesn't just feel good, but it's low maintenance. #whycantwomenbethatway
Quiet motor. The first few editions of the toy were pretty loud when you were using them, but they have clearly addressed that fact, and now it's one of the quietest automatic toys I own!
Not even the best things in life are perfect.
Okay, so while I've obviously been talking pretty fondly of this toy, it isn't perfect… and here's why:
It's pretty large. Compared to a lot of the toys that I have in my arsenal, this has got to be the clunkiest, but when I slide my cock into it, I forget all about that. I have a lot of toys that are super sleek to look at, but when it comes to performance, they don't even come close to measuring up. This toy may be pretty large and a little bulky, but it's also completely automatic so you just stick him in and let it go. You'll forget all about that pretty quickly I think for the most part.
It's not cheap. If you're looking for a toy to give this a try, and you're not sure you're going to be into automatic toys, then I think you're probably starting a bit high. I mean, I doubt any man is really disappointed by this product, but if you're new to toys in general, perhaps try something at a bit of a lower budget just to make sure you're cool with it.
The '-' button stuck once. I don't know if this was just my version, or what. But there was one time that I was using the toy and the speed down button got stuck. It wasn't a huge deal, but for the price, I would hope it would all work properly.
My final thoughts
The opportunity to even write a review about this awesome masturbator for men has been amazing, since I am sure this is going to be one of the most successful male sex toys on the market. And overall, I have only amazing things to say about it, as I think you've seen above.
It's made of great quality materials, and if it's anything like its predecessors, then it is built to last! The feeling of this innovative stroker is incredibly realistic, and the amount of options (based on artificial intelligence!!) are more than enough for anyone's taste. So my final recommendation?  Don't hesitate. Buy it while you still get a discount… You will NOT regret it!
Click Here To Check The Up To Date Price
Product Specs:
| | |
| --- | --- |
| 🏷️ Name: | ⭕ Autoblow A.I. |
| 📁 Type: | ⭕ Blowjob Machine |
| ⚙️ Features: | ⭕ Artificial Intelligence |
| 🛠️ Materials: | ⭕ ABS / TPE |
| 📅 Last updated: | ⭕ September 16, 2023 |
Disclaimer
Our articles feature affiliate links. If you appreciate our content and would like to show your support, you can consider buying your new sex toys using the links we provide. Every purchase made through our links helps us earn a small commission, without any additional cost to you.