The first thing you'll notice about F1s Developer's Kit Red is that it doesn't look like a sex toy at all. The sleek black and red design keeps the toy discreet so you don't have to worry about someone finding it on the shelf of your closet. I'd say it looks more like a bluetooth speaker than a man's pleasure machine. And let me tell you – a pleasure machine it is!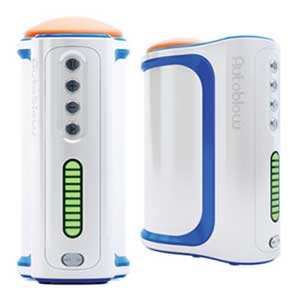 Autoblow A.I.+

Hands free blowjob toy

Heavy duty motor

Powered by artificial intelligence

Interchangeable sleeves

Body-safe materials

Plug it into any electrical outlet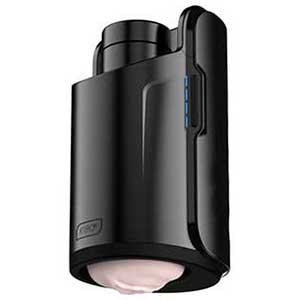 Kiiroo Keon

Automatic stroker

Sliding scale of speed

Elegant and discreet

Real-feel masturbation sleeve

Connects to video chat platform and VR porn

Easy to store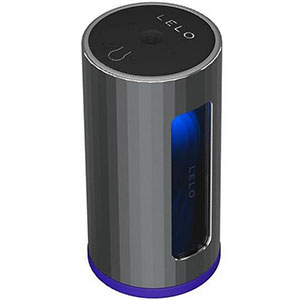 Lelo F1S V2

Hands free blowjob machine

Long-lasting charge

Fully waterproof

Powerful sensations

Realistic artificial skin material

Easy to clean

Promo Code: "HAPPYBF" - 15% Off
Male Pleasure Machine? Tell me more about this F1s Developer's Kit Red!
Well, I'm glad you asked. Lelo is one of the most well-known and reputable companies in the sex toy market for both men and women. And this particular male sex toy most definitely lives up to their reputation! One thing I love about Lelo and the way they market this toy in particular is that they don't try to tell you 'it's just like a real blowjob' because we all know that while these toys feel amazing, some actually feel BETTER than the real deal. And then there's the ones that although they feel incredible, there's no tits and ass attached which let's be honest – really do help to seal the pleasure deal!
But what they WILL tell you – and I am here to state my agreeance to this claim – is that the 'mind-blowing sonic waves of the F1s Developer's Kit Red is the ultimate act of self-love'.
Visit the official website and get 20% Off - Use 'BBM15' Promo Code
Sonic Wave Technology for your Ultimate Pleasure Session
Lelo claims that the Lelo Sona (clitoral stimulator for women) is the best-selling sex toy of all time. And while I don't know about that – and I've obviously not tried it (it's for women) I'll take their word for it. But why am I even talking about this? Because the F1s uses the same sonic technology that made the Sona famous.
Their trademarked SenSonic technology actually emits sonic waves that permeate deep into your cock so that you can feel that pleasure all over – instead of just getting the 'tickle' feeling on the surface like you get with a lot of other toys. I'll admit. At first it sounded kind of weird, and I wasn't sure if it would really do what it said it would.. But without knowing anything about sonic wave technology, what I can tell you is that it feels like nothing I've ever experienced before. And it gets me off so good! And combined with their patented Cruise Control technology, the pleasure waves continue and don't drop off or waver in any way. Plus, the F1s Developer's Kit Red lasts for a full 2 hours on one charge so you can play for as long as possible – which unless you're some form or Superman, you'll never last a full two hours with this thing!
Click Here To Check The Up To Date Price
How to use the Lelo F1s Developer's Kit Red
If you're a normal man, you're probably getting pretty excited about this toy already, right? Which is why it's important that you really understand how to use it so that you get the best out of your experience.
Download the app. You can easily control the speed and intensity of the waves.
Get comfortable. If you want to have a nice and exciting, uninterrupted session,make sure that you are somewhere that can actually happen!
Get aroused. Not that you really need any extra stimulation when you've got this going on your cock, but if you really want to get the most out of your experience, I recommend porn. Especially POV will really make you feel like someone else is doing the deed for you!
Lube up! The entrance and interior is incredibly soft and smooth, but you're still going to want to add lubricant. Use a water-based lube so as not to ruin the wonderful material it's made out of.
Stick it inside. I think this one speaks for itself, but just in case it doesn't – put your dick in the machine.
Enjoy yourself. This means that you should play around with the different speeds and intensities. Use the attached app, and don't forget to vary up your position and stimulate other parts of your body too!
Clean up. The first time you play with this thing, it probably won't take you long to get to this stage. But whether it takes you just a few minutes or an hour, whenever you do finish make sure you clean up soon after. The sooner you clean it the easier it is. And you don't want to leave it there for days which make it stink and begin to ruin the material.
Try again? Come on… I know you'll want to.
These are the best things about the Lelo F1s Developer's Kit Red:
It feels incredible. Obviously this had to come first, because if it doesn't feel good, you don't want it. Right? And when I say incredible, I mean it feels like nothing I've ever experienced – and I've experienced A LOT of sex toys! But the sonic waves are something totally different – and you're going to love it!
I can see my cock. There is something wonderfully erotic about being able to see my cock as it's getting stroked by a toy. And that's why I love the hole that's in the shaft of this toy so you can get a good glimpse of the action happening inside.
Developer's Kit. I think this is pretty cool although I haven't used it myself. Lelo knows that most sex toy apps aren't really as functional as they could be at one point in the future. And so they've opened up their SDK platform so that tech developers can find new ways to use the cutting-edge technology. PLUS – there are huge prizes to be won for the most innovative ideas.
Fully waterproof. A lot of toys with this much technology inside are NOT waterproof. But this one is! Which means you can take it in the shower if you want. (Highly recommended).
Long-lasting charge. Lelo claims that it lasts 2 hours per charge, and so I actually just left it on without using it (I could never last 2 hours in there) and just waited to see when it would lose power. And it was a few minutes PAST two hours. I was very impressed with that, especially since so many toy manufacturers say the charge lasts way longer than it actually does.
Powerful sensations. It's such a quiet toy, you'd never believe how powerful it feels when it's on. If it's pleasure you're after here, it's pleasure that you will get!
Comes with everything you need! This toy comes with gloves, toy cleaner, the charger, storage back, and a 1-year warranty with a 10-year quality guarantee. Combined with discreet shipping, what else do you really need?
What I didn't love about the Lelo F1s Developer's Kit Red
It's an incredible male masturbator, but like everything else in life – it's not perfect. These are the things I didn't think were the greatest:
Very modern looking. It comes with gloves that look like riding gloves – and it's a long black and red cylinder. The feelings are incredible as I said, but it does lack a little realism in my books. But of course, this is really just preference.
Developer's kit not for me. I'm not a tech developer, and so this whole bit was lost on me. The app also isn't the greatest. While it does make it easier to control the settings by doing it on my device instead of awkwardly reaching around the device, it doesn't have many other features that really stood out to me.
I forget to charge it. Okay, this is kind of on me, but it takes a couple of hours to fully charge. So if I haven't charged it properly and I'm in the mood – then I just simply can't play. Serious bummer.
My final words
If you haven't figured this out just yet, I'll tell you – I have used a lot of male sex toys in my life! And this is one of the most unique and pleasurable ones I've tried. The sonic wave technology does exactly what it says – it penetrates deep for incredible pleasure like I hadn't experienced in any other toy.That being said, I'd have a hard time saying it's the best feeling I've ever had (although I don't think I can say that about ANY of the toys I've tried, because they are all so wonderful in their own way). But if you're like me, and you want to change up your arsenal, this is great! It's also a wonderful choice for anyone who is looking for a very reliable, incredibly pleasurable machine. The SenSonic technology is really something you'll want to try! Trust me on that!
Use Promo Code 'BBM15' To Get 20% Off Your Order - Click Here
Product Specs:
| | |
| --- | --- |
| 🏷️ Name: | ⭕ F1s Developer's Kit Red |
| 📁 Type: | ⭕ Male Masturbator |
| ⚙️ Features: | ⭕ Fully Waterproof |
| 🛠️ Materials: | ⭕ ABS / Silicone |
| 📅 Last updated: | ⭕ September 16, 2023 |
Disclaimer
Our articles feature affiliate links. If you appreciate our content and would like to show your support, you can consider buying your new sex toys using the links we provide. Every purchase made through our links helps us earn a small commission, without any additional cost to you.