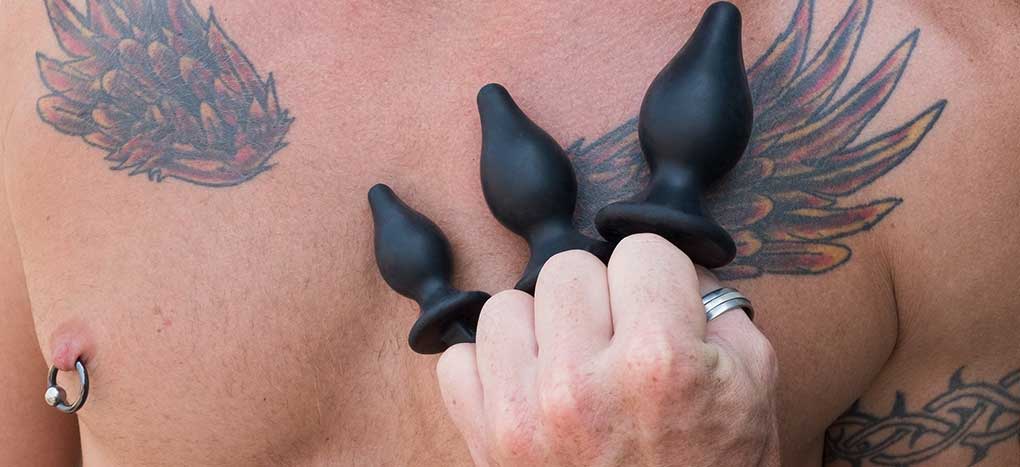 A lot of men I talk to associate male anal play with homosexuality. But straight, gay, or anything in between – the physical male body still feels extreme pleasure when the prostate is stimulated during sexual activity. It's a scientific fact. No matter your sexual orientation, if you've got the parts, you're going to want to give these prostate massagers and anal toys for men a try! (Trust me!)
Some of My Absolute Favorite Prostate Toys
While writing these reviews, I've tested a buttload of different prostate toys (quite literally). I've played with vibrators, massages, beads stimulators, milkers, plugs, and so many more. Not only that, but I've also reached out to my readers and friends in the business to come up with a definitive list of the greatest anal toys for men.
It's been a long and (sometimes) lonely road, but I've finally done it. Without further ado, here are the toys that will make you cream and scream.
Introducing the Four Riders of Your Next Orgasm
Before you lube up and go to town, I first want to explain how anal toys for men work. It's also important to define what they are, and how they'll get you off. Hopefully, I can help you understand just how much you can benefit from having one of these bad boys.
I'll cover prostate massagers and vibrators, as well as butt plugs and anal beads. I'll break down how all of these toys work, and which ones are my absolute favorites. Here we go.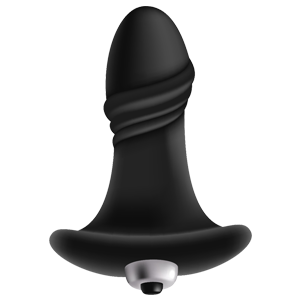 I don't know if you've ever experienced a prostate orgasm, but if not, man, you're really missing out. It feels like your regular orgasm, only 1000 times more intense, and you basically feel it with your entire body. If a spine-chilling O sounds fun to you, then you need to get into prostate massages. And it doesn't even end there! You see, getting a prostate massage has certain health benefits, and it might help with erectile dysfunction or painful ejaculation. There are also some theories that say that prostate massages can prevent prostatitis and improve urine flow. Unfortunately, there still aren't enough studies to back these claims up, but I'm sure that scientists will get there eventually.
Either way, prostate massages, when done right, can be beyond satisfying. However, doing it yourself can be tricky, and a partner might not know the best methods to get you off. That's where a prostate massager comes in. A prostate massager will do all of the work for you, while you just reap the rewards. It'll titillate your prostate, mind, and body, and leave you screaming for more. But before you can run, you first have to walk. So the questions are: what even is a prostate massager, and which one should you get?
Prostate massagers are basically exactly what they sound like – a male sex toy aimed at massaging the prostate. Good prostate massagers are ergonomically designed to ensure they reach the prostate at the best angle for the highest level of pleasure. These prostate toys can come in a variety of styles, sizes and stimulation options depending on what you're looking for.
Editor's Pick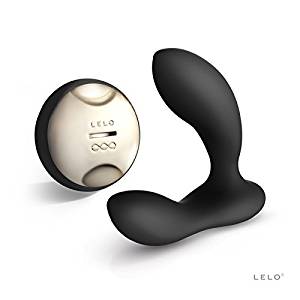 Lelo Hugo

Remote controlled

2 optional vibrators in both base and tip

Stimulation for both perineum and prostate

Medium-size suitable for all levels

100% waterproof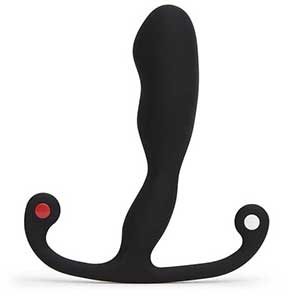 Aneros Helix Syn

Velvet touch silicone for smooth entry

Hands-free play

Good size for beginners

Anatomically designed for optimal pleasure

High quality, FDA-approved materials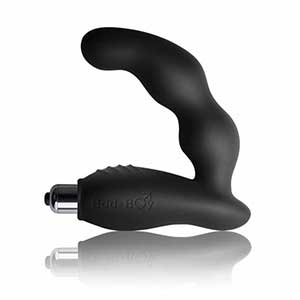 Rocks-Off Big Boy

Perineum and prostate stimulation

Optional bullet vibrator

Flexible, medical-grade silicone

Hands-free

Great size for beginners
Welcome to the world of some of the best prostate massagers on the market! First on the list is the Aneros Helix Syn – this is a basic but beautifully designed prostate toy. The seamless, smooth material makes it incredibly comfortable and easy to use, and the s-hook at the base not only makes it easy to handle and insert, but it also ensure the toy will stay in place without worrying about it slipping further inside. The shaft is the perfect combination of flexibility and sturdiness so that it enters easily and curves just right to hit the prostate each and every time you play. You can then simply leave it inserted and continue to masturbate or play with your partner – or stroke it back and forth. Whatever feels best to you!
Next we've got the Lelo Hugo. This is an amazing prostate stimulator that also has the option of vibration if you wish to use it. If not, simply don't turn it on. But I bet that won't last. This beautiful male anal toy actually has the ability to massage your perineum (that super sensitive spot between your balls and your anus) as well as reaching inside to hit that prostate. And I'm telling you – you're going to be loving this. Add in some masturbation (or real sex if you're so lucky) and you're not even going to know what has hit you. All three spots stimulated at the same time is a serious game changer. Plus, did I mention it has a remote control?
But if you want the same style of pleasure without the hefty price tag, take a look at the Rocks-Off Rude Boy. This is another male masturbator aimed at both the perineum and the prostate. Now, it doesn't have a remote control, but it does vibrate if you want it to, with the removable bullet vibe. Because the bullet vibe sits in the base, you'll have a lot more vibration on your perineum and less on your prostate. Lots of men prefer it this way, but it's all really a matter of preference. You'll have to try it yourself to be sure. You'll be seriously amazed at how intense your orgasm become when you're using one of these.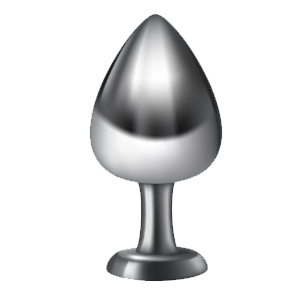 If no one else will say it, I'll be the first one to – I love butt plugs for men. I think that most sexually-active guys can benefit from having one. Let's start with the obvious benefit, and that's, of course, orgasms. While you're spoofing, the muscles in your butt will start contracting around the butt plug, and you'll be in orgasmic bliss for longer. Also, butt plugs are really versatile toys, and you can use them while you're engaging in a bunch of different kinks and fantasies. You can also use them if you're stretching and just getting into the swing of (butt) things.
Unlike prostate massagers and vibrators, butt plugs require much less effort. Usually, you can just lube them up, pop them in, and go about your merry way. They can stay in while you're doing other things or having something done to you. In my professional opinion, having a butt plug in you while you're getting head is one of the greatest sexual experiences any man can feel.
But the reason I always have a male butt plug on-hand is that it's so safe. I've seen enough episodes of Untold Stories of the ER to know that putting non-sexual things up your butt is a huge no-no. That's because, unlike butt plugs, random household objects aren't designed to have stoppers. So they could easily go all the way in, resulting in an embarrassing and expensive visit to the ER.
Once again these are designed to hit the prostate for added stimulation. However, unlike the vibrators or massagers, butt plugs don't need as much attention. Many men will insert them near the beginning of their sexual play session and leave them in while they continue on to increase the sensations. Not only does it feel good when it hits the prostate, but the muscles of the anus will contract around the plug during orgasm increasing the intensity of the sensations.
Editor's Pick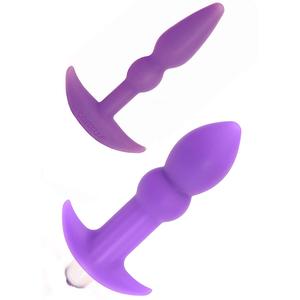 Tantus Perfect Plug Kit

Two sizes to ease your way up

Great for beginners

3-speed removable bullet vibrator

Completely waterprooof

100% ultra-premium silicone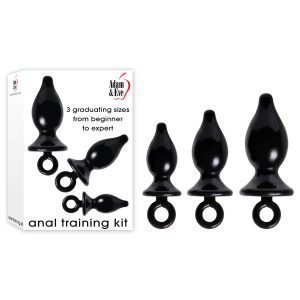 Adam & Eve Anal Trainer Kit

3 graduated plugs, great for beginners

Stretchy safety rings

Tapered tips for easy entry

Soft comfort makes it easy to wear

Versatile and comfortable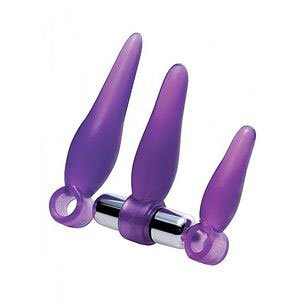 Vibrating Fanny Fiddlers

Work from beginner to intermediate

Optional vibrating bullet

Easy-grip loops at base

Tapered tip for easy insertion

Soft material for comfortable wear
Butt plugs can be intimidating. I get that. I mean, some of the ones I've seen both online and in real life are just insanely wide. Just looking at some of them give me the heebie jeebies. But not all butt plugs needs to be terrifying. And that's why I've chosen my favorite plug sets that allow you to ease your way into the fun with each set carrying at least two different sizes. The first one is the Tantus Perfect Plug Kit which has two different-sized butt plugs. Both the smaller and the larger one are great for beginners, and include a 3-speed bullet vibe that you can remove if you're not into that. There is a noticeable difference between the two, but nothing too crazy to make you yelp.
Next we've got the Adam & Eve Trainer Kit. This one comes with three different butt plugs that are very bulbous in shape instead of the previous longer and more slender style. The round style will create a more obvious entrance and exit obviously – which many men love. However, keep in mind that this a more progressive kit than the others I have on this list. The small plug starts at 1 inch diameter. The large Tantus plug is 1.2 inches wide, and the largest in the Vibrating Fanny Fiddlers is 1 inch – the same size as the beginner size of the Adam & Eve. So keep this in mind. If you're looking to start very small, the Adam & Eve isn't it. The largest plug goes to 1.5 inches in width.
And then like I said we've got the Fanny Fiddlers. This is a real great one for beginners, as the smallest size starts at 0.75 inches, and progress slowly – 0.8 inches, and then 1 inch for the largest diameter. Great for beginners, not so great for those well versed in anal play. The Fanny Fiddlers also have an optional bullet vibe that you can attach to the safety ring at the base. This allows for added stimulation and can be felt also around the anus opening (hello to a nice rim job!) and the perineum. Plus, it's got a nice wide pull at the base which is an awesome safety feature, as well as a way to make play easier. (for more on that see the '9 things you need to know before buying a prostate massager' below).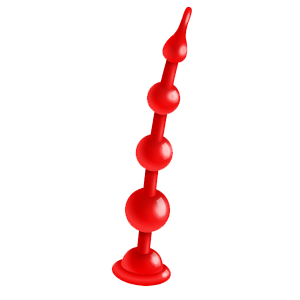 I often hear people say that beads and butt plugs for men are pretty much the same thing. But those people clearly have not tried both and are apparently talking out of their asses. At their cores, beads and plugs are completely different and give unique sensations. For example, butt plugs are usually designed to be inserted and left inside while you play. On the other hand, anal beads offer a much more interactive experience and should be taken out during sex. You're supposed to play with them, pull them out, and put them back in to get the most out of them.
Now, I'll get to my favorite anal beads in a second, but before I do, I want to say something. When it comes to sex toys, especially ones that go inside you, you can't afford to buy one that's low-quality. If it's cheap and sounds too good to be true, it's because it probably is. Plastic anal beads can be dangerous, and they're a breeding ground for bacteria. Not to mention that they can sometimes fall apart while they're inside you, which definitely is not something you want to experience. Fortunately, the sex toy industry has come a long way, and there are quality options out there.
Back in the day, anal beads were 3 -5 small plastic or glass balls held together in a line with string that were to be (DUH!) inserted into the anus. And then of course, pulled out during sex. The idea is that while inserted they massage the prostate, and when you pull them out, your sphincter muscles tighten and this creates as highly intensified orgasm. That feeling when you pull the beads out just as you're reaching climax? I can't even explain – you'll just have to try it yourself. Anal beads these days though come in a wide variety of styles so look for that below.
Editor's Pick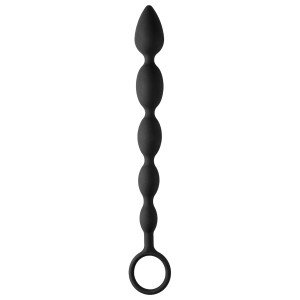 Tantus Vibrating Progressive Beads

4 beads from 0.75" to 1.75" diameter

Great for all levels of anal play

11" length for added prostate stimulation

Comfortable, smooth fit

3-speed waterproof vibe included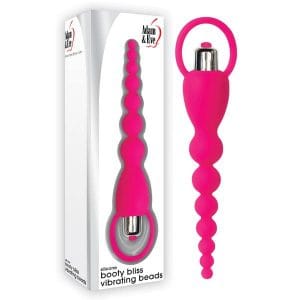 Adam & Eve Booty Bliss Vibrating Beads

Progresses from 0.25" to 1.0"

Insertable up to 6" in length

7 vibration options

Tapered tip for easy insertion

Smooth and comfortable material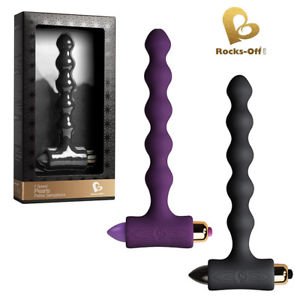 Rocks Off Pearls Sensations Plug

5 bumps at 0.75" wide

Smooth material for easy entry

Insertable up to 5"

7 modes of vibration

Slim width great for beginners
The Vibrating Progressive Beads are really fun – they got from a slim 0.75 inches in the first bead to 1.75 inches in the last. And although that last measurement may be intimidating to some, don't worry – you can go at the pace you like, bead by bead.
Next we've got the Adam & Eve Booty Bliss Vibrating Beads which have less space between each ball. This is neither better or worse – just strictly a preference thing. Like for me? I prefer a bit more "string" between the balls to make the stretch a little more intense. And remember – putting the beads in is one thing. Pulling them out is a whole other story. And let me tell you – when you learn how to pull them out at just the right time, your orgasm is going to be out of this world.
Okay.. I got a caught a bit there in memory lane. The next set of beads is the Rocks Off Pearls Sensations Plug – and this one is a bit different than the rest. Each bead is maximum 0.75 inches in length. But here's the thing – they're all the same size. Whereas the other two I mentioned gradually increase in diameter, this one has all 6 beads the same size. Again this most definitely comes down to preference. If you like the feeling of the tightening of the anus as you insert or retrieve the beads, but have no desire to really go the distance, then this is a great option.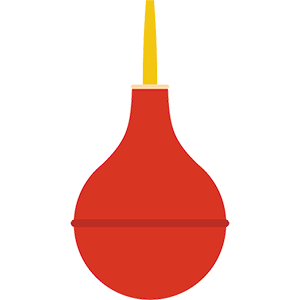 Although douches and enemas aren't precisely toys, nor are they as fun as some I've already listed, they are an integral part of anal play.
Most people see anal play as something dirty and forbidden. That's the back door, and it's, naturally, where poop comes out, so the idea of shoving something back there is mortifying to many people.
Well, if the "ick factor" is the only thing stopping you from having the time of your life and trying out anal play, then I have a solution. In fact, I have two!
Douches and enemas are a quick and easy way to clean the playing field. An anal douche is a handy little device that will powerwash your rectum. Alright, "power-wash" might be a strong term – the process is more gentle than that. The douche forces water into the rectum, and the water then loosens the anus and softens the stool. That means the douche makes it easier for you to empty your bowels and clean yourself.
An anal enema does pretty much the same thing, except it has a further reach. It will also clean a part of your large intestine. So, depending on how frequent (and easy) your bowel movements are and how clean you're looking to get, you'll pick one of these two to prep everything.
Important things to remember about douches and enemas:
They make things easier but aren't necessary (you won't poop yourself if you don't douche before playtime).
If you do douche, pick the right equipment (find what works best for you; anal douche bulbs are the best options for beginners).
Douching or applying an enema also takes prep (don't be rude to your butt and just shove it in there).
Try not to over-douche (douching every day may harm the natural flora of your lower intestine).
Editor's Pick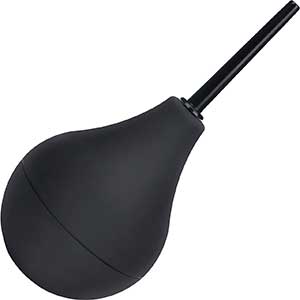 B-Vibe Classic Enema

Insertable size: 6.6 cm / 2.6 in

Includes two essential guides

Easy to insert

100% body-safe

4-piece set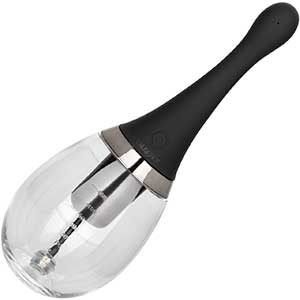 Calexotics Anal Douche Executive

USB rechargeable cleaning system

3-speed flow mode

360° multi-directional spray attachment

Easy push-button control

Disassembles for easy cleaning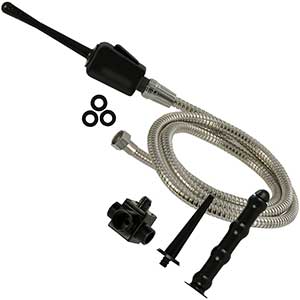 Calexotics Universal Douche System

Hand-held on/off control

Smooth material for easy entry

Spare washers and full instructions

3 variable spray attachments

Slim width great for beginners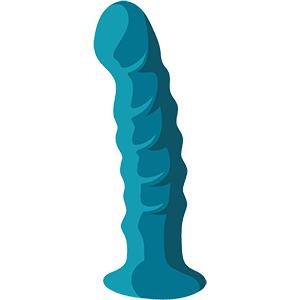 The true joy of the sex toy industry (that warms my heart every time I think of it) is how diverse it is. There are endless categories of toys out there which means there's something for everyone.
If you're a fan of realistic (or fantasy) sex, then anal dildos and the accompanying tools are the stuff you need in your growing sex toy collection. Unlike plugs and beads, dildos are big. Of course, just like other toys, they range in size, so you can get a modest, small dildo or a monster 20-inch silicone cock that will turn your insides out. Dealer's choice!
Of course, anal dildos different from regular ones. They usually have a bit of a curve to them (to hit that glorious prostate) and can often be classified as "small." Of course, all anal play enthusiasts know that "small" is a relative term when it comes to sticking things in your badonkadonk.
The benefits of owning (and using) a dildo are:
They let you experience realistic penetration
The suction cup dildos offer a hands-free experience
They are a great way to play with size (and shape) without hunting for a perfect-sized partner
Dildos enrich both solo and partnered play
Double penetration becomes a reality rather than a far-fetched dream
Dildos have been a part of human life for thousands of years. That means we've had centuries to perfect the toy. And boy, did we do it! And, because they are so wonderfully versatile, anal dildos are so much more than just silicone (or glass, TPE, metal, etc.) dicks. You can get a double-ended dildo, a suction-cup dildo, a fantasy dildo (ever dreamed about getting fucked by an alien? Well, you might be able to get the next best thing – an alien dildo!), and many more.
Editor's Pick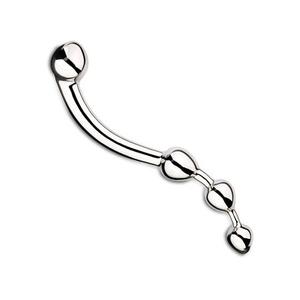 njoy Fun Wand

Graduated balls increase intensity

G-spot or P-spot massage

Double-ended

Stainless steel dildo

Deluxe presentation box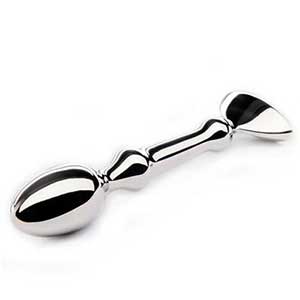 Aneros Tempo

Exquisite P-spot pleasure

Stainless steel

Suitable for beginners anal play

Petite in size

Easy to clean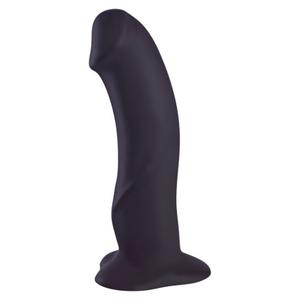 Fun Factory The Boss

7 inches of insertable goodness

100% body safe

Sleek realistic dildo

Suction cup for hands-free fun

Waterproof and ready to play
How to Use, Clean, and Store Your Favorite Anal Toys for Men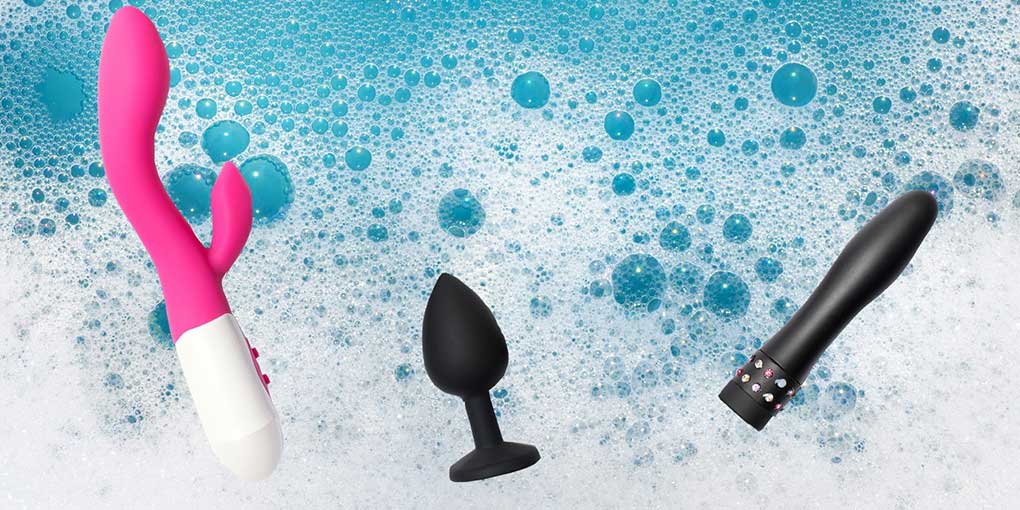 I've seen a lot of dudes ruin perfectly good anal toys by not cleaning and storing them properly. I've also seen men get hurt and end up in emergency care because they didn't use their toys the right way. To save you all some money or a shameful trip to your doctor, here's a short guide on using, cleaning, and storing your anal toys.
Tips on Playing With and Using Most Male Anal Toys
Get yourself excited. Set the mood man! Nothing worse than trying to insert a butt plug when you know someone is just in the next room, or you don't have enough time to really enjoy yourself. So get somewhere comfortable. Flick on some porn, or whatever turns you on and take your time to really get aroused. This will make the whole experience so much better.
USE LUBRICANT!!!!! Are the exclamation points too much? NO. They're not. Lubricant is so so important whenever you're playing with sex toys, but ESPECIALLY important when you're playing with a prostate massager. Just make sure that you use a lubricant that will not damage the toy in any way. Your safest bet is to use a water-based lubricant, as silicone or oil-based lubes can eat way at the smooth, delicate materials.
Pay attention to the buttcheeks too! This may sound weird. I get that. But if you massage, push and pull your buttcheeks you'll feel the prostate massager moving in a way that promotes more stimulation. It's also gets you used to the idea of butt or anal play which makes the whole adventure more exciting. And also don't forget to pay attention to other erogenous zones too. Put some ice cubes on your nipples, or pinch them while you play. Stroke your cock, or gently tickle your chest. And if you have a partner present, get them to touch you all over too!
Relax. This is so important. If you're new to using an anal vibrator for men, then you might be a bit nervous. But when you're nervous, you're going to clench your butthole. Don't do that. This is only going to serve in making insertion more difficult. This is why I previously said to arouse yourself. Relax. Set the mood. Take a few deep breaths and relax the muscles of your anus before you insert.
Start small. Don't get all high and mighty on me now my friend. Start slowly. If you're new at this, the feeling is going to take a little bit of getting used to. So start with a smaller prostate toy and work your way up. I promise you this is the best way to go.
There shouldn't be any rapid-fire movement immediately. At first, just inserting and removing the prostate stimulator is going to be more than enough anal stimulation. But after a few times you're going to want more. And so you're going to want to start moving the toy in more of a stroking or thrusting way. Absolutely do this. Just go easy. This is a new way of play, and so take it easy. But DO get there. You'll love it.
Vary your positions. Once you've got the hang of things, and you feel like a seasoned pro when it comes to anal play, then start to get creative. Your prostate stimulator is going to feel very different depending on the positions you are in. (just like regular sex) So try different positions out and see how they feel. Also try combining different things. Get a blowjob (either from a human or a sex toy) while you have a butt plug inserted. Or try using a penis pump while you use the Lelo Hugo 'come-hither' motion. The possibilities are endless.
What You Need to Know About Keeping Your Toys Clean
Most anal toys for men are actually pretty simple to clean and take care of. Unlike pocket pussies or blowjob machines, they don't have little bumps or crevices where lube and other things could get stuck. But that doesn't mean that you can just thrust, bust, and walk away. You still have to clean your prostate massager, vibrator, male butt plug, or whatever you have, to avoid bacteria buildup.
You can run most anal toys for men under some tepid water first to get rid of any particles. Then, use a mild or natural soap and go over them a couple of times, making sure that you get every single spot. If you can, I recommend air-drying your toys and leaving them on a stand somewhere. Also, if you want to go the extra mile, you can use antibacterial soap, spray, or wipes.
Where and How to Store Your Toys
I know that most guys don't really worry about where and how they're going to store their anal toys, but that's a huge mistake. Properly storing your toys is actually just as important as cleaning them.
That being said, I recommend keeping your toys in pouches, boxes, or containers that they came in. If you didn't get one, go to the website where you bought the toys from, and buy storage. It'll keep your toys in tip-top shape for a longer time, as well as keep dust and dirt at bay.
Related
9 things you should know before buying anal sex toys for men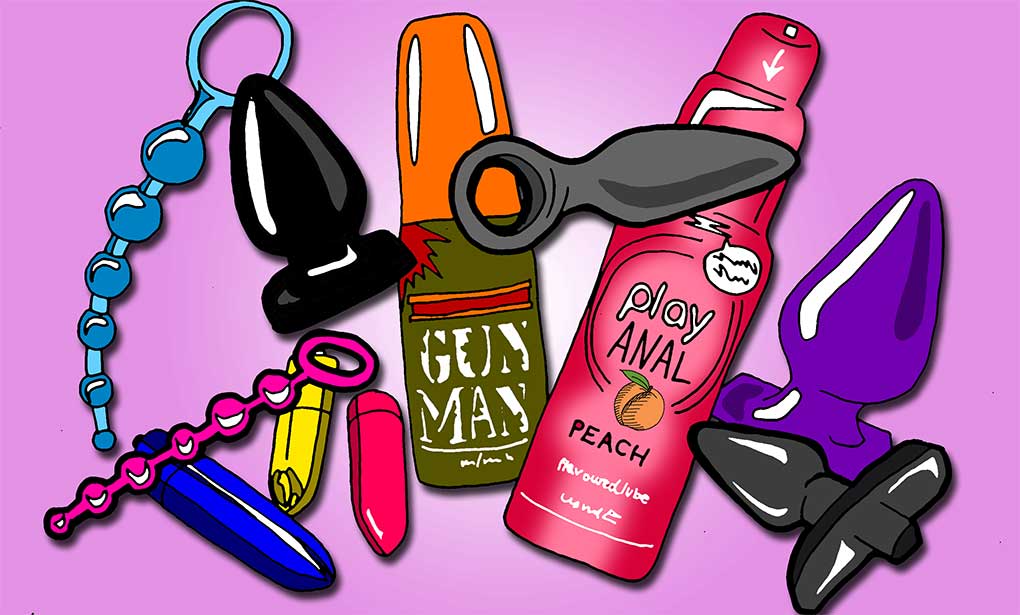 1.

Use anal-specific toys
This is more important that you probably think. When I first started using anal toys, I wondered why I couldn't just use a woman's cheap vibrator – 4 inches long oughta be good enough right? But what I didn't realise is that your butt can actually suck things inside. Yes. You heard me correctly. If you insert something up your butt that isn't meant for that (ie. doesn't have a wide base) the toy can actually be sucked inside. Why, you ask? Your sphincter muscles are very strong. And they can carry things up inside the anal cavity if there is nothing stopping them. So make sure you have anal-approved toys.
2.

What does a prostate massager come with?
Here's the thing – there are a ton of companies on the internet that are all selling sex toys. And a lot of them are selling complete crap. I've actually purchased some before that show pictures of their products with accessories, storage bags, etc. and when the product actually arrives, none of that is included. So make sure you really read the fine print and understand what it comes with.
3.

Does size matter when it comes to prostate massagers?
Okay okay… I get it. Men hate the term 'size matters'. It has left so many of us feeling inadequate. I get it. But when it comes to anal play, size really does matter. If you start too big, there's a HUGE chance that you're going to hate it. Which is why it's important to just start slow. Or um, small. Use a prostate massager that is not too wide. And ensure that it has a nice tapered end so that you have an easier entry. Male anal toys can be SO MUCH FUN – but if you're the type to start at the finish, then you're going to find it very uncomfortable. So find something that's made for beginners – like the butt plug packs that go up in size, and go slow. If you do it this way, I promise you'll love it.
4.

Quality or quantity?
In my world, quality always far outweighs quantity. From food to friends, quality is key for me. But when it comes to even the best prostate stimulators, it's important to really choose quality over anything else. The lining of your rectum is thin, which allows it to absorb things that you don't want to absorb. So especially in the case of prostate toys, you want to make sure that anything you use is medical-grade material and has little to no seams in the material that could potentially cut or tear your delicate skin in the anus. Medical-grade silicone is always a safe bet, as it's super silky smooth for comfortable insertion, and it will never ooze dangerous chemicals into your body. There are plenty of other safe materials out there too, but just make sure you read ALL the information before buying.
5.

Vibrating or non-vibrating prostate massagers?
This is really just your own personal preference. I mean, I can't say I really understand why some men don't like vibrations at all – but I also feel there's a time and a place for that type of toy. I'll tell you right now. If I put in a toy that's milking my prostate, vibrating on my perineum AND I'm trying to have sex with my partner… damn. I think I'd last about 20 seconds. However, if you knock off the vibrations, I could last a lot longer. So these are things you have to think about. Even for solo play. I love to just see how much stimulation I can take. I also like to see how long I can last. So just choose your weapon wisely, my friends.
6.

Lube, lube, and more lube
I can't stress this enough. Lubrication is a very important part of any type of anal play.
Your anus doesn't produce lubrication the way, say, an aroused vagina does. So it's incredibly important that you lube up! But keep in mind that while silicone and oil-based lubricants may last longer per application, water-based lubricants are the only type that are guaranteed NOT to harm your prostate massager. The other types of lube can wear down the material, making them last only a fraction of their avery lifespan. And we don't want that now do we.
7.

How much are male anal toys worth?
When you start taking a look at the best prostate toys on the market, you're going to find that they vary widely in price. Anywhere from say $5.00 for a simple butt plug, to over $300 for other prostate massagers or vibrators. But unfortunately, I can't tell you how much to pay, because you're the only one who knows what you really want. For me, I have no problem paying a few hundred bucks for something if I know that it's going to bring me intense pleasure, and last for several years. So let me ask you – how much is having the best orgasms of your life worth to you? And then go from there.
8.

Know your materials
As I said, toys can start for as low as $5.00. But keep in mind that old phrase 'you get what you pay for'. Now, that's not to say that there aren't some really awesome toys out there that doesn't cost a ton – but overall, you're going to find that cost and quality typically correlate. But of course, we're living in the internet days, and there are always scams out there. Make sure you know what materials to buy – ie. silicone is a great, hypoallergenic material and usually used for higher quality toys (with a higher price tag). Cheap plastics are just that – cheap. And especially for anal toys, you don't want to insert cheap and possibly toxic materials inside your anus. Be sure to purchase only toys made of high quality materials.
9.

What's the best brand of prostate massagers?
I get this question a lot, and I honestly just don't have an answer. There's a ton of great brands out there – each with their own niche market and favorite designs. So this is where it again comes down to personal preference. And that being said, of course, quality is a key factor here too. All of the brands I mentioned above are great. And it stands to reason that any brand that is a household name should be of high quality as well – or they never would have made it there. So do your research, read reviews, know your materials, and decide your brands based on that.
What you should avoid when buying anal sex toys
Unverified Payment Methods. – This may or may not go in hand with the next one on this list, but overall you need to make sure that the site from which you're buying your prostate massager has a legit payment process. I've seen all kinds of websites in my years – from asking you simply to send an email with your credit card information, to sites asking very personal questions at the time of checkout (hello identity fraud!) It's 2022. And at this point I'd say 98% of the Westernized world have paid for things online. You know what it looks like. Verified Payment through credit cards, PayPal or the like. Just keep your wits about you. If it seems weird, it probably is.
Unprofessional websites. – If it seems weird, it probably is. This can be used as advice for so much of our lives, don't you think? But in this case it most definitely applies to websites. Just like the payment methods, there are tons of sketchy sites out there too. Any reputable company I've found has a clear and easy-to-use website that is obviously created professionally. Anything else, and you should get your guard up.
Unsafe or unknown materials. – I already spoke about the importance of only purchasing toys that are made from high-quality, body-safe materials. Silicone and high-quality life-like materials are best as they're non-porous. Non-porous materials are more hygienic (as bacteria can't build up in the pores) and they can be completely sterilized and shared (if that's something you're into). Other products that are porous (most types of plastic, aside from ABS plastic) will need to be shared only with a condom – just like other forms of sex – to protect from STDs.
Lack of return policy. – Reputable online companies will have a return/refund policy – and some even have a money-back guarantee. Of course, you can't simply said 'meh, I don't like it' and get a refund or exchange to try something else, but you SHOULD be able to return anything that isn't as described or that has come damaged. So be sure that the company you're buying from honors their products. It's one bit of trust you can establish with a company online.
Frequently Asked Questions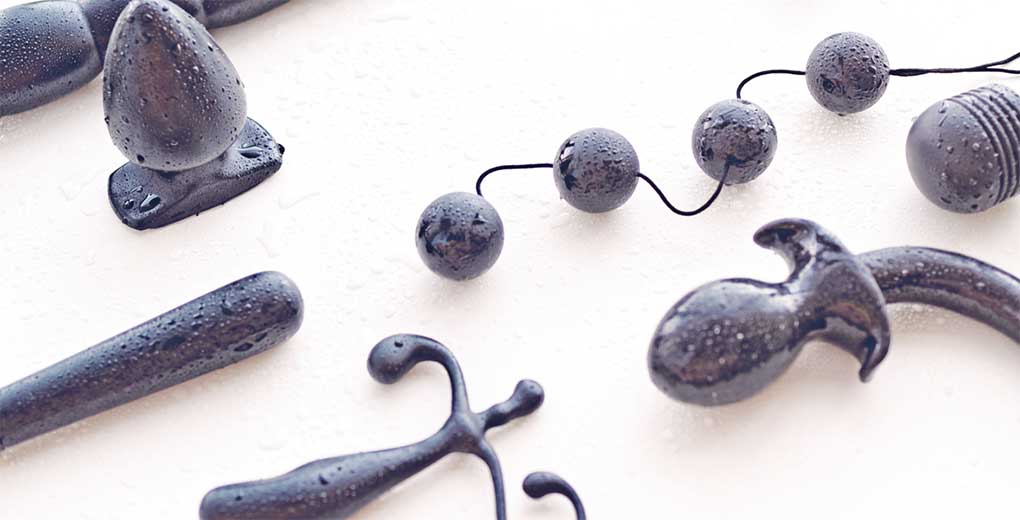 How long will my anal toys for men last?
There's no simple way to answer that question because the longevity of your toy will depend on a ton of different factors. For example, is it made out of silicone, metal, glass, or plastic? Plastic toys are pretty flimsy and tend to break easily, while silicone and metal can last a long time.
Another really important thing that'll determine how long you actually have your toy is how well you take care of it. As I explained above, it's not that hard, so don't be lazy, and clean up your mess after your fap session. Trust me, you do NOT want to use a dirty butt toy.
Can I double-dip?
No, absolutely not, that's a terrible idea. For those out of the loop, double-dipping means using the same sex toy in the anus and a vagina. Even if you're using anal toys for men on your female partner, and not yourself, it's still a no-no. The butt and the vag have entirely different ecosystems that don't mesh well on a silicone toy. If you do want to use the same toy, clean it thoroughly before putting it in different holes.
I personally am not a fan of sharing anal toys, but hey, sometimes, a guy's gotta do what a guy's gotta do. So if you want to share with a partner, my suggestion is to put a condom on the toy while you're playing. It'll not only protect all of you using it but it also makes cleanup much easier.
However, just because you put a condom on, that doesn't mean you're off the hook when it comes to cleaning. As I'm sure you all know, condoms aren't 100% effective, and some bacteria could seep through the condom and onto the toy. So, if you're sharing, make sure to give the toy a good scrub and maybe pick up some antibacterial toy cleaner.
I'm a beginner. Which toy should I get?
Every person is different, and I can't really say that one toy is easier to master than the other. However, my advice is to go with something simpler, like a male butt plug or anal beads, and work your way up. Take your time, see which motions and sensations feel good, and you'll get the hang of it no time.
What Is a prostate milker and how is it different from a massager or a vibrator?
Prostate milking is a more intense type of massage that results in you producing a thin, milk-like fluid (I mean, it's basically jizz, but more watery). Mastering the right techniques to get your love juice this way is pretty tricky, and not a lot of people can do it. Luckily, sex toy masterminds have invented prostate milkers that take care of all of that for you. They combine intense vibrations, motions, and speeds to get you to produce your baby batter.
Is it better to use anal toys for men solo or with a partner?
Once again, there's no right or wrong answer here because it's all up to you. However, if you're a beginner, try playing with your toys alone first, and then do it with a partner.
If you want to use your anal gizmos on a partner, make sure to check in with them first, and see how they feel about it. Even though having the talk about anal toys for men can be awkward, if they end up saying yes, your sex life will take a wild turn for the better.
🏷️ Products Reviewed: 22
🥇 Best Product: Lelo Billy
📅 Last updated: September 16, 2023
Conclusion
I hope that I have encouraged you to dive into the world of prostate massagers and vibrators. I know that some men have a hard time jumping into these toys, but if you're here and you're on the fence… JUMP! Because you're clearly curious.
And for those of you who already know that you like this type of play, then I hope you find some new favorite toys in my list of favorites above. I've had a real good time trying them out, and I bet you'll have an even better time choosing (and using) your own favorites. Enjoy!
Disclaimer
Our articles feature affiliate links. If you appreciate our content and would like to show your support, you can consider buying your new sex toys using the links we provide. Every purchase made through our links helps us earn a small commission, without any additional cost to you.