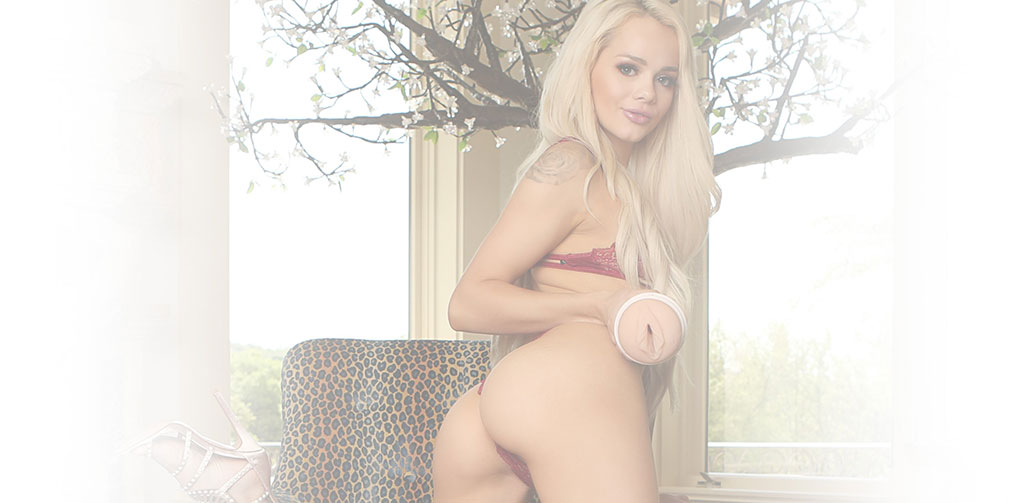 The girl that marked our summer as a winning one three years ago was no other than Elsa Jean. This blonde bombshell with plump, pouty lips (both pairs!) and the all-American appearance has been a fan favorite among many men (and women, let's be honest) ever since she started doing porn. So, Fleshlight was quick to add her to their collection. To tell you the truth, when I saw Elsa Jean's name, I couldn't click on that "add to cart" button quick enough. And, yes, I know it took a while, but here's my full Elsa Jean Fleshlight review for your enjoyment!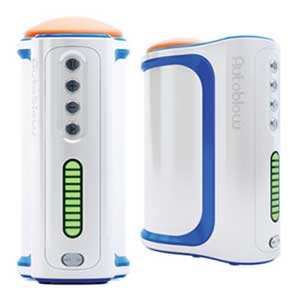 Autoblow A.I.+

Hands free blowjob toy

Heavy duty motor

Powered by artificial intelligence

Interchangeable sleeves

Body-safe materials

Plug it into any electrical outlet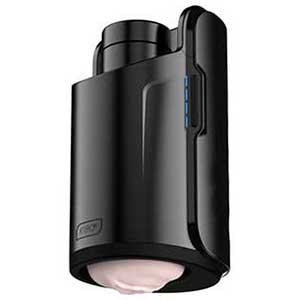 Kiiroo Keon

Automatic stroker

Sliding scale of speed

Elegant and discreet

Real-feel masturbation sleeve

Connects to video chat platform and VR porn

Easy to store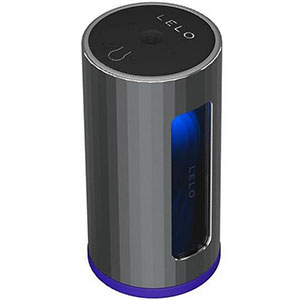 Lelo F1S V2

Hands free blowjob machine

Long-lasting charge

Fully waterproof

Powerful sensations

Realistic artificial skin material

Easy to clean

Promo Code: "HAPPYBF" - 15% Off
If you're looking for a toy that offers a lot of versatility but can still consistently get you off, Elsa Jean is your girl. Oh, to thrust into her loving midwestern honeypot is a joy that not many men know. Of course, it's also a joy that's readily available to you, thanks to the guys at Fleshlight.
But what exactly can this blondie offer? We'll examine every detail in my Elsa Jean Fleshlight review. So, into the thick of it we go, to see what precisely this lovely lady has to offer.
Wait, Who Is Elsa Jean?
Like many other porn stars that skyrocketed into fame, Elsa Jean began her career as soon as she could, at the tender age of 18. Because of her girl next door, all-American look, and long blonde hair, she got the name Elsa. Unlike her Disney counterpart, she's not cold or icy. In fact, she seems as warm and embracing as they come.
She went into porn head-first back in 2015 and was an instant hit. Today, Elsa is the protagonist of many a man's wet dreams and the star of award-winning videos.
She has a petite, curvy body, blonde hair, and piercing green eyes. Not to mention, she also has one of the most lovely pussies I've ever seen). Overall, it seems like Elsa really was born to be a star.
What Is The Elsa Jean Fleshlight?
If you've made it this far into my Elsa Jean Fleshlight review without knowing what it actually is, I applaud and admire your curiosity. Here's a brief explanation for the uninitiated (and those who missed my overview of all Fleshlight Girls).
Elsa Jean Fleshlight is a masturbator (or a pocket pussy, if you will) designed by the brilliant Fleshlight brand.
But what makes it different than any other pocket pussy, I hear you ask. I do understand that question, as there are many on the market. Luckily, the answers are simple:
the design is immaculate
the material is heavenly soft
and, most importantly, it's a replica of Elsa Jean's real-life pussy (and butt)
If that's not enough to make a masturbator stand out, then nothing ever will be. Let me tell you, Elsa Jean is packing a real beauty between her legs.
Of course, there's more to this toy than the three points I already made (although they are excellent).
Click Here To Check The Up To Date Price
What Makes It Special?
Aside from the appearance, the Elsa Jean Fleshlight is unique due to its texture. Now, if I'm honest, all Fleshlight Girls have unique textures. Some have two (one for the lady sleeve and another one for the butt sleeve) specific to their Fleshlights, while others have unique lady sleeve textures with a butt sleeve that has a familiar (although, in most cases, a fantastic) texture.
Elsa has two very intense and tight sleeves to her name. The lady sleeve, Tasty is one of the most innovative in the entire Fleshlight Girls selection, and the butt sleeve, Treat, entirely justifies its name.
I'll get into the details of both textures a bit later but, since I promised a full Elsa Jean Fleshlight review, let's talk about the design and specs first.
The Design And Specs
The Fleshlight brand is committed to uniformity (at least when it comes to the Fleshlight Girls line) which is why they all look alike. In one of my previous reviews, I mentioned that I'm a great fan of this since it makes my Fleshlight Girls collection look more orderly.
So, the general design is standard. The outer shell is ABS plastic and, of course, resembles a flashlight. That makes the toy not only instantly recognizable but also easy to grip and hold on to in the throes of passion. Almost all Fleshlight Girls have a white case, but you can also get a separate black plastic case if the color is that important to you.
The toys are a bit over 9 inches in size, given that they have to accommodate the 9-inch sleeves. Elsa Jean's is no different, given that both her lady sleeve and her butt sleeve offer 9 inches of pure happiness and bliss. The maximal circumference of the toy is almost 7 inches, so it can be a bit tight for those who have incredibly thick pocket rockets.
Otherwise, the toy is a one-size-fits-most since it can accommodate most men.
The Lady Sleeve (Tasty)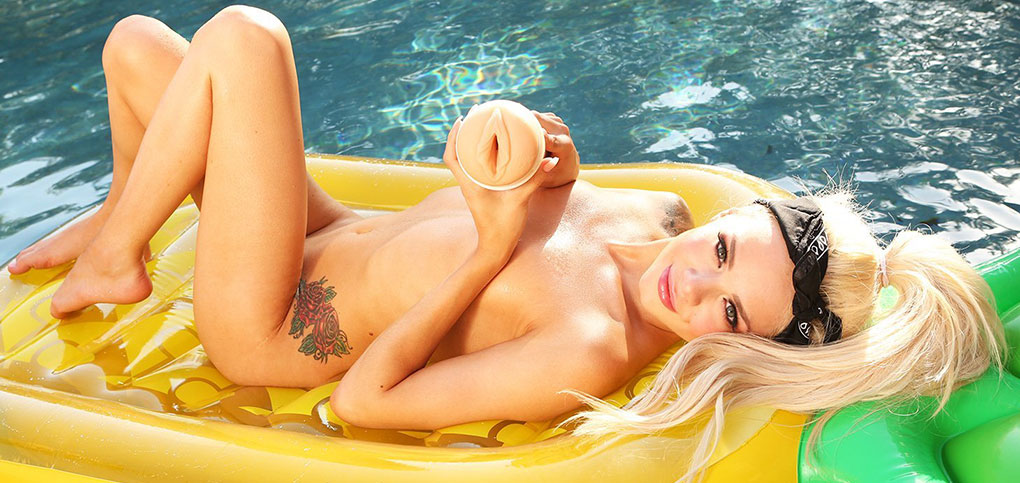 In general, all lady sleeves from the Fleshlight Girls line offer variety and are somewhat innovative. However, even with that in mind, I have to say that Elsa Jean's is quite uneven and has a lot to offer.
Most textures follow the rule of versatility and repetition. That means that the chambers are different, but there are repeating patterns, so you could enjoy a bit of consistency during your me-time. Elsa Jean's lady sleeve does not fall into this category.
Her lady sleeve, Tasty, has four distinct chambers that will drive you wild right from the get-go. As soon as you dip the tip of your pecker into Elsa's inviting, big, luscious lips and dive into the sleeve, you'll feel the difference between this and any other male masturbator you used before.
A Strong Start…
Tasty starts off very tight. The first chamber has compact ribs and only has around 0.4 inches in diameter. So as soon as you push in, you'll practically be at the edge of your orgasm. Elsa doesn't joke around! The first chamber is challenging to get past, especially if you have an extremely sensitive tip as I do.
Although the first chamber is relatively short, it's an excellent start and a great intro to the next section. A bit looser, the second chamber has several rows of big round bumps that alternate with square nubs that will massage you and give you a bit of a reprieve.
Now, I use this term loosely, given that this chamber is almost as tight as the previous one. So, depending on your sensitivity, you might not get any reprieve at all.
The second chamber is the longest (almost 3 inches). It's also the most intense. That's a good design choice, given that many men can't really reach the third and fourth chamber.
…For A Wild Finish
If you're lucky enough to be blessed by mother nature to reach the third chamber of Elsa Jean's lady sleeve, you'll hit a long ribbed patch that's twisted. It resembles a vortex more than anything else. The ridges are tight and deep enough to make the entire experience feel as otherworldly as it looks.
This chamber works great in tandem with the Fleshlight's suction feature, so I suggest you make good use of it. For those who don't know, the bottom cap on every Fleshlight can be tightened or loosened. That creates a suction that enhances the entire experience.
Finally, the last chamber sports big round bumps that will be an excellent finish (if you can reach them). The bumps aren't too big, and they are consistent, which, in my opinion, is the best design option for the last chamber. The sleeve is overall very tight and diverse, so I appreciated a bit of a relief in the final section.
Click Here To Check The Up To Date Price
The Butt Sleeve (Treat)
Elsa's butt sleeve has a tight tiny entryway that's an exact replica of Elsa's actual buttonhole and a texture that was designed specifically for her. It's much tighter than the lady sleeve version, which might be difficult to imagine considering that Tasty isn't that loose to begin with.
Treat has four different chambers and one super tight passage between chambers three and four. If you have a 5.5-inch penis, then you'll have the best time with the Treat sleeve. Here's why – the super-tight passageway sits right after the middle of the sleeve. It starts around the 5-inch mark, and it's less than an inch long.
So, if your heat-seeking moisture missile is between 5.5 and 6 inches long, that means that when you thrust it in fully, you'll find your missile head right in this passageway. The extra tightness will make you bust your load faster than ever before, trust me.
Related
Perfect Little Miss Americana?
Now I have to finish my Elsa Jean Fleshlight review in the classic Mark style and tell you all about her flaws. Luckily, she doesn't have many. Fucking into her feels like a dream come true, and storing is super simple due to the general design.
Cleaning, however, takes time and effort. Both sleeves are tight and have a lot going on, texture-wise. That means there are plenty of places your spunk can cling to, so you need to clean the toy thoroughly after every use. And that takes a bit of time.
Aside from cleaning, I did somewhat mind that Elsa Jean doesn't feel as realistic as others. However, that's mainly due to the versatility of texture in both sleeves.
I know that with a more consistent and boring pattern, the male sex toy would feel more realistic. But I'm not willing to sacrifice the different textures just for a bit of realism. So I'm actually glad the guys at Fleshlight didn't either.
A Few Parting Words
We've reached the very end of my Elsa Jean Fleshlight review! If you've made it this far – I'm happy you're here, man, thanks for reading. Elsa is, without a doubt, one of the top Fleshlight Girls for me. I was beyond excited to share my thoughts with all of you. If you agree with me, hit me up. And if you don't, well, more power to you, and let me know which girl is YOUR favorite.
Click Here To Check The Up To Date Price
Product Specs:
| | |
| --- | --- |
| 🏷️ Name: | ⭕ Elsa Jean Fleshlight |
| 📁 Type: | ⭕ Fleshlight Girls |
| ⚙️ Features: | ⭕ Super-Tight |
| 🛠️ Materials: | ⭕ Superskin |
| 📅 Last updated: | ⭕ November 29, 2023 |
Disclaimer
Our articles feature affiliate links. If you appreciate our content and would like to show your support, you can consider buying your new sex toys using the links we provide. Every purchase made through our links helps us earn a small commission, without any additional cost to you.