Are you wondering, "Why am I even googling male masturbation techniques, I know how to wank?"
Well, I can tell you that I've had the same thought. But then it came to me (in a wet dream): what if I've been doing the bare minimum all these years? What if I could up my fondling technique? And, oh God, what if there are levels and levels of male masturbation techniques and I'm still on the beginner one like a complete noob?
Granted, this was a few years ago (OK, more than a few, I'm not a spring chicken anymore!). Since then, I've done A LOT of research and found out I WAS RIGHT.
Honestly, there are so many male masturbation techniques, it would be a shame to go through life using only one or two of them.
"But what about all that BS that says too much wanking is bad for you, Mark?"
Well, that's just BS. A scientific study that was ongoing from 1986 all the way up to 2000, that included more than 20 thousand subjects was done to see if masturbation is harmful to mens' health. And, guess what? They found that quite the opposite was true.
Those men who ejaculated (squirt the juice, blew a load, jizzed or splooged) 21 times or more per month actually showed a DECREASE in their chance of getting prostate cancer.
DID YOU HEAR ME? You're literally saving your life by jerking off. A lot. I mean what better reason do you need to choke the chicken? Am i right?! So let's get to it….
Masturbation Techniques Using ToysMasturbation Techniques Using Your Hands
Masturbation Techniques For Men Using Your Own Hands
Let's get real. My favorite way of jerking off isn't going to be your favorite way to jerk off, and it won't be John's either. But maybe it WILL be – and that's why we gotta try 'em all, right? And let me tell you… I've spent a lot of time trying them all. (Which of course, makes me feel entitled to write this entire page on masturbation tips for men.)
And I've got to be honest here – I've found a ton of ways to get creative with my own two hands and random objects around the house. (holla!) But I have never found anything was as good as using male masturbation toys. If you haven't tried these yet – Dude, you gotta.
Legit call out here though – they all claim to feel like the real deal. They don't. Obviously. Because only the real deal can feel like the real deal. But some of them are pretty f*%@$g awesome. Let me explain….
Hands-Free Male Masturbation Techniques Using Sex Toys
If you haven't tried a male sex toy, you are truly missing out. Women have had vibrators for eons – it's about time we joined in on the fun. So here we go…
According to me (and my very extensive research) these are the best male sex toys on the market:
Numero Uno
Automatic Blowjob
Numero Uno: the Reigning Champion Autoblow A.I.

When it comes to hands-free male masturbation techniques, my top choice will always be the Autoblow A.I.+ Why? Well, because it's an intuitive blow job machine that simulates real-life blowies.
If you aren't sure what that means, let me enlighten you. The Autoblow A.I.+ was created by the wonderful people who sat through hours and hours of footage in order to make the perfect algorithm that will simulate real blowjobs. Thanks to their sacrifice, we now have a machine that has settings, modes, and patterns that resemble the real deal.
The Autoblow A.I.+ has two different modes. You can use one of the existing settings that simulate blow jobs. Alternatively, you can actually use it to its maximum capacity and pick a random setting. But, you can also connect it to the official app and get dozens of new customizable blowjob experiences!
Now, why would you do that? Well, because that's as close to getting your dick sucked by a real person as you'll get. Well, as close as you'll get without actually having someone on their knees in front of you.
The random setting brings the lovely element of surprise to the entire experience. And, when you think about it, that's just like getting a BJ from a real person. No matter how many times that specific person worships your Sexcalibur with their mouth, you never really know which move is coming just around the corner, right?
So, the random feature that uses the A.I.+ means you'll get an authentic (and different) experience every time.
What Makes It So Great?
Autoblow A.I.+ also has plenty of other features, which is why I put it at the very top of my list. If the real-life blowie doesn't sell you on it, the magnificence that is the pause button surely will. It's an amazing feature that allows you to play with yourself much longer than you normally would and try out that edging technique everyone's been talking about.
And, as a nice plus, Autoblow A.I.+ doesn't make too much noise. If you're looking for quiet male masturbation techniques, Autoblow A.I.+ is the toy for you.
Click Here To Read The Full Autoblow A.I. Review
Numero Dos: Kiiroo Onyx+ Is More Than Just an Understudy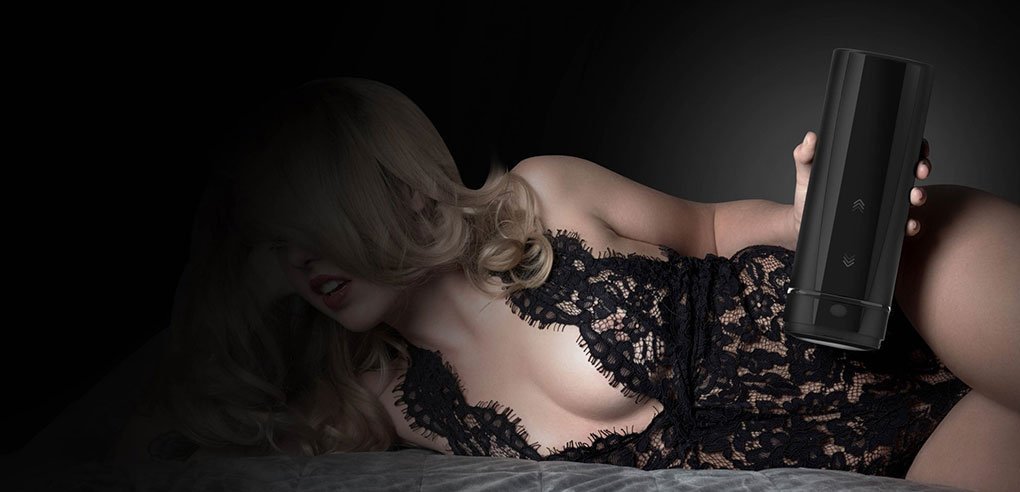 If you can afford it, getting a automatic blowjob machine will always be one of the best male masturbation techniques. Sure, there's not much technique to it, but, hey – at least your schlong will thank you later.
Automated toys are all the rage right now (and with good reason), and my second favorite is definitely the Kiiroo Onyx+. It's a well-designed versatile toy that you can use by yourself or with a partner. Did I hear someone say "mutual masturbation?" I sure did!
Kiiroo Onyx+ has several connectivity options. It's a part of a set, and you can pair it with another Onyx+ or, if your partner is a woman, with a Kiiroo Pearl. If you opt for this, the toys will connect and you'll feel everything your partner is doing and vice versa.
However, that's not all. You can also connect your toy with porn and make the toy mimic the video you're watching or use it manually. Let me tell you, having a toy act out what's happening on the screen in front of you is a unique and knee-shaking experience. Did you ever dream about having your dick sucked by a porn actress? Well, with the Onyx+, the dream quickly becomes a reality!
Finally, it might seem like manual mode isn't anything to write home about, but let me just remind you that the Onyx+ has an amazing inner sleeve. Just having your dick inside of it feels like you're thrusting into a fluffy cloud of happiness. So, don't diss the manual mode before you try it.
What Makes It So Great?
Kiiroo Onyx+ has a powerful motor that you'll definitely feel all the way down to your soul. Thanks to it, the toy both strokes you and vibrates in order to give you a "realistic" experience. now, I say "realistic" because none of my real-life partners vibrated (so far), but if they did, I'd probably make them a shrine in my bedroom.
The inner sleeve has 10 rings inside of it that constrict and relax in specific ways (depending on the mode you chose and on who's controlling the toy) to push you over the edge.
Read The Full Kiiroo Onyx + Review
Numero Three
Bluetooth Capabilities
Numero Three: the Subtle Ways of Lovense Max 2 Pack a Pretty Strong Punch

Although it doesn't look like much, Lovense Max 2 isn't a toy you want to overlook. It's another champion of cybersex which means that it technically falls into the teledildonics category. You can use it for long-distance sexy times with your partner, but you can also use it by yourself (which is why it graces this male masturbation techniques list).
Max 2's best feature is definitely the 360° contractions. Just like most other masturbators, Max 2 has a textured sleeve and a motor that makes the whole shebang better by making the toy vibrate. However, although those are amazing, they aren't Max 2's biggest selling point.
Lovense managed to make airbag technology work in terms of sex toys. This revolutionary move was made in an effort to make a toy that simulates the real deal. Now, it doesn't matter if your perfect real deal is a vagina or an ass, they both contract during bumping uglies. And, thanks to the airbag technology, so does Max 2!
The sleeve will contract and relax around your Sergeant Major, thus mimicking the contractions of a real-life orifice. Do you know how your girl's honeypot grips you tightly when she starts coming? Yeah, imagine that feeling but stretched out for the entire duration of your playtime. Ah, is this what heaven feels like? Probably.
What Makes It So Great?
The suction is out of this world. Listen, no matter how many male masturbation techniques I present to you, your hand will never be able to replicate automatic suction. But that doesn't mean you shouldn't try. The toy has an adjustable air vent that allows you to control the suction throughout your play session. The air suction complements the vibrations and the automatic strokes beautifully. It will leave you breathless (and your balls empty).
Read The Full Lovense Max 2 Review
Numero Four-o
Completely Waterproof
Numero Four-o: Gettin' down with the Fleshlight Quickshot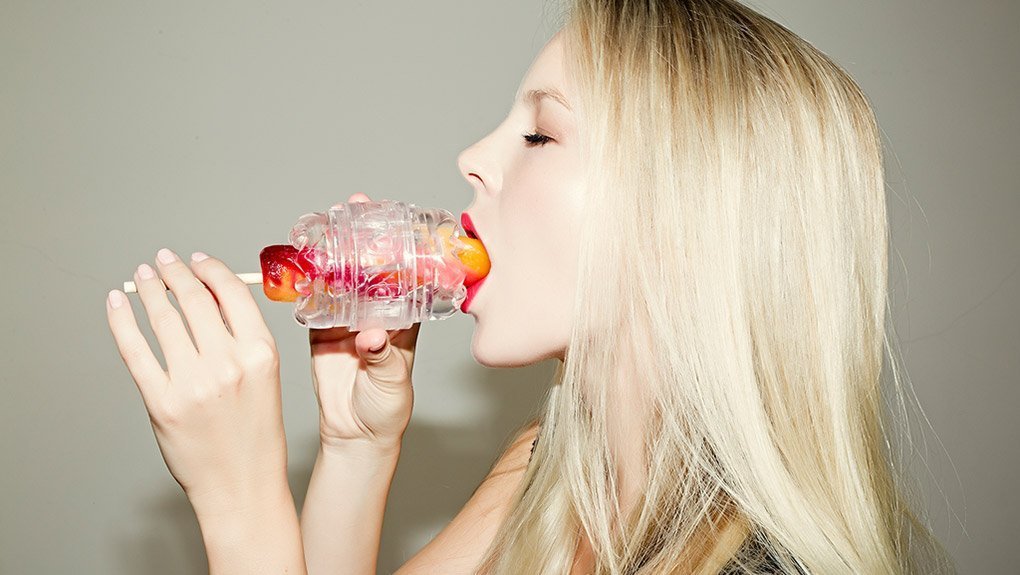 The Fleshlight Quickshot is great for the obvious reasons: it's compact (great for travel), no automation (can go anywhere), completely waterproof (you know where I'm going with this), and it's a great price (always a good feature).
But as the first non-automated male masturbation toy on this list, it's got to be good for something else too, right? And that it is.
It's open on both ends. It comes in 'clear'. Lost? That's okay. Perhaps you haven't been jerking off with as many male masturbators as I have. So let me explain.
Because it's open on both ends, when you actually blow your load, it'll shoot out the other side. This makes it amazing in three ways: seeing your own load be released can actually be kinda hot, you can use it for target practice so that when you get with the real thing you can hit that load exactly where you want it on their body, and if you ARE using it with a partner, you can shoot it off all over them.
And why do I like it clear? Because believe it or not (I didn't believe it before I tried it), watching my cock slide in and out of there is actually an incredible turn on. When you've got him all lubed up, sliding in and out of that clear masturbation toy, not only does it look bigger (hey now!) but it just feels more real. Like, don't you always try to catch a glimpse of your dick sliding in and out when you're doing the real thing? (Don't lie – I know you love it.)
What Makes It So Great?
Now you know I didn't include Fleshlight Quickshot on my list of best male masturbation techniques just for shits and giggles. The toy might be simpler than the previous three (given the lack of automation and how short it is), but it checks out some other boxes on my need-to-have list. Can you imagine what a nightmare it is to travel with Onyx+ (or better yet, two of them)? The Fleshlight Quickshot is compact, easy to hide, and, as an added bonus, offers a helping hand when you're getting a blowie.
Read The Full Fleshlight Quickshot Review
Numero Five-o
Modern Looking
Numero Five-o: Jacking off with the Tenga Flip Hole

The hands-free male masturbation techniques list wouldn't be complete without at least one male masturbator from the Tenga line. Tenga is a company from Japan, and they put their emphasis on being very discreet – putting sleek, modern looking designs on the top of their priority list. And of course (it should be obvious) pleasure.
The Tenga Flip Hole is a pretty basic design. You flip it open, apply the lubricant, close and insert your swollen member (anyone else remember that one-hit-wonder band? What a name…). But I digress…
While the use of the toy is very simple (just insert, stroke and use the buttons on the side to create instant pressure where you want it) the inside of the Flip Hole is actually very intricate, and the engineers have spent a lot of time ensuring that you're going to get some serious pleasure out of this thing. As you slide inside you'll reach several different chambers which the maker have named from 'lip flap' to 'quattro wave' or 'end orb'. But don't let the names freak you out.
As with most things, the Japanese know what they're building. That being said – it's important to note that while most of the other jerk off toys I've listed here are built to last for hundreds of masturbation sessions, the Flip Hole is only built to last up to 50 times. (Many of their other products are actually made to be disposable.) So, it's great if you're someone who is new to this type of masturbation and just want to try it out – or if you just want something to switch things up occasionally.
Just remember… as I said in the beginning of the page, the most your blow your load, the better for your health. 🙂
What Makes It Special?
The Flip Hole will grab both your attention and your one-eyed monster right from the get-go and it won't let go until the very last drop. The intense texture feels amazing, and it also has another, unexpected feature – if you put in enough lube, the toy will make a squelching sound while you plow into it. Now, this might not seem like a plus to some, but I love it and, at the end of the day, all sounds our dicks make are sexy, so deal with it.
Read The Full Tenga Flip Hole Review
Enough With The Toys – I Just Want Basic Male Masturbation Techniques and Tips!
So whether you're sick and tired of hearing about these toys because you really just came here in hopes of finding the best way to jerk off… OR you've just ordered one of the above mentioned toys and wondering what to do in the meantime… I've got you covered.
No toys needed, here is my list of 34 (yes, you read it correctly – 34!) tried and true male masturbation techniques. I hope you enjoy them as much as I did!
Start Simple: Male Masturbation Techniques for Noobs
Fistfight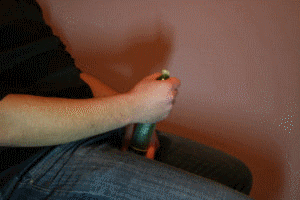 You already know this one
Lubrication: Optional
Out of all the male masturbation tips I can give, I thought about omitting this one – as I would assume that all men know it. This is your most basic (and recognizable) jerk off technique that is known around the globe. The way you move your hand has also become an international sign for 'wanker'. You know what I mean. Right?
Basically, wrap your hand around your cock, and slide it up and down your shaft. It's basic, I told you. But how can you make it a little more exciting? First of all – use a good lube! Experiment with different types of lube – some are stickier, some are smoother, some warm up, etc. One of my favorite techniques for male masturbation is also to jerk off until I'm just about to blow, and then stop. Wait a minute, and do it again. See how many times you can get so close to finishing before you finally blow it. It's a seriously intense orgasm when it finally comes, so be ready!
Thumbing A Ride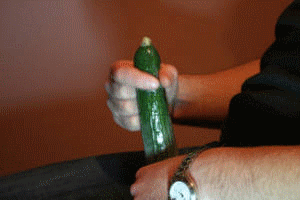 You have a palm, so why not use it?
Lubrication: Preferable
Okay, so this isn't (in my opinion) the BEST way to jack off, since it's pretty basic, but it IS pretty good nonetheless. You're just going to use your thumb and index finger, and grip your penis with those fingers. You'll likely want a bit of lube, but you don't need a ton. Once you're there, just start stroking up and down. Start off slow, and then get faster if it feels good. Play around with different pressure as well – and try playing with other parts of your body too (balls, perineum or even nipples) for the best effect. You can also spread all four fingers and act as though you're playing the flute as you stroke it back and forth. This will massage the shaft as you go for added pleasure.
Like I said – it's pretty basic, but it gives you plenty of time to use different variations and really change things up.
Polishing The Microphone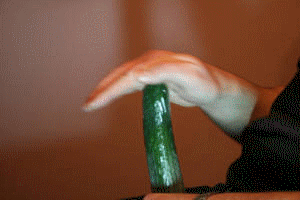 Beat one off on the down-low
Lubrication: Not necessary
There's a good chance that you've already pictured how to do this one in your mind. If not, let's go ahead and pretend that your penis is a microphone. You're just about to give a speech or sing your favorite karaoke tune, but you've got to make sure the mic is just right first, so you give it a little polish.
That's right, just place the palm of your hand over the top of the microphone (hopefully you realize we're still talking about your penis here) and cup your palm just slightly so that the top of the mic (head of your dick) fits nicely in the curvature. Then start moving your hand in a circular motion.
All guys are different, and I personally can get off quite nicely with just that motion and nothing else. But if you feel you need a little extra, go ahead and use your other hand to stroke the shaft. Play around, have fun.
The Long And The Shorts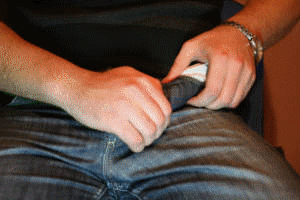 Beat one off on the down-low
Lubrication: Not necessary
Feeling super horny and don't have the time (or the place) to get naked? Or perhaps you're just looking for a different feeling? Keep your pants on, and still get off with this technique.
Use one hand (if needed) to grab the tip of your erect cock, while you use the knuckles (make a fist) of your other hand to rub it up and down. Whether you're in full clothing or you strip down to just your boxers, this is going to give a unique sensation that will really spice up your masturbation game.
And once you're here, don't be afraid to play around! Massage your balls with your other hand, or even rub back and forth on whatever surface you're sitting on. Try different materials to see which make you last longer or which feel best. The sky's the limit! Get creative. You just might want to make sure that you have an extra set of boxers on hand because this one can leave a mess! (a well-worth-it mess though!)
Stamina Builder
Ideal for fixer-uppers
Lubrication: Absolutely
If you're looking for male masturbation techniques that will help you build stamina or prevent premature ejaculation, then you're going to love this one. (As if you couldn't already tell that by the very creative name.)
Of course, just practicing this once or twice isn't going to make you you an overnight champ in the sack… you've got to practice it on a regular basis to see the most benefit. But that's not exactly going to be a chore, right? This method feels really good (as if the others don't, right?) You will, however, want to use a good amount of lube for this one to get it nice and slippery. Hold the base of your cock with one hand and then use the other to firmly pull up on the rest of it moving towards the head, and then right off the end. Then reach back down to the base (just above your hand) and do it again.
NOTE: Don't be alarmed if you find that you go slightly limp after each pull. It's normal because of the way you're basically squeezing the blood from your penis.
Happy Frog
Assume the (squat) position
Lubrication: Absolutely
Haven't you always wanted to use a frog for masturbation? KIDDING. Although the banana spurt jerk off instructions included a banana, the happy frog does NOT include a frog. YOU just have to sit like one. Kinda.
Squat down in a frog-like position. Most of you will need to support yourself by leaning up against a wall, or even your bed or dresser – whatever works for you. Just make sure to squeeze your leg muscles tight, right up to your ass. Then, go about jerking off in your favorite way. But when you know you're about to reach your climax, squeeze the leg muscles even tighter. I know it doesn't sound like anything, but you WILL be surprised at the difference this makes!
Just be very careful with this position if you have any knee issues – it's kind of a weird position and if you're down there for too long you might have trouble getting up – so just know your own body and do it only if you think you can!
Congrats, You've Made It To Level 2 of the Male Masturbation Techniques Game
Kneel Armstrong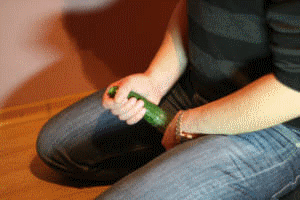 Take a knee and blow your load
Lubrication: Optional
Ready to fly high? You may not make it to the moon, but this is an incredibly intense masturbation technique for men. If you've never played around with your perineum then you're definitely in for a treat – just be careful. This has been known to leave men feeling light headed and a bit unstable.
Curious? Kneel down on the floor (or the bed if you need something softer for your knees) using your heels as a cushion for your butt. Moving your heels wider might be more comfortable, so just play around until you find a position that works for you. Now, start jerking off. However you like to do it normally, or whatever feels good in this position (great position to cup your balls for a little added pleasure). The trick? When you cum, be sure to spread out your butt cheeks as far as possible. I know it sounds weird, but you're going to experience a splurge more intense than you knew possible.
Kentucky Derby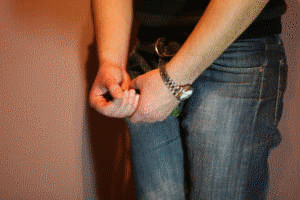 Get back on that horse
Lubrication: Preferable
This jerking off method gets its name because during the act you may feel like a hose jockey. This move is all about the thrusting of the pelvis. It may take you some time to get into the real flow of things, but if you can do it, then it's well worth your time!
You're definitely going to want some lube for this one to make sure you get a nice smooth stroke. And you're going to want to stand for this one. You might be able to get away with kneeling, but you'll definitely get better thrust action if you're standing. It's really up to you, so try it different ways.
Then grab your cock (with lube) your hands one above the other. Keep them stationary and let the thrusting do all the work.
Going Up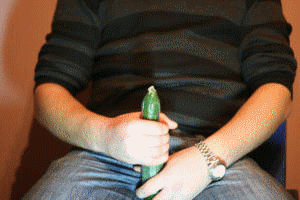 Go up and get high
Lubrication: Optional
Think of milking a cow, but instead of going down, you're going up. Got a visual?
Have a seat, and hold the base of your cock with one hand. Add some lube to the other and wrap it around your penis just above your hand that you're using to hold the base. Then squeeze it nice and firm, and move it up, up and away – right over the head of your cock. Be sure to give a nice firm pressure, and even gently squeeze the head as you move past it for a little added pleasure. Then keep repeating until you spill the milk so to speak. If you're in for a longer session, do the motion more gently.
As you're holding the base of your member, don't be afraid to play around a bit and see what feels good!
Going Down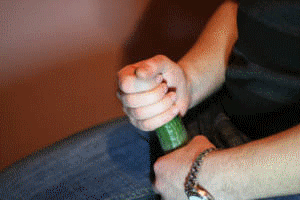 And way down we go (go, go, go, go)
Lubrication: Optional
What goes up must come down… right? This is exactly the same jerk off technique as the last one, but you guess it – your second hand is moving from above the hand, down to the base of the shaft instead of going up, up and away.
See what feels best for you – up or down. Or maybe you want to try going up a few times, then down a few times. Just note that if you go up and then down straight away you're basically back to a regular ol' hand-job. But of course – if that's what you're feeling in the moment, then do as you wish!
Balling The Jack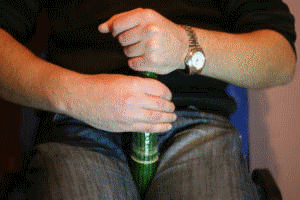 The jewels aren't for decoration, you know
Lubrication: Preferable
Perhaps you could guess that this is another great way of jacking off that focuses on adding pleasure with the balls. To do so, you're going to focus on the base of the shaft.
Lube up, and then grab the head of your cock with one hand. You're just going to hold on for now. And then with the other hand you'll stroke the bottom of your shaft. You can even go so far to gently pull down on your balls when you reach the bottom. Each time you do this, you're going to feel stimulation in the head where you're gripping it. If you want to enhance the feeling further, try cupping your hand and gently rubbing it in circles, or perhaps combine it with the sewing machine method (number 14) for an extra kick!
Grandfather Cock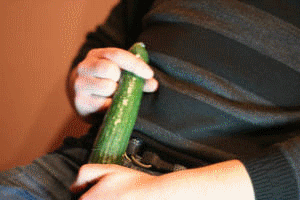 Watch out for the pendulum swing
Lubrication: Absolutely necessary
This isn't a male masturbation tip handed down from your grandfather (whether he did it or not, we'll never know) but instead it gets its name from those giant grandfather clocks – the pendulum swinging steadily back and forth. So keep that in mind as you attempt to follow these jerk off instructions – as it does take a little bit of skill that is only learned by experience.
First off, you're going to want to lube up your thumb and forefinger of whichever hand you prefer to jerk with. Also lube up the head of your cock, and even throw a little extra on your abdomen. With your un-lubed hand, swing your cock back and forth across your belly (like the pendulum of the clock) while your other thumb and forefinger tug at the head of your member.
I understand that it sounds weird – and it might take a bit of time to get into the 'swing' of things – but it's a pretty great sensation when you get there.
Training The Dolphin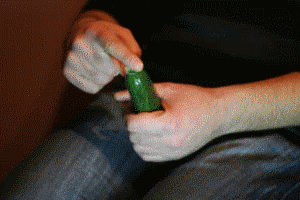 Make your dolphin whistle
Lubrication: Optional
This one gets it names from being similar to how it looks when trainers are trying to get dolphins to do tricks in the marine parks. You may have see it – the dolphin kind of stands out of the water, and the trainer has little fish in his hands that are keeping the dolphin there, circling them around his head to ensure he follows and performs the show.
So now that you've pictured that, I'll ask you to slip on some lube, and let's see how to perform a dolphin show of your own, shall we? Wrap whichever is your dominant jerking off hand around your cock, and start stroking. Then use the index or middle finger of your other hand to circle the head. Play around with this – circling the entire head, or just the tip, then changing the pressure from ultra soft (almost tickling) to a nice firm pressure. See what works best for you.
And don't be discouraged if you don't get it right away. Ever tried to pat your head and rub your stomach at the same time? It takes a bit of getting used to.
You're Almost There, Kid: Advanced Male Masturbation Techniques
Plasticine Pleasure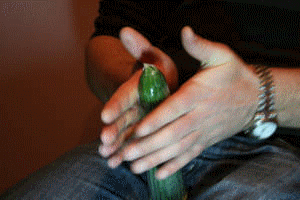 And we're rollin', rollin', rollin', yeah
Lubrication: Preferable
I feel like everyone played with Plasticine when they were a kid, am I right? The possibilities of things you could create with that molding clay were endless – but while all my friends were making castles or cars, or even swords or dragons, I always made the same old thing. The easiest thing you can make with Plasticine – a snake. You did it too, I know you did.
You take a ball of Plasticine and roll it out between your two hands until you have a nice long snake. Well little did I know then, we were all actually preparing for a really great masturbation technique for men. *Thanks kindergarten teacher!
Simply pretend your cock in the Plasticine, and start 'rolling it out' between your palms, moving your hands up and down your shaft. Using a bit of lube will definitely make this feel even better. And be sure to play around with both speed and pressure to see what feels best for you. Try moving your hands close together, and then further apart too. There are a bunch of variations for this move.
The Mashed Potato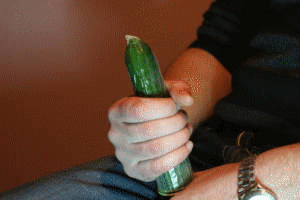 No potatoes were harmed during this wanking sesh
Lubrication: Optional
Despite the name (and how literal the past names were) there are no potatoes involved in this male masturbation technique, and no mashing (ouch!) Instead, I just want you to keep in mind the way that your hand moves when you're using one of those potato masher gadgets at Thanksgiving. And we'll come back to that later.
To start, you're going to want to jerk yourself off whichever way you like. But just before you're about to blow your load, STOP! Let the excitement slow down for just a minute or a few seconds – whatever works for you, just make sure you're still nice and hard (but you won't jizz as soon as you touch yourself again) And then continue stroking once again – but only on the shaft. This is where the masher movement comes in.
Short, quick stroking movements staying clear of the head of your cock. You may want to get nice and close – but do not touch. This will build up the intensity, and you're going to feel something real wild when it finally blows! (You can thank me later)
Overhead Bomber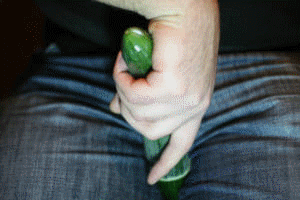 Time to see the upside-down world
Lubrication: Optional
We normally grab our cocks with the thumb and forefinger on top, right? I mean, that's the traditional, go-to method. But for this one we're going to flip that baby upside down. Yes, it's a bit awkward at first, but you'll get used to it. And you'll definitely want to use some lube when you try it, as the way your hand is positioned it will naturally be a bit of a tighter grip.
The great thing about doing it this way, is that your index finger is free to roam to new and unexplored lands. It can massage the balls, or just above, and add a bit of pressure to the shaft as you stroke it up and down. You can also try kind of twisting your hand/wrist as you come up to give it a slightly different feeling. See what feels good for you.
Ironing Out The Creases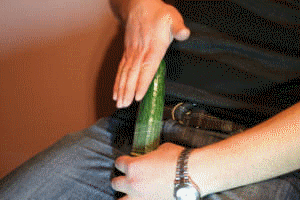 Make it nice and smooth (only to have it spit on you)
Lubrication: Preferable
Think of an iron, gliding easily across the flat surface of the ironing board. This is the motion that we're going to use for this male masturbation technique.
I do recommend using some lube for this one, just so you don't get stuck on the way down. So put a bit of lube on the palm of the hand you're going to use, and then lay your penis flat against your stomach. Keep your lubed hand flat, and use the full palm of your hand and the fingers to glide back and forth on your cock – do you see the iron resemblance now?
Just remember that since your cock is lying down, it IS pointed right at your face. You may want to put a t-shirt or a cloth across your chest so that when you blow your load you don't get it in your mouth. Unless of course you're into that, then by all means! This is a judgement-free zone!
What's For Dinner?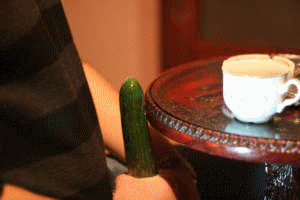 A new set of table manners
Lubrication: Optional
Is food involved? No. But the dinner table is.
When you're seated at the table, take out your cock and place it against the edge of the table. Use your hips to thrust, and feel your cock be rubbed by the hard edge of the table, a unique and incredibly satisfying sensation. It may sound a bit strange, but give it a try. It's actually pretty easy to do.
However, you may want to keep this one reserved for those nights when you're eating dinner alone – unless of course you've got the kind of guests that would be turned on by this, and to that, my friend, I say good for you! And carry on.
So there you have it my friend(s). You're at the end of the list. Now shut down the computer and go have some fun.
The Peppermill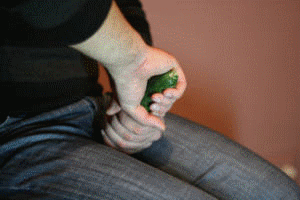 Twist until it pops
Lubrication: Absolutely
You guessed it – this method most closely resembles the motion of using a pepper grinder. It may sound (and look) a little painful, but it's not. Just be gentle.
You're going to want to wrap a loose fist with both hands – facing in opposite directions – and with one hand on top of the other. Then, move them in a twisting motion in opposite directions – just as you would with a pepper grinder.
You'll definitely want to use lubrication with this one to prevent chafing, and go nice and easy at first – you don't want to be twisting your poor penis in two different directions and end up hurting yourself. So until you get the groove of the motion go slow and gentle. Then experiment with moving your top hand up and over the head of your cock for a little extra stimulation.
Having Thumb Fun With My Friend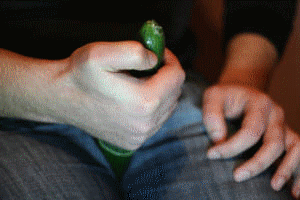 Give it a thumbs up, you know you want to
Lubrication: Optional
You'll be all thumbs with this one! (Such a funny joke, right?)
This one is actually quite similar to the regular fist stroke. Wrap your hand in a loose fist around your cock like usual, but instead of bring your thumb on the inside like you would normally do, keep it on the outside, next to your index finger.
Positioning your thumb in this spot allows you to stimulate that real sensitive spot just below your helmet. As you stroke, focus on how you move your thumb. Move it in circles, or simply apply pressure. But by focusing on that little area just below your helmet, you're going to create an incredibly powerful orgasm.
If you'd like to give your head a real unforgettable experience, use your other hand to 'polish the microphone' (see above). And then try to tell me that it's not one of the biggest and most intense loads you've ever blown!
The Sewing Machine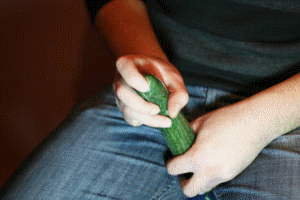 Thread the needle until it blows
Lubrication: Optional
Think about a sewing needle going up and down on the head of your cock. Erhm.. uh… scratch that. Although that IS what it kind of looks like, needle + cock does not bring to mind good images. So keep in mind, it's not really a needle, and it's not piercing or even hurting your best friend in any way.
So now that I've totally freaked you out… I'll tell you that this technique focuses mainly on the head of your cock. Grab a hold of it with your thumb and middle finger, and then place your index finger on top, kind of covering the hole (technical term: the glans). Now you're going to have to kind of flex your fingers, if you know what I mean, so that you're going in a quick and steady up and down motion. Because you're focusing mainly on the tip, you might reach climax quicker than expected, so be ready for that!
Welcome to the Semi-Pro Male Masturbation Techniques League
Under The Wire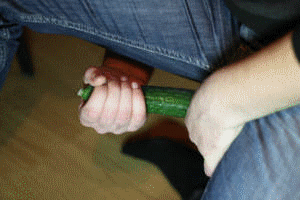 Try a different approach
Lubrication: Optional
Don't worry. No wires are involved in the making of this or any of the other male masturbation techniques.
Instead, what you're going to do is get seated on the end of your bed, or even on a chair – whatever suits you best. You just want to ensure that you're right on the edge – so that just your butt is on the seat.
Once you're there, you're going to put some lube on your dominant hand, and then reach underneath your leg, and grab your cock that way. Then just stroke it up and down as you normally would.
WHY do you have to go under your leg, you might be asking? Surprisingly, when you reach under your leg like that it actually gives the feeling that someone else is actually doing the work for you. I know – it sounds crazy, but try and you'll see what I mean! Which makes this the perfect position for reminiscing about a past sexual encounter or daydreaming about a future one.
Double Trouble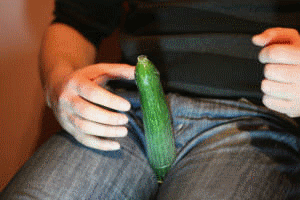 Prepare for trouble and make it double
Lubrication: Preferable
You guessed it – another male masturbation technique that involves both hands. However, you'll be using them in a much different way than the double whammy (number 13).
In this one you're going to with your legs together, and (with a good amount of lube on both hands and your cock) start one hand at the base and then pull up and right off the head. Then immediately do the same with the other hand. And keep going.
It may take a little practice, because you'll want to get quick enough that you have very little time (or none at all) where your dick isn't being stroked. So you've got to be quick with that following hand. But why does this feel so good? In addition to the stroking the quick motions pull and put tension on the balls which creates a more intense orgasm in the end.
Landing The Helicopter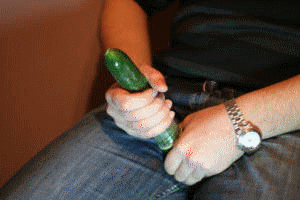 All crew members, prepare for a bumpy landing
Lubrication: Optional
These are pretty basic jerk off instructions, but it might take some getting used to as well.
To start, I want you to think of a helicopter – how the blades go round and round and round. That's essentially what you'll be doing with your own cock. Grip it like usual, but as you stroke up and down you've also got to move it around in a circular motion like the helicopter blades. If this seems a bit confusing and you feel uncoordinated, just start with the stroking. Then as you get going move is just small, slow circles. Once you've got that you can start circling faster until you reach the right combination that really works for you.
Experiment with different variations, too – like try to minimize the stroking and see if you can blow a load by just using the circling motion. Or use only short quick strokes versus longer ones – I think you get the idea.
Suck It To Me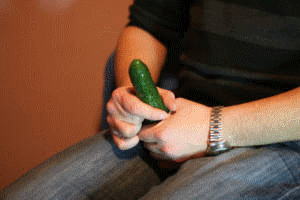 Maybe you CAN suck your own dick
Lubrication: Preferable
The idea behind this masturbation technique for men is to make it feel like you're getting your cock sucked (if you couldn't tell by the title). But first things first – you're definitely going to want a good lubricant for this one. Mouths are wet – so it's not going to feel like a blowjob without a bit wetness – and what better way than your favorite lube, right?
So once you've lubed up, form a shape with your index finger and thumb that resembles lips (like you see in the pic) and hold your member in between (pretty firmly). Now you're going to use your other hand (wrapped around your cock just below your fingers) to basically push your dick through the 'lips'. I know – hardly sounds like a real blowjob, right? But with a good amount of lube, a firm grip, and some awesome porn – you'll be having a grand ol' time before you know it!
Uncorking A Vintage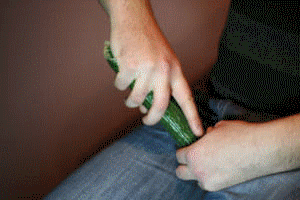 Don't forget to let it breathe
Lubrication: Preferable
Just like a fine wine, this only gets better with age. Or rather experience I suppose… but as you can probably already tell, the motion is similar to that of uncorking a wine bottle. Twist up and pop.
So get out some lube and put it on the head of your cock, or just on the palm of your hand and then cover the top of your penis with your hand. Move and twist your hand down the shaft, and then twist back up, making sure to fully twist over and around the head for the best sensations. It's a kind of unique twisting or circular motion that will definitely require a little finesse of the wrist. Once you get it going, you'll love it.
Just make sure you don't let that index finger that's running up and down your shaft go to waste. Let it reach down and stimulate the scrotum, and give you a little extra pleasure.
Skinning The Chicken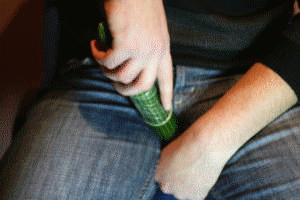 Choke it, skin it, rinse, and repeat!
Lubrication: Optional
Don't worry – no actual skinning here. And to be honest, I'm not entirely sure where the name came from. But that's how I learned it, and that's how I'm going to pass it along to you, my dear (horny) friends.
Hopefully I can make these intricate jerk off instructions clear enough for you to follow. It may be complicated, but the fact that you involve the scrotum (or basically your balls) makes it a real crowd pleaser. A lot of guys I know neglect the danglers, and I'm tell you – if you're doing the same, then you're really missing out on some serious pleasure!
So get ready to give this a try (and never go back!)
Lube up your thumb and forefinger and then reach down the back or your penis with those fingers, all the way down until you've reached the underside of your balls. Then slide up and down as slowly or quickly as you like, reaching all the way down and pleasuring the balls each time. If this is your first experience with ball play, then I can assure you it won't be your last!
Deep Lagoon Crotch Dive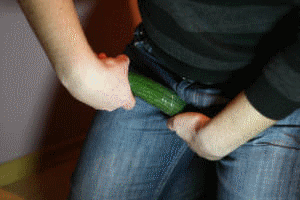 Thrust, baby, thrust!
Lubrication: Preferable
This is basically an addition to the overhead bomber. If you're not familiar with that method of jacking off, then look up at number 18 for a refresher.
You're going to want to use a decent amount of lube for this one, and be prepared to use both hands. With one hand you're going to go over the top of the penis with the overhead momber technique, using your index finger for a little extra stimulation of the shaft and scrotum.
With your other hand you're going to go deep into the crotch and then thrust your pelvis like you're actually doing the deed. It may take a bit of practice for it to feel comfortable.
You might want to try cupping or massaging your balls with the second hand, or even try playing around with your anus if you're comfortable with that. (It's not as weird or scary as it sounds, and honestly it feels damn good!)
Not for the Faint of Heart: Pro Male Masturbation Techniques
The Double Whammy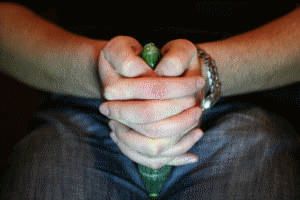 Gentlemen, please put your hands together
Lubrication: Optional
Double the fun with this male masturbation technique by using both hands together. Now this another one of those movements that may make you feel uncoordinated in the beginning, but it's worth the effort, I can tell you that. Use a bit of lube, but don't go nuts. You don't want to slip off!
So… clasp your hands together with your cock in the middle, so that the palm of each hand is on your dick, and your fingers are clasped together on the side away from your body. Next, start stroking up and down like that, both palms firmly against your rod. Once you've got that motion going, simultaneously begin moving each palm in separate directions. So still clasped together, move your right palm up, and your left palm down. Then switch – left palm up, and right palm down. Back and forth, back and forth, the whole while you're moving the entire thing up and down your shaft. At first it's difficult to get the hang of. But once you do, you'll be moving like a well-oiled jerk off machine.
Cock Slide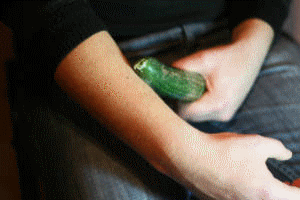 Jerk off with your whole body
Lubrication: Necessary
Think of your arm as a slide. Now think of your cock going down that said slide. Got it?
Perhaps you need more clarification.
Lube up your forearm, and then you're just going to move your penis along from the crease of your elbow right down into the palm of your hand and then back up. Close and circle the palm of your hand over the head of your penis when it reaches down there if you want a little extra stimulation. Or even try flipping your arm over and see how it feels with a little extra friction from your hair. It may not look like much but the head of your cock is pretty damn sensitive and it really does make a difference! Be creative with this one and just see what feels good for you!
Cross Handed Cock Rub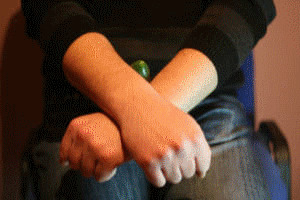 Cross your wrists and hope you don't die
Lubrication: Necessary
If you love just lying back while a woman rides you, then this is the best way to jerk off! It does take some time to get the hang of it, and honestly at first it may seem really awkward and even a bit silly, but have faith my friend – it will all be worth it in the end!
Instead of using your hands, you're actually kind of using your wrists. Make your hands into loose fists, and hold your arms straight out in front of you. Then you can put one over the other, crossed at the wrists. And then nestle your cock into the space where your wrists meet. Then depending where you're sitting (or laying down) find the technique that works best for you. You're going to need to be able to thrust your pelvis, so I recommend either propping yourself up in bed, or using a chair that has some give in the back. A recliner or rocking chair so that you can really thrust it just right. Throw on a good porn, and you'll be surprised how much it can feel like your partner riding you.
The Witch's Broomstick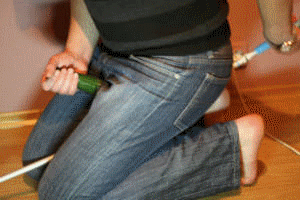 What's a jerk off session without a prop or two?
Lubrication: Highly recommended
If you've ever dreamed of being a witch and riding a broomstick, then you're going to love this male masturbation technique! That being said, however, it's not for everyone.
But you're probably wondering how to jerk off like a witch riding broomstick, right? Well first of all you'll need a broomstick. Make sure it's nice and strong (and fairly clean). You can use a curtain rod or anything similar if you don't have a broomstick handy.
Next, you're going to straddle it (like you're going to ride it) and then kneel down on the floor (or bed). The idea is to have the pole nestled between your butt cheeks. You can then jerk off as usual, but when you blow your load, your anus will automatically grip the pole giving you a more intense orgasm.
If you want to take it one pleasure step further, lube up the pole, and and kind of ride it up and down while you jerk off for a little added pressure on your perineum, as well as the anus. I understand that it sounds completely outrageous, but don't knock it 'til you've tried it!
Honey, I Fucked The Couch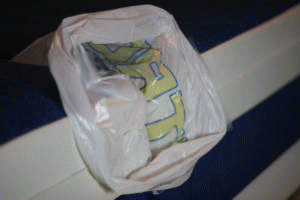 When your hand is not enough (turn to furniture)
Lubrication: Necessary
One thing I miss when I'm jacking off sometimes is the actual thrusting that happens during real sex. When you're just moving your hand back and forth, it lacks some of that realness. That's where your couch comes in.
You're going to need a plastic bag of some sort for this one and some lube. Make sure there are no holes in the bag because you're going to throw some lube in there and you're not going to want it squirting out all over your couch/body/floor/… you get it.
Once you've got lube in a plastic bag, put the bag between two couch cushions, or between the cushion and the base of the couch. Use your finger to make a nice hole/opening, and then I'm sure you can figure out the rest…
Stick your dick in, and thrust away. You can press down on the cushions to change up the pressure too. The plastic bag isn't quite like the realistic skin of male masturbation toys, but it will definitely do in a pinch.
Banana Spurt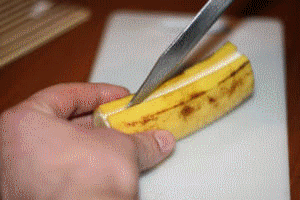 A fruit salad of a different kind
Lubrication: You already have it
As the name suggests, you're going to need a banana for this one. Yeah, I'm actually telling you how to jerk off with a banana. So go ahead and grab a banana from the kitchen (and a knife) – because I know you're too curious not to!
First thing you're going to want to do is chop off each end of the banana, keeping it to about 1 inch shorter than your own erect cock. Then, make a slice all the way down one side so you can open it up and easily get the banana out. You don't need the actual banana, so eat it, toss it in the trash, feed it to a squirrel – I don't care, just get rid of it. Next, you're going to wrapt this banana peel around your dick. Yup. Like a nice, yellow sleeve. Try to match the curve of the banana to your own curve (if that's a thing for you) but basically try to make them match as much as possible – it will feel better. Then stroke away. The good/surprising part? You won't even need lube, because the inside of the banana provides more than enough!
🏷️ No. Of Male Masturbation Techniques: 39
🥇 Best Male Masturbation Technique: Fistfight
📅 Last updated: July 28, 2022
What To Do After Mastering All Male Masturbation Techniques?
Well, even if you've tried them all, like I have, I'm sure your hormone-flooded brains (along with your rock-hard dicks) can come up with more. If you happen to come upon more male masturbation techniques, hit me up! I'd love to add more to my list! Have fun beating the bishop!