Fleshlight has given us many things over the past twenty-something years, but few of them were as impressive as the product we'll talk about today. From Fleshlight Girls to the Fleshlight Pump, the brand consistently does its best to give something we've never seen before. In my full Fleshlight Universal Launch review, we'll go over how this product (I'd call it a toy, but it's more of a futuristic helping hand) came to be and what it can do for you.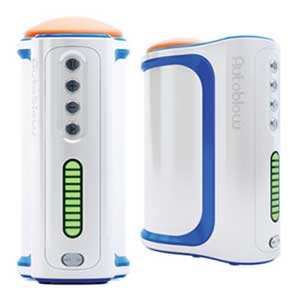 Autoblow A.I.+

Hands free blowjob toy

Heavy duty motor

Powered by artificial intelligence

Interchangeable sleeves

Body-safe materials

Plug it into any electrical outlet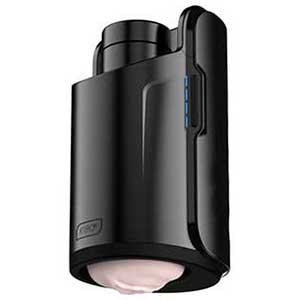 Kiiroo Keon

Automatic stroker

Sliding scale of speed

Elegant and discreet

Real-feel masturbation sleeve

Connects to video chat platform and VR porn

Easy to store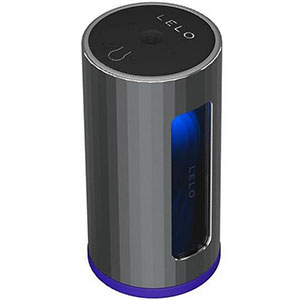 Lelo F1S V2

Hands free blowjob machine

Long-lasting charge

Fully waterproof

Powerful sensations

Realistic artificial skin material

Easy to clean

Promo Code: "HAPPYBF" - 15% Off
So, as the titans from Fleshlight would say, "Strap in and hold on!" We're off!
What Is The Fleshlight Universal Launch?
If you go to Fleshlight's original Universal Launch page, you'll see very little text. Instead, you'll be encouraged to watch a video about this majestic invention of theirs. To make it easier on you, here's the video here. However, let me just explain what you'll see first.
The video opens up with a space shuttle, mid-flight, and an astronaut in full space gear pushing buttons and calling command. Captain Jack Off (I know, right?!) from the USS Erectus wants to dock and unload his cargo.
So, basically, you're in for a few minutes of sex puns and a product presentation that speaks about the futuristic appearance (and function) of the Fleshlight Universal Launch.
With a name like that, I understand that you might not know what this product actually is. After all, no amount of sex puns could explain the relationship between space exploration, astronauts, and sex toys.
It is a sex toy, right?
Well, it's a sex AID. It's definitely a sex product if that helps.
Click Here To Check The Up To Date Price
The Dirty Details
The USS Erectus (that will never fail to make me laugh, by the way) advertises the Fleshlight Universal Launch, a device that turns your regular stroker into an automatic one. Are you intrigued?
Of course, you are. Every man who ever used anything (and I mean literally anything) to masturbate with wished someone or something else would do that job for him. We want nothing more than to pull our willies out, stick them into something, put our hands behind our back, and let the orgasms wash over us while we lounge.
This attitude is solely responsible for our reputation of being lazy in bed. And, listen, I'm a massive advocate for pleasing all parties during sex. Sex is a joint adventure, and everyone should do their part (if they want to) and put in as much effort as they can.
But when I'm flying solo? Heck yeah, I want to do as little work as possible. I also want to experience the most incredible orgasm of all time (yes, each time). Not many toys can meet these expectations.
As you'll see in my Fleshlight Universal Launch review, it definitely CAN.
Where Does Space Come Into That?

When you look at it, you have to admit that the product looks like a space station. And that, coincidentally, makes your pocket rocket into a real rocket. When you use it, you get to be Captain Jack Off for the night (or, more realistically, ten to thirty minutes).
Also, the space is a metaphor for exploring and innovation. Don't take it so literally. Fleshlight really did its best to keep revolutionizing the sex toy market. Ever since its conception, the Fleshlight company sought to fill the gaps in the market with products that were as high-quality as they were functional.
They always pull it off.
Now, Fleshlight Universal Launch isn't exactly a new product, given that it has a predecessor (the Fleshlight Launch and the later improved version, the Fleshlight Quickshot Launch). However, it's such an improvement upon its predecessor and has so many new things to offer that it's practically a novelty.
What Makes It Special?
Well, the clue is in the name. While its predecessors were only compatible with standard-sized Fleshlights (or had their own clear strokers), this one is universal. That means it's compatible with a lot of different versions of the Fleshlight, such as:
So, the Fleshlight Universal Launch is a real hit because it offers practically everything its predecessors did but with a new layer of variety. And we love variety, don't we boys?
The Fleshlight Universal Launch is an excellent choice for anyone who wants to turn their collection of Fleshlights into a collection of automatic strokers.
So, if you get this bad boy, you're in for some glorious handsfree fun. Of course, nothing can really work as a proper hands-free device, no matter how advanced. You'll still have to hold on to your Launch while it strokes your Fleshlight up and down your dick.
That might sound disappointing but just think about it. The machine controls the speed, intensity, and pattern of stroking. All you have to do is grab on for fear life (for the handles) and jizz all over the place. No more hand cramps, yay!
Click Here To Check The Up To Date Price
How Does It Work?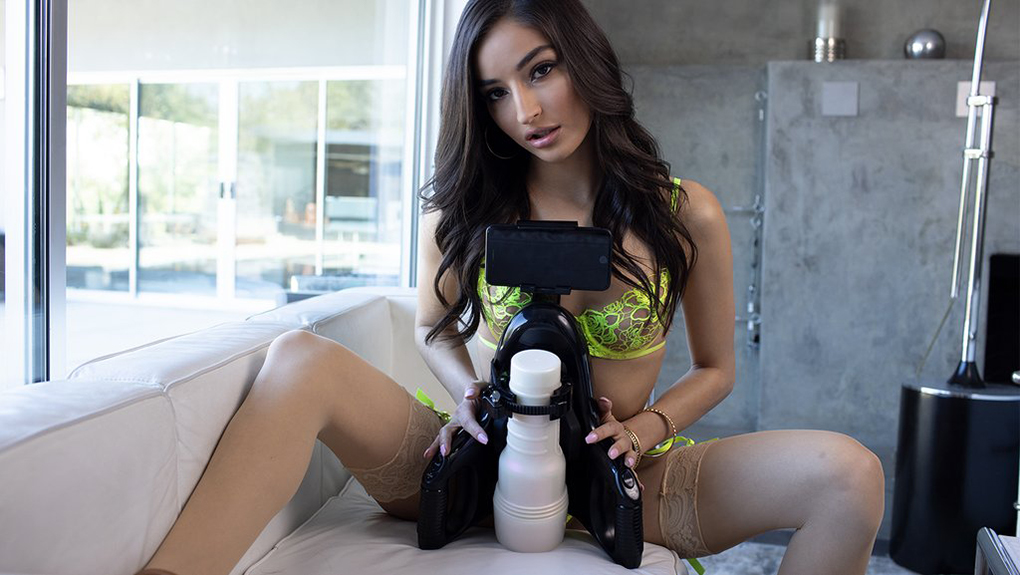 The most significant novelty in the Fleshlight Universal Launch and, coincidentally, the feature that makes it so universal is the strap that you can use to buckle in your Fleshlight of choice. This ratcheting system can accommodate practically any Fleshlight stroker.
But how do you use it?
Here's how:
Unpack your Fleshlight Universal Launch and assemble it (follow the instructions that are in the box).
Next, charge the device. We can't do much without power, can we?
Pick the Fleshlight you want to use to try this baby out. I went with my trusty Stoya the Destroya Fleshlight, but any other Fleshlight works just as well.
Apply lube, and don't be stingy with it. Put it inside your stroker and all over your pelvic thruster.
Once your beaver basher is lubed up, power up the toy. Press the hold button and hold it for 3 seconds.
Find the three buttons that will allow you to control the speed, length, and position of the thrusts.
Pick a combo that works for you.
Press the power button for one second to launch the toy.
Test the thrusts before you stick your ding-dong inside.
If all's well, slide into your stroker and let the fun begin!
That's it! As always, the Fleshlight brand aims for simplicity and functionality. The product might look complicated, but it's definitely easy to use.
The assembly is also reasonably straightforward. You have the user manual included with the product, as well as the instructions regarding use. Those will give you plenty of information about what you can play with and what the toy can do for you.
The Design
As mentioned, the Fleshlight Universal Launch looks like a space shuttle. Now, I've called plenty of male sex toys "futuristic" before, but none of them had this particular space-worthy, futuristic appearance. So, my humble apologies; it seems as if I exaggerated before.
Now I can safely say this toy looks like it dropped straight out of a Delorean (that's a time-travel joke, for you Gen Z-ers).
Anyway, even the packaging has a spacey feel to it. In the package, you'll find the toy (duh!) as well as:
The instructions manual
The setup manual
A handy phone mount
The power cable
As you can see, there's no stroker included. That, you'll have to provide yourself. Now, this might be a downside to some, but it's also somewhat logical. The previous version of this toy had to come with the stroker because it was the only one that was compatible with it. The version before also didn't come with the stroker, just like the Universal Launch, because you had a few options when it comes to picking the stroker.
Now, the whole Fleshlight selection is at your disposal (as opposed to one stroker or a handful of them), so you get to pick (and buy) the stroker(s) you want to use.
It Looks Like a Million Bucks
The Fleshlight Universal Launch has a vaguely triangular shape. It comes in a shiny black, which only increases the space-y design they were going for. The handles that are on each side of the toy are sturdy and easy to grab. Furthermore, they have a non-slip, ribbed texture on them.
The ratcheting system sits at the very heart of the toy. It's relatively simple but feels hard and sturdy under the hand. That gives off the impression that it won't snap after a few uses. Given that the toy was designed to withhold a lot of stroker changes, that's not really surprising.
And, before you go on saying how that doesn't mean anything, I'd like to remind you of two things:
Fleshlight is a high-end brand that consistently delivers in terms of quality.
I have personally tried every Fleshlight I own at least once (and many of them several times) with the Universal Launch. So, trust me when I say it will hold.
Overall, the toy looks classy and bulky. But, look, we can't really avoid the bulkiness considering that we were looking for versatility and adaptability. So, a subtle toy, the Fleshlight Universal Launch, is not. But at least it's highly effective.
Related
The Specs
Speaking of the size, here are the Fleshlight Universal Launch's measurements:
It's 15.25 inches tall (when you place the phone mount on it)
The handles are around 6 inches long
The whole toy is approximately 12 inches wide
So, as I said, it's a big toy. It's not subtle, and you'll need to clear out some room in your closet to store it.
The Features
The size is more than worth it, considering that it offers plenty of features. I already mentioned that you could control the speed, intensity, and position of the strokes. But what does that mean? Well, keep reading my Fleshlight Universal Launch review to find out!
Stroke Length
Some boys like to stroke the very tip of their schlongs while others focus more on the shaft. Some make long, tight strokes, while others prefer a more tight, short approach.
Either way, the Fleshlight Universal Launch has you covered. There are four different stroke lengths that you can pick from. Just push the stroke length button until you hit the one that works for you.
This is an excellent feature because it provides versatility, but it also means the toy is accommodating to all penis lengths.
Stroke Speed
If you thought the Universal Launch didn't make many improvements compared to its predecessors, you're wrong. While the previous versions had a maximum of 180 strokes per minute, the Universal Launch can go up to 250! Now that's some speedy handies!
Stroking Position
There are three different stroking positions. You can make the stroker focus on your tip, shaft, or the base of your penis. Again, these options are only a few clicks of a button away.
Battery-Powered, Cable-Assisted
The Fleshlight Universal Launch is battery-powered. You can charge the battery via the cable that comes with the toy or use that cable to plug the toy into an outlet. If you opt for the first option, you'll have around 60 minutes of playtime at your disposal. Once plugged into an outlet, the toy can go on forever. What's more, it will also charge the battery while you play.
The Phone Mount
The previous versions of this toy had an interactive mode and the option to connect to apps that let you play different porn videos and interact with them. Sadly, the Universal Launch doesn't have those options.
I really miss the interactive option that would sync the thrusts with what was happening on the screen. However, I don't miss it so much to be willing to give up on the 250 strokes per minute improvement that the Universal Launch got.
You can still mount your phone to the toy and watch porn while you play. You just can't make the toy interact with them.
Some of you might remember that I minded the position of the phone mount on the Quickshot Launch. It was positioned in such a way that it made it way too easy to get jizz all over your phone. I'm happy to say that the Fleshlight changed that with the Fleshlight Universal Launch. The phone mount is at an angle, and your jizz can get nowhere near it.
Where's the Dirt, Mark?
Yes, yes, I know – no toy is perfect. You might have thought differently while reading my Fleshlight Universal Launch review, but this toy is also not without flaws.
It's not waterproof (which means no shower play).
It takes forever to charge (it will take you anywhere between six and nine hours to fully charge the toy).
There's no interactive component.
Other than that, the toy is pretty close to perfect!
Fleshlight Universal Launch Review – Parting Words
Well, my delightful horndogs, we've reached the end of my Fleshlight Universal Launch review. I hope you had as much fun as I did. Did you like my review? If it tickled your fancy enough to get this toy, let me know how you like it and if you agree with my opinion. I love hearing from you guys!
Click Here To Check The Up To Date Price
Product Specs:
| | |
| --- | --- |
| 🏷️ Name: | ⭕ Fleshlight Universal Launch |
| 📁 Type: | ⭕ Male Masturbator |
| ⚙️ Features: | ⭕ Compatible With Different Versions Of The Fleshlight |
| 🛠️ Materials: | ⭕ ABS |
| 📅 Last updated: | ⭕ September 16, 2023 |
Disclaimer
Our articles feature affiliate links. If you appreciate our content and would like to show your support, you can consider buying your new sex toys using the links we provide. Every purchase made through our links helps us earn a small commission, without any additional cost to you.