Lately, I've been gushing with joy to anyone who'll listen about the newest toy in my arsenal, Lovense Gush. Although people listen when I ramble about my toys, no one understands me like you guys do. That's exactly why I decided to tell you all about one of the best male masturbators on the market in my new Lovense Gush review!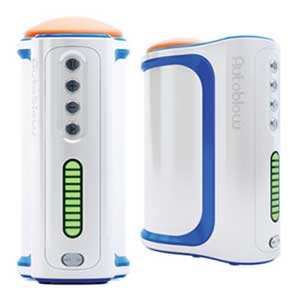 Autoblow A.I.+

Hands free blowjob toy

Heavy duty motor

Powered by artificial intelligence

Interchangeable sleeves

Body-safe materials

Plug it into any electrical outlet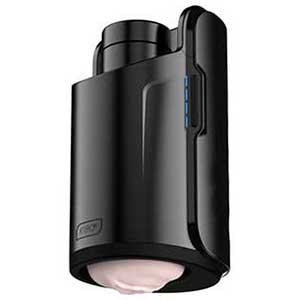 Kiiroo Keon

Automatic stroker

Sliding scale of speed

Elegant and discreet

Real-feel masturbation sleeve

Connects to video chat platform and VR porn

Easy to store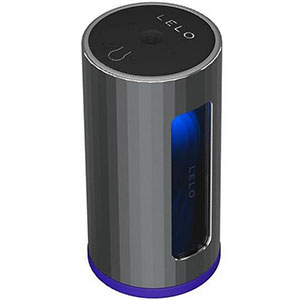 Lelo F1S V2

Hands free blowjob machine

Long-lasting charge

Fully waterproof

Powerful sensations

Realistic artificial skin material

Easy to clean

Promo Code: "HAPPYBF" - 15% Off
Today, we're taking a closer look at Lovense's new male mastrubator, appropriately named Gush. This toy is a Bluetooth masturbator that also vibrates and has a little something-something extra that will make your five-finger shuffle a tad more exciting.
Let's get this party (and this Lovense Gush review) started!
The Glory of Gush (Or, Better Said, What the Hell Is Gush?)
Well, although I already revealed that Lovense Gush is a male masturbator, I didn't really give you the full scoop. In fact, just calling it a male masturbator can't really convey the reality of just how awesome this toy is.
Lovense Gush is one of the most comfortable masturbators I've ever had the pleasure of wrapping around my beaver basher. It's light and velvety while also being tight (but not too constricting). As I'll explain later in my Lovense Gush review, this has a lot to do with ergonomic design.
Of course, that's not all. Lovense Gush looks a lot like a slap-on bracelet (not to be confused with a strap-on). However, don't worry; you won't have to slap your dick in order to get off (unless you really, really want to). This shape is a staple feature of the Lovense Gush and it's what allows it to work so well.
Aside from that, this masturbator also has a vibrating feature and you can control it from a distance.
Yup, you read that right! This masturbator can easily transform itself from a solo toy into something your partner can use to get you off!
But What Makes It Special?
Damn, you drive a hard bargain. Was everything I said not enough to deem the Lovense Gush special?
OK, OK, I see your point. Luckily, Lovense Gush has plenty to offer.
What makes Lovense Gush so special is actually the primary reason I chose to write this review. This particular toy falls into the one-size-fits-all category. Now, I know, I know, there's no such thing. However, if you look at it closely, you'll see that Lovense Gush comes pretty darn close.
This male sex toy was designed to accommodate you no matter your length and girth. We'll talk more about that later, but I'd also like to note that Lovense was aware that a toy designed to fit everyone might not be ideal for everyone. Toys that can stretch to accommodate all girths usually aren't able to provide consistent pressure and stimulation to guys who have a bit too much girth to their name (or their dong).
Well, Lovense Gush doesn't have this problem. It comes with an additional accessory (a band) that easily solves this problem.
Click Here To Check The Up To Date Price
The Stellar Design
As mentioned, Lovense Gush is really beautifully designed. The teal toy has a shape that's reminiscent of a slap-on bracelet. This was done on purpose because it allows the toy to provide multiple different forms of stimulation.
The toy is extremely flexible and has edges that will stay snuggly (and tightly) wrapped around your Colonel General. That means it's (as mentioned) suitable for pretty much any size.
More importantly, this toy is light and easy to use. You practically won't feel its weight while it slides up and down your member (although you will definitely feel its features).
Related
The Gush-Worthy Specs
As with all Lovense products, Lovense Gush comes in a neat, elegant box. It's not really anything to write home about, but it's not cheap-looking either. That is a nice bonus, although we all know none of us cares about the packaging (as long as what's on the inside is worth our time and money).
And speaking of the insides, let's see what the Lovense Gush box is hiding. Within it, you'll find:
The toy itself
User manual
Quick setup guide
Magnetic charging cable
A pouch that you can use to store your new toy
There are no extras within the box, but that's OK because it has all that you need.
The Size
Lovense Gush is a relatively small toy. It's roughly the size of an average fist (which isn't accidental). It's a bit under 4 inches long and it has 2 inches in diameter. The inside diameter is, of course, smaller and it measures around 1.25 inches.
The Material
I'm guessing that most of you are more than familiar with Lovense. It's an amazing brand that's been on the market for quite a few years now. Thus, it has built a reputation of sorts.
The main part of that reputation is its pledge to body-safe materials. Most of the brand's products, Lovense Gush included, are made out of 100% body-safe silicone. Those that have been following me for a while know that this move had Mark's seal of approval.
The toy has a front-facing control panel that is made out of ABS plastic. The rest is smooth, velvety silicone.
The Features
Now I've already mentioned a few of Lovense Gush's features, but let's break them down one by one and take a closer look. Otherwise, what's the point of this Lovense Gush review?
Waterproof
One of the better features of this toy is that it's not only waterproof but also submersible. It can withstand a submersion into water of up to one meter for around one hour.
So, in other words, you can play with your toy even in the bathtub or hot tub. It's up to you whether you choose to use it as a simple stroker or employ its admirably strong vibrating feature.
Vibrations
And speaking of the vibrating feature, I can't help but gush (get it?) about it! For such a small toy, Lovense Gush packs a pretty powerful punch. Considering it does so quietly (it only emits around 45 dB of noise when on max settings), I am one happy man.
As far as variety goes, Lovense Gush has three different vibration speeds and four different patterns. That's enough to satisfy even the pickiest among us.
I do have to say that the vibrations aren't as strong as I was expecting. Don't get me wrong, they are more than enough to not only stimulate but also make me bust my nut, but I expected more.
Hands-Free
Of course, the best-selling feature of Lovense Gush is its ability to transform itself from a simple stroker into a couples toy. Thanks to the Bluetooth connectivity feature, this toy can be remote-controlled.
However, keep in mind that a remote doesn't come with it. Instead, Lovense has taken a cue that society's been giving it so the brand decided to forgo the remote and make the toy completely app-controlled.
The Lovense app is easy to use and it gives you full control over the toy, no matter where you are. In other words, you can play both short and long-distance.
The Band
As I mentioned in the beginning, this toy comes with an accessory. That accessory is a silicone band that matches the toy both in color and material.
The band is there for all of us who might like a tighter or more intense experience. If you put the band around the toy (while your pocket rocket is inside, of course), it will tighten the Lovense Gush's grip on you.
Therefore, you'll feel every vibration or stroke more intensely.
I actually really love the band as a feature. Even though it might seem like an afterthought, it's actually a well-designed addition. Not everyone enjoys being gripped by their most private of parts strongly. Some men simply prefer a gentler approach. And some men don't know what they like!
That's why the band works. It gives people options and it offers variety.
Click Here To Check The Up To Date Price
Stop Gushing and Give Us the Facts
As always, there's only one way to end my Lovense Gush review and that's by doing a little breakdown of everything this toy has to offer.
If you've been paying attention so far, you already know that I'm a fan. However, I'm also realistic, so let's take a look at both the good and the bad.
The Pros
The toy is ergonomic which makes it a good fit for pretty much any girth.
The design is superb which makes the toy comfortable even for prolonged use.
The battery holds up quite well (you can get up to two hours of playtime for one full charge).
The app is simple to use and doesn't have connectivity issues.
Short and long-range controls are an excellent feature because they turn the toy from a stroker into something you can use hands-free or even with a partner.
The Cons
The vibrations could be stronger. Some of them are more than fine, but the strongest available setting could have been stronger.
The band is quite stretchy so it might get stretched out after prolonged use of the toy.
A Few Parting Words
Well, thanks for reading my full Lovense Gush review! I hope you got all the info that you needed. I know this is one man's opinion but I'm really impressed by both the design and functionality of this toy. It's comfy, pleasurable, and versatile. What more could you ask of a stroker? Therefore, I wholeheartedly recommend it to anyone (because it CAN fit anyone).
If you end up trying it out, don't be shy; hit me up and tell me all about it!
Click Here To Check The Up To Date Price
Product Specs:
| | |
| --- | --- |
| 🏷️ Name: | ⭕ Lovense Gush |
| 📁 Type: | ⭕ Male Masturbator |
| ⚙️ Features: | ⭕ Smartphone App Control |
| 🛠️ Materials: | ⭕ Silicone |
| 📅 Last updated: | ⭕ November 29, 2023 |
Disclaimer
Our articles feature affiliate links. If you appreciate our content and would like to show your support, you can consider buying your new sex toys using the links we provide. Every purchase made through our links helps us earn a small commission, without any additional cost to you.