Everyone knows about Fleshlight. Right? Fleshlight was one of the original creators and sellers of male masturbation toys on the market. That being said though, the pressure is always on them to come up with new and improved versions of their famous sex toys. And my friends, they've done it with the Fleshlght Turbo. Or that is, in my opinion they've done it!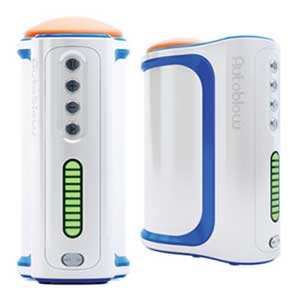 Autoblow A.I.+

Hands free blowjob toy

Heavy duty motor

Powered by artificial intelligence

Interchangeable sleeves

Body-safe materials

Plug it into any electrical outlet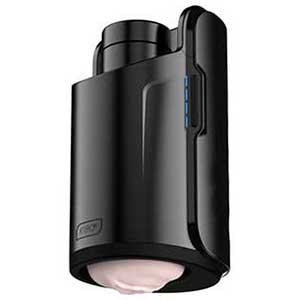 Kiiroo Keon

Automatic stroker

Sliding scale of speed

Elegant and discreet

Real-feel masturbation sleeve

Connects to video chat platform and VR porn

Easy to store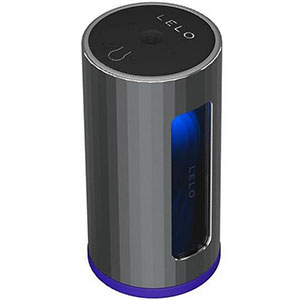 Lelo F1S V2

Hands free blowjob machine

Long-lasting charge

Fully waterproof

Powerful sensations

Realistic artificial skin material

Easy to clean

Promo Code: "HAPPYBF" - 15% Off
What is the Fleshlight Turbo?
There are two different models of the Fleshlight Turbo – the Fleshlight Turbo Thrust and the Fleshlight Turbo Ignition. Both come in ice blue and copper colors depending on your preference. For me, when I can grab it, I always get the ice blue or other translucent colors because I love seeing my cock clip in and out of these things. It's a pleasure I never would have imagined existed until I saw it with my own two eyes.
But I digress… whichever model you choose, they are quite similar. They're a traditional Fleshlight, meaning they're hand activated (not automatic) so you're responsible for moving them up and down your shaft. However, these models have been designed with 'three points of initial insertion'. Which I guess means that they've created three different levels of tightness as you get deeper into the shaft of the toy. From just stimulating the tip, to getting deep down into that deep-throat action, the choice is yours.
Related
How to use the Fleshlight Turbo
Of all of the sex toys for guys on the market, the FLeshlight is one of the simplest to use.
Step 1: Lube up your member with your favorite water-based lubricant.
Step 2: Stick it in part way and see how it feels. As I mentioned, the makers of Fleshlight designed this toy to have three initial insertion points, so it was specifically made in part to stimulate the tip of your dick. Try it out! See how it feels! Then push in a little big further and try to find the different "insertion points". It's a pretty fun game.
Step 3: Once you've got the feel of the Fleshlight Turbo, stroke as fast, hard, or as long as you like to make sure you get exactly the feeling you're looking for.
Step 4: Clean up.
And that's it folks!
But a couple suggestions, if I may to ensure that you're getting the absolute most out of your session with the Fleshlight Turbo Thrust or Ignition.
Start moving. Try using it in different positions, instead of just always laying on the bed or on the couch. Get creative! Use it in the shower, or in the kitchen. Where would you love to have sex with a hot, naked chick? Take it there.
Watch porn. There's nothing better than adding a little bit of porn viewing to your masturbation session. Is it just me or does it make the whole thing seem a bit more realistic?
Use lube. This one seems like it should be obvious, but you'd be shocked by the amount of guys who tell me that they didn't realise they should be using lube! I can't even imagine – didn't that start to burn? Or at the very least, feel less than amazing? Use lube guys. And use a water-based lubricant so that you protect the soft materials that these sleeves are made of.
Make sure you clean it properly. Fleshlights are great, but because they don't have a fully removable sleeve they aren't always the easiest to get clean. That combined with all the textured pieces inside the sleeve, and you can have a smelly bacteria mess if you're not thorough when cleaning. Be sure to use a high quality antibacterial soap, or specific toy cleaner to really get it clean. Once you've rinsed it off, make sure you let it dry completely before storing to ensure it doesn't get mildew or mold.
Have fun! That's what it's all about right? See what feels good for you and go with it! Everyone is going to be different, and because of the freedom you have with this type of toy it really lends itself well to experimentation.
Click Here For More Information About The Fleshlight Turbo
What do I love most about the Turbo toy?
If you're familiar with my posts, you'll know that I'm a fan of the Fleshlight series. Maybe it's nostalgia, maybe it's because they continuously make a good product. But either way, I like the Fleshlight Turbo too, and here's why:
It's completely mobile. The great thing about not having an automatic blowjob machine? I can take it anywhere. I can take it in the bath or the shower. I can take it in my car if I wanted, or the bathroom stall at work. It's up to me. And I must say I do like that sometimes.
That end piece. I don't know what they call it, but it's what makes the Turbo so unique. It's made to stimulate the tip of your penis, and that my friends, it does! It's unlike anything I've seen with Fleshlight before, and honestly unlike anything I've seen on most sex toys before. I can't really explain it, other than it feels amazing.
Blue ice all the way. I love the fact that with these translucent "ice" colors it allows you to actually see what's going on inside. With most of the other toys you've got hard cases blocking all the magic. With the blue ice you get to watch your cock slide in and out, and honestly I think the material makes it look extra large. Think you won't enjoy it all that much? I say give it a try. You might surprise yourself. I know I did!
Size. It's a good size for tucking away in a storage box in my closet, and not too big either if I want to take it away with me when I travel for the weekend. Although a bit heavy for carry-on perhaps (and I definitely don't want to be that guy pulling it out at security) it doesn't take up too much space in my checked luggage.
Cost. For a high quality, dependable and sexually satisfying toy, the price can't really be beat. If you're not into spending over a hundred bucks and still want to reap the benefits of blowjob simulation, then this is great.
Welcome to the dark side of the Turbo toy
As much as I sing the praises of most things Fleshlight, and perhaps even more so the Turbo, it still has its downfalls.
I have to use my hand. Okay, so I know just above I said that there are good things about non-automated blowjob simulators (and there are) but there's also something to be said about automation. So, this one's a catch 22 I guess.
Non-anatomical entrance. The thing feels amazing, and I assume that's why the main entrance looks the way it does, but at the same time I really enjoy looking at those pussy or mouth lips as I enter the blowjob machine.
No more deepthroat than any other. The packaging claims that the three insertion points will assist in tip stimulations (check!) and deepthroat sensations (not so sure here). It feels amazing, I've already said, but I don't really think it adds anything more to the deepthroat sensation than any other Fleshlight product. In my opinion, they all feel pretty similar once you're that far in – it's more in the insertion that I feel the real differences.
My final Fleshlight Turbo Review
Overall, I'd say the Fleshlight Turbo is a great product for anyone looking for a really well made blowjob machine – but only if you're not too set on having an automatic one. You are responsible for the stroking all on your own – which as I mentioned above has both it's ups and downs – it really just depends on your own preference.
With the Fleshlight brand you can usually be pretty confident that the quality is going to stand up to heavy use, so that's a bonus – and you can totally bring it in the shower. That's something I miss when I'm using the fancier automated blowjob machines. So my final conclusion is that the Fleshlight Turbo is great for anyone who is cost-conscious but still wants to have a great experience – or for someone who already has the automated versions and simply wants to spice up their sex toy arsenal or go back to the basics. It's also a great way to get your feet wet if you're not sure whether you'll like a male masturbator at all. But let me tell you – if this is your first time using anything like this, you'll be lucky if you last more than 30 seconds!
Click Here To Check The Up To Date Price
Product Specs:
| | |
| --- | --- |
| 🏷️ Name: | ⭕ Fleshlight Turbo |
| 📁 Type: | ⭕ Blowjob Machine |
| ⚙️ Features: | ⭕ Completely Mobile |
| 🛠️ Materials: | ⭕ Superskin |
| 📅 Last updated: | ⭕ September 16, 2023 |
Disclaimer
Our articles feature affiliate links. If you appreciate our content and would like to show your support, you can consider buying your new sex toys using the links we provide. Every purchase made through our links helps us earn a small commission, without any additional cost to you.