As you all know, I've been on a tireless mission to find the ultimate toy that'll rock my (and your) world like a sexy superhero swooping in to save the day. Well, my friends, buckle up and prepare for liftoff because I've finally discovered the Arcwave Pow: a silicone dual-entrance suction control male masturbator! Whew, that name's longer than my… well, never mind.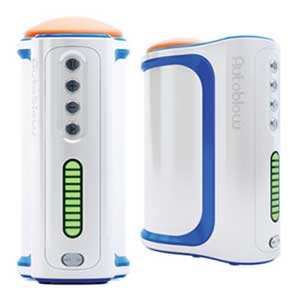 Autoblow A.I.+

Hands free blowjob toy

Heavy duty motor

Powered by artificial intelligence

Interchangeable sleeves

Body-safe materials

Plug it into any electrical outlet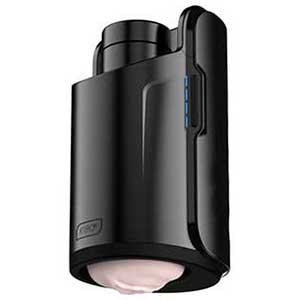 Kiiroo Keon

Automatic stroker

Sliding scale of speed

Elegant and discreet

Real-feel masturbation sleeve

Connects to video chat platform and VR porn

Easy to store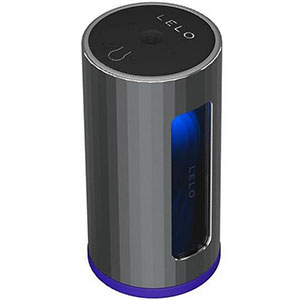 Lelo F1S V2

Hands free blowjob machine

Long-lasting charge

Fully waterproof

Powerful sensations

Realistic artificial skin material

Easy to clean

Promo Code: "HAPPYBF" - 15% Off
This bad boy promises to deliver mind-blowing pleasure like a roundhouse kick to your pleasure centers. Will the Pow become the superhero of your solo sessions or end up just another sidekick in your toy box? Grab your capes and utility belts, my friends, and let's dive into the depths of pleasure with this pulsating Arcwave Pow review!
The Pow-er Behind the Toy: Arcwave's Pleasure Revolution
Arcwave is a company that's all about pushing boundaries and breaking barriers in the realm of male pleasure. These pleasure wizards are known for crafting top-notch toys that pack a wallop, like a kung-fu master delivering a swift kick to the libido. So when the Pow crossed my radar, I knew I had to give it a whirl (or should I say, a whirlwind of pleasure?).
Pow-erful Attraction: Why I Couldn't Resist the Arcwave Pow
The Arcwave Pow caught my eye like a shiny new sports car at a midlife crisis convention. With its dual entrances, suction control, and sinfully seductive helix texture, I knew it was destined for a starring role in Mark's Naughty Corner. And as if that wasn't enough, it comes in three sexy colors (black, blue, and mint green), so you can choose the hue that best suits your personal style or matches your bedroom decor. Because who doesn't love a well-coordinated boudoir, am I right?
But I didn't just choose the Pow for its good looks – oh no, my friends. This toy promised to deliver a pleasurable experience that would leave me breathless, weak in the knees, and probably craving a cigarette (even though I don't smoke). As your fearless pleasure ambassador, it was my duty – nay, my honor – to take the Pow for a spin and report back on whether it's the real deal or just another flash in the pan.
Unboxing the Pow: A Christmas Miracle for Your Manhood (No Mistletoe Required)
Let's kick this Arcwave Pow Review off with the packaging info. When it arrives, you'll be thrilled to know that it comes in discreet packaging, so your nosy neighbors and judgmental mail carriers won't have a clue about the treasure trove of pleasure that awaits within. That's right, folks; your secrets are safe with Arcwave.
Click Here To Check The Up To Date Price
Now, let's talk about that magical moment when you unbox your new best friend. It's like waking up on Christmas morning, ripping open the wrapping paper, and discovering that Santa really does know what you want (and that you've been a very naughty boy this year).
Inside the box, you'll find the Pow suction control stroker, nestled snugly in its sleek plastic case like a high-tech rocket ship ready to blast you off into orgasmic orbit. The design is modern and stylish, making this one of the rare toys that'll look right at home on your nightstand – it basically looks like your ordinary Bluetooth speaker!
But wait, there's more! When you opt for this love gadget, you also get free shipping, a 2-year warranty, and the peace of mind that comes with knowing you're investing in a quality pleasure product. You'll also find a product manual and safety instructions, so you can make sure you're getting the most out of your Pow (and keeping your most precious cargo safe and sound).
In short, in the box, you will find:
The Pow suction control stroker, ready to be your partner in pleasure;
A 2-year warranty, ensuring you're protected from any unexpected mishaps;
A product manual and safety instructions, so you can use your Pow with confidence and ease;
Click Here To Check The Up To Date Price
What Sets the Pow Apart: A Symphony of Stimulation That'll Blow Your Mind (and More)
At first glance, the Arcwave Pow had me intrigued. It boasted a sleek, impressive design that exuded confidence, and its size hinted at the promise of satisfaction. However, we all know that the true test of a pleasure toy lies in its features. So, without further ado, let's dive into the nitty-gritty and explore what makes the Arcwave Pow stand out in a sea of male masturbators!
Size
The Arcwave Pow is a premium manual stroker that boasts a flexible diameter of between 3 cm to 4.5 cm and an insertable length of 17 cm, ensuring a perfect fit for your pleasure rod. The full-length design of the toy ensures that every glorious inch of your manhood gets the VIP treatment it so richly deserves. Say goodbye to feeling left out, my well-endowed friends!
Material
Its inner sleeve is made from skin-friendly silicone, providing a ridged pleasure surface that'll have you reaching new heights of ecstasy. In other words, the Pow is gentle on your most precious parts while still delivering those intense sensations that'll leave you weak in the knees and wondering what just hit you.
Waterproof
Want to take your play sessions to the bathroom, tub, or, dare I say, a pool? No problem! The Pow is fully waterproof, so you can enjoy aquatic adventures without worry. Just be prepared for some steamy shower sessions!
Price: $69
With its premium features and quality materials, the Pow offers excellent value for money. It's like treating yourself to a luxury sports car without breaking the bank.
Suction Control Valve
But what really sets the Pow apart is its super suction. The air pressure release valve works its magic by tightening the silicone sleeve, giving you a customizable, all-natural suction sensation that doesn't need any pesky batteries. Just pop a finger over the valve while you're in the throes of ecstasy, and you can tweak the suction power to your heart's (and other parts) content, for a tailor-made, out-of-this-world experience. Simply put, the Pow puts you in the driver's seat, allowing you to adjust the pressure for a personalized experience that'll have you feeling like Goldilocks – it's just right.
Dual Entrances
Sometimes you want it tight, but other times you are in the mood for something loose? No problem! Choose from two differently sized entrances for a tailored grip and tightness that'll have you seeing stars (and possibly hearing angels sing).
Quick-Drying and Easy to Clean
The unique Quick-Clean Helix texture means less time on cleanup duty and more time enjoying yourself. It's like having your cake and eating it too, but with orgasms instead of frosting. And let's not forget the Pow's quick-dry ventilation lids. These ingenious lids serve a dual purpose: not only do they keep your beloved toy safe and sound when it's taking a well-deserved break, but they also promote top-notch ventilation, ensuring a speedy and squeaky-clean drying process. So, after a sizzling session, you can rest easy knowing your Pow is chilling out, fresh as a daisy, and ready for round two (or three, or four… no judgment here!).
Related
Using the Pow: Your Ticket to Cloud Nine and Beyond
For this Arcwave Pow Review, I made sure to put this bad boy through its paces, ensuring that no stone was left unturned in the quest for ultimate pleasure. From the anticipation of the first ride to the post-play afterglow, I left no aspect unexplored in my quest to determine if the Pow is truly the game-changing male masturbator it claims to be. So, here's everything you need to know when taking this bedroom gadget for a spin.
Solo Play: Buckle Up for a One-Way Trip to Pleasure Town
To kick off your solo journey, pick the entrance that calls to you the most (variety is the spice of life, after all), and generously apply some water-based lube to ensure a smooth ride. Once you're all lubed up, let the Pow's Helix texture and adjustable suction work in tandem to send you skyrocketing to new heights of ecstasy. Trust me, you'll be blasting off to Pleasure Town faster than a rocket on the Fourth of July!
Now, let's talk about how it feels when you dive in. The moment you slide inside the Pow, you'll be greeted by an incredibly snug yet accommodating fit that leaves no inch unattended. As you stroke, the Helix texture massages and teases your most sensitive spots, while the adjustable suction adds that extra layer of intensity that will have your toes curling in delight.
Partner Play: Double Trouble for Twice the Pleasure
While the Arcwave Pow is primarily designed for some good old-fashioned solo fun, there's absolutely no reason you can't bring your partner along for the ride. Let them take the reins and control the suction valve for a thrilling, hands-free experience that's sure to spice things up in the bedroom. As the saying goes, two heads are better than one – and in this case, it couldn't be truer.
Just imagine the excitement of relinquishing control and letting your partner dictate the pace and intensity of your pleasure. The combination of the Pow's incredible features and your partner's intimate touch creates an experience that transcends the boundaries of solo play, opening up a whole new world of shared satisfaction. So go ahead, share the love (and the Pow), and discover the uncharted territories of partnered pleasure!
Pros: What I Liked About the Pow: The Highs of this High-Tech Hugger
Customizable experience: With dual entrances and suction control, the Pow lets you tailor your pleasure to your preferences.
Easy to clean: The Quick-Clean Helix texture makes maintenance a breeze, so you can spend more time enjoying your toy and less time scrubbing it down.
Stylish design: The modern look of the Pow and its sleek storage case make it an attractive addition to your collection.
Versatile: The waterproof design and electronic-free operation mean you can take the Pow on all sorts of adventures, wet or dry.
High-quality materials: The body-safe silicone feels amazing and ensures a safe, pleasurable experience.
Cons: What I Didn't Like About the Pow: Minor Bumps on the Road to Pleasure
Not suitable for all sizes: Some users may find the full-length design a bit too much (or too little), depending on their size.
No vibration feature: While the Pow offers plenty of stimulation, some users might miss having vibration as an option.
Can be noisy: The suction control valve can produce some noise during use, so this might not be the best option for those who require discretion.
Final Thoughts: A Pow-erful Addition to Your Toy Box
In this Arcwave Pow Review, I've laid bare the ins and outs of this pleasure powerhouse, and I can confidently say that this male masturbator is an undeniably fantastic addition to any self-respecting pleasure-seekers collection. With its smorgasbord of customizable features, top-of-the-line materials, and refreshingly simple maintenance, this baby is destined to become your go-to pleasure provider in record time.
So, if you're ready to take your self-love sessions to a new level, look no further than the Arcwave Pow. This sexy little number will not only blow your mind (and other things), but it'll also keep you coming back for more – pun absolutely intended. Don't just take my word for it, though; grab one for yourself and experience the undeniable Pow-er of this magnificent masturbator!
Click Here To Check The Up To Date Price
Product Specs:
| | |
| --- | --- |
| 🏷️ Name: | ⭕ Arcwave Pow |
| 📁 Type: | ⭕ Male Masturbator |
| ⚙️ Features: | ⭕ Quick Clean Helix |
| 🛠️ Materials: | ⭕ CleanTech Silicone |
| 📅 Last updated: | ⭕ November 29, 2023 |
Disclaimer
Our articles feature affiliate links. If you appreciate our content and would like to show your support, you can consider buying your new sex toys using the links we provide. Every purchase made through our links helps us earn a small commission, without any additional cost to you.