Saying that the original Fleshlight changed my life forever would be an understatement. I mean, I loved that toy so much, I decided I wanted to write about toys like it for a living. So when I saw the new release of the Go line, my heart skipped a beat. I've been so excited to do this Fleshlight Go review and give you guys the true low-down on the latest line. Here we go.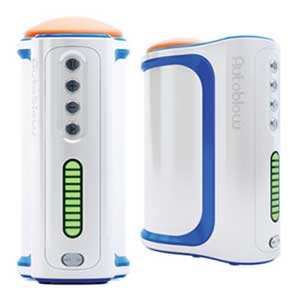 Autoblow A.I.+

Hands free blowjob toy

Heavy duty motor

Powered by artificial intelligence

Interchangeable sleeves

Body-safe materials

Plug it into any electrical outlet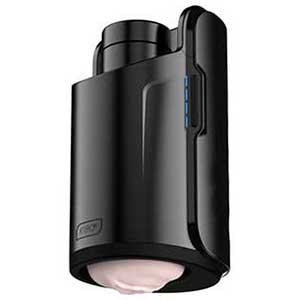 Kiiroo Keon

Automatic stroker

Sliding scale of speed

Elegant and discreet

Real-feel masturbation sleeve

Connects to video chat platform and VR porn

Easy to store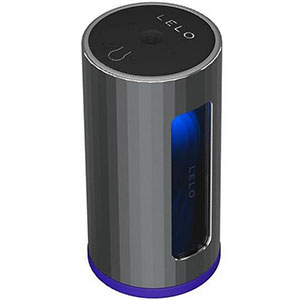 Lelo F1S V2

Hands free blowjob machine

Long-lasting charge

Fully waterproof

Powerful sensations

Realistic artificial skin material

Easy to clean

Promo Code: "HAPPYBF" - 15% Off
Fleshlight Go Review – What Is It?
To answer the question in the title, no, Fleshlight did not reinvent the wheel, but they did make it smaller and cooler. In the simplest terms, the Fleshlight Go line is just like the original, only lighter, narrower, and more compact. In fact, the reason I decided to write this Fleshlight Go review in the first place is that the toy is travel-ready.
You see, since it's so small, you can easily pack it up in a backpack or bag, and take it with you wherever you go. It won't take up a lot of room, or weigh you down since it's so lightweight.
Another perk of the Go being smaller is that you can wield it with just one hand. That sensation feels much more natural, and the payoff is much greater. While I was doing the five knuckle shuffle, my arm didn't get tired once, which has happened with the original.
The Fleshlight Go Specs
In this part of my Fleshlight Go review, I want to talk about some of the things that make this toy so special. The first reason I fell in love with the Go is the soft and supple sleeve. It's made out of Fleshlight's patented Real Feel SuperSkin material, which is essentially TPE (thermoplastic elastomer). Also, it's phthalate-free and removable.
The case is made out of soft plastic so that you can easily hold it, and it won't fall out of your hands. However, even if that happens (lube hands are the worst), the case is sturdy enough so that it doesn't break. There are also small bumps on the side that help with the grip even more.
But one of the coolest things about the Fleshlight Go is the end-cap, which you can use to customize pressure. Depending on how big your little buddy is, and what kind of sensations you enjoy, you can make it tighter or looser.
If you're a dude who loves shower, bath, or hot tub sex, you'll be happy to know that the Go is submersible and waterproof. You can even buy a shower mount that will help you secure the toy better.
The Size
Now for the part that I'm sure you're most interested in – the size. To start off, it's important to mention that the Go is 17% smaller than the original. That being said, it's still not tiny by any means.
The entire Go toy measures 7 inches in total length, while the insertable one is 6.5 inches. On the other hand, the width changes depending on the entry and end. At the entry point, Go is about 3 inches wide, while at the top, it's much narrower, and comes at around 2 inches.
Given that the average penis length is about 5.6 inches, I think that the majority of you won't have a problem. But if you have a freaking Eiffel tower between your legs, it might be an issue.
Click Here To Check The Up To Date Price
Fleshlight Go Intro Video
The Go Line
When the Fleshlight Go line came out, the company put out four different versions of the product. They all cater to different tastes but do pretty much the same thing (and have some hilarious names).
But I think it's better if I go over every model in my Fleshlight Go review, just in case. That way, you won't blow your money or load on something that you don't like.
Surge Lady
With the pink taco topper, Surge Lady looks almost exactly like the Pink Lady on the outside. But the inside is a whole different story. If you ever bought the original, you know that it's pretty much just a straight tube all the way through. But the Surge Lady leveled up and has some bumps and peaks inside.
The sleeve's entry and end look the same and have these ridges. However, the middle part has like these little bumps that gently massage your danger noodle. Even though the overall design is simple and straightforward, the male sex toy still delivers a powerful punch.
Torque Ice
My, oh my, did I have fun with the Torque Ice. Back in the day, when I got my first Fleshlight, I just got the regular version, the Pink Lady, and didn't buy the Ice. But since I enjoyed the see-through Quickshot Launch so much, I thought that I should splurge and buy myself a Torque Ice. Let me tell you boys, it was the best decision I'd ever made.
The materials, size, and pretty sensations are more or less the same as with the Surge Lady. But the experience of seeing my bishop polished is something out of this world. You get to see it all happening, right in front of you, and it's so freaking cool.
The sleeve inside is ribbed all the way through, except for the middle, where there's a smooth little bubble. It all comes together in such an awesome way, which is why Torque Ice is my favorite model of the bunch.
Jolt Butt
The design of the Jolt Butt resembles the one from the original series, but with a couple of major differences. For one, the opening is much tighter and feels snugger than the previous version. It's also, for lack of a better word, plumper, and the topper doesn't have any curves.
While playing with the Jolt Butt for my Fleshlight Go review, I found it a bit dull, I'm not going to lie. Unlike all of the other models, there are no bumps, ridges, or peaks that play with your mind. Don't get me wrong; the Jolt will still get you where you need to go, no doubt about it. It's just not quite as thrilling as Torque Ice, for example.
Stamina Training
Another old favorite that I liked are the Stamina Training sleeves, with a butt and cooter toppers. These look slightly different than others in the collection, and they have gold cases. Sure, they look fun and expensive, but they're not really subtle, so it's a give and take.
Of course, it's on the inside where all the magic happens. While the toppers differ, the sleeves in the Stamina Training line are the same. They both have these awesome bubbles inside that will, over time, increase your schlongevity. So if you're usually quick on the draw, these Fleshlights can (and will) change your sex game for the better.
Click Here To Check The Up To Date Price
How I Use the Fleshlight Go
Let's move on to my favorite part of this Fleshlight Go review, and that's talking about how the toy performs. If you've used the original before, you probably get the gist, but I wanted to give my first-timers some instructions.
The first thing you'll want to do is to put a crap-ton of lube in the sleeve. I recommend using a water-based one, and Fleshlight's own line of lube is pretty solid. There are different types of lubes that'll give you different sensations and allow you to experiment more. I honestly like them all, except for the Fire one. I just don't understand who would want their skin flute to feel like it's on fire, but to each their own, I guess.
Then, pull the Fleshlight Go over your pleasure pump, and start going to town on yourself. As I mentioned earlier, you can manipulate the end-cap to increase or decrease the pressure, which is great.
I forgot to say this earlier, but another upside of the Go being smaller is that you can feel the sensations at the end of the sleeve. Most average-sized guys (like myself) tend to miss out on touching the tip, but that's not a problem with the Go.
With a Partner
As part of my research for the Fleshlight Go review, I tried the toy with a partner. Needless to say, it was beyond amazing.
From my side, I felt like getting the softest, most intense handjob ever, and I blew my load in under five minutes.
Once I was done, I checked in with my partner to see how she got on with it, and her reviews were glowing. She said that the Go was easy to manipulate and move, and it didn't strain her wrists.
Also, because I used the Torque Ice, we were both able to see inside, and it gave us an even bigger rush. So if you've been looking for a toy to use with a partner, I'd definitely recommend Fleshlight Go.
Related
How to Clean Your Fleshlight Go
Since the Fleshlight Go is smaller than the original, it's easier to clean and dry, and the process is super simple. All you need to do is get some mild soap out (preferably the liquid kind), and maybe some toy cleaner.
First, take the sleeve out of the Fleshlight Go, but don't turn it inside out. I've seen a lot of people doing this because they think that it'd be easier, but it'll just ruin your precious pocket pussy.
Once you've had the water running for a while, and are sure that there's no more spunk in sight, squirt a few drops of your soap inside the sleeve. Then, get your pointer and middle fingers up in the Go, swirl them around, and clean in the process. When you're happy with the results, rinse the sleeve once again, and leave it to dry.
From my experience, the Fleshlight Go male masturbators take a couple of hours to fully dry, but that depends on different factors. Either way, my suggestion is to set it on a kitchen towel or something and put it back in the box once it's dry.
Why You Need to Get Your Baby Batter Out of the Fleshlight Go
The best way to ruin a perfectly good pocket pussy is by not cleaning it. The combination of jizz, skin cells, sweat, and all that jazz will seep into the toy's pores and break it down. So instead of playing with it for years, you'll have it for a few months until it becomes a worthless piece of junk.
But more importantly, you're putting yourself at risk, especially if your trouser snake has a turtleneck. The bacteria buildup will get up under your foreskin, where it can wreak havoc. Trust me, you do not want to know what smegma smells like.
Even if your Johnson isn't wearing a jacket, you'll still be susceptible to skin and yeast infections. So for the love of all that is good in this world, just de-jizz your Fleshlight.
Where It Falls Short
Look, I'm not going to beat around the bush – if you're hung like a horse, Fleshlight Go probably won't be your best bud. I mean, with an insertable length of 6.5 inches, your monster dong wouldn't fit inside. If that's the case, you could go with the original one since it has an insertable length of 8.5 inches.
But while writing my Fleshlight Go review, I think I found a solution for you boys who are sporting a third leg. If your heart is set on getting Go, all you have to do is take the sleeve out before starting your session. It doesn't feel the same since the sleeve is slippery, but it's still damn good.
Another minor issue I had with the Go line is in the variety and inclusivity. So far, you can only get the toys in a pink (or white) skin tone. I wish that there was a bigger skin color variety because sometimes I like to mix things up. But hey – here's to hoping.
Is the Fleshlight Go Worth Buying?
I'll end my Fleshlight Go review by saying that, yes, absolutely, definitely, 100%, you need the Fleshlight Go in your life. There are countless upsides to getting it, and only a couple of downsides that aren't really dealbreakers. Even if you have the original Fleshlight, I would still recommend getting this one. It's compact, lightweight, and you can take it with you when you travel.
Click Here To Check The Up To Date Price
Product Specs:
| | |
| --- | --- |
| 🏷️ Name: | ⭕ Fleshlight Go |
| 📁 Type: | ⭕ Fleshlight Sex Toy |
| ⚙️ Features: | ⭕ Customize Pressure |
| 🛠️ Materials: | ⭕ SuperSkin |
| 📅 Last updated: | ⭕ September 16, 2023 |
Disclaimer
Our articles feature affiliate links. If you appreciate our content and would like to show your support, you can consider buying your new sex toys using the links we provide. Every purchase made through our links helps us earn a small commission, without any additional cost to you.