Another day, another Svakom toy for me to play with and test out. Today on the menu? The Svakom Sam Neo review!
Those of you who remember my Svakom Alex review probably also remember me praising the company for shifting its focus onto the male sex toy market. As someone who's well-known for their dildos and vibrators that (primarily) cater to a female audience, they pleasantly surprised me when they started making extraordinary men's toys.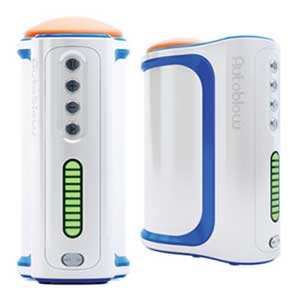 Autoblow A.I.+

Hands free blowjob toy

Heavy duty motor

Powered by artificial intelligence

Interchangeable sleeves

Body-safe materials

Plug it into any electrical outlet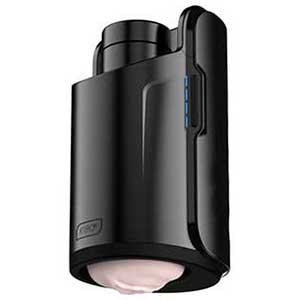 Kiiroo Keon

Automatic stroker

Sliding scale of speed

Elegant and discreet

Real-feel masturbation sleeve

Connects to video chat platform and VR porn

Easy to store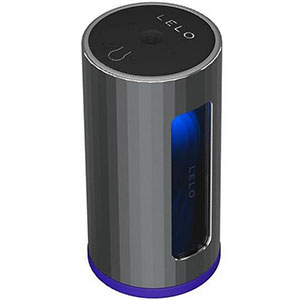 Lelo F1S V2

Hands free blowjob machine

Long-lasting charge

Fully waterproof

Powerful sensations

Realistic artificial skin material

Easy to clean

Promo Code: "HAPPYBF" - 15% Off
Now, I'll tell you straight from the get-go that this particular toy has quickly become one of my go-to toys. Why? Because it can suck my ding-a-ling like no other toy before. But that's not all! Sam Neo has quite a bit more to offer.
I just wanted you to know I'm quite biased when it comes to this toy. With that in mind, let's continue this Svakom Sam Neo review.
What Even Is the Svakom Sam Neo?
Sam Neo is another great male masturbator from Svakom's line of exquisite male toys. Unlike its big brother Alex, which is a thrusting toy, Sam Neo is the New Chosen One (Get it? Because its name is Neo?) that will liberate you by sucking your brains out.
Yeah, you read that correctly – Sam Neo is a sucking male masturbator that has several (wonderful) sucking speeds and patterns for you to choose from.
I think we'll all agree that there's very little that's better than a blowjob, right? Well, Sam Neo will give you the blowjob of a lifetime.
Plus, it comes with several additional features.
OK, But What's the Fuss About?
If you're wondering why I'm going on and on about this toy when it's just a sucker masturbator, I'll tell you. It's because it's an interactive sucker masturbator!
Aha! You weren't expecting that, were you?
Yes, the reason I decided to write this Svakom Sam Neo review is that it's one of the better interactive suckers on the market. The sheer versatility of this toy was enough for me to start getting giddy with excitement. However, once I got it and actually started playing with it (and saw just how good it was), I knew I had to present it to you guys.
So here we are – the Svakom Sam Neo review is here! Let's dive into the nitty-gritty of it, shall we?
Click Here To Check The Up To Date Price
The Design
If you've played with the Svakom Alex (or at least read my review) before, then you'll recognize Sam Neo's design. The sleek lines and the black and white combo of the outer shell and the sleeve have become somewhat of a signature look for Svakom toys. And, if we're being honest here, that's not a bad look to be known for.
Of course, just like the Alex toy, Sam Neo also looks like a blender. However, there seems to be no way to work around that particular problem in the sex toy industry, so we'll just have to roll with it.
If nothing else, the design is overall quite elegant, and the product looks (and feels) luxurious. What more could we ask for?
The Specs
As with many previous Svakom male toys, the company claims this toy is a result of extensive scientific research that was done in order to ensure the optimal design of the toy. Therefore, they promise a toy that will fit pretty much anyone and conform to any type of body (or, better said, shlong).
Now, in my experience, that's quite a bold claim. However, I do find Sam Neo to be a good fit for most men. Take a look at the specs and see what I mean by that.
The Size
Sam Neo is quite a bulky toy. However, there's a good reason for that. After all, the toy has a mechanism that allows it to suck your brains through your Sexcalibur. To do that, it has to be somewhat big.
But, on the plus side, even though it's big, Sam Neo isn't difficult to handle. The ribs on the outer shell ensure you always have (and maintain) a proper grip on the toy (even when your hand is all lubed up).
The toy is 9.5 inches in length. Out of those 9.5 inches, 7.5 are insertable. That's a good size that will accommodate most men (even the lucky bastards who are above average).
The Material
The outer shell that houses the inner sleeve is made out of high-quality, matte ABS plastic. The inner sleeve is made out of silicone, which is an amazing feature that I'll never stop praising Svakom for.
The sleeve in Svakom Alex (the thruster toy) was made out of TPE – a point of contention I had with the toy. Luckily, it seems that Svakom, as a brand, continues to evolve and grow, which is why it updates its products as it launches them. Thanks to that, we can all enjoy a sucker masturbator with a silicone sleeve.
The texture inside of the sleeve is quite pleasant. It's full of bumps and ridges that will slide over your pecker, stimulating it (that's, of course, on top of the sucking). However, I do have to mention that the sleeve feels quite tight. It has a tight entry point that will grip you right from the very start. I tested it both with and without the suction, and in both cases, the grip was quite strong.
Now, that's not necessarily a bad thing. However, be prepared for a wild ride with Sam Neo (that will start before you even turn it on!).
The Features
Finally, it's time for the best part of this Svakom Sam Neo review: the features! As mentioned already, the toy has plenty. However, my favorites were, of course, the sucking feature as well as the interactive feature.
Click Here To Check The Up To Date Price
Tuck and Suck
Sam Neo has five different suction and vibrating features that you can shuffle through until you find the one that stimulates you in just the right way. Keep in mind that you can't control these separately. As you go through the suction options, the vibrations that accompany them will change as well.
The toy will start on a light pulsating feature as soon as you switch it on. The sleeve will grab on and let go of your dick at a specific frequency that's quite enjoyable. If you decide to shuffle further, you'll quickly experience other options:
Grip and release suction that is quicker than the previous one but holds the grip for longer
Extra strong vibrations with an extra long grip (that's sucking you off)
Suction only
Vibration only
These five options are, I'm sure you've noticed, quite distinct. I really appreciate that because toys often offer quite a few vibrating and suction patterns that are only slight variations of a couple of main patterns. So Svakom going out of its way to ensure you have five really specific patterns to choose from is a huge deal.
From a Distance!
Another amazing thing about Svakom Sam Neo is the fact that it's app controlled. Connecting the toy to the app is super simple, and, unlike with some other toys, Sam Neo will find the app and connect right away.
Once you log in and connect the device, you'll be able to control it easily. You'll see two little dots on your screen. One of them allows you to control the suction levels, while the other controls the vibrations.
So, with the app, you get more versatility when it comes to features. Of course, you also get to play with the toy in hands-free mode, which is ideal for couples (especially those who are long-distance).
Any Extras?
Yes! Aside from having vibrations and suction features, Svakom Sam neo also offers some extras.
For example, it's splash-proof and USB rechargeable. You can charge it pretty much anywhere. However, a word of warning – it takes around 3 hours to fully charge the toy. But for that, you'll get a full hour to enjoy all the wonders that Sam Neo offers!
Related
The Dirty Deets: the Pros and Cons of Svakom Sam Neo
As per usual, let's wrap up this whole Svakom Sam Neo review with a small overview of the toy. Overall, I'd recommend this masturbator to pretty much anyone. Of course, just because the toy quickly skyrocketed on my list of favorites doesn't mean it's without any downfalls.
Let's take a look:
The Pros:
The design of the toy is quite lovely! The toy has quite a bit of weight to it which makes it stable and easy to use.
I appreciate that there were zero connectivity issues with the app. It works like a charm, even from a distance. That's excellent for those who are considering Sam Neo as a couple's toy.
The suction features are amazing! They feel like a vacuum got stuck on your pocket rocket (in a good way!).
The Cons:
It's not waterproof. As someone who enjoys his bath time a bit more than most, I would have loved to have this toy suck me off under the shower. There's just something special about getting a blowie while the water cascades down your body, isn't there? But sadly, Svakom Sam Neo can't really deliver on that front.
The toy is quite tight. I'm not a man of enviable girth. And yet, it still felt quite tight on me. Of course, some people (especially those who like a hard grip) will appreciate this feature.
The vibration is merely an add-on to the suction feature and won't do much on its own.
A Few Parting Words
That's all folks! That was my full Svakom Sam Neo review! Those of you who made it all the way to the very end: I thank you and wish you many happy loads that you'll spill straight into Sam Neo's waiting, tight sleeve. Happy playing!
Click Here To Check The Up To Date Price
Product Specs:
| | |
| --- | --- |
| 🏷️ Name: | ⭕ Svakom Sam Neo |
| 📁 Type: | ⭕ Male Masturbator |
| ⚙️ Features: | ⭕ Amazing Suction Features |
| 🛠️ Materials: | ⭕ Silicone |
| 📅 Last updated: | ⭕ November 29, 2023 |
Disclaimer
Our articles feature affiliate links. If you appreciate our content and would like to show your support, you can consider buying your new sex toys using the links we provide. Every purchase made through our links helps us earn a small commission, without any additional cost to you.