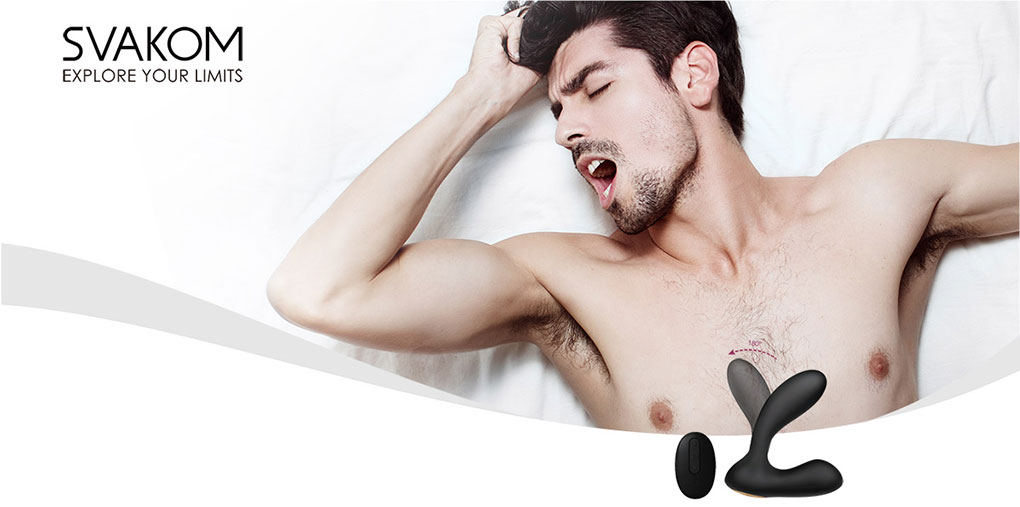 If your bunghole has been around the block, you know that not all prostate massagers are created equal. Some are too noisy, others are bulky, and some just don't tickle your sensitive P-spot in the right way. But what if you're dying for a quality prostate massager with a simple and elegant design, silent operation, and tons of next-gen vibration features that can push you over the edge? Well bro, it's time to get your ass ready for something completely different! The Svakom Vick Neo is one of the best prostate massagers I've pushed inside my rectum so far! It's dead quiet and it offers tons of interactive options for intense hands-free orgasms. And even better, it can please and milk your prostate in at least 35 different ways! So check out my Svakom Vick review to learn all about this high-tech prostate milker!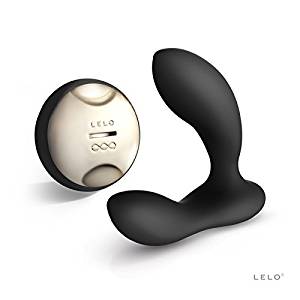 Lelo Hugo

Remote controlled

2 optional vibrators in both base and tip

Stimulation for both perineum and prostate

Medium-size suitable for all levels

100% waterproof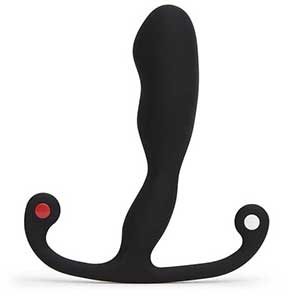 Aneros Helix Syn

Velvet touch silicone for smooth entry

Hands-free play

Good size for beginners

Anatomically designed for optimal pleasure

High quality, FDA-approved materials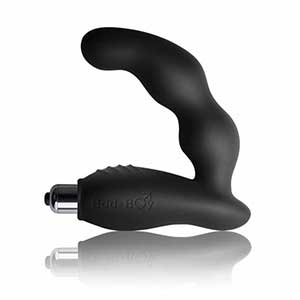 Rocks-Off Big Boy

Perineum and prostate stimulation

Optional bullet vibrator

Flexible, medical-grade silicone

Hands-free

Great size for beginners
Vick Neo Interactive Prostate and Perineum Massager
Every once in a while, I see a new anal toy that really makes my asshole smile. However, I often get disappointed when I put it into action. Don't get me wrong, the market is full of exciting P-spot massagers, but I've come across many lemons. They just didn't have what it takes to make my ass throb and my dick explode like a ballistic missile. The Vick Neo prostate massager caught my attention due to its incredibly elegant black design plus a variety of interesting features.
If you don't know anything about Svakom, it's a high-end sex toy brand that got its start in 2012. While this company is still a newcomer to the sex toy world, its creations have managed to rival those from veteran competitors. Some of its most popular toys for men and women are the Nymph, Echo, Ella Neo, Alex and Hedy male masturbators, and the Vick prostate massager. What I love most about this company's offerings is the remarkable attention to design and a unique look that blends classic and modern features. And that's exactly what the Vick Neo is all about!
This toy gives you a classic dual-shape prostate and perineum massager. It has a smooth texture and ergonomic design. Also, you'll get heaps of different vibration features plus intelligent app control options that you can use for remote milking orgasms!
Click Here To Check The Up To Date Price
First Look
The Vick Neo seems almost identical to the standard Vick massager, but the first thing I noticed during this Svakom Vick review was an added visual light button that synchronizes with the vibrations. However, the Vick Neo didn't only put on a light show. It drilled my ass like the world was about to end!
Sophisticated Anal Fun
Basically, the Vick Neo has a classic P-spot massager shape with one curved insertable end for your bunghole. The other external end is meant to stimulate your perineum. One of the things that truly stood out for me was its ergonomic design. The shape and angle of this toy made insertion and handling effortless!
Unfortunately, every guys' prostate is different. That can sometimes make it difficult to find the correct fit. However, my first impression of the Vick Neo is that its convenient, sophisticated, and flexible shape will fit most guy's asses. When I first pushed it inside, I was able to guide it directly to my prostate in just a few seconds. You won't have to dig around too much to find your sweet spot with this toy!
Additionally, the Vick Neo is part of Svakom's Connexion Series that focuses on interactivity and app control. You'll get a set of fun and intuitive remote controls and interactivity options. They'll enable you to use this toy with a long-distance partner or sync it to naughty cam streams or interactive videos.
Unboxing This Bad Boy
A quick side note before we move on with my Svakom Vick review: I was genuinely impressed with the packaging! The toy arrived in a classy yet sturdy box. Inside, I found a useful app guide that quickly explained all of the available interactivity features. Plus, it came in a soft and velvety carrying pouch.
It's Not Only for Men!
While the look of this toy could immediately make you think of a prostate massager for men, it can also be used as a G-spot and clitoral vibrator. Thanks to its precise and smooth shape, the Vick Neo can directly cup the sensitive G-spot with the insertable end. At the same time, it can bring waves of vibrating joy to your partner's clit.
Honestly, I just had to see my bae's face when I pushed this thing inside her during this Svakom Vick review. She's a massive fan of G-spot massagers — they are her favorite tools for her massive squirt fests! And with the Vick Neo, she loved the fact that the vibrations were extra strong and that the insertable angle was just right. After that, she got to indulge her male anal play fantasies by pushing it inside me and edging me until I begged her to milk me like a horny goat!
Premium Design for Your Prostate
Earlier in my Svakom Vick review, I said that this toy has a smooth and round design. But, inside it, you'll find powerful dual motors that control the vibration for both ends of the toy. I was also impressed with the silicone material used. It feels gentle, sturdy, slightly stretchy at the same time and provides a unique texture with a lux feel to it.
Generally, when I want to push something in my keister, I always go for silicone toys because they're the safest. To save you the safe and responsible sex mumbo jumbo here, I'll only say that the silicone material used for the Vick Neo is incredibly easy to handle and clean. It also looks like it will last for ages and it feels amazing in the shower. The big decisive factor for me here is the robust waterproof design. You can use this thing in the shower or even your hot tub!
How Big Is It?
I measured the total length to around 4.5 inches and the overall insertable length is 3.5 inches. It curves up and hits my P-spot at around 3 inches. Also, I really love the tapered width which maxes out at 1.75 inches. What's more, the external perineum nub is around 2 inches long. Like I said, the angle of this toy feels amazing against my P-spot and I'm guessing that most guys will enjoy it. It's not an extra-large male anal toy, but as I'm sure you know, size is not the most important thing when it comes to prostate massagers.
Click Here To Check The Up To Date Price
Ass-Gasmic Features
Let me show you some of the main features of the Vick Neo:
Dual motors – The main motor rides your prostate while the other one targets your perineum to give you blended pleasure
7 vibration modes – I thoroughly enjoyed the differences between each vibration pattern here. They're all unique and none of them were boring or uninspiring
5 intensity levels – If you combine 5 different intensity levels with 7 vibration patterns, you get 35 different ways to drive you wild!
Visual light display – You'll get a small LED indicator that synchronizes with the toy's vibrations
Sound activated vibrations and music sync
Interactive app controls
App compatibility – It's compatible with both the FeelConnect and the Svakom app
Waterproof — 3 feet submergible
Battery charging time — 1 hour
Battery use time — 2.5 hours (This is way above average since most massagers last around 1 hour although I bet you won't be able to last 30 minutes with this thing!)
Silent operation ​​— Most Svakom toys are known for their extra silent operation. What I noticed with the Vick Neo was that the noise is literally imperceptible, which means that you won't have to worry about your privacy.
Good Vibes
When I messed around with the vibration patterns during my Svakom Vick review, I noticed that they were pretty much identical to those on the standard Vick massager. You'll get 7 modes, including two normal modes, two caressing modes, a joyous mode, passionate mode, and a climax mode. Most of these modes have a unique pattern and frequency, but you can modify them even further by increasing the intensity level.
Of course, you can configure the settings in any way you like, but I recommend you to try some of the slower modes for edging and then move on to intense vibration modes for a full-on prostate explosion. One important thing to mention here is the exclusion of the standard button configuration. Meaning, you can only use this toy with your phone and you can't operate it manually. It could be an issue if you're in a hurry and you want to get off quickly, but it also saves you the trouble of having the physical buttons on the toy.
Related
Interactive Play
Even if there's no way to control the vibrations manually, the features are easy to access and I didn't have to kill my boner while fiddling around with the remote controls too much. As mentioned, you can use the Svakom as well as the FeelConnect app to control the toy. What's truly impressive here is the range of remote control options. That includes:
Long-distance control — You can link the Vick Neo to your partner's smartphone and have them control it remotely.
Local control — You can do all sorts of crazy things with the app in the bedroom or in public. Just surrender to your partner and let them milk you without even touching you!
Web interactive control — You can also sync this prostate massager with 2D interactive videos or webcam streams for epic solo parties.
So Let's Put it To Use!
There are so many things you could do to your butthole with this thing. When I tested it, I tried it several times when I was alone and even though I like to keep my dick trained, I barely lasted longer than 30 minutes. My favorite part of this toy is the soft nub that hits my P-spot. Frankly, it's one of the best-feeling angles and materials that I've had in my bum so far. I also tried it in combination with my Autoblow blowjob machine as well as some other fake vaginas and asshole masturbators. These were some of my most intense orgasms!
Also, I had tons of kinky fun using this toy with my GF. She loved to watch me cum while milking me remotely with the app and she also loved it when I kept the thing in while pounding her brains out. And like I said, it can double as a G-spot toy so there are tons of options here.
In a strictly practical sense, the curved design was enough to keep the massager in my bum without popping out. This is handy and much less messy compared to other toys. The material also travels very neatly without a lot of friction, especially when I lube it up with water-based lube (avoid all other lubes with this toy to keep it safe from damage!).
What I Loved About the Vick Neo
Awesome shape and feel — I can recommend it to most newbies and anal fanatics!
Tons of interesting vibration modes and intensities
The dual-motor design gives me a deep rumbling plus external stimulation that feels intense and addictive!
The interactivity controls are highly intuitive and the Svakom app works flawlessly.
The silent operation is amazing!
What I Didn't Like
I'm not a fan of the big CE mark imprinted on the bottom of the shaft. It just looks weird and even though I can't feel it on my skin, it looks like a bad design choice.
I wish they included manual controls so that I don't have to use the app every time.
Final Thoughts for My Svakom Vick Review
To conclude my Svakom Vick review, I can only say that this is one of the best prostate massagers I've ever tested. It's a high-quality toy made of premium materials and it includes a superb design that will hit just the right spot. Plus, the added interactivity features give you total versatility and provide you with hours of anal fun. And it feels sooooooo damn good! So give your asshole a treat and order it today!
Click Here To Check The Up To Date Price
Product Specs:
| | |
| --- | --- |
| 🏷️ Name: | ⭕ Svakom Vick |
| 📁 Type: | ⭕ Prostate Massager |
| ⚙️ Features: | ⭕ Wireless Remote Control |
| 🛠️ Materials: | ⭕ Silicone |
| 📅 Last updated: | ⭕ September 16, 2023 |
Disclaimer
Our articles feature affiliate links. If you appreciate our content and would like to show your support, you can consider buying your new sex toys using the links we provide. Every purchase made through our links helps us earn a small commission, without any additional cost to you.