Lelo has been one of the leading luxury brands for female masturbation toys for a long time… and now they're making major waves in the male sex toy industry too! I recently had the opportunity to review the Lelo Billy, and it was abso-freakin-lutely incredible! I highly recommend it to any guy out there who's looking to reach some serious levels of pleasure!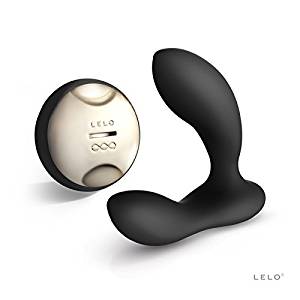 Lelo Hugo

Remote controlled

2 optional vibrators in both base and tip

Stimulation for both perineum and prostate

Medium-size suitable for all levels

100% waterproof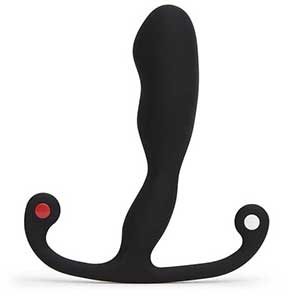 Aneros Helix Syn

Velvet touch silicone for smooth entry

Hands-free play

Good size for beginners

Anatomically designed for optimal pleasure

High quality, FDA-approved materials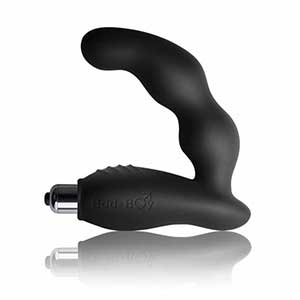 Rocks-Off Big Boy

Perineum and prostate stimulation

Optional bullet vibrator

Flexible, medical-grade silicone

Hands-free

Great size for beginners
Okay, you've peaked my interest… what IS the Lelo Billy?
The Lelo Billy is a beautiful, sleek and modern looking anal toy for men that vibrates. Remember when companies were putting most of their money into female sex toys, and the male ones look cheap, and utterly useless? Yeah.. not anymore. Lelo is a high end sex toy company, and the Billy is absolute proof of that! It's made of super high quality materials, is completely rechargeable (and charges fully in about 2 hours) – and has 6 vibration modes to make sure you get exactly what you're looking for out of each session!
Plus, the tapered design and smaller width make it easy to insert. That means that it's great for those who are new to this type of pleasure – AND because of the great feel, and awesome vibrate modes, it's literally good for ANYONE looking for serious prostate pleasure.
Visit the official website and get 20% Off - Use 'BBM15' Promo Code
The nitty gritty (aka product specifications) for the Lelo Billy
If you're thinking you might purchase the Lelo Billy, then this is for you.
Not only does this awesome prostate massager fully charge in no more than 2 hours, it can actually last up to FOUR HOURS! Heck yes!!! I mean, I've personally never used it for that long in a single session (I blew my load WAY earlier) but it does make me feel good knowing that I COULD do that if I wanted to, and if the situation were ever to arise.
PLUS, it's got a standby time of 90 days!! Not that you'll ever leave it without use for that long, but it's good to know that you can. Okay… so now that you know it's not going to DIE in the middle of your super erotic sex sesh, let's talk details.
The Lelo Billy is made of a super soft and high quality material that makes it an absolute PLEASURE to use. In every way. It's got 6 different vibration modes to suit whatever mood you're in, and the gentle curve allows for you to easily access that beautiful p-spot that we all want. Making you cum louder, larger, and more pleasurable than ever. Because of it's sleek design, it's also a GREAT toy to use with your partner because it won't make anyone feel uncomfortable or not needed like some of the more grandiose and/or realistic looking ones on the market.
Related
How to use the Lelo Billy
This is legit one of the easiest male sex toys to use. It works SO well, but it's not exactly adorned in tons of bells and whistles. So that's GOOD in my opinion. I like things to work. And I like it to be simple to work with them. So here it goes:
Make sure the toy is charged. (I would love to think this is obvious, but from comments I've received in the past… it's not).
Lube up. You can't enjoy this toy without a good lubricant. Stay away from silicone-based lubes which will kill the material, and instead opt for water-based. Always your best best when trying to prolong the life of your toys.
Relax. And slide that baby in.
Experiment with the different vibration settings to find what works for you.
Enjoy.
Clean the toy so it's ready to use next time.
Click Here To Visit The Official Website
What I liked
I vividly remember the days that I used to think there was something wrong with men who were using prostate massagers. I thought it seemed weird. Unnatural. But let me tell you… I TOTALLY get it now! And while this toy is great for ANYONE, if you're on the fence, this is a great toy to start with! Here's what I loved about it:
Super smooth. Let's get real. Where this toy is going, smoothness counts! While I still wouldn't recommend playing with ANY prostate massager without lube, this toy ALMOST makes it possible.
Tapered body. This makes it super easy to insert. Always a bonus, right?
6 vibration modes. From super soft to pretty intense! You've got whatever you need to get you off just the way you like it!
Quiet vibrations. Whether I'm using a toy on my own, or with a partner, there's nothing that quite ruins the mood like a crazy loud sound of vibrations! The quieter the better in my world.
Long-lasting charge. I've used some toys that simply die after like 10 minutes of use. How frustrating is that?! You're havin' a great time, and boom. The toy dies. Seriously nothing worse.
Things that could be improved
The controls might be TOO easy to use. I've gotten used to it (mainly) by now, but they've made the controls SO easy to push, that sometimes I've accidentally turned the toy off mid-session.
It's not cheap. If you're new to the field, or simply don't have a couple hundred bucks to spend on a sex toy, then you're going to need to look elsewhere.
No variety. One colour, one style, one choice. Granted, it's a pretty decent choice, but it would be cool to see a variety of colours available to make it feel more personal.
My Conclusion
Overall, I would 100% recommend the Lelo Billy to ANY man who is just first getting into the (amazing) world of prostate massagers. It's a great starter toy because of its easy to insert shape, and smooth material. BUT… it's also a great toy for us more seasoned users as well, because of the variety of vibration settings, as well as the high quality of material, and the long-lasting charge. If you want to make your sessions last, this is a great toy for that!
Plus, the sleek design makes it a welcomed addition to couples play. It's been my experience that the sleeker and more modern the toy looks, the better rate of acceptance I've had with partners in the past. It's simply a beautiful piece of technology that is going to increase BOTH our pleasure. AND, because of the ergonomic curved design, it makes it incredibly easy to insert and start feeling pleasure right away! Great buy, and a product that's going to last a long time!
Use Promo Code 'BBM15' To Get 20% Off Your Order - Click Here
Product Specs:
| | |
| --- | --- |
| 🏷️ Name: | ⭕ Lelo Billy |
| 📁 Type: | ⭕ Prostate Massager |
| ⚙️ Features: | ⭕ 6 Pleasure Settings |
| 🛠️ Materials: | ⭕ ABS / Silicone |
| 📅 Last updated: | ⭕ November 29, 2023 |
Disclaimer
Our articles feature affiliate links. If you appreciate our content and would like to show your support, you can consider buying your new sex toys using the links we provide. Every purchase made through our links helps us earn a small commission, without any additional cost to you.