Hello there, my friends! It's your go-to guy for all things naughty, Mark, once again embarking on a pleasure-fueled journey. Today we're diving deep – and I mean *deep* – into the realm of prostate pleasure with the Nexus Thrust Probe Edition rechargeable vibrating prostate massager! Quite a mouthful, isn't it? (And no, that's not a sex joke… yet).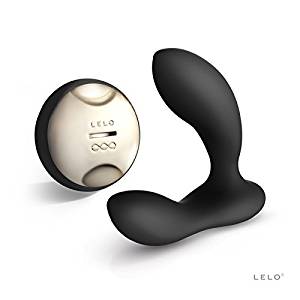 Lelo Hugo

Remote controlled

2 optional vibrators in both base and tip

Stimulation for both perineum and prostate

Medium-size suitable for all levels

100% waterproof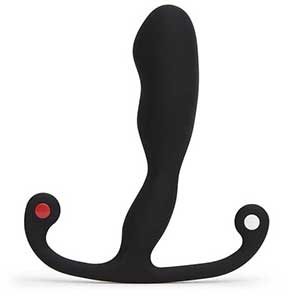 Aneros Helix Syn

Velvet touch silicone for smooth entry

Hands-free play

Good size for beginners

Anatomically designed for optimal pleasure

High quality, FDA-approved materials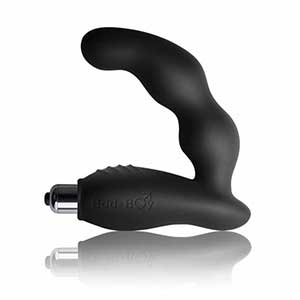 Rocks-Off Big Boy

Perineum and prostate stimulation

Optional bullet vibrator

Flexible, medical-grade silicone

Hands-free

Great size for beginners
In this Nexus Thrust Probe review, I'll be your intrepid guide, charting a course through unexplored ecstasy. I'll spill the beans about every thrilling sensation, every smooth curve, and every naughty delight this toy has to offer. So prepare for a prostate pleasure experience that'll have you questioning why you haven't invited this little beauty into your bedroom sooner.
A British Invasion Your Backdoor Will Welcome!
Alright, my daring explorers of pleasure, let's take a detour to delve deeper into the Nexus Thrust Probe and the brainy Brits behind it. Hailing from the land of fish & chips, double-decker buses, and James Bond, Nexus has carved its name into the sex toy hall of fame thanks to its innovative and tantalizing products.
Nexus is like the master chef of adult toys – it knows just the right ingredients for an unforgettable experience. Its unique blend of functionality, quality, and luxurious materials is what keeps the company at the top of the game, making you moan louder than a Beatles fan at a reunion concert.
Why Nexus Thrust Probe Edition
This little British invader caught my eye (and other parts) with its audacious claim of "feeling better than the real thing". And if you know me, you know I'm all about bold claims and bolder pleasures. So, naturally, I had to find out if this could indeed be the Beatles of prostate massagers.
In this Nexus Thrust Probe review, I'll be taking you on a raunchy tour to find out if it does indeed rock harder than the real thing. So hold onto your seats, and maybe grab a towel because this wild ride is so British it might just make you shout, "God save the Queen!" in the throes of ecstasy.
Let's get down to it, shall we?
Unleashing the Beast: First Impressions
Alright, it's time to peek inside Pandora's box! Well, not exactly Pandora's, but something far more exciting – the Nexus Thrust Probe Edition's box. This is the part where we strip down the layers (pun very much intended) to reveal the glory within.
The packaging of the Nexus Thrust Probe is as unassuming as a Sunday school teacher, yet hiding a secret that's sure to get your pulse racing. It's so discreet that your mailman will remain blissfully ignorant of the ecstasy he's hand-delivering to your doorstep. Your nosy neighbor, Mrs. Miggins, might think you've finally invested in an electric toothbrush. Little does she know the kind of oral hygiene you're into involves more moaning than brushing.
Upon opening the box, you're greeted by a sight that might just make your heart skip a beat. The Nexus Thrust Probe Edition is a real beauty. It's like laying eyes on a luxury sports car for the first time – you can't wait to take it for a spin, and you just know it's going to be one hell of a ride.
Click Here To Check The Up To Date Price
Getting an Eyeful: Top-Notch Design
The Probe is made from 100% silicone – smooth, supple, and inviting to the touch. Just holding it in your hand gives you a sense of the thrilling journey that awaits. It's like holding the keys to a kingdom of pleasure, and you're about to be crowned king.
What's in the Box?
Aside from your new bedroom plaything, the package also includes a warranty – that's Nexus for you, always ensuring you're well taken care of. However, do note that if you want a USB Power adapter, it's sold separately for a mere $6.5. A small price to pay for unlimited pleasure, don't you think?
Shipping
With 100% secure payment, worldwide shipping, and free returns, Nexus ensures your Nexus Thrust Probe experience is as smooth as the toy itself. You can enjoy your journey to ecstasy without any worries about prying eyes or logistics.
Related
Nexus Thrust Probe: The One Toy to Rule Them All
Are you curious about what makes the Nexus Thrust Probe Edition stand out from the crowd? Besides its ability to make you see stars and potentially forget your own birthday, there are a ton of features that make this toy as special as a unicorn doing a pole dance. Let's dive into the nitty-gritty, shall we?
1. Size That Hits the Sweet Spot
With a total length of 8.26 inches, an insertable length of 4 inches, and a widest point of 1.53 inches, this toy is designed to reach those hidden depths of pleasure. It's like Nexus knows exactly where your sweet spot is – and spares no expense to treat it just right.
2. Materials That Love Your Body
The Nexus Thrust Probe is as body-friendly as a yoga instructor. It's anal-safe, made from plush silicone, and completely phthalate-free. Plus, it has a flared base to ensure it doesn't venture too far into your secret cave during your adventures.
3. Thrusting Modes That'll Make You Sing
Not all of us are created equal, and Nexus gets that. They've equipped the Thrust Probe with three different thrusting modes, ensuring there's something for everyone, from the prostate play rookies to the veterans who've seen it all.
4. Your New Waterproof Buddy
Ever dreamed of a hot and steamy shower session or a naughty bath-time play? With the Nexus Thrust Probe, your dreams are about to become a reality. This toy is fully waterproof and submersible, perfect for those who like their pleasure with a splash of fun.
5. Recharge and Rev Up
No more rummaging through drawers for batteries in the heat of the moment. The Nexus Thrust Probe is USB rechargeable. Just remember not to mix up your charging cables with your data transfer ones. We wouldn't want you sharing the wrong kind of 'files' during a work meeting, would we?
6. Price That Won't Break the Bank
At $105, the Nexus Thrust Probe Edition is an investment in pleasure that pays dividends in orgasms. And if something goes awry, Nexus has your back (or should I say your backdoor?) with its warranty.
Riding the Pleasure Wave: My Thrilling Encounter with the Nexus Thrust Probe
Alright, gents, it's time for the moment of truth in this Nexus Thrust Probe review. What's it like to take this bad boy for a spin?
Imagine discovering a secret button on your body that, when pressed, catapults you into a galaxy of unexplored pleasure. That's the Nexus Thrust Probe for you.
Click Here To Check The Up To Date Price
Solo or Partner Play? Both!
The genius design of the Nexus Thrust Probe makes the solo play as effortless as flirting with a tipsy barmaid. The handle is placed just right, allowing you to steer your pleasure journey with ease.
And it's not just a one-man show. This bedroom gadget is just as much fun when you have a partner in crime. It's like adding a bit of chili to your favorite meal – it adds some spice and leaves you with a delicious tingle.
Yes, But What Does It Feel Like?
Using this gadget is like being the star of your own adult film, and the three thrusting modes are your co-stars. They cater to your every mood – from a gentle tease that makes your heart flutter to a more intense romp that'll have you gripping the sheets and biting your lip.
But let's get a bit more personal. I've spent some quality time with the Nexus Thrust Probe, and let me tell you, it's been an intimate, eye-opening experience. It's like a master musician playing your body like a finely-tuned instrument, hitting all the right notes and producing a symphony of satisfaction. It's a sensation that's hard to describe but impossible to forget.
Using the Nexus Thrust Probe is not just about reaching the finish line – it's about the thrilling journey. And once you've taken that road, trust me, you'll be eager to embark on it again and again.
Pros – The Pleasure Perks: My Love Affair with the Nexus Thrust Probe
Now, let's talk about the things that had me singing this toy's praises to the high heavens. Like a skilled lover, this toy has a host of endearing qualities that have me reaching for it night after steamy night. Shall we delve into the juicy details of what makes this pleasure gadget a real heartthrob?
Thrusting Modes: The Nexus Thrust Probe comes with three different thrusting modes that cater to every whim and mood.
High-Quality Material: Its silky-smooth, 100% silicone body is a tactile delight. Plus, it's phthalate-free, making it body-safe and perfect for intimate play.
Waterproof Feature: The fact that it's waterproof and submersible means you can take it for a steamy adventure in the shower or the tub.
Rechargeable: The USB rechargeable feature is a godsend. Just plug it in, and it's ready to go – it's as eager as a young lad on his first date.
Cons – Baring it All: A Few Quirks in the Nexus Thrust Probe Love Affair
Now, as much as I love a good romp with the Nexus Thrust Probe, I wouldn't be doing my job right in this Nexus Thrust Probe review if I didn't share a few areas where it, well, fell short of perfection. Even the most exciting love affairs have their little quirks, right? So, let's strip it bare and talk about those less-than-stellar features that had me raising an eyebrow (or two).
USB Power Adapter Sold Separately: While the Nexus Thrust Probe is rechargeable, the USB power adapter is sold separately.
Intensity Control: Although it has three different thrusting modes, the jump in intensity between each mode can be quite sudden. It's a bit like getting a surprise cold shower when you were expecting a warm bath.
Buzz and Strength Ratings: The volume-buzz is 2/4, and the strength is 3/4. Therefore, for some, the Probe may not be as quiet or as powerful as they'd like. It's a bit like a sports car that purrs like a lion but moves like a cheetah – some might prefer a quieter purr and a faster sprint.
The Climactic Verdict: Is the Nexus Thrust Probe Your Next Bedroom Rockstar?
Alright, my lusty comrades, here's the naked truth. The Nexus Thrust Probe isn't just a one-night stand; it's the kind of toy you'd introduce to your other toys and maybe even bring home for the holidays. It's the 'meet the parents' of prostate massagers, if you will.
In this Nexus Thrust Probe review, I've laid it all bare for you, from its tantalizing features to its minor hiccups. So now, it's your turn to decide: Is the Nexus Thrust Probe your next ticket to Pleasureville? If you ask me, it's a ride worth taking.
But hey, don't take my word for it. Give it a whirl and find out for yourself. After all, the proof is in the prostate… I mean, the pudding.
Click Here To Check The Up To Date Price
Product Specs:
| | |
| --- | --- |
| 🏷️ Name: | ⭕ Nexus Thrust Probe |
| 📁 Type: | ⭕ Prostate Massager |
| ⚙️ Features: | ⭕ 3 Thrusting Modes |
| 🛠️ Materials: | ⭕ Silicone |
| 📅 Last updated: | ⭕ September 16, 2023 |
Disclaimer
Our articles feature affiliate links. If you appreciate our content and would like to show your support, you can consider buying your new sex toys using the links we provide. Every purchase made through our links helps us earn a small commission, without any additional cost to you.