I've spent quite a few nights (and days) trying out new strokers and blow job machines only to find myself thinking, "Man, I really miss having something breach my backdoor." And, you know me, once I set my sights on something, it's kind of hard for me to let it go. So, I dug through my chest of drawers full of sex toys to see what I could present to you. Then, something black, curvy, and quite bulky caught my eye. That's when it came to me: I'll write a Lovehoney High Roller review!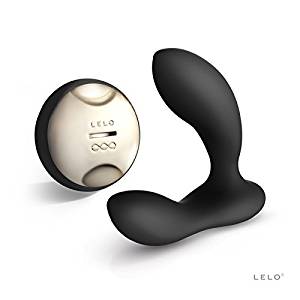 Lelo Hugo

Remote controlled

2 optional vibrators in both base and tip

Stimulation for both perineum and prostate

Medium-size suitable for all levels

100% waterproof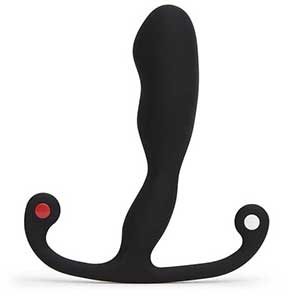 Aneros Helix Syn

Velvet touch silicone for smooth entry

Hands-free play

Good size for beginners

Anatomically designed for optimal pleasure

High quality, FDA-approved materials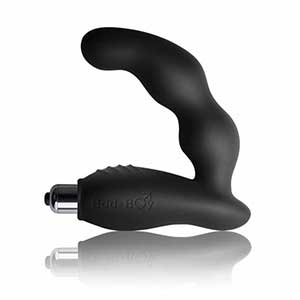 Rocks-Off Big Boy

Perineum and prostate stimulation

Optional bullet vibrator

Flexible, medical-grade silicone

Hands-free

Great size for beginners
As some of you know, I am perpetually on the quest of finding the perfect anal toy. I want something that will rock my world, harass my prostate to the point of happy tears, and leave me wet and used on the bed (or, preferably, the floor).
But that's quite a tall order. And, even though I read stellar reviews about the High Roller, I wasn't sure if that was the toy for me. So, naturally, I had to take it for a test drive (or five) to see if it was worth my (and your) time.
Let's get this party started and this Lovehoney High Roller review going and see, shall we?
What Is the High Roller Anyway?
Even though it sounds like a dude who throws his money around the poker table, the High Roller is, of course, a sex toy. However, it's a special kind of sex toy, given that it's not only an anal toy but also one that offers superb stimulation of both your P-spot and the perineum. How does it do that, I hear you ask?
Well, the High Roller is a prostate massager that comes with a couple of twists. First of all, it offers stellar vibrations that are rumbly and strong. Those are the vibrations you can feel in your bones (not just your prostate), and that make you bust a nut faster than you can say, "I'm all in!"
This silicone vibrating prostate massager also comes with a special feature (and remote control), but we'll get into that later in my Lovehoney High Roller review!
Click Here To Check The Up To Date Price
OK, But Why Should I Give It a Shot?
Well, other than the pretty obvious gambling metaphor I could write here (raise the stakes, man, c'mon!), I believe that the High Roller is an excellent pick due to several reasons:
It's a powerful vibrating prostate massager
The entire toy also rotates (or rolls), so it's guaranteed to hit your prostate no matter what
And it's pretty big
Now, I know it may not seem like a big toy, but, trust me, this toy isn't for the faint of heart. I almost didn't give it the time of day because my backdoor has been visited by pretty much all the friendly neighborhood giants of the sex toy industry. Therefore, I thought the High Roller would be too small for me. Boy, was I wrong!
Let's Take a Peek Together
At first glance, the High Roller looks just like any other prostate massager. It's black (which I adore), seemingly small enough so you can shove it up your butt, and it has a few buttons on it.
But, when you take a closer look and take the toy in your hand, you'll see that it's actually ergonomically shaped and that the "buttons" are merely a plug-in spot. Why? Well, because the toy is fully remote-controlled. That is actually one of the main reasons I decided to give it a try. I rarely come across toys that have a remote control that works no matter what.
I've had disappointment after disappointment when it came to remote-controlled toys, but the High Roller definitely broke my streak. It worked no matter how deep it was or how far my hand with the remote was from my ass.
That's actually quite an accomplishment, especially for a toy that's so ergonomic. And, speaking of the shape, I can't help but mention that the shape is another reason why I liked the High Roller at first glance. The giant head and the curved design really drew me in. So I wanted to see if the shape was a gimmick or if it really made a difference.
I'm glad to report that the shape (specifically the bulbous head) does set this prostate massager apart from others. The curves of the toy fit perfectly in the body (at least mine) and stimulate all the right spots. The T-bar base also clings to the perineum and transfers the vibrations there, which gives you a two-for-one type of stimulation.
Click Here To Check The Up To Date Price
Let's Go All In (And See the Specs)
As always, I'll break it down for you in the technical part of my Lovehoney High Roller review. The toy looks great, and it worked amazingly for me. But let's see what makes it so special (and whether that will float your boat or not).
The Size
I've already mentioned that the High Roller is bigger than it seems. Now, those of you who are veterans and have had quite a few things in your backyard probably don't believe me. But, although definitely not the biggest toy I've ever had, the High Roller found its spot in my "big boys" collection.
It has 5.5 inches in length from the top to the deliciously bulbous head. Of course, only 4.5 inches are insertable (the rest is the sturdy T-bar base that will ensure you don't end up with a prostate massager lodged deep inside your small intestine). The circumference of the widest part of the toy is 4.5 inches. So, it's basically a big bulk of girthy, lengthy, ergonomically shaped silicone.
Now, those of you who are not as experienced with male anal toys as I am might want to pay special attention to the second bulb of the toy. You can already see that it's wider than the head, but keep in mind that the difference in width is bigger than it seems. You might have some trouble pushing the toy all the way inside of you (especially if you aren't relaxed).
The Material
The entire toy – flared base and rotating head included – is made out of silicone. The silicone that Lovehoney uses is top-notch, which means it's medical grade. It has no latex or phthalates, which means it's completely body-safe, and, as a nice bonus, it's easy to clean and maintain.
The internal body of the toy is, of course, made out of metal and plastic. It's important to note that the toy doesn't have much give to it. When it comes to flexibility, the High Roller isn't really a champion of the game. However, that's not necessarily a bad thing, given that it has to stay in place in order to vibrate and rotate.
Related
The Features
Of course, the most important part of my Lovehoney High Roller review is the one that talks about the features. Lovehoney is a titan on the market, and they rarely half-ass their toys. So, it comes as no surprise that the High Roller has excellent features that work well together.
Let's take a deep dive into the best the High Roller has to offer:
The bulbous head (which will breach you beautifully) also rotates. You can easily turn this feature on and off using the remote. The rotating feature only has one setting, which reminds me of the come hither motion your partner would do with his finger (except the finger is lodged deep inside of you).
This prostate massager vibrates. There are three different speeds and seven different patterns of vibrations. You can easily shuffle through them by using the low and high vibration setting buttons and the plus and minus intensity buttons. The vibrations vary from setting to setting, which means there's something for everybody. It's also important to note that the vibrations carry through the toy (and your body) all the way to the perineum. So you'll be able to enjoy both internal and external prostate massage.
The remote control that comes with the toy is easy to use, given that it only has five buttons. As mentioned, it doesn't lose connectivity.
The toy is USB rechargeable and waterproof.
The Aces and the Bust
Of course, this Lovehoney High Roller review wouldn't be complete without a full overview of the toy. As always, I'm here to spill the tea and tell you everything there is to know about this prostate massager.
Give Us the Amazing Features First
For a toy that not only vibrates but also rotates, it's surprisingly quiet. You can barely hear it when it's inside of you.
High Roller is big enough to reach your prostate, and you'll enjoy it even if you have breached your own backdoor a time or two before.
It has excellent vibrations that range from strong, rumbly ones to more gentle buzzing ones (so there's something for everyone).
The remote works great; I had no connectivity issues, no matter which position I played in.
The rotating head is amazing, and it milked my prostate like no other before.
OK, Now Give Us the Dirt!
If you're more on the experienced side (in other words, if you're no stranger to shoving things up your butt), the toy can slip out when you relax completely.
The rotation is amazing, but it can also be too powerful (so be careful when you play and don't hurt yourself).
Although the toy is comfortable to put in and pull out, you can't really spend an entire day with it up your butt.
A Few Parting Words
Well, there you have it, anal toy enthusiasts! Thanks for reading my full Lovehoney High Roller review! If you end up giving the toy a try, let me know how you liked it. You know I love it when we compare notes!
Click Here To Check The Up To Date Price
Product Specs:
| | |
| --- | --- |
| 🏷️ Name: | ⭕ Lovehoney High Roller |
| 📁 Type: | ⭕ Prostate Massager |
| ⚙️ Features: | ⭕ Hands-free |
| 🛠️ Materials: | ⭕ Silicone |
| 📅 Last updated: | ⭕ September 16, 2023 |
Disclaimer
Our articles feature affiliate links. If you appreciate our content and would like to show your support, you can consider buying your new sex toys using the links we provide. Every purchase made through our links helps us earn a small commission, without any additional cost to you.