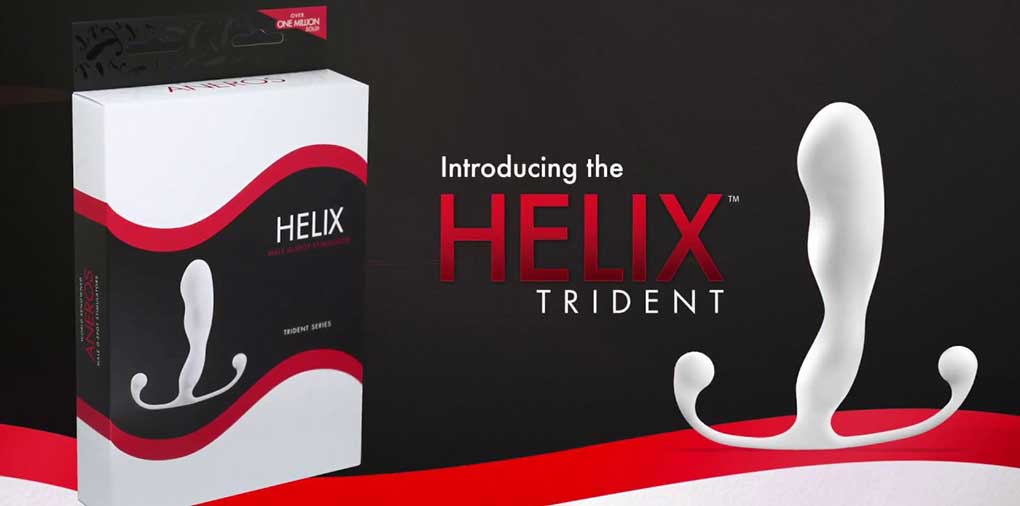 Aneros is one of the absolute biggest, most popular companies that make prostate massagers. Their toys have always fascinated me, but I haven't gotten a chance to try one out until now. I've been stimulating, edging, and playing for months now, getting ready to write my Aneros Helix Syn review. Spoiler alert – it is, undoubtedly, the best anal massager in the world. Ever.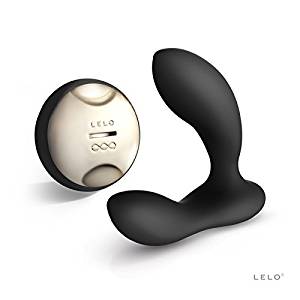 Lelo Hugo

Remote controlled

2 optional vibrators in both base and tip

Stimulation for both perineum and prostate

Medium-size suitable for all levels

100% waterproof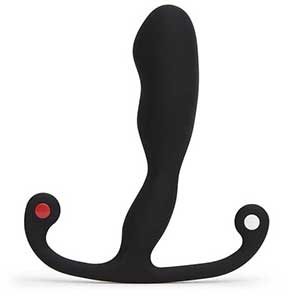 Aneros Helix Syn

Velvet touch silicone for smooth entry

Hands-free play

Good size for beginners

Anatomically designed for optimal pleasure

High quality, FDA-approved materials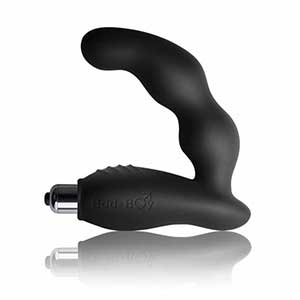 Rocks-Off Big Boy

Perineum and prostate stimulation

Optional bullet vibrator

Flexible, medical-grade silicone

Hands-free

Great size for beginners
What Is the Aneros Helix Syn Trident?
The Aneros Helix Syn Trident (that's a mouthful) is the latest and greatest prostate stimulator in the line. It is a culmination of over 20 years of research, as well as a mix of some of the company's most popular toys.
It looks rather unique, and there's really no other toy quite like it. In my personal opinion, it looks more like a drunk tree branch wanting to fight, than a trident, but whatever. The funny design doesn't change the fact that the Aneros Helix Syn Trident is a gamechanger in the anal toy community.
Helix Syn Vs. Helix Syn Trident
Okay, here's the thing; when I decided to write my Aneros Helix Syn review, I went out to buy the toy (obviously). I wanted to buy the original toy that came out back in 2012 and shook up the whole world. But after a lot of digging, I learned that it doesn't exist anymore.
Even though it was wildly successful, it still wasn't quite perfect, and a lot of people complained about the floppy tabs. So Aneros, being the good guys that they are, pulled the toy off the market, and redesigned it. Thus, in 2017, the Trident series was born.
Currently, there are 7 toys in the Aneros Trident line, and they include:
Helix
Maximus
MGX
Eupho Syn
Eupho
MGX Syn
Helix Syn
Each of these anal massagers/stimulators is special and awesome in its own way. So if you ever want to see me do a review on any of them, shoot me a message. I'd love to see what you guys are into, and which toys float your boats.
Click Here To Check The Up To Date Price
Where the Original and the Trident Differ
As you can imagine, Aneros wouldn't pull one of its most popular products to make a few minor adjustments. No, they wanted to make sure that you can see the difference between the original and Trident. So in this part of my Aneros Helix Syn review, I want to talk about the new and exciting improvements.
For one, Aneros has included something called a balancing architecture, which allows for freer motions and movements. Even though it's rigid enough to give you pleasure, it'll still let you use it in a wide range of positions.
Speaking of rigidness, the Aneros Helix Syn Trident is firmer than the old version. Now, the previous one was far from flimsy, but again, there was room for improvement. So Aneros used a combination of ABS plastic and silicone to make the core even stronger.
However, since Aneros didn't want to compromise on flexibility or that silky touch, they coated the toy with silicone. I know that people say that it's supposed to feel like a finger, but I couldn't disagree more. I mean, fingers can be rough, or harry, or have nails, and they're often boring.
On the other hand, silicone is so soft and supple that it can make a grown man weak at the knees. I legit almost cried tears of joy the first time I played with the Syn Trident.
Another big difference is in the tabs on the toy. The newer version has more rigid tabs, which are supposed to "massage the base of your spine." I put that in quotes because, well, that wasn't really my experience. But I'll get to the tabs soon, there's a lot to unpack there.
Why I Love the Aneros Helix Syn Trident
Look, I've been doing these reviews for a long time, and I've used plenty of anal toys and massagers in my day. I've worked my way up and used some really big boys that stimulated my prostate in unimaginable ways.
So when I was considering doing the Aneros Helix Syn review and saw this itty bitty stimulator, I was on the fence. I thought to myself, There's no way this tiny toy can do anything for me, it's too small. But after the first time using it, I realized how stupid I've been for not getting it sooner.
You see, the whole point of the Syn Trident is to gently massage you from within, not literally rip you a new asshole (pardon my French). With a combination of clenches, stroking, or edging, you can achieve the now-infamous Super O.
I'll get to all the ways I like using the Syn Trident in a sec, but I do love the fact that it's so versatile. Even if you've used a buttload of buttplugs in the past, there's still so much to gain from playing with this toy.
On the other hand, I'd still recommend the Syn Trident even if it's your first time dabbling in the world of male sex toys. The shape and size are beginner-friendly and would make the whole experience more enjoyable.
Related
The Specs That Make This Toy Special

In this part of my Aneros Helix Syn review, it's time to geek out on some specs that made me want to buy this toy in the first place. The first thing you should know is that the Trident features all body-safe materials that are non-porous and phthalate-free. Also, the premium silicone coating is hypoallergenic, which means that every dude in the world could use it.
Aneros designed the toy so that it provides total, hands-free pleasure. It's pretty much plug-and-play, and there's no reason for you to move it around once it's inside you. I mean, you could, but since it isn't a butt plug, it won't give you the same sensations because it's more about clenching. But I'll get to that in a second.
Another cool thing about the Helix Syn is that it doesn't have any batteries or electronic parts inside that you have to charge. That also means that it's waterproof, and you can take it with you when you go for a shower.
Okay, so that's all nice and well, but the thing that'll get you to your Super O is the design. For start, the Helix Syn has an ergonomic look, with a bulbous tip for easy insertion. Once the tip penetrates your barrier, you'll feel a smooth and angled shaft that massages.
Of course, the cherry on top of the sex cake is the flared base with two tabs that help with stimulation. So while the Trident's inner frame is doing wonders to your insides, the tabs will caress your outside. It's pretty much a whole package deal, which is really cool.
What's up With the Size?
Now, let's talk about the size because that seems to be tripping a lot of people up. The Helix Syn has an insertable length of 4 inches, and the total width (tabs and all) is 3.5 inches. Another important size is the tip width, which is 1.08 inches, and the shaft width is 0.95 inches.
It does seem small, but since the Syn is supposed to tickle, not press, it's pretty perfect. Another added benefit is that it's subtle, and you can take it with you when you travel.
Click Here To Check The Up To Date Price
3 Ways to Play With the Aneros Helix Syn Trident
Like I said earlier, the reason I wanted to do this Aneros Helix Syn review is that I thought that the toy was incredibly versatile. As soon as I saw it, I immediately began imagining all the ways I could use it to make myself blow. Here are a few positions that brought my Johnson and me so much joy.
Solo Sessions
If you're playing alone, I found a few positions that seem to work like a charm every time. The first, and most basic one, is lying on your right side and slightly pulling your left knee up toward your chest. Then, insert the lubed Helix Syn and start clenching. The trick here is to go slow, take your time, and try to find your rhythm.
Another position you could try is to put a pillow under your back, right above your butt. You'll want to pull both your knees towards you, and then put the toy in. Again, start clenching, and go wherever the Syn takes you.
Two to Tango
I don't want to leave out partner play from my Aneros Helix Syn review because it's a really good toy to use when you're with someone. To get the most out of your orgasm, put the Trident in, or have your partner do it.
Then, if you're both up for it, I strongly recommend some foreplay. Allow your partner to turn you on, and do the same for them. Trust me, it will improve your sex sesh by a factor of a million. After that, if you want to get the most out of your toy, get your partner to give you a beej. A good, long Lewinsky, coupled with the Syn, will result in the most intense orgasm ever.
Of course, depending on what the two (or three, or five) of you like to do in the bedroom, you can mix things up. Explore different positions and techniques to see what you like and what works for you.
Additional Tips
If you plan on leaving the Helix Syn up inside you for a while, you're going to need some good lube. Normally, I'd recommend a water-based one, like Sliquid Organics, but there's also another option. Instead of lube, you could use some organic coconut oil. It'll give you the same sensations, it won't ruin the toy, and it won't dry up as quickly as lube would.
Something that goes without saying is that you need to be really relaxed and horny to get the best results. Don't try to force anything, and take your sweet time while playing. Only then will you reach the coveted Super O.
Where the Aneros Helix Syn Trident Flops
Do you remember how I said earlier that there's a lot to unpack when it comes to the tabs? Well, I'm going to use this part of my Aneros Helix Syn review to rant a little. Bear with me for a second.
Here's the thing, the tabs are really useful for a couple of different things. For starters, they stop the Trident from getting all up inside you, saving you from an embarrassing trip to the ER. Also, if the tabs weren't there, you would have to put your fingers up your butt and extract the toy like that. So again, they do serve a purpose.
Why I Don't Like the Tabs
However, Aneros is over here saying that these tabs have some sort of magical properties. Apparently, there's a P-tab that's supposed to stimulate your gooch, and a K-tab that's supposed to massage your Kundalini zone.
Let's start with the lesser of the two evils, which is the P-tab. I'm not totally mad about it, but it won't really give you a solid perineum massage. At best, it'll provide a little tickle, and most of the time you won't even know it's there.
The problem I had was with the K-tab, and the Kundalini zone, which I had to look up. It's a yoga term that represents a chakra point at the base of your spine. Basically, if you do some special yoga exercises, you can tap into the Kundalini energy, and reach some sort of blissful state.
But Aneros said, We'll put a tab on our prostate stimulator, and it'll be the same. Well, I'm not buying it. The K-tab did virtually nothing to enhance my Super O, and I could barely even feel its effect. Even though it does serve a certain purpose, it's not as magical as Aneros would have you believe.
Would I Recommend It?
Look, putting the tabs and the mystical sexual energy aside for a second, the Helix Syn Trident is still a pretty amazing toy. It's rigid enough on the inside to stimulate you, but soft and supple on the outside, which is an incredible combo. It's also compact, simple to master, and you can use it in a bunch of different positions.
So to answer the question, Would I recommend it? Yes, absolutely, I suggest that all of you go and buy it. No matter if you're a butt beginner or boss, you'll still have fun playing with this toy. In fact, the reason I decided to do this Aneros Helix Syn review is that I'm sure that this toy will help you find your Super O.
Click Here To Check The Up To Date Price
Product Specs:
| | |
| --- | --- |
| 🏷️ Name: | ⭕ Aneros Helix Syn |
| 📁 Type: | ⭕ Prostate Massager |
| ⚙️ Features: | ⭕ Hands-Free Play |
| 🛠️ Materials: | ⭕ Silicone |
| 📅 Last updated: | ⭕ September 16, 2023 |
Disclaimer
Our articles feature affiliate links. If you appreciate our content and would like to show your support, you can consider buying your new sex toys using the links we provide. Every purchase made through our links helps us earn a small commission, without any additional cost to you.