Well, well, well, what do we have here? It's the Nexus Revo Twist, a toy that's currently all the rage in the world of anal toys. As someone who's always on the lookout for new ways to mix things up in the bedroom, I must admit: I was intrigued by the promise of this anal plug slash prostate massager. I mean, who doesn't love a good two-for-one deal? So, I decided to give it a try and see what all the fuss was about. And let's just say that I've tested a lot of prostate massagers in my day (yay, anal play), but the Nexus has quickly earned an honorable place in my bedside drawer. But enough chit-chat. Let's dive into the details of my Nexus Revo Twist Review!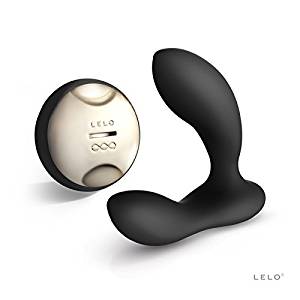 Lelo Hugo

Remote controlled

2 optional vibrators in both base and tip

Stimulation for both perineum and prostate

Medium-size suitable for all levels

100% waterproof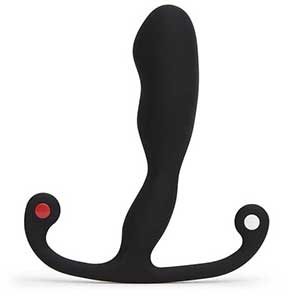 Aneros Helix Syn

Velvet touch silicone for smooth entry

Hands-free play

Good size for beginners

Anatomically designed for optimal pleasure

High quality, FDA-approved materials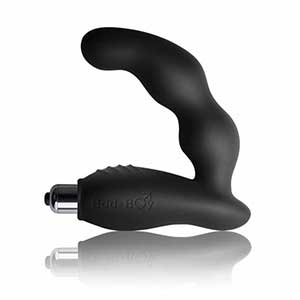 Rocks-Off Big Boy

Perineum and prostate stimulation

Optional bullet vibrator

Flexible, medical-grade silicone

Hands-free

Great size for beginners
Up Close and Personal: First Impressions
This dual-use anal plug and prostate massager is the real deal when it comes to anal play. It's like having two toys in one – you have a vibrating plug and a rotating shaft, both designed to give you maximum pleasure.
When you first lay eyes on the Nexus Revo Twist, you'll know you're in for a treat. It's sleek, sexy, and made from 100% silicone. Plus, it's rechargeable and splash-proof, so you can focus on the fun and not worry about replacing batteries.
And let's not forget about the size – with a total length of 9.4 inches (an insertable length of 3.86 inches for the rotating shaft and 3.42 inches for the vibrating plug), it's big enough to hit all the right spots but not so big that it's intimidating.
Also, if you are more of a girth-preferring type of guy, you should know that the widest point of the rotating shaft is 1.34 inches, and the widest point of the plug is 1.18 inches.
Click Here To Check The Up To Date Price
Special Features
Now, let's talk about the features. The Nexus has six vibration modes and two rotating modes, meaning you've got 34 different combinations of pleasure. That's more options than your favorite pizza joint! Moreover, you can use the vibrating plug on its own, or the rotating shaft on its own, or use them both simultaneously. It also has an extended handle that's perfect for partner play.
And don't even get me started on the remote control functionality. You can control this bad boy from up to 26 feet away. That means you can let your partner take the reins and really drive you wild.
But let's cut to the chase: the Nexus Revo Twist feels out-of-this-world amazing. The vibrations are powerful yet not overwhelming, and the rotation is smooth and satisfying. It's like having your own personal pleasure carnival in your behind (in the best possible way). And the fact that it's designed to stimulate both the perineum and prostate at the same time just takes it to a whole new level of fun.
Taking Nexus for a Spin: How to Use This Toy for Maximum Satisfaction
Listen up, pleasure-seekers, because the Nexus Revo Twist is about to blow your mind (and other body parts too). Here's a step-by-step guide to unlocking its full potential!
Step 1: Get Your Lube On
First things first, you need to make sure you've got plenty of lube on hand. That's because you want all the parts nice and slippery before you start playing with anal toys. Trust me, your butt will thank you for it.
Think of the lube as your booty's wingman – it's there to ensure everything goes smoothly and nothing gets left out. So don't be shy; slather that stuff on like there's no tomorrow.
Step 2: Get Into the Position
It's time to get creative with your positions! You can go old-school and lie on your back with your legs up in the air, or you can switch things up and get on all fours like a naughty little animal.
The point is, the choice is yours, and there are no rules when it comes to getting off with the Nexus. The only limit is your own imagination (and maybe your flexibility, but that's a topic for another time).
Step 3: Choose Your Mode
Oh, baby, the options are endless with this toy! You can use the vibrating plug on its own for a more mellow experience or fire up the rotating shaft for some serious pleasure. But why stop there when you can have the best of both worlds? That's right, combine the two, and you've got a recipe for some next-level ecstasy.
And let's not forget about the settings. With 6 different vibration modes and 2 rotating modes, you'll never get bored.
Step 4: Insert the Toy
Ah, the moment of truth has arrived – it's time to insert the Nexus into your derriere. But hold your horses – you need to take it slow and steady. This is not a race, my friend, and you definitely don't want to pull a hamstring (or whatever other butthole muscle).
So, take a deep breath, relax, and carefully ease the toy into your rear end. Remember, it's all about the journey, not just the destination. And if you're new to anal play, take it easy and don't rush things. Think of it as a gentle dance – you want to move in sync with the toy, ensuring it hits all the right spots.
Step 5: It's Twistin' Time
Once the toy is in place, and you're feeling comfortable, it's time to get down and dirty with the rotation and vibration modes.
You can use the extended handle to control the rotation of the shaft, and believe me, it feels as good as it sounds. Or, if you're feeling lazy (we won't judge), you can use the remote control to switch it up and take things to the next level. It's like having your own personal DJ in your butt, spinning the tracks to the perfect tempo.
Step 6: Clean Up
Now that you've reached the ultimate climax with the Nexus, it's time to clean up your act (literally). You don't want any unwanted guests hanging around the party, if you know what I mean. Just think of it as the post-party cleanup – it might not be as exciting as the main event, but it's an important part of the process.
Related
Cleaning and Maintenance: How to Keep Your Pleasure Machine Pristine
Ah, the not-so-glamorous part of owning an adult toy. But fear not, because with the Nexus Revo Twist, it's a breeze to keep the massager squeaky clean.
Simply wash the toy thoroughly with warm water and soap or a toy cleaner after every use, making sure to get into all the nooks and crannies. And don't forget to dry it off before storing it away for next time – you don't want any mold or mildew creeping in.
However, if you want to get really fancy, you can even invest in some specialized toy-cleaning wipes to make the job even easier. It's like having a personal cleaning crew, but for your anus (now that's luxury).
Click Here To Check The Up To Date Price
Nexus Revo Twist Review The Pros & Cons
Pros: Bootylicious Bliss – What I Loved About This Toy
Double the Fun: With a vibrating plug and a rotating shaft, I was in absolute heaven. I couldn't believe how much pleasure I was getting from just one toy. It was like a one-way ticket to Pleasureville.
Endless Options: All those different vibration and rotating modes meant I could mix and match to find the perfect combination for cumming fast, slow, long, or far. It was like a choose-your-own-adventure book but with way more orgasms (and way less reading).
Remote Control: The remote control functionality was a game-changer. I could switch things up without fumbling around with the toy, which was a major plus (especially when things got hot and heavy).
Quality Design: The Nexus Revo Twist is made from luxurious materials that guarantee optimum results time and time again. It's like having a fancy sports car, but for your butt.
Splashproof & Waterproof: I'm not gonna lie; I took this bad boy in the shower with me (and even to the pool, but shh, don't tell anyone). Let me tell you, it made for some seriously wet and wild fun.
Perfect Size: The size was just right – not too big, not too small. It was like the Goldilocks of booty toys. And the extended handle made it easy to control and maneuver (even with lubey hands).
Cons: What Bummed Me Out About This Toy (Pun Intended)
Not for Anal Newbies: If you're new to the booty toy game, the Nexus Revo Twist might be a bit too much to handle (literally). It's definitely a toy for the more experienced players, so make sure you're comfortable with your own butt before you dive in.
Noise Factor: It isn't exactly the stealthiest toy in the toolbox. It's not like a jackhammer, but it's not exactly a church mouse, either. So, if you have roommates or family members, you might want to wait until you have the house to yourself.
Pricey: The Nexus is definitely an investment. It's not the cheapest prostate massager on the market, but in my opinion, it's worth every penny. Still, if you're on a budget, this might not be the toy for you.
The Good, the Bad, and the Booty-ful: Completing the Nexus Revo Twist Review
There you have it, folks – my Nexus Revo Twist review, the booty toy that's making waves (and gyrations) in the pleasure world. It's like having your own personal pleasure genie in a bottle (minus the cheesy song), and I can't recommend it enough. Sure, there are a few cons to keep in mind, but in my opinion, the pros far outweigh them. So, if you're ready to take your pleasure game to the next level, give the Nexus a try, and then come back and give me the scoop.
Click Here To Check The Up To Date Price
Product Specs:
| | |
| --- | --- |
| 🏷️ Name: | ⭕ Nexus Revo Twist |
| 📁 Type: | ⭕ Prostate Massager |
| ⚙️ Features: | ⭕ 34 combinations of pleasure |
| 🛠️ Materials: | ⭕ Silicone |
| 📅 Last updated: | ⭕ September 16, 2023 |
Disclaimer
Our articles feature affiliate links. If you appreciate our content and would like to show your support, you can consider buying your new sex toys using the links we provide. Every purchase made through our links helps us earn a small commission, without any additional cost to you.