This high-powered and unique male sex toy is like something I'd never tried before! When I first saw it, I was unsure of what the so-called "come-hither" technology really meant – but I'll tell you… it's something you will absolutely want to try for yourself! Read on the Lelo Loki Wave review and find out why!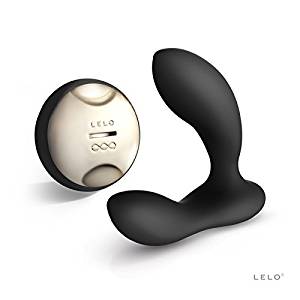 Lelo Hugo

Remote controlled

2 optional vibrators in both base and tip

Stimulation for both perineum and prostate

Medium-size suitable for all levels

100% waterproof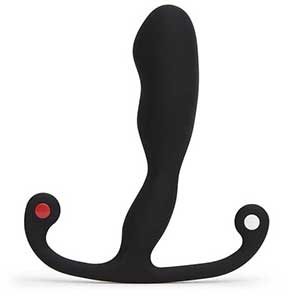 Aneros Helix Syn

Velvet touch silicone for smooth entry

Hands-free play

Good size for beginners

Anatomically designed for optimal pleasure

High quality, FDA-approved materials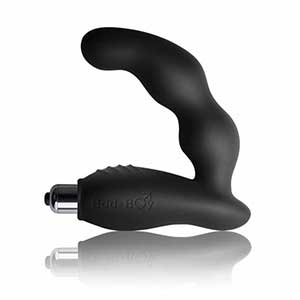 Rocks-Off Big Boy

Perineum and prostate stimulation

Optional bullet vibrator

Flexible, medical-grade silicone

Hands-free

Great size for beginners
Tell me more about this Lelo Loki Wave Pleasure Maker
Okay, sure! I'd love to! You know, I don't simply try every male sex toy on the market just for my OWN pleasure (althought that's an AWESOME perk of the job) I actually do this job for YOU! You know, making sure you choose wisely and don't waste your time on crappy toys that cost way more than they're worth!
Okay, so that aside… here's the deal with the Lelo Loki Wave… If you're looking for a unique experience that will stimulate both your prostate AND your perineum (you know that super pleasurable spot between your cock and your sack? Yeah that's your perineum) then this is a great option for you! The longer 'finger' so to speak is inserted into your anus for prostate stimulation. And I didn't call it a 'finger' for just any reason. It literally feels like a (large) finger stroking your prostate. That come-hither motion is such an incredible feeling, and something that vibrations just DON'T match.
Visit the official website and get 20% Off - Use 'BBM15' Promo Code
Lelo Loki Wave: What you need to know
Just like every Lelo toy I've had the pleasure to experience (pun intended), it's a high quality toy. Not super cheap…. But high quality for sure! And next to pleasure, quality materials are what's most important to me. When you're putting a product in your most intimate areas, don't trust $10 toys that are made of god knows what. You need to ensure that the materials are of high quality and body-safe materials. And you can absolutely trust that in the Lelo products. PLUS they're really smooth and soft to the touch with makes insertion and play so much better.
You'll also want to note that this particular male sex toy has 10 'pleasure settings' so you can get the exact stimulation you need for an intense orgasm, AND it's 100% waterproof – so you can choose to play with this wherever you lil' heart desires. Dual motors are designed to create highly intense orgasms, and with two separate stimulation points, even if you're playing solo it's going to feel like you've got an incredibly generous partner in bed with you!
Related
Best Way to Use the Lelo Loki
I believe that a Lelo Loki Wave review wouldn't be complete without a few tips on how to get the most out of your new toy.
Charge It. This toy has a 90-day standby life (meaning the charge will last for up to 90 days after being fully charged) so charge it up, and keep it handy for when the mood strikes!
Use lubricant. As with any toy, I'm always going to tell you to USE LUBE. It will make everything 100 times better. Just be sure to use a water-based lubricant. Other lubricants will start to eat away and ruin the beautifully soft material, and your toy won't last as long.
Experiment. Insert that climax machine, and play around with it. There are 10 settings. See which ones feel best for you, and play around with the position of the toy to see where it feels best for you.
Climax. This may come sooner than you expect, especially your first time using it. Just enjoy it.
Clean up. Clean it up with warm water and a mild soap or toy cleaner so it's ready for your next use!
Click Here To Visit The Official Website
Lelo Loki Wave Review – The Good
It's waterproof. I've already mentioned this, but it's a big deal in my world. I don't always play in the shower or other water spots, but I DO like the option if the situation arises. Completely waterproof means more variety for finding pleasure!
Rechargeable. I love rechargeable toys. Not only are we in 2023 and thinking about the environment (and how bad disposable batteries are for it) but on a more selfish level, I hate wanting to play with a toy and finding out that I have no batteries in the house. Plus, most battery-operated toys go through batteries so fast, and on top of the price of the toy you end up spending a fortune on batteries for the thing!
Unique sensations. As you probably know by now, I've tried A LOT of toys, and this is one that has a sensation like I've not experienced in any others. The motion of the larger head feels very much like a person stroking my prostate and that feels great!
Amazing pleasure sensations. The 10 different pleasure modes are incredible. Each one of them feels amazing – and there's no doubt in my mind that everyone will be able to find something that suits them perfectly.
Lelo Loki Wave Review – The Bad
It's not small. Okay so depending on your experience, and what you're looking for, this could actually be a huge positive. But if you're not very experienced with these types of male anal toys, then I'm going to let you know that it's thicker than some of the regular toys out there. Just keep that in mind and pay attention to the specs to see if it's a right fit for you.
Controls are on the device itself. Call me spoiled, but I've gotten used to the remote controlled toys. It's so much easier to control the vibrations and speeds when you have a separate device to do so, instead of having to reach down and do it on the handle of the toy you're using. Granted, about 90% of toys have it built this way – but I personally love a good remote control toy.
It's costly. If you're looking for a toy to TRY prostate massage, I'd say look elsewhere. While I believe you'll love the toy, I also think that if you don't… it's a bit pricey. Even for a lot of men who do use toys regularly, it's over $200 most places. I personally think it's worth it, but it's not for everyone.
My Final Thoughts
If you're looking for a high quality prostate massager that's going to not only last, but deliver high intensity orgasms over and over again, then you're in the right place! On the other hand, if you're looking for a cheap toy to try things out with, look elsewhere. This toy is built to last, and I'd say it's one step up from a beginner toy – unless of course, you really know what you want and you're a little bit adventurous.
Use Promo Code 'BBM15' To Get 20% Off Your Order - Click Here
Product Specs:
| | |
| --- | --- |
| 🏷️ Name: | ⭕ Lelo Loki Wave |
| 📁 Type: | ⭕ Prostate Massager |
| ⚙️ Features: | ⭕ 100% Waterproof |
| 🛠️ Materials: | ⭕ Body Safe Silicone / ABS |
| 📅 Last updated: | ⭕ September 16, 2023 |
Disclaimer
Our articles feature affiliate links. If you appreciate our content and would like to show your support, you can consider buying your new sex toys using the links we provide. Every purchase made through our links helps us earn a small commission, without any additional cost to you.