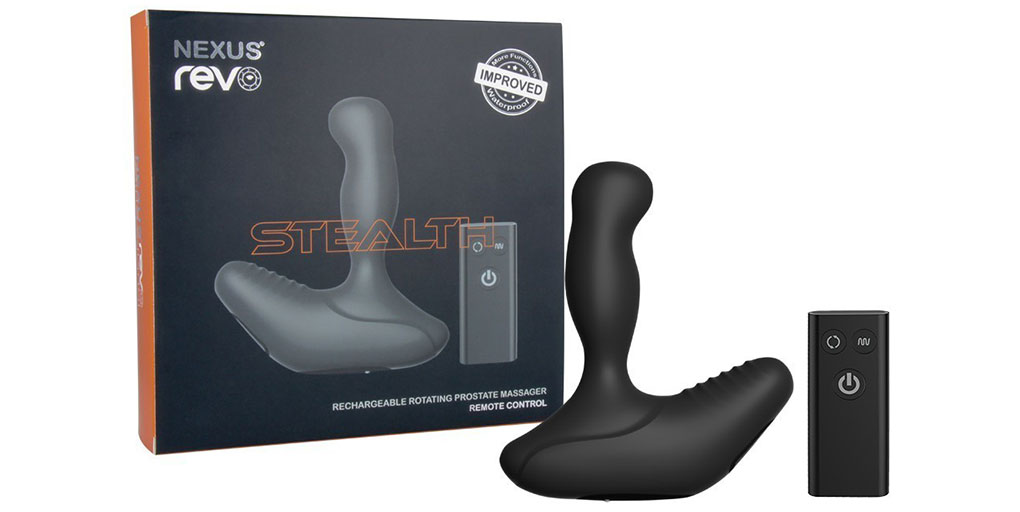 As you can probably tell by the title, my Nexus Revo Stealth review is going to be a real doozy. After a few decades of masturbating daily (sometimes more than once) and trying out different kinds of sex toys, the unimaginable finally happened. Yup, you guessed it – I had back-to-back orgasms with no stimulation to my pocket rocket AT ALL.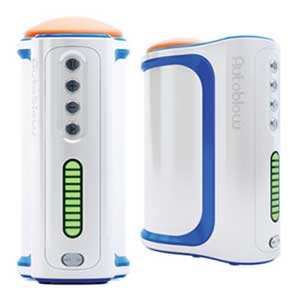 Autoblow A.I.+

Hands free blowjob toy

Heavy duty motor

Powered by artificial intelligence

Interchangeable sleeves

Body-safe materials

Plug it into any electrical outlet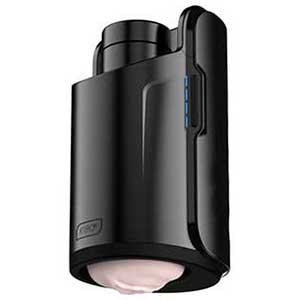 Kiiroo Keon

Automatic stroker

Sliding scale of speed

Elegant and discreet

Real-feel masturbation sleeve

Connects to video chat platform and VR porn

Easy to store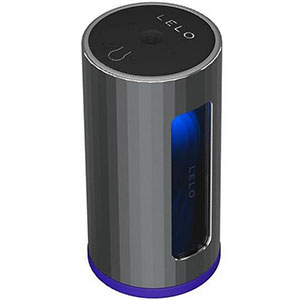 Lelo F1S V2

Hands free blowjob machine

Long-lasting charge

Fully waterproof

Powerful sensations

Realistic artificial skin material

Easy to clean

Promo Code: "HAPPYBF" - 15% Off
And I'm here to tell you all about it. It all happened the very day I found the Nexus Revo Stealth on my porch in a neat little box. Of course, Mr. No Patience Whatsoever couldn't wait even a day before trying the new bad boy out. So off to the bedroom I went. After grabbing my lube and ditching my pants and underwear, I put on some mood-porn (it's like mood music, but better) to check out the new and improved Stealth.
My first impression was that it's a cross between getting rammed by a dildo and having someone with sturdy hands (who, coincidentally, knows what they are doing) finger your prostate relentlessly.
If that sounds appealing, wait until you hear the rest of it.
What Is Nexus Revo Stealth Anyway?
The whole point of my Nexus Revo Stealth review is to present you with a toy that I loved and tell you my first impressions. However, I understand that you might be a bit confused right now. That's not that surprising, considering my misleading title.
But is it misleading, though? Nexus Revo Stealth is a prostate massager that's so big, it might as well be a vibrating dildo. It's definitely not beginner-friendly. So if you have a virgin badonkadonk, I could never, in good conscience, recommend this toy to you.
For the rest of us, Nexus Revo Stealth might be a dream come true. Why? Well, let's put it like this:
The toy vibrates (duh!);
It also has a rotating motor;
And it comes with a remote!
Talk about the pleasure trifecta. The Stealth is practically everything one could want out of a prostate massager. On top of that, it's ideal for both solo and partnered use.
Aside From the Size, What Makes It Special?
The Stealth is notable because it will really stimulate your prostate. What's more, it will do so expertly and with style. What I mean by that is that it will exert enough force to tickle your prostate from the inside (thanks to the sturdy head of the massager) and the outside (with the external stimulator).
The toy is straightforward to use (albeit a bit difficult to push in). The main feature is definitely the rotating head. If you've had trouble reaching your prostate with other massagers because they couldn't really hit the right spot, you won't have that issue with the Stealth.
I had some concerns that the rotating motor would either be a gimmick (in other words, that I won't feel the rotations) or that it would be redundant. I was wrong on both accounts. My fear that my ass might just be so mighty and powerful that it will stop the poor thing from rotating in the first place was also unfounded.
Overall, Stealth works better than advertised. That's especially true when you consider that the external stimulation is also working its damn hardest to tip you over the edge. The external stimulator is ribbed (for YOUR pleasure), and it has its own vibrating mechanism.
What more could a man want, you ask? Well, come to think of it – a lot. A remote control option for some hands-free fun would be excellent, and, as I mentioned, the Stealth has it.
But before I tell you all about how fun testing the remote control range is, let's see what Nexus Revo Stealth has to offer when it comes to the design and specs.
Click Here To Check The Up To Date Price
The Design
When it comes to the overall appearance, Nexus is to the sex toy world what Lexus is to the car industry. It looks sleek, elegant, and masculine. Yeah, that's the only word I could use. The company really goes heavy on making everything – from the packaging to the toy itself – appeal to the average beaver basher owner.
Unpacking the Nexus Revo Stealth
The packaging is subtle, and, were it a man, we'd all call it handsome and rugged. Since it's not a man, I'd have to go for manly. They even made the logo in the same spirit. The O in Revo looks like a car tire (and we all love cars, right?).
Jokes aside, the packaging looks great and high-quality. Once you're done admiring the box, you can actually open it. There, you'll find a foam holder that keeps both the toy and the remote in place and some goodies underneath it.
The charger, the USB cable that connects the charger to your PC, as well as a complimentary packet of lube should all be in the package. Aside from those, you'll get a Nexus Revo Stealth booklet that's of substantial size and lists all the information about the product, maintenance, and storage that you might need. Finally, you'll also find a nice, fancy pouch to keep your prostate's new best friend in.
When You Unpack It
So, overall, the packaging is lovely and has more stuff in it than I expected. But the packaging can only go so far. It's what's inside that counts, right?
When it comes to the toy itself, the sleek, matte black massager is a sight for sore eyes. I already mentioned the masculine design that Nexus was going for. Therefore, finding out that the Stealth comes only in black (much like most of the Revo line) is no surprise.
It's a lovely shade of black, though. The toy has a bulky base and a massive external stimulator that has faint ridges on it. Those ridges might seem too subtle to do anything, but let me assure you – your taint will feel each and every one of them.
The external stimulator also houses the rotation and vibration buttons as well as the charging port.
The main shaft and the head of the massager are where the fun is at. The head is bigger than it looks in the photos (something to keep in mind), and the toy only narrows slightly on the transition between the head and the shaft (which is also quite girthy).
The entire thing is velvety and smooth (except for the ridges I already mentioned) so pushing it in is only a matter of being capable to take its size.
Click Here To Check The Up To Date Price
The Specs
Overall, this is one of the firmest male anal toys that I own. I thought the shaft would be more flexible, given that the head rotates, but as far as I can tell, the body is sturdy and unyielding. That means that no matter how tight you are, the rotating motor will do its job, and the robust body will rotate and hit all your sweet spots.
I know I've been yapping on and on about how big this toy is, but let's see just how big, shall we?
Small, Medium, Large, Nexus Revo Stealth
I'll be sincere here. Nexus Revo Stealth isn't the biggest toy I own. It's not even the biggest prostate massager I've tried. However, it's much bigger in person, which is why I emphasized the size so much in my Nexus Revo Stealth review.
The length of the entire toy is 5.5 inches. Out of those, you'll make good use of 3.5 inches which doesn't sound like a lot. However, keep in mind that the circumference of the entire toy is 4 inches and that both the shaft and the head are pretty bulky. Some might even call them thick and juicy (me, I'm someone).
So size-wise, the Stealth falls on the bigger part of the size scale. The entire toy, apart from the charging port, is 100% body-safe silicone. The charging port is high-quality ABS plastic. That means that you can submerge your toy in water if you so please. I love waterproof toys that I don't have to wash as if they are delicate and porcelain-like, which is a definite turnoff for me.
What's Cooking, Goodlooking?
Of course, a toy can be as elegant and as beautiful as they come, it won't matter if the features aren't stellar. Luckily, the Stealth can easily be described as Nexus' pride and joy, given that the R&D team really went all out when it comes to functionality.
The features are impressive, both apart and in tandem. Of course, I recommend using them all at once, but trying them out separately might give you a better idea of how the toy actually works.
The Head
The rotating head is definitely the best feature of Nexus Revo Stealth. If you turn your toy on before you push it inside, you'll see just how powerful the rotations actually are. However, that's not the best part.
The rotation motor functions at two speeds, and it's bidirectional. So, you can torture your prostate clockwise or counterclockwise. If you find the rotations to be too strong, you can always dial it down, given that you have the option of picking between two speeds.
And if you're scared that the rotation feature means that your prostate gets stimulated only when the head circles back to it, don't be. The stimulation is constant and out-of-this-world amazing.
The External Stimulator
There are solid two inches of bulky external stimulator that will press into your taint in the most delicious way. The ribbed texture really made a difference for me. I don't have a particularly sensitive perineum, so the fact that the Stealth goes all out when it comes to stimulation was a win in my book.
Of course, it's not just the texture that you'll find pleasurable. The external stimulator also vibrates. You can pick between 6 different vibration modes. Combined with the two rotation speeds of the head and the bidirectional feature, you're looking at 34 different combos of pleasure.
The Remote Control
I love male sex toys with a remote control feature because it allows me to have some hands-free fun. There's nothing better than sitting on a bulky toy and having your hands free to explore and hit all the other sweet spots.
Of course, having a remote (and a toy with a 15-meter range) also means that the Stealth is ideal for a bit of partnered play and teasing.
Now I usually like to test out remote control toys in public and have my partner play with the controls. However, given how big the Stealth is, we couldn't do that. I already have one bulge in my pants; another one would definitely be noticeable.
Still, we had plenty of fun trying it out at home.
How To Play With Your Nexus Revo Stealth
This is usually my favorite part of any review, and the Nexus Revo Stealth review is no different. I have plenty of suggestions for you, but it ultimately comes down to preference.
All of Stealth's features are great on their own, but I suggest going through all 34 combos and finding your favorite one. Or hey, maybe you'll have more than one favorite, who knows!
Before that, you'll, of course, have to charge and clean the toy. Charging is only a matter of attaching the charging port and connecting it to a device of your choosing with the USB cable. It takes around 90 minutes for the toy to be fully charged. The battery holds a little under two hours.
Related
What About Cleaning?
Since the toy is splash-proof and waterproof, you can easily clean it. It's entirely silicone, so all you really need is a sex toy cleaner or a bit of soap and water, and you're all set.
Give Us the Dirt – What's Wrong With It?
It's quite clear by my Nexus Revo Stealth review that this toy blew my mind. However, like anything else in life, it's not perfect. So, here are some flaws:
The toy is a bit louder than I'd like. I can't tell just how loud it is, but it's definitely over 50dB.
It's not beginner-friendly. This isn't necessarily a flaw. But I want to point it out, so none of you overeager tight asses end up complaining to me that I messed up your bum.
It doesn't keep charge well between sessions. This is a significant flaw, in my opinion. There are plenty of toys out there that have a standby time of several months. So I was a bit sad that I had to charge my Stealth as frequently as I did. However, this is by no means a deal-breaker. It's just something that you have to be aware of to preplan your playtime.
A Few Parting Words
As we near the very end of my Nexus Revo Stealth review, I have a parting gift for you. I know I said this isn't a beginner toy. Still, feel free to get it anyway (if you like it as much as I did). You can definitely train yourself and work your way up to making your ass swallow it whole. Never give up; no sex toy is too big with proper prep! Have fun playing!
Click Here To Check The Up To Date Price
Product Specs:
| | |
| --- | --- |
| 🏷️ Name: | ⭕ Nexus Revo Stealth |
| 📁 Type: | ⭕ Prostate Massager |
| ⚙️ Features: | ⭕ 6 Vibration Functions |
| 🛠️ Materials: | ⭕ Silicone |
| 📅 Last updated: | ⭕ January 2, 2023 |