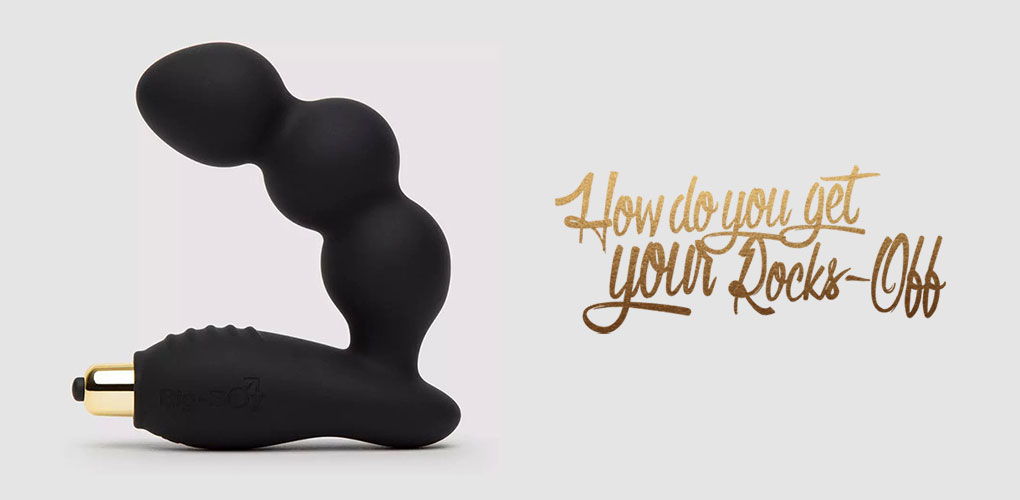 Those of you that know me, know that I adore toys that pretty much anyone can use. I love sex toys that are so versatile that they're a great choice for any man, woman, or enby. So, you might be wondering why on earth I'm writing a Rocks Off Big Boy review when most Rocks Off toys aren't really beginner-friendly.
Well, my friends, sometimes I simply have to present to you a toy that rocked my world and left me with shaky legs. And if that toy happens to be a massive prostate massager, then so be it!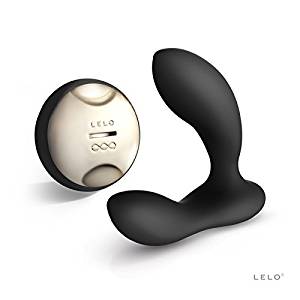 Lelo Hugo

Remote controlled

2 optional vibrators in both base and tip

Stimulation for both perineum and prostate

Medium-size suitable for all levels

100% waterproof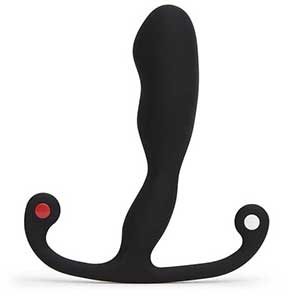 Aneros Helix Syn

Velvet touch silicone for smooth entry

Hands-free play

Good size for beginners

Anatomically designed for optimal pleasure

High quality, FDA-approved materials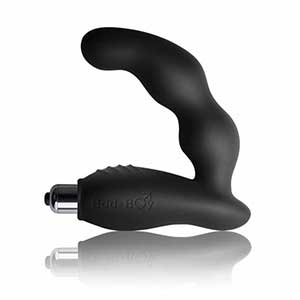 Rocks-Off Big Boy

Perineum and prostate stimulation

Optional bullet vibrator

Flexible, medical-grade silicone

Hands-free

Great size for beginners
I've been a fan of this brand for many years now. Their toy selection is not only wonderful but also well-designed, which means all their products are fun to play with. I'd even go so far as to say that most of them will change your world or at least rock it (get it? Because they're called Rocks Off?).
But we'll talk more about that later in my Rocks Off Big Boy review. So let's crack on!
Wait, What Even Is the Rocks Off Big Boy?
Well, if you've been paying attention so far, you might have noticed that Rocks Off Big Boy is a prostate massager. However, just saying that is like saying that Mount Rushmore is just a big rock.
In other words, there's so much more to Big Boy than simply being a prostate massager.
Some of you may remember my review of Big Boy's younger brother, Bad Boy. Back then, I praised the brand for appropriately naming their toy (something I still stand by) and for creating anal toys for people who like the feeling of fullness.
Although I was in no way wrong in my previous review, I couldn't even imagine that Rocks Off will go a step further – at least when it comes to filling me up.
Big Boy, as the name suggests, is quite a massive toy. It's intimidating, even if it's only sitting in the palm of your hand. Just imagining this enormous thing going up your (hopefully not virgin) ass is somewhat scary.
But if you're like me, you won't let a little fear stop you. Onwards and upwards, I say (which is, coincidentally, the only way to insert the Big Boy in the first place).
OK, But What Makes It So Special?
Big Boy is a huge toy. I can't stress this enough – this prostate massager isn't a good choice for beginners. I know those who love the idea of anal play and are excited about trying it out usually let their eyes write checks their asses simply can't cash. Don't do that.
Big Boy is made for anal play veterans. It's big, bulbous, and ergonomically designed. It offers two different points of stimulation because one part of it sits snuggly next to your perineum while the other is, of course, inside of you.
If you have a super sensitive prostate, then the dual nature of the Big Boy might not be the best choice for you. For me, it honestly feels amazing. The motor of the toy sits inside the outer part, which means that the strongest form of stimulation is the external one. I absolutely love that. But if you're too sensitive, you might consider whether adding the Big Boy to the cart is a smart idea or not.
Click Here To Check The Up To Date Price
Ergonomic Design
Just like the rest of the Rocks Off selection, the big Boy has a beautiful design. The ergonomic shape of the toy, along with the bulbous appearance, allows the toy to completely fill you up right from the get-go.
Big Boy's biggest bulge is at the very top of the toy, and behind it is a narrow ridge. That's by design; the goal is to give you that thrill of the toy popping inside of you.
Thanks to the overall wave-like design, you'll continually have the feeling of the toy stretching you out. This is a huge plus, at least for me, given that other prostate massagers can't really provide the same.
Now you might have noticed that this toy doesn't have a base. Here on this blog, I've commented many times about how I don't use anal toys for men without a base (it only takes one trip to the ER to learn that lesson).
However, Big Boy is completely safe for use. Thanks to the C-shape of the toy, Big Boy will stay in its place no matter how hard you play with it. At the same time, no matter how strong your sphincter is, you won't be able to suck the toy in.
Show Us What You're Packing, Big Boy!
Now that we've covered how beautiful the toy in question is, we can move on to the juicier parts of this Rocks Off Big Boy review.
The Size
So, I know I've been saying that the toy is big, but I bet you're wondering just how big we're talking here.
Well, Big Boy has around 12.5 inches in total length and 5 inches in girth. However, only 5 out of the 12.5 inches are insertable. The rest is meant to snug against your perineum and stimulate you from the outside.
The Material
Just like all other Rocks Off toys, Big Boy is made out of 100% body-safe silicone. The top of the toy that holds the power button is the only thing that's made out of hard plastic. However, since you can't insert that part inside of your body, the material doesn't really matter.
The silicone that Rocks Off uses is soft and velvety, and it feels pleasant on the skin. It's not the most luxurious toy in the world, but it's high-quality, and that's more than enough for me.
The Packaging
The packaging of the toy is pretty straightforward. To be frank, some might even be disappointed, given that there's not much in the box besides the toy. However, when you consider the size of the massager, that's not really a surprise.
Once you crack open the box and take your Big Boy out, you'll also find a leaflet with instructions, as well as the two parts of the toy. There's also one battery in the package.
Click Here To Check The Up To Date Price
The Features
Now, I know you noticed me saying how there are two parts to the toy. That, of course, is one of the selling points of Big Boy.
The toy consists of a bulbous sleeve that fits tightly around a bullet vibrator that's battery-powered. The two parts work in unison, so you really can't do much if you only have one of them. In other words, once your battery dies, you'll have a toy that just looks like a deflated, lumpy penis.
Luckily, one battery comes with the package, so you'll be able to play straight away. Just ensure you have backups.
Those Good Vibrations
So, Big Boy is a prostate massager. However, it's also a vibrating toy. It comes with a bullet vibrator, after all, so I'm guessing that was clear to you from the get-go.
The vibrations are full and rumbly, and the vibrating bullet has seven different vibration patterns. They are quite easy to shuffle through. There's only one button on the bullet, and you press it to both power up the toy and shuffle through the available vibration options.
And Extra Features
As promised, Big Boy does more than simply vibrate. It's also compatible with hands-free play. Of course, it doesn't come with a remote. However, once you power it on and pick the vibration pattern that you like, you can continue playing without worrying whether the toy will stay in place (because it will).
Even if you want to have penetrative sex while wearing the Big Boy, you can. The toy will stay put and give you immense pleasure while you're dipping your beaver basher in an orifice of your choosing.
The toy is also completely waterproof, which is an amazing feature for those who like to play outside of the bedroom. I personally played with it in a pool, so I can guarantee it's fully submersible.
However, I do have to warn you – the toy isn't discreet. It's a big bulge that's sticking out of your ass. So, if you're a fan of both public play and tight speedos, keep that in mind.
Related
The Dirty Details
As always, there's really no other way to finish off my Rocks Off Big Boy review but with a nice little overview that will give you a clearer picture of everything this toy has to offer (both good and bad).
Overall, I'd say that the good outweighs the bad by a long shot, but you're the only one who can really judge that. So here it is.
The Pros:
The motor of the toy is exceptionally strong which means that you'll feel the vibrations both on your perineum and prostate.
It's also pretty quiet (considering the speed and strength). I'd even go so far as to categorize this toy as "discreet" in terms of volume.
The toy works with batteries which means that you don't have to wait around for it to recharge. So, if you want to go another round, just pop in another battery.
It's waterproof and ideal for hands-free play, which also means it's great for public play. Just be careful when you're trying to sit down!
The Cons:
Because it's so large, the toy is in no way beginner friendly. It's also quite strong, so it's not a good pick for overly sensitive people.
You need batteries which aren't without downfalls. A standard battery can't offer more than an hour of playtime.
The interface is super easy to use. However, it can also be hard to reach, especially when you're in the middle of playtime.
A Few Parting Words
That was my full Rocks Off Big Boy review! I wholeheartedly suggest you let this big boy poke around your backdoor and give you the orgasm of your life. But – buyers beware – the size is not for the faint of heart!
Click Here To Check The Up To Date Price
Product Specs:
| | |
| --- | --- |
| 🏷️ Name: | ⭕ Rocks Off Big Boy |
| 📁 Type: | ⭕ Prostate Massagers |
| ⚙️ Features: | ⭕ Hands Free |
| 🛠️ Materials: | ⭕ Silicone |
| 📅 Last updated: | ⭕ November 29, 2023 |
Disclaimer
Our articles feature affiliate links. If you appreciate our content and would like to show your support, you can consider buying your new sex toys using the links we provide. Every purchase made through our links helps us earn a small commission, without any additional cost to you.