Before we start this Rocks-Off Bad Boy review, I just have to say, praise the heavens for a sex toy that actually has a normal name! Most of the time, sex toys for men are named in an ambiguous, vague way. Remember the Aneros Helix Syn? Yeah, half the time, I'm not sure if I'm ordering car parts or anal toys.
Well, this bad boy (pun intended) doesn't have that issue. But then again, with a company name like Rocks-Off, in-your-face product names such as Bad Boy, Rude Boy, and Oh Boy don't really come as a surprise.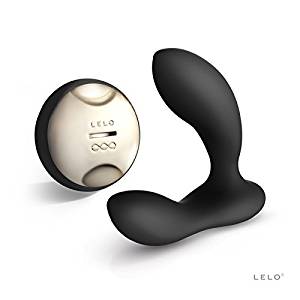 Lelo Hugo

Remote controlled

2 optional vibrators in both base and tip

Stimulation for both perineum and prostate

Medium-size suitable for all levels

100% waterproof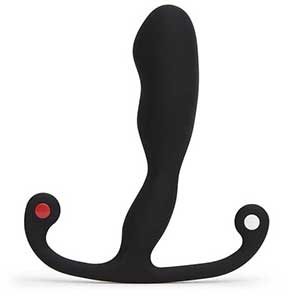 Aneros Helix Syn

Velvet touch silicone for smooth entry

Hands-free play

Good size for beginners

Anatomically designed for optimal pleasure

High quality, FDA-approved materials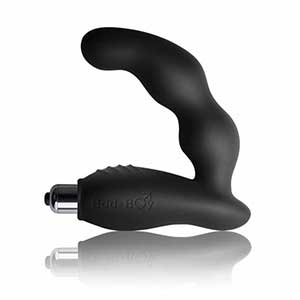 Rocks-Off Big Boy

Perineum and prostate stimulation

Optional bullet vibrator

Flexible, medical-grade silicone

Hands-free

Great size for beginners
Anyway, moving on. Today, I have a real treat for you guys. All of you who have already discovered the joys of shoving things up your ass will love the Bad Boy. It's an advanced toy and, as the title says, not for the faint of heart. If you're a beginner, the Bad Boy isn't something I'd necessarily recommend to you. It is, however, something you can work toward (wink, wink).
What Is the Rocks-Off Bad Boy, and Why Do I Need It in My Life?
Let's stop beating around the bush here. Bad Boy is a dual prostate massager. What does that mean? It means it will change the way you wank. And I do mean a proper, thorough change.
Sure, you'll still use those couple of minutes of free time in the morning to quickly rub one off, but you'll also find yourself reaching for this toy more often than you can imagine. Take it from me, a man who has a whole drawer (and a closet) full of male sex toys and has tried everything under the sun when it comes to anal pleasure – the Bad Boy has no competition.
In a similar way there's a bit of truth in the famous saying, "Once you go black, you'll never go back," there's also more than a bit of truth in "Once you let the Bad Boy slide in, you'll be a changed man."
OK, I know that doesn't rhyme, but I'm not a poet. Although the Bad Boy does inspire me to wax poetic, this Rocks-Off Bad Boy review in prose is the best I can do.
What Makes It So Bad It's Good?
Now, I hear you shouting at your screens, "Mark, stop teasing us, and tell us what makes the Bad Boy so great!" Well, gentlemen, here it is. The Bad Boy's most significant selling points are:
The size, which is substantial and can be intimidating
Its shape, which resembles a delectable cross between anal beads and a prostate massager
The dual nature and the ability to massage the prostate from both the inside and outside
Ah, I had your curiosity, but now I have your attention, don't I? Now, you know that I always keep it real with you guys and tell you both the good and the bad (and the ugly) when it comes to all my reviews. Rocks-Off Bad Boy review will be no different, so let's dive right in, shall we?
Click Here To Check The Up To Date Price
The Design (Of Another Kind)
At first glance, the Bad Boy looks like an ordinary V-shaped prostate massager. It's made out of sleek and soft silicone and comes in a black matte color. Sounds mundane, right?
Well, take another look, my favorite muttonmongers, and feast your eyes on the vaguely anal bead-resembling general design. Do you see those little dips in the main body of the toy? Yeah, you can just imagine them breaching you one by one, can't you?
The Bad Boy's V-shape allows the vibrations to stimulate you both on the inside and the outside. The smaller arm will snuggle close to your perineum and gently massage it, while the larger arm will hit your prostate from the inside every time. That's why the larger arm is so curved and kind of pointy – it's a prostate finder with missile-like precision!
Overall, the Bad Boy has an ergonomic shape that's quite unique and allows the toy to hit all your sweet spots. However, it's also flexible, which means you can twist it around to your heart's content. But, be warned – you better be lying down when you start twisting. Otherwise, your kees may buckle (I know mine did!).
What the Bad Boy Is Packing
One of the best features of the Bad Boy is that it's completely waterproof. I appreciate this, given that I love nothing more than to enrich my shower experience as much as I can. So, when your busy schedule allows, pop into the shower or bath with this glorious creation and prepare to see the gates of heaven open up to you.
Size
The other best feature, of course, is the size. Now, I already mentioned this as a significant selling point to those of us who are veterans when it comes to shoving stuff up our bums. When small, puny anal toys for men just don't do the trick anymore, it's good to have something like the Bad Boy to reach for.
Although it has a soft outer material, the Bad Boy is quite sturdy, given that the majority of its body is the vibrating bullet's motor. Therefore, once it breaches you, you can rest assured that it will stay put, no matter how much your ass flexes around it.
Overall, the Bad Boy has ten impressive inches in size. Of course, you can't push all ten of them inside of you. You'll have to settle for its 5.5 inches of insertable length (which is more than enough, trust me).
When it comes to the width, the Bad Boy offers quite a variety. The tip and the first bulb (the one that will make friends with your prostate) are about 1.25 inches in width. The ridges between the bulbs are 1 inch wide, while the second bulb is almost 1.4 inches wide. The very base of the massager is a bit wider, coming in at just above 1.6 inches.
Impressive, right? Now, I noticed a bit of discrepancy between the images and the actual product. I've been going on and on about the size of this toy throughout my Rocks-Off Bad Boy review, and I'm guessing that you're looking at the images right now and wondering if I've gone insane (or, at the very least, blind).
Well, I haven't. The toy is much bigger and girthier in person. The pics simply don't do it justice.
Functions
The Bad Boy is fully rechargeable and has a battery life of 60 minutes. It also has an extraordinary motor that somehow manages to produce vibrations powerful enough to make you feel as if your balls will fall off and yet quiet enough to call it "discrete."
Trust me, I never thought I'd see the day I call something that looks like the Bad Boy does "discrete," but here we are.
Although I wouldn't recommend beginners to throw hands at the Bad Boy, given its size, I do appreciate that the toy offers variety when it comes to speed. It has ten different speeds, which means that, in theory, even beginners who never felt anything brush up against their prostate, let alone vibrate next to it, could potentially enjoy it.
The ten different speeds combined with the fact that this dual massager will hit your sweet spots both inside and out is more than enough to get you to bust your load all over the place (hands-free!).
Now, at first, I resented there were no other features to this toy. For example, some massagers have specific vibrating patterns that you can choose between that spice up playtime. However, after thoroughly trying the Bad Boy out, I have no complaints. The intensity variations are more than enough to get you on that steady road to the Big O.
Related
It's Showtime! How to Use Your Bad Boy
Listen, I know anal toys take some getting used to. They are awkward to get in and even worse on their way out (or better, depending on what you like). However, I have to hand it to Rocks-Off. They really made a toy that's easy to push in and out, bulbs and all. As you've probably guessed from my Rocks-Off Bad Boy review, I'm a big fan of this toy, and I had a blast playing with it. And now, I'm about to show you how you can have a fun time as well!
Thanks to the soft, 100% body-safe silicone, the lube clings to the Bad Boy easily. Of course, I urge you to only use water-based lube, given that silicone-based ones can damage the toy. Anyway, since the lube sticks to the toy so well, the insertion is only a matter of how relaxed you are.
I suggest that you prep at least a little bit before trying to push the Bad Boy inside. And, prep or no prep, go slowly, especially when you're trying it out for the first time. Take your time to get a feel for the toy, don't just shove it in willy-nilly.
Firstly, that will probably be a painful experience. Secondly, if you do rush it, you'll miss out on the glorious feeling of being fully aware of every bulb and dip in the toy. And, trust me, that's not something you want to bypass.
Click Here To Check The Up To Date Price
Started From the Bottom, Now We Here (at Speed 10)
If you've done thorough research, you probably noticed that the Bad Boy usually comes with a specific suffix – intense. That's because it offers a variety of speeds, right? Well, sure, but also because the final, highest speed can only be described as Intense with a capital I.
Now, I'm no beginner, but when I hit that top speed, I thought I for sure opened up the door to another world. The pressure on the prostate and perineum is exceptionally fierce. Therefore, when playing around with your Bad Boy, make sure you try out the lower speeds first before you actually work your way to messing with the highest setting.
Turning the toy on and changing speeds is relatively easy. There's only one button that's both the on/off button and the settings controller. Push on it for 3 seconds to turn the toy on, and then press it every time you want to up the ante and change speeds.
Cleanup On Aisle 10, Please!
Once you've hit that button enough times and had yourself a world-changing handsfree orgasm, it's time to slowly and carefully slide the toy out and clean up your own mess.
Of course, I have to mention that I can't actually promise hands-free orgasms. Not every man is wired in the same way. Your prostate has its own sensitivity levels that you know better than I do. Therefore, you might need a helping hand in order to actually make your Sexcalibur spit out its mighty semen. However, even if you don't climax without touching your lap rocket, you'll still have one of the best orgasms in your life (and that's a Mark-approved guarantee).
Anyway, blowing your load means it's cleaning time. The toy is completely waterproof and made out of silicone, so cleaning is actually quite easy. If you're a fan of sex toy cleaners, use whichever one you have. Otherwise, you can use a mild, unscented antibacterial soap and warm water.
Of course, as always, make sure your toy is completely dry before you store it in a sealed container or a pouch. We don't want that nasty dust clinging to it and potentially spoiling the sanctity of your ass the next time you whip out the Bad Boy for some fun times.
The Dark Side of the Moon
My Rocks-Off Bad Boy review wouldn't be complete without going over the downsides of the toy. I know I'm prone to gushing about all the toys I review, but I do try to showcase all sides of each and every one of them. You'll have to forgive me for waxing poetic, as I call it – I usually write these reviews after trying the toys out to make sure you get the freshest impression. So, I'm usually in a good mood, if you know what I mean.
Anyway, the Bad Boy is amazing, except for a thing or two. I found it lacking when it comes to battery life. You have about 60 minutes of playtime, which sounds like more than enough. However, consider the fact that you have to remember to charge it after every play session. Otherwise, you might find yourself with a lifeless toy in your hands.
I also would love it if the toy was remote-controlled. Call me spoiled, but I love to lay back and not have to do anything to come. Of course, this doesn't take away from the toy's general awesomeness. It's just an extra feature that I would have loved to have.
A Few Parting Words
I hope you loved my Rocks-Off Bad Boy review as much as I loved writing it! This next-level anal toy will surely help you get your rocks off over and over again. The dual nature and intense vibrations will quickly make this toy your go-to. I know they did for me!
Click Here To Check The Up To Date Price
Product Specs:
| | |
| --- | --- |
| 🏷️ Name: | ⭕ Rocks-Off Bad Boy |
| 📁 Type: | ⭕ Prostate Massager |
| ⚙️ Features: | ⭕ Completely Waterproof |
| 🛠️ Materials: | ⭕ Silicone |
| 📅 Last updated: | ⭕ September 16, 2023 |
Disclaimer
Our articles feature affiliate links. If you appreciate our content and would like to show your support, you can consider buying your new sex toys using the links we provide. Every purchase made through our links helps us earn a small commission, without any additional cost to you.