The We-Vibe Vector was one of the most anticipated toys this year, and I finally got my hands (and my Chad) on it. After a lot of testing, and some incredible detective work on my part, I was ready to write my We-Vibe Vector review. So here it all is, completely unfiltered and hopefully entertaining.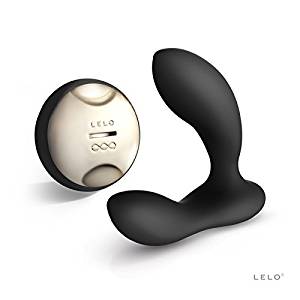 Lelo Hugo

Remote controlled

2 optional vibrators in both base and tip

Stimulation for both perineum and prostate

Medium-size suitable for all levels

100% waterproof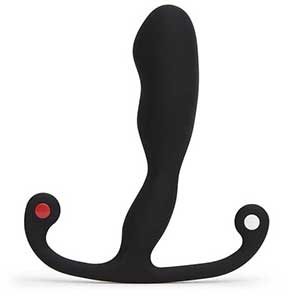 Aneros Helix Syn

Velvet touch silicone for smooth entry

Hands-free play

Good size for beginners

Anatomically designed for optimal pleasure

High quality, FDA-approved materials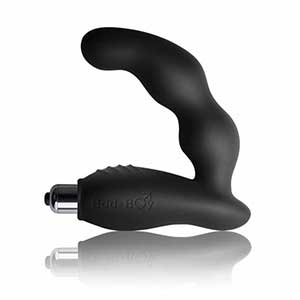 Rocks-Off Big Boy

Perineum and prostate stimulation

Optional bullet vibrator

Flexible, medical-grade silicone

Hands-free

Great size for beginners
What Is the We-Vibe Vector?
The Vector from We-Vibe is, in the most basic sense, a prostate massager. But it's so much more.
The Vector is honestly the latest and greatest advancement in taint technology, and it's really pushing the envelope. It features a unique, adjustable design that most people could comfortably use.
Also, you can control the patterns and settings through an app or remote control. You can use it with a partner or go solo. Honestly, except for loving you, there's not much that the Vector can't do.
What Makes the Vector So Special
Enough dicking around, it's time to kick this We-Vibe Vector review into high gear and talk about all the specs. We-Vibe pulled out all the stops for this massager, and I want to give them props.
For one, the Vector is made out of body-safe silicone, which is non-porous, BPA, latex, and phthalate-free. If you're unfamiliar with the lingo, that just means that it's really easy to clean, and perfect for guys with allergies.
At its widest point, the Vector is about an inch, while its total insertable length is around four inches. So even if you're a beginner, and have never tried a prostate massager before, you can still play with the Vector.
Another cool thing about the Vector is that it's totally, 100% waterproof. Wearing the Vector while showering is a sensation every man should feel once in a lifetime. I'm not sure how it'd feel if you put it in and sat in a bathtub, but if you want to go for it, who am I to stop you?
That aside, what really made me happy was the fact that the Vector has a magnetic charger. So unlike the Lelo Bruno, which is supposed to be waterproof, this toy doesn't have any points of entry.
You can just clip the charger at the bottom of the toy, and leave it for about an hour and a half. That should give you two solid hours of playtime, which is pretty impressive.
Click Here To Check The Up To Date Price
The We-Vibe Vector's Features
Even though the specs are awesome, they're not what makes the toy; it's the features. And Vector has some super cool features. I'm going to break them all down in my We-Vibe Vector review, so you know exactly what to expect.
Extended Sleep Mode
We've all been there; you're sitting with your prostate massager, but suddenly remember that you forgot to take out the trash, and today's garbage day. Maybe you forgot to defrost the chicken or have an unexpected meeting.
So what's a man supposed to do? Just kill the toy, clean it, and then use it in the distant future? No, absolutely not.
With the We-Connect app, which I'll get to soon, you can put the Vector on standby. It'll stay in that mode for hours before going to sleep. That should give you plenty of time to finish your chores and get back to business.
Low-Power Alert
There's absolutely nothing worse than your ultra-fancy toy shutting down when you're just about to bust a nut. Luckily, that'll never ever happen with the Vector because it has a low-power alert, and it's as straightforward as it sounds.
The Vector will tell you when it's running out of juice, and when you need to plug it in. So there's no chance that a dying battery will kill your mood.
Bluetooth Bonding
I've got to say, I'm a huge fan of Bluetooth Bonding and I think that more sex toys for men should have it. It's an advanced security feature that ensures no other signal messes with your connectivity. Essentially, no signal could interrupt the app and disrupt your vibration patterns. So once you're in it, that's it.
Vibration Modes
On the four-button remote or in the We-Connect app, you'll get to choose between 10 different intensity and vibration modes. The sheer number of patterns is incredible, but it doesn't stop there.
First up in my We-Vibe Vector review are the speed modes, of which there are three. You can go on Low, Medium, and High. Even though these are pretty simple, they still get the job done, and are perfect for when you're warming up.
Then, you can cycle through Ultra, Pulse, Wave, Echo, Tide, Crest, and Surf. When I tell you that each of these options is so unique, exhilarating, and exciting, I feel like I'm still downplaying it.
Unlike some massagers or masturbators (which I won't name), you can really feel the difference between each and every pattern. It's beyond cool, and you can spend ages trying to explore them all.
What It Comes With
While I have you here, I do want to give credit to We-Vibe for putting a lot of thought and effort into its packaging. It's more than your basic toy + charger, which is really cool.
When you buy the We-Vibe from SheVibe, you'll receive the instruction manual, as well as a fancy box that can double as storage. You'll also get the remote control, a satin pouch, and a sample of the Pjur water-based lube.
The reason I love the entire package is that it allows you to play with the Vector pretty much out of the box. Of course, you'll need to charge it a bit, but apart from that, you're ready. If you're currently out of lube, you won't need to run to a drugstore right away for more or wait for another package.
Also, I like it when companies send you a pouch for your toy. That way, I don't have to worry about it collecting dust when I'm not using it, or buying extra storage for the toy.
Related
The We-Connect App
I wanted to dedicate a big chunk of my We-Vibe Vector review to talk about the app because it is so awesome. It's completely free, you can download it from any platform, and it works for both Android and iOS.
With the We-Connect app, you can customize your entire prostate massaging experience. If you were using the remote, you can choose between the ten pre-set preferences, which are, undoubtedly, amazing.
However, if you get tired of those, or want to explore something new, all you have to do is hop on the app. There, with a single click, you can switch between the different speeds and patterns.
I also use the We-Connect to pause my play, put the Vector on standby mode, and check my battery levels. Speaking of the battery, that's the only issue I've had with the app.
On occasion, when the Vector is low on juice, the We-Connect app disconnects from the device for no apparent reason. It might just be a glitch, so I'm hoping that the new update will address the issue.
Playing With a Friend
The We-Connect app allows you to play with a partner, no matter where you are. Either via Bluetooth or WiFi, your partner/sex buddy can connect to the Vector using the app, and be in control.
It's such a cool feature, and it's perfect for couples who want to spice up their sex lives or who are in long-distance relationships. I've honestly not tried the couples feature just yet, but I have big plans for it soon.
Basically, what I'm trying to say is that the app is incredible. Even though I love having the remote, I found myself playing on the app much more often because it was so easy to use. It's intuitive and allows me to do pretty much whatever I want with the Vector.
Click Here To Check The Up To Date Price
What Can You Expect From the Vector?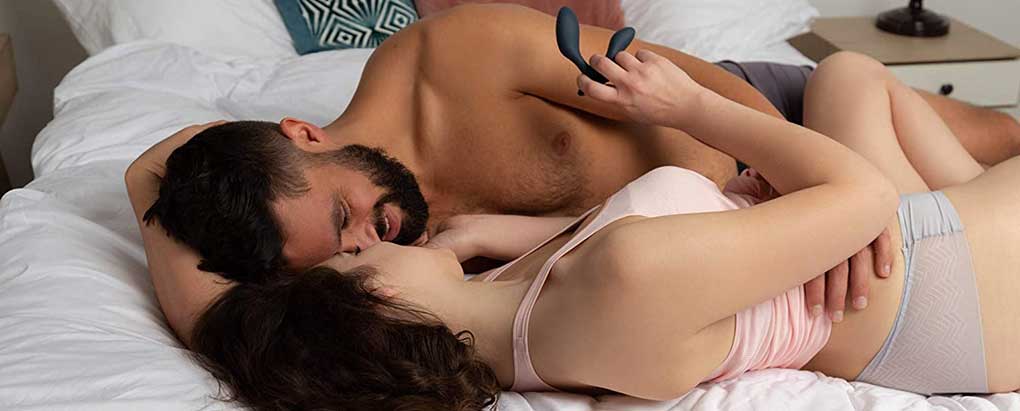 Now for the most exciting part of my We-Vibe Vector review, I'll tell you how I got along with it. Right off the bat, the Vector and I had a real blast, and I've got nothing but good things to say about it.
As always, I began my massage by putting loads of lube on myself and the Vector. Then, I got into position (a sort of squat), and popped the toy inside. It did take a bit of finessing, but I was able to do it in under a minute.
I first grabbed the remote, and used that to control the Vector, but soon moved onto the app. I started off with the Low speed just to see what the whole thing was about and later played with the patterns.
Needless to say, I vibed right into an orgasm, and let me tell you, it was a spectacular one. After that, I found an even better way to get my rocks off, and it's all thanks to the adjustable neck.
The Adjustable Neck
You see, the Vector allows you to make slight alterations to its neck, and improve the angle. That way, you can position it to exactly fit your prostate, and get the most out of it.
With that said, I think that the adjustable neck is particularly helpful for beginners. If you've never used a male anal toy before, you'll get a real kick out of it. You can mess around with different angles to see what you're most comfortable with, and how you like to be massaged.
The We-Vibe Vector for Women
A while back, I wrote a Fun Factory Manta review, in which I said that one of the coolest things about it was that it's almost unisex. Both guys and girls could use it, and it's a real hoot when it comes to partner play.
Well, surprisingly enough, while doing research for my We-Vibe Vector review, I realized that this prostate massager is unisex, too. Of course, women can't massage their prostates, but they can use the Vector for anal play.
By simply turning it around, the neck will stimulate their chocolate starfish, while the shorter part can work their vag. So if you have a curios/kinky partner, you can use the Vector on them.
But I do want to put a huge disclaimer out there – if you're sharing toys, you've got to stay safe. Make sure to use a condom while either of you is playing, and be extremely thorough while washing it.
Unsanitary sex toys lead to cross-contamination and a whole load of health problems. So as they say, Don't be silly, wrap your willy. Or in this case, the Vector's willy.
Cleaning the Vector
In this part of my We-Vibe Vector review, I'm supposed to give you an in-depth explanation of how to clean the toy. But luckily for both me and you, there's really not much to tell.
Since the Vector is an open-ended silicone toy, cleaning it is a real breeze. When you finish playing, get your Vector to the sink, and run it under lukewarm water. Then, apply some toy cleaner, scrub-a-dub-dub, and rinse again.
Leave it to air dry for maybe an hour or so, and put it into the storage pouch that comes with the toy. That's pretty much it!
The Vector's Low Points
If you've gotten this far into the We-Vibe Vector review, I'm sure that you've pieced together how much I love this toy. At one point, I thought that it was too good to be true, so I actively started looking for its faults. Long story short, there pretty much weren't any.
The Vector does exactly what it says it's going to and it goes above and beyond. But for the sake of an honest review, here's what I'll say.
The We-Connect app definitely needs some more fine-tuning, and the whole disconnecting thing is really unfortunate. I also wish that some of the vibrations, especially the speed ones, were a touch more powerful. Unless you're a total beginner, you won't find these interesting after a while.
Bottom Line
There's really not much left for me to say in this We-Vibe Vector review, so I'll keep it short and simple. This prostate massager gets a 9.8 out of 10 from me, and I'd recommend it to pretty much everyone. It's an excellent choice for novices, pros, guys, girls, and everyone else in the spectrum. If you buy the Vector, it'll probably be the best purchase you've made all year.
Click Here To Check The Up To Date Price
Product Specs:
| | |
| --- | --- |
| 🏷️ Name: | ⭕ We-Vibe Vector |
| 📁 Type: | ⭕ Prostate Massager |
| ⚙️ Features: | ⭕ Remote And App Controlled |
| 🛠️ Materials: | ⭕ Silicone |
| 📅 Last updated: | ⭕ September 16, 2023 |
Disclaimer
Our articles feature affiliate links. If you appreciate our content and would like to show your support, you can consider buying your new sex toys using the links we provide. Every purchase made through our links helps us earn a small commission, without any additional cost to you.