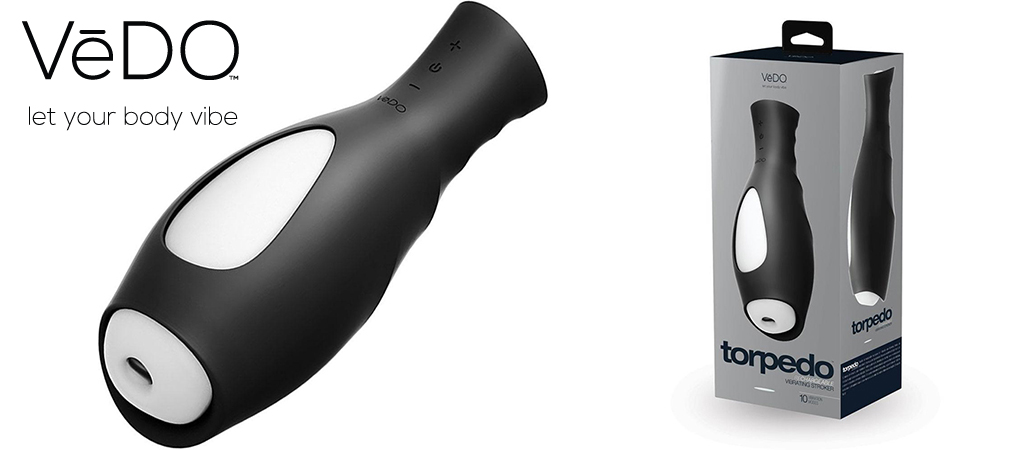 I have to start this VeDO Torpedo review by saying that I didn't know I needed a glow-in-the-dark toy until I actually got it. Now, I'm here as a preacher and sex toy connoisseur to tell you that you, too, need to dip your meat into a glowstick equivalent of the sex toy industry.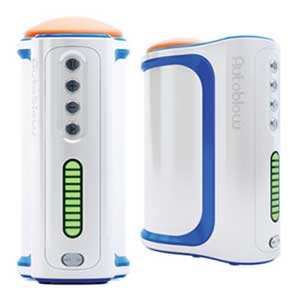 Autoblow A.I.+

Hands free blowjob toy

Heavy duty motor

Powered by artificial intelligence

Interchangeable sleeves

Body-safe materials

Plug it into any electrical outlet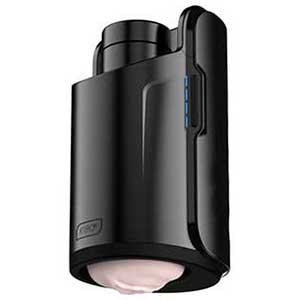 Kiiroo Keon

Automatic stroker

Sliding scale of speed

Elegant and discreet

Real-feel masturbation sleeve

Connects to video chat platform and VR porn

Easy to store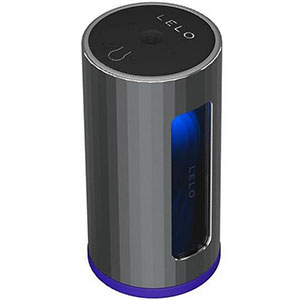 Lelo F1S V2

Hands free blowjob machine

Long-lasting charge

Fully waterproof

Powerful sensations

Realistic artificial skin material

Easy to clean

Promo Code: "HAPPYBF" - 15% Off
OK, that's all; carry on. No, I'm just kidding. Today, I'll explain to you just what makes the VeDO Torpedo special. I know it might seem like a gimmick, but trust me; it's actually an amazing toy.
So, onwards, my noble horndogs, let's get this VeDO Torpedo review party started.
What Is the VeDO Torpedo?
VeDO Torpedo is a sex toy with an awesome name. I commend the company for seeing an opportunity and going for it in a really fun way. It's also a stroker that not only vibrates but also glows in the dark.
Yeah, I know I kind of gave that one away at the very beginning, but seriously – how awesome is that?
Aside from being a fun toy to add to your collection, VeDO Torpedo is also a good representative of the VeDO company. Now, I already reviewed two VeDO products (the original Hummer as well as Hummer 2.0). So I was already familiar with the company.
However, it wasn't until this third piece, my VeDO Torpedo review, that I actually came to appreciate it.
VeDO is one of the few companies that make all their products out of silicone. Most of you already know that I'm a massive supporter of silicone. In the TPE vs. silicone battle, you all know which side I'm on. Silicone is more durable, shows less wear and tear even with frequent use, and is more body-safe. It's not porous, and you can completely sterilize it (unlike TPE).
So, the VeDO Torpedo was already a winner in my book before I even got to dip my schlong into it, given that the stroker has a 100% silicone inner sleeve.
But is that all it has to show for itself?
Click Here To Check The Up To Date Price
What Makes It Special?
The answer is – quite a lot. This stroker vibrates and is fully rechargeable. And, to circle back around to its main feature, it glows in the dark.
Now I wasn't sure just how appealing that would be to me until I used it in the dead of night. Once I did, I was a changed man. Having the entire room shrouded in complete darkness with just your dick glowing like a beacon of strength is an experience you won't easily forget.
The fact that the sleeve is silicone just makes the whole thing better. I'll be honest with you, after I first tried the toy out, I got sleepy. After all, I had just completely emptied my nuts and was cozy in bed (and it was dark). So I just fell asleep and left the cleanup for Morning Mark.
Although Morning Mark wasn't all that happy about it, he knew that cleaning a silicone toy won't be that difficult even with overnight jizz in it. I strongly recommend AGAINST you doing this because it's vital that you clean your toys ASAP after every use. But, hey, sometimes we can't be as responsible as we'd like to be, so we do (get it, VeDO) stupid shit.
Anyway, since silicone is easy to sterilize, I wasn't all that worried.
The Design
I'll come right out and say it – the VeDO Torpedo looks like a flower vase your grandma probably had at one point. But, we won't hold that against it because that kind of design:
Makes the toy stable
And easy to grip
The narrow neck of the blowjob toy is the perfect gripping place which is why the buttons that you'll use to power the toy on and change the settings are there. Well, I say buttons, but they are really just three small symbols etched into the plastic shell. The actual buttons are underneath the plastic, of course.
This is an excellent design choice because it means you'll feel which button is which, even without looking. Considering this toy is intended to be used in the dark, we have to hand it to the VeDO team, right?
The plastic shell is a nice matte black, while the sleeve is entirely white (when the lights are on) and lights up in the dark. The toy is completely body-safe, and there are no phthalates at all. And, of course, as mentioned, everything is non-porous, given the materials (ABS plastic and silicone).
The Specs
I am generally a huge fan of big toys. However, those are not only intimidating to some people but also not practical. Huge strokers that go over 8 or 9 inches and have a sleeve texture that varies or changes throughout its length can't really be enjoyed to their fullest extent by men who don't have Juggernauts in their pants.
So, sometimes I like to get my hands on a toy that wasn't meant for Bigfoot. VeDO Torpedo is one of those toys. With 9.25 inches in length and 6 inches of insertable length, it's accommodating for most men (of average and above-average size). It's not, however, a good fit for Your Dick Is So Big, It Can Legit Hurt People type of dicks.
The Features
Now that we've discussed the general appearance of the toy, we can get to the meaty part of my VeDO Torpedo review. I'm talking, of course, about the features.
VeDO wasn't shy during the R&D meeting when this toy was in the developing stages, so they packed it full of features.
The Main Selling Point – the Sleeve
Of course, I've already gone on and on about the sleeve. I told you it glows in the dark, and I told you it's textured.
However, I didn't tell you that the design includes one additional perk – a peekaboo window. I like seeing my dick plunge in and out of a toy which is why I have many transparent playthings. Now, VeDO Torpedo isn't wholly see-through, but the peekaboo window does give you that impression.
The window is also there to enhance the glow-in-the-dark feature. It gives you an opportunity to see more of the sleeve and to truly see your dick glimmer.
Textured to Perfection
It's also worth mentioning that the VeDO Torpedo has a fantastic texture inside the sleeve. The sleeve has two parts. The bottom part has a rectangular shape that's full of round bumps that focus inward (so, toward your dick). The bumps make for excellent massagers, and this first part of the toy is a good choice for some edging and head play.
The upper part of the toy's sleeve is tighter than the one before. So, that's where the magic happens, as they say. With a corkscrew-type design, this part is excellent to plunge in and out when you're nearing the finish line. The broad ridges get narrower the further in you push, and the very end of the sleeve is nary one inch wide. So, when you feel that your legs are about to give out because your orgasm will slam into you any moment now, this is the spot you want the head of your cock to be in. It's tight, narrow, and has lots of tiny ridges that will dip you over that finish line in no time at all.
The Powers That Be – the Motor
VeDO Torpedo has a triple motor. Now, that's important because it means the toy can guarantee extra speed and optimal intensity. As I mentioned already, the motor is super easy to control, given that there are only three different control buttons. One is the power button, and the other two are the plus and minus buttons that you'll use to go through vibration settings and intensity levels.
And, speaking of, I can't keep it a secret any longer. I have to spill the beans and tell you that there are ten different vibration patterns as well as six different intensity levels.
Play Hard, Come Hard – the Settings
The patterns are all fairly standard. You can take your pick between steady patterns or the ones that change things up from time to time. It all depends on whether you prefer constant stimulation or you like your toys to surprise you. I personally am a fan of patterns that aren't predictable because that feels more like having sex with a person rather than using a toy.
However, I also appreciate steady patterns as they are sometimes the only thing that can tip me over the edge.
The motor is powerful enough to make the highest settings feel like something is trying to wrench your dick off of your body, so I do recommend some caution there. The vibrations are nice, deep, and rumbly, and there's a clear difference between the ten patterns the toy offers.
Overall, I was pretty pleased with the features this toy has.
Always Be Extra – The Additional Features
Aside from unique patterns, a stellar design, and delightful intensity options, this sex toy for men also has some extras.
First of all, the sleeve is completely waterproof, while the outer shell is splash-proof. That means you don't really have to be super careful while playing and cleaning.
VeDO Torpedo also offers a decent amount of playtime. You need around two hours to fully charge the toy, and if you do, you'll get one whole hour to play with it. Not too shabby!
Finally, the last additional feature that I'd like to bring to your attention is the travel lock feature. Given that the buttons are easy to push (which is excellent while you're busy stroking your dick) traveling with a sensitive toy like that might mean that your suitcase might start buzzing at any time.
That's precisely why you need a travel lock feature. It will save you the embarrassment (and a drained battery) whenever you travel with your toy.
Click Here To Check The Up To Date Price
Related
Cleaning and Storing
Since I already went on and on about how the silicone sleeve is superior to others (like TPE), so I won't bore you with that story again.
However, I do feel the need to highlight just how easy cleanup was. Since the sleeve is silicone, it was easy to take it out (without the fear of ripping it in the process) and clean it with soap and water. You can also use a sex toy cleaner if you have some on hand. If not, regular mild soap and warm water will do.
As for the storage, the toy is fairly easy to hide if that's what you're looking to do. Just remember that the sleeve glows in the dark. So, even though you could put it on the shelf and pretend it's a vase, come nighttime, it will be clear that it's something completely different.
Also, I don't recommend leaving the toy out in full view. The peekaboo window leaves quite a bit of the sleeve out in the open, which means dirt, dust, and sunlight can get to it. It's much better to find a nice pouch or a plastic container that you'll keep the toy in.
TorpeDO or DON'T?
As always, I can't let you click out of my VeDO Torpedo review without telling you about the bad sides. Granted, there aren't a lot of them, but a few did come up during my review prep time (yes, I prep for these reviews; I'm a geek, what can I say?).
First of all, I liked the fact that VeDO Torpedo has only 6 inches of insertable length. However, I see how that might not appeal to everyone. Slamming into the toy and going balls-deep is one of the finer things in life. So, if you're over 6 inches, I get how the insertable length is a downside.
Aside from that, I also have to mention that if you like to play hard and really set a punishing rhythm when using a stroker, the VeDO Torpedo might not be as accommodating as you'd like. The sleeve can slip out of the plastic shell if you go too hard or too fast. Now, I'm talking about really, really (did I mention really?) fast and hard stroking.
And that's it! A few flaws are to be expected, so overall, VeDO Torpedo is a winner in my book.
VeDO Torpedo Review – Parting Words
If you're anything like me, you like seeing your dick as the mighty flesh sword it is. Well, what better way to do that than by sticking it into a glow-in-the-dark stroker? In all honesty, the Torpedo is a great toy that has ten different vibration modes and six different intensity settings. That's more than enough to get your blood pumping and your juices flowing.
So, that's it! If you liked my VeDO Torpedo review, don't be shy – stroke my ego by telling me all about it. You know I love it when you guys love the products I recommend. And, as always, happy stroking!
Click Here To Check The Up To Date Price
Product Specs:
| | |
| --- | --- |
| 🏷️ Name: | ⭕ VeDO Torpedo |
| 📁 Type: | ⭕ Blowjob Machine |
| ⚙️ Features: | ⭕ Glow In The Dark Sleeve |
| 🛠️ Materials: | ⭕ ABS / Silicone |
| 📅 Last updated: | ⭕ September 16, 2023 |
Disclaimer
Our articles feature affiliate links. If you appreciate our content and would like to show your support, you can consider buying your new sex toys using the links we provide. Every purchase made through our links helps us earn a small commission, without any additional cost to you.