Gather around, horndogs! The time of the robots has finally come, and it brings innovation and blowjobs! Yup, you read that right. We're doing a robot review today! Nah, I'm kidding. But we are doing the ZOLO Roboblow review, which is the closest thing that I'll ever come to reviewing a robot.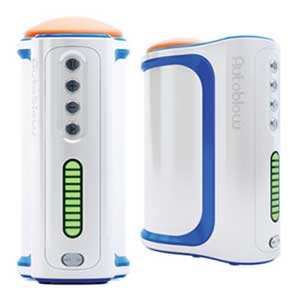 Autoblow A.I.+

Hands free blowjob toy

Heavy duty motor

Powered by artificial intelligence

Interchangeable sleeves

Body-safe materials

Plug it into any electrical outlet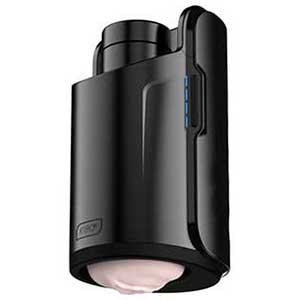 Kiiroo Keon

Automatic stroker

Sliding scale of speed

Elegant and discreet

Real-feel masturbation sleeve

Connects to video chat platform and VR porn

Easy to store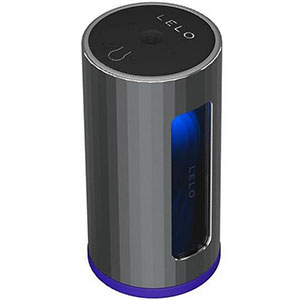 Lelo F1S V2

Hands free blowjob machine

Long-lasting charge

Fully waterproof

Powerful sensations

Realistic artificial skin material

Easy to clean

Promo Code: "HAPPYBF" - 15% Off
Look, a day where I turn down a blowjob may come, but today is not that day! I never say no to blowjobs, whether they come from a live partner or a machine, so I wasn't going to pass up on an opportunity to have something called Roboblow suck my dong. And, of course, immediately after using it, I had to tell you all about it.
So let's start this ZOLO Roboblow review immediately!
What Is the ZOLO Roboblow?
The ZOLO Roboblow is a light, all-in-one male masturbator. Now, many of you know that I don't really like all-in-one toys. I think a toy should have a few features that have been designed and implemented correctly instead of dozens of them that half-work (or don't work at all).
Well, I guess this ZOLO Roboblow review is as good a time as any for me to eat my own words. This all-in-one male masturbator really does have it all. It's an automatic masturbator that offers different suction patterns, can focus on your entire shaft or just the tip (or the base), is app-controlled, and comes with a deliciously naughty soundtrack.
Yeah, I know. I was just as amazed when I found out about it. So, as soon as the somewhat bulky but still light sucker came out, I decided to methodically try out all of its features.
Is It Really a Robot?
OK, I know I leaned in heavily into the "robot" part of the name but, sadly, you won't be getting blowies from a robot anytime soon (at least not for this affordable price). However, I still think the toy is appropriately named because the ZOLO Roboblow is one of the best automatic blowjob machines out there.
Out of the many features it has (that we'll discuss in detail later in my ZOLO Roboblow review), there are a few that make it not only top-notch but also unique on the market.
The trouble with sex toys is that they are the "substitute for the real thing". But that's not all – you're quite aware that they are only a substitute. They don't have that "real feel".
Well, Roboblow does. With the erotic sound function, the Roboblow makes your play sessions more fun and realistic. Hearing those sexy muffled sounds of a hot person blowing you will definitely make the whole experience more intense.
Aside from this, Roboblow also has some other features that will blow your mind. Keep reading my ZOLO Roboblow review to find out what they are!
Click Here To Check The Up To Date Price
The Robotic Design
Roboblow really offers a lot, especially considering that it's not that big. When a toy has so many features, I half-expect it to be huge or at least look like a proper machine.
Roboblow looks like a regular masturbator, with a few extra frills on it. That's the ZOLO way, after all. In appearance, it looks like the cooler older brother of ZOLO Tornado because, just like the Tornado, it comes in the signature ZOLO blue color.
Furthermore, the design is well thought out. The front of the toy has the four main buttons that allow you to control the intensity and the pattern of the sucking, as well as the sound function. There are also three other buttons that you can use to connect the toy to your app, warm it up, and dry it. To top it all off, there's also a volume control slider that's easy to find and makes it super effortless to use the sound function.
On both sides of the toy, you'll find switches that allow you to turn various features on and off. I know that sounds like a lot of buttons (because it's true, there are a lot of them), but don't worry; the toy comes fully equipped with a comprehensible how-to guide.
The guide is easy to go through and explains everything – from how to turn each function on and off to how to best make them work together. I suggest you give it a read before you start playing.
In the package, you'll also find the toy, the extra-long cord (eight feet), two sleeves, as well as a storage bag.
Related
The Magnificent Specs
OK, so we know the toy looks nice and has plenty of buttons for you to play with. But what does it offer exactly?
Check Out the Size of This Can
The Roboblow is surprisingly light for a toy of this size. It has around 11 inches in total length. Of course, a lot of that houses the internal software as well as the motors, which is why the insertable length is 5.5 inches.
The whole toy, including the casing, is 4.75 inches wide. That might seem like a lot, given that you have to hold the toy while it's pleasuring you, but the outer shell is textured, which allows for an easy grip.
The sleeves are, of course, much smaller, and they create a super tight orifice for you to thrust your pocket rocket into and let the robot do its magic.
Get a Load Off (With These Features)
Now, as I mentioned before in this ZOLO Roboblow review, this toy has plenty of features. In order to fully understand just how great the Roboblow is, I'll go over all of them individually.
Plug It In
Before anything else, it's important to note that the Roboblow is a plug-in toy. Before you jump up to tell me how inconvenient that is, hear me out. A plug-in toy can work for however long you need it to. You don't have to worry about battery life or whether or not you forgot to charge your new plaything. There's nothing worse than having a toy die on you seconds before you're about to bust a nut (believe me).
Also, the Roboblow has an extra-long cord, so don't worry about being stuck next to a wall.
Play Those Sexy Sounds
One of the most desirable features of Roboblow is the sound feature. Thanks to the high-fidelity speakers the toy has, you can enjoy high-quality sexy sounds that will enhance your blowjob experience.
The toy also has space where you can plug in your headphones, just in case you want or need some privacy.
Explore the Different Strokes
Of course, the best feature is the stroking or, better said, sucking feature. This, after all, is why you're considering buying the toy.
While other blowjob machines only offer a few different variations of sucking, Roboblow goes the extra mile. You can control the sucking feature in any way you want. You can opt for the long strokes that stimulate your entire Sexcalibur, or, if you're more of a "just the tip" man, you can have it suck on the head of your beaver basher gently (or not so gently).
You're in full control of which sensations you'll feel (and where).
And the Ten Unique Sensations
Overall, the Roboblow can offer you ten different sensations that you can enjoy. One of those is the edging stimulation.
Yeah, when I tell you that Roboblow was made with realism in mind, I really mean it. The entire experience is completely customizable.
Click Here To Check The Up To Date Price
Enjoy The Beauty of Variety
Now, as much as I adore this toy's exterior (as evident by my ZOLO Roboblow review so far), I have to say that the interior is what matters. We all know that a toy can offer as many features as it wants, but if the sleeves are rubbish, it won't be worth the time (or the money).
Thankfully, the two different sleeves that come with Roboblow are amazing. Both are textured but offer different patterns, which means that you can pick your favorite or switch them up.
Get That Dong Warmed Up
To amp up the realistic feel, ZOLO included a warming function. You're one button click away from feeling like you're dipping your meat flute into a warm, wet mouth of the hottest broad you've ever heard (and seen) in your life.
Of course, you'll have to imagine the seeing part, but, thanks to the sound function, you'll definitely hear her!
Control It Remotely
Of course, aside from being absolutely awesome, the toy is also app-compatible. You can connect it to your phone via Bluetooth or use the wireless connection feature to control the toy from a distance.
This is an excellent thing for all of you who are in long-distance relationships, desperately trying to have sex with your partner who's miles away.
However, the feature also has benefits for all you singles, as it allows you to stop dabbling with buttons and enjoy a somewhat hands-free experience.
Clean It With No Hassle
If you ask me, the cleaning and drying features are the best ones this toy has to offer. I know I'm a clean freak, and you can judge me all you want, but that's what sold me on Roboblow!
Cleaning sleeves has never been difficult. However, waiting for them to dry is a nightmare for me. You know they have to be fully dry in order to be properly sanitized (and so you can return them into the toy and play again), right?
Well, with Roboblow, you can play again almost immediately. The drying feature dries the entire sleeve in a blink of an eye!
Is the Robot Infallible?
As always, the answer to this question is no. There's no such thing as a perfect toy, especially not for someone nit-picky as I am. So, let's check out this ZOLO Roboblow review overview, shall we?
The Pros:
The toy is practically self-cleaning.
Sounds really do enhance the experience.
The fact that there are ten different sensations that are completely unique is a major benefit.
Roboblow can stimulate your entire dong or just parts of it.
There are two different sleeves that provide variety.
Although there are a lot of buttons, they are easy to use and are all clearly labeled.
The Cons:
Although the sleeves are easy to clean, the rest of the toy is plastic, and the insides are hard to reach. So if you nut in it by accident, you're in for a world of pain.
The fact that it's a plug-in toy might bother some people who don't like the inconvenience.
There you have it, penis-havers; that was my full ZOLO Roboblow review! If you liked it, make sure to hit me up once you try the toy out. You know I love hearing about your dirty play sessions!
Click Here To Check The Up To Date Price
Product Specs:
| | |
| --- | --- |
| 🏷️ Name: | ⭕ ZOLO Roboblow |
| 📁 Type: | ⭕ Blowjob Machine |
| ⚙️ Features: | ⭕ 10 Different Sensations |
| 🛠️ Materials: | ⭕ Body Safe TPR |
| 📅 Last updated: | ⭕ November 29, 2023 |
Disclaimer
Our articles feature affiliate links. If you appreciate our content and would like to show your support, you can consider buying your new sex toys using the links we provide. Every purchase made through our links helps us earn a small commission, without any additional cost to you.