How many times have you blown a huge load deep inside a gorgeous woman's throat while screaming and moaning like a possessed monkey? Well, if you're one of those horny bros who love to tell a girl exactly how to suck and command her to "swallow it all!" or "slow the F down", you'll be in for an unforgettable ride with the new Autoblow A.I.+. And if you've never heard of Autoblow before, you're totally missing out. In this Autoblow A.I.+ review, I'll show you the latest invention from Brian Sloan, the mastermind behind the Autoblow series of automatic blowjob robots that have made millions of horny men happy. I put the new Autoblow A.I.+ and all its next-gen features to a deep test and here I'll tell you why this blowjob machine is one of the best automatic cock-suckers out there!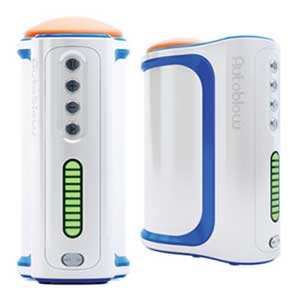 Autoblow A.I.+

Hands free blowjob toy

Heavy duty motor

Powered by artificial intelligence

Interchangeable sleeves

Body-safe materials

Plug it into any electrical outlet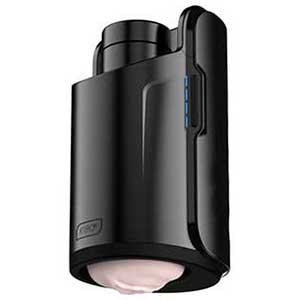 Kiiroo Keon

Automatic stroker

Sliding scale of speed

Elegant and discreet

Real-feel masturbation sleeve

Connects to video chat platform and VR porn

Easy to store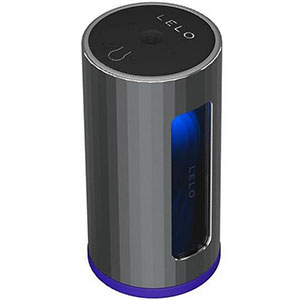 Lelo F1S V2

Hands free blowjob machine

Long-lasting charge

Fully waterproof

Powerful sensations

Realistic artificial skin material

Easy to clean

Promo Code: "HAPPYBF" - 15% Off
Autoblow: Endless Throats and Lifelike Blowjobs for Everyone!
So you're probably thinking "Hurr durr, dude, what's an Autoblow?!?" Well, young buck, it sounds like you've been living with your prick under a rock! To the unfamiliar, the Autoblow BJ machine was invented back in 2008 by Brian Sloan. It was marketed as the most futuristic male sex toy and Sloan designed it to be the most advanced dick-sucking robot. But in all essence, Autoblow is a series of automatic, hands-free blowjob devices that lick, suck, and throat fuck you until your boys are fully drained. No teeth! Can you already see the potential in that?
Seriously, I've tested all of the previous Autoblow versions such as the 2+ XT and A.I. and all I can tell you is that they get as close to the real deal as possible. Of course, nothing beats a curious big-titted damsel going down on her knees and gobbling your knob until you pass out. Still, believe me when I say that I've had some of the most intense experiences of my life with Brian Sloan's creations. And right now, he's come out with a next-gen BJ machine that utilizes the most popular technological advancements of today to deliver an even more realistic experience. With artificial intelligence, voice control, app connectivity, super silent operation, and an adjustable Penis Gripper that squeezes your goober just right, the future has finally arrived!
Click Here To Check The Up To Date Price
Autoblow A.I.+: The Most Advanced Blowjob Robot Ever?
If you like your sex toys wireless, hands-free, and customizable, the Autoblow A.I.+ truly has the potential to become your new obedient blowjob slave. Basically, the new A.I.+ model is a redesigned version of the original Autoblow A.I. The creator used some special artificial intelligence mojo to analyze hours and hours of blowjob footage and then replicate all of the subtle to extreme motions with the Autoblow A.I.
The whole idea is quite simple: you were able to choose from 10 different blowjob experiences based on various expert techniques from the hottest pornstars. And when I say "experiences" I truly do mean it. Unlike other blowjob toys that only have fast or slow speeds, the Autoblow A.I. was designed to create a fully-immersive and dynamic sucking experience. In my experience, it's the closest thing to a warm, wet goozle and unlike other blowjob toys, it certainly doesn't feel like you're busting a nut inside a lifeless can of silicone.
No sir, both the Autoblow A.I. and A.I.+ utilize the same iconic design with a plastic masturbator case, a delicate internal sleeve, an internal cock gripper, and four buttons that you use to control your experience.
At first glance, the two Autoblow units look nearly identical to each other. However, the new A.I.+ offers a whole host of features that will outright blow your mind and make you want to stick your dick inside straight away!
Autoblow A.I.+ Features
While the Autoblow A.I.+ uses the same plastic casing and sleeve material as its predecessors, it packs a ton of new features under the hood:
Penis Gripper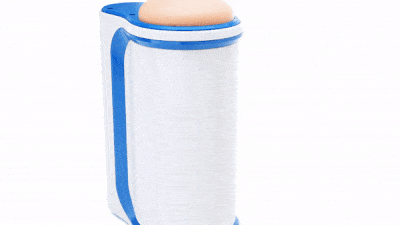 The original Autoblow A.I. came with a patent-pending yet non-adjustable penis gripper. The A.I.+ gives us an adjustable gripper that changes the overall tightness. Not only does this enable you to adapt the blowjob machine to your size, it also lets you adjust how tight or loose you want your BJ to feel!
Click Here To Check The Up To Date Price
Soft, Lifelike Sleeve
It looks and feels like the A.I.+ uses the same sleeve as its predecessor, and that's not a bad thing at all since this thing was literally crafted to perfection. It feels soft and lifelike, plus it can get extremely wet and sloppy if you add a touch of water-based lube! If you're feeling adventurous, you can also swap out the mouth sleeve with a realistic pussy sleeve. However, keep in mind that the extra sleeves are not included in the box.
Edging Button
If all the suction gets a bit too intense for you, you can instantly stop the machine with the Pause button. Then, press this button again when you're ready to continue and the masturbator will return to the same BJ setting you chose. Best of all, it doesn't only stop the action. It helps you boost your stamina and last longer!
Voice Control
The newest A.I.+ feature is also the most exciting. You can now control your BJ machine with a few simple voice commands. That includes Go, Faster, Slower, Pause, and Next. When you're ready to blow, just say "Finish Me." Then, the A.I.+ will start sucking vigorously until it drains out every last drop of jizz! And yes: it always swallows!
App Control
Yet another game-changing feature of the A.I.+ is the ability to connect the unit to your smart device via Wi-Fi. This is also super-intuitive and it only requires you to hold the Pause button and connect your phone. Then, you can truly take advantage of the masturbator's advanced connectivity features.
For one, you can manually rearrange the order of the 10 different blowjob modes. Plus, you can also access an expanded blowjob library that lets you download dozens of new blowjobs! What's more, the app also lets you control the speeds and modes on the fly. And if you just want to get off quickly, use the Freestyle mode and customize your experience until the fireworks come out!
Long Distance
Another bonus of app connectivity is that you can link the A.I.+ up to your partner's phone. Then, they will be able to change the settings for you and get you off hands-free! This option works even if your partner is miles away from you, meaning that the A.I.+ now offers full long-distance compatibility. But, it also works wonders if you want your partner to tie you up and milk your balls like an obedient little slave!
Silent Operation
One of the biggest differences I've noticed with the A.I.+ is that the motor is a hell of a lot quieter. They actually redesigned the motor to retain the same power but keep the noise down. Now you can quietly get your pickle sucked in peace!
Power
Just like its predecessor, the A.I.+ is wall-powered. While this makes it impossible for you to use the device in the shower or near water, it's actually a lot more convenient since you'll never have to replace the batteries or charge it. Plus, it will never stop sucking just before your epic money shot!
Related
Testing the Autoblow A.I.+
While all of those features sound mighty impressive, you may be wondering how it actually feels to stick your Sexcalibur inside. Well, I didn't have to struggle for too long to unbox this thing and connect it to the internet. Still, you may have to be a little patient to set up this technologically complex fucktoy for your needs.
Everything flowed smoothly once I got it working, from getting my cock up there nice and deep to using my phone as a remote to switch through all the different blowjob modes.
Moreover, the voice commands are fast and responsive, but you'll have to speak up. Either way, it's up to you to decide whether you want to use the physical buttons, your phone, or your voice.
What's important is that the A.I.+ feels like a huge upgrade over its predecessor. What I enjoyed the most was the adjustable gripper. I tried out all sorts of different gripping widths to find the one I enjoyed the most. A word of warning here: the gripper is adjusted via a small screwdriver, so be careful when you're experimenting. Also, try not to overtighten the gripper for your size.
Another thing that will (bu dum tss!) blow you away is the redesigned range of speeds on this thing. It seems that Sloan truly honed in on his customers' requests and widened the range of slow to fast speeds available. To me, the slowest setting felt much slower and more sensual while the fastest is roughly the same as on the older model. But, when it all comes down to it, I can thoroughly recommend the A.I.+ simply for its sheer range of different blowjob experiences that you can customize to your own needs and get you even closer to your ultimate BJ!
Pros of the Autoblow A.I.+
Adjustable gripper lets you customize the masturbator to your size.
Voice activation allows you to tell the A.I.+ exactly how to suck.
App connectivity pretty much maximizes the potential of this toy and unleashes tons of extra blowjob modes.
Easy cleaning: just remove the sleeve from the box and wash it with soap and water!
It's always ready to suck and never says "no"!
Cons of the Autoblow A.I.+
If you're clumsy, the unit might be a bit tricky to hold AND use the app at the same time with sticky fingers.
You need to be in a quiet room for the voice controls to respond properly.
Summary
In conclusion, the new Autoblow A.I.+ offers numerous practical improvements over its predecessor that help you ramp up the fun even more but it still retains the same unique suction technology that made Autoblow famous. So get yours today and rock out with your cock out!
Click Here To Check The Up To Date Price
Product Specs:
| | |
| --- | --- |
| 🏷️ Name: | ⭕ Autoblow A.I.+ |
| 📁 Type: | ⭕ Blowjob Machine |
| ⚙️ Features: | ⭕ Artificial Intelligence |
| 🛠️ Materials: | ⭕ Silicone |
| 📅 Last updated: | ⭕ November 29, 2023 |
Disclaimer
Our articles feature affiliate links. If you appreciate our content and would like to show your support, you can consider buying your new sex toys using the links we provide. Every purchase made through our links helps us earn a small commission, without any additional cost to you.