I've recently done several overviews of the gorgeous Silicone Wives sex dolls, but none have made me as happy as the one you're reading now – the full Scarlett Sex Doll review. Why?
Well, because in order to write it, I had to test the beautiful Scarlett in all the positions that I could think of. And, being a sex toy reviewer and a s-excellent lover, if I do say so myself, you can imagine that I know quite a few of them.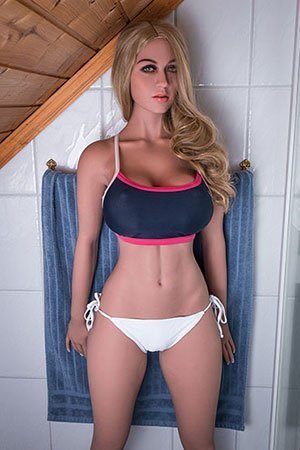 Blake - Athletic

Realistic weight makes realistic play

Great value for price

Super athletic, blonde and sexy

Customizable vagina

Feels incredibly sexy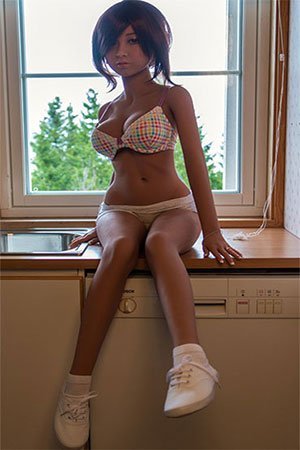 Lana - Japanese

Petite in size, but very curvy

Customizable facial features

50lbs means easier to carry

Very realistic skin

High quality materials and production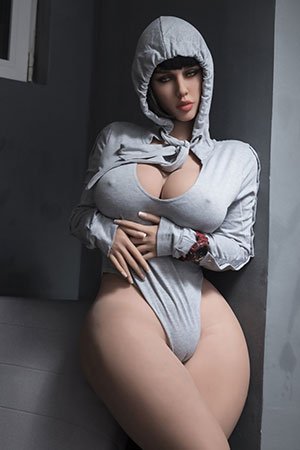 Jasmine - Porn Star

Thick and curvy

107lbs allows for realistic sex

Lots of customizable options

She's very flexible and loves to bend

Nice, tight fit
So, the testing stage took several weeks. I took Scarlett for quite a few spins in order to be able to give you the tea I know you're expecting.
Let's get started, shall we?
Why This Trainer Should Be on Your Retainer
Scarlett is one of the many SiliconeWives luxurious sex dolls. Those of you who aren't familiar with the company should definitely check them out. SW makes high-quality dolls that look and feel like the real thing and are relatively reasonably priced (although you can't put a price on love, am I right?).
Marketed as a horse trainer with a petite body to die for, Scarlett seems to be the perfect girl. Her tiny body with modest B-cup breasts is banging, and her blonde hair and piercing hazel eyes will definitely take your breath away (especially if you gaze into them while she's sucking your meat flute).
Capable of vaginal, anal, and oral sex, Scarlett will definitely ensure that you have something fun to do during those cold lonely nights.
Scarlett Sex Doll Review: First Look
Like many other SW girls, Scarlett has a background story. She's a fun-loving girl with a bit of a wild personality. Although you'll mostly see her dressed as a schoolgirl, Scarlett is a working adult. In fact, she has a pretty fun job – she's a horse trainer!
So, right from the get-go, you know that Scarlett is intimately familiar with having raw power between her legs! She spends her days outside, breaking in new horses on an Arizona ranch dreaming about a perfect man who'll tame her! And that man can be you!
But before we start fantasizing about all the ways we could collectively train this girl, let's keep this Scarlett Sex Doll review going and take a look at what she has to offer.
Click Here To Check The Up To Date Price
She's Wild, Free, and (Made Out of) TPE
The thing I love the most about SiliconeWives (aside from their deliciously fuckable girls) is the consistency. All their girls are made in the same way, and all of them are of the same level of quality.
Because SiliconeWives makes high-quality, luxury dolls, that level of quality is off the charts. That's largely due to the material they use.
All SW girls are made out of TPE, and Scarlett is no different. Now before you jump on me to say how I've drilled into your brains that silicone is the only material worth your time, let me say this.
When it comes to dildos and vibrators, I'm a silicone man through and through. You'll never catch me with a jelly dildo or a TPE vibe. However, realistic sex dolls are a different matter. Even I have to concede and admit that TPE is the superior material for sex dolls, since it's more pliable, softer, and generally has more life-like qualities than silicone.
So the fact that Scarlett is made out of TPE is a good one because it means her skin is almost as soft as it would be in real life.
The Body of a Riding Girl
Although the skin is one of Scarlett's better features, the absolute best-seller of them all is definitely her body. This petite blonde is 5 feet and 2 inches tall and measures at 62 pounds. Those of you who have had the pleasure of having a sex doll companion before already know that 60 pounds is extremely light for a full-body doll. Therefore, Scarlett has the advantage of being a tiny, easy-to-handle girl.
Her body is lean (but not skinny), which isn't surprising, given that Scarlett leads an active life. Training horses takes a lot of energy, after all. Plus, jockeys are always tiny, right?
This little rider has a 19-inch waist balanced with 30-inch hips and a 28-inch bust. Her B-cup priests might seem small and humble to some, but trust me when I tell you – they are more than enough. What's more, they jiggle in such a realistic way they'll make you want to spill your jizz all over them as soon as you see 'em.
So, the body is banging, there's no question about it. But it's what's on the inside that matters most, isn't that right?
Well, you'll be happy to hear that Scarlett sports a steel skeleton that allows you to put her in pretty much any position imaginable. She also comes with the option of standing feet (although you have to pay extra for that). With that feature, Scarlett is able to take your pocket rocket even while standing up (or squatting over you).
And a Face of a Goddess
It's not just Scarlett's body that's worth the money you're paying her – it's her face as well. She has a pleasant face with a nice, pouty smile, and captivating hazel eyes that bore straight into your soul.
I'd say Scarlett's doe eyes are her best feature (if you disregard her pussy, ass, waist, and titties). They were made in an extraordinary way that makes Scarlett seem playful and mischievous at the same time, with just the right amount of innocence peppered into the mix. Yeah, I know it seems impossible, but once you get those eyes in front of you (or under you), you'll understand.
Related
Put It Wherever You Want It
I can already hear you wailing, "Stop talking about her eyes and tell me about the pussy!"
Well, fair enough. I did say I'll give you the full Scarlett Sex Doll review after all.
Simply put, the pussy is divine. You can opt for a removable one or a built-in one. Either way, you'll get a perfectly tight, 6.7 inches-deep orifice that you'll be happy to make a cum-dump out of.
And, if you're more of an ass man, don't worry; Scarlett may be petite, but she has quite a bit of junk in her trunk. Therefore, you'll have plenty to hold on to while you're filling her backdoor with your beaver basher. Her anal orifice is also 6.7 inches deep, but it's much tighter and appears to have a different texture than the pussy.
Scarlett is also fully equipped to give you a handjob or a blowjob. Of course, there are extra features that you can order to be built in that will make Scarlett's blowies and handies even better (I'll talk more about those later). But even with the basic version, Scarlet's 5 inches-deep mouth will make you blow your load much sooner than you'd like.
Click Here To Check The Up To Date Price
She's Customizable
SW keeps adding girls to its selection and is constantly working on adjusting their products, so they fit each and every customer. That's why all girls, Scarlett included, are customizable. If you don't like your horse trainers to be blonde, you can make Scarlett a redhead or a brunette.
You can also change Scarlett's:
Eye color
Skin tone
Breast type
Vagina type
Feet
Public hair
As I said – there's plenty to customize. I'd recommend looking into the different breast types. You can opt for those that are hollow or those that jiggle a bit more than the regular type.
And With Extras!
If you think that's all, think again. Your Scarlett can come with some extra features (provided you're willing to pay for them). I actually admire SW for its selection of extra features. Even though I was miffed that I had to spend a few extra hundred for them, they were more than worth it since they elevate the entire experience.
The first additional feature that you'll want to break the bank for is the hair. Originally, Scarlett comes with a removable wig. However, you can also have her made with synthetic or real implanted hair.
Other extra features are:
Built-in heating (that will warm up your doll to body temperature)
Moaning sounds (this is another feature you should look into, since it really enhances the experience of sex – especially oral sex)
Enhanced mouth (with special texture and a tongue for extra stimulation)
Shrugging shoulders
Extra soft TPE
Articulated hand skeleton (that will turn Scarlett's hands from meh to wowza!)
Scarlett Sex Doll Review: An Overview
There's no doubt this fun-loving, horse-riding girl has a lot to offer. But, as with any other sex toy on the market, she's not without her faults. And I'm not talking about smelling of horses all the time here (because that isn't actually the case).
Let's take a look at Scarlett's best and worst features.
The Best:
She's tiny and light, which means you'll easily move her around and position her.
You can customize pretty much anything and make your Scarlett the ultimate dream girl.
There are more extra features to choose from than ever before. SW keeps updating its dolls, giving its customers more and more choices.
The "Could-Have-Been-Better":
The wig looks a bit cheap, and it slides off pretty easily. Luckily, there are two other hair options to choose from.
The fact that she's tiny can be a bad thing. 62 pounds isn't much when it comes to offering resistance. Therefore, you might find Scarlett to be a bit too movable, especially when you're plowing into her with no abandon.
A Few Parting Words
To me, Scarlett is perfect as-is, but I appreciate the fact that each of us can customize her in his own dream image and create the perfect Scarlett for ourselves.
Hopefully, this Scarlett Sex Doll review sheds some light on why the newest SiliconeWives doll might be the ideal match for you. If you do end up getting her, let me know how breaking her in went!
Click Here To Check The Up To Date Price
Product Specs:
| | |
| --- | --- |
| 🏷️ Name: | ⭕ Scarlett Sex Doll |
| 📁 Type: | ⭕ Sex Dolls |
| ⚙️ Features: | ⭕ Steel Skeleton With Movable Joints |
| 🛠️ Materials: | ⭕ TPE |
| 📅 Last updated: | ⭕ January 2, 2023 |