Do you know what the coolest thing about sex toys is, dear readers? The fact that you can quite literally pleasure yourself with any toy. Oh, sorry, gotta correct myself there a little bit. It's the fact that, try as you might, you can't pleasure yourself with any toy, since there are so many different choices out there. If I were to try seven different masturbation tools a day, every day, for the next 90 years, I would still barely scratch the surface of this fairly large market.
Today's product is the perfect example of what I'm saying. What if I told you that there's a masturbator out there that's fairly short, has two openings, but can still pleasure people with large dongs? And that this particular product is both quite pleasing to the touch and reasonably priced? Why, Mark, surely you jest!
But I jest not, gentlemen. My latest acquisition, the Blowmotion Real-Feel Dual-Entrance masturbator, is precisely the kind of device that folks new to self-pleasure devices ought to try. I personally gave it a whirl, and I can say with full confidence that Blowmotion blew my mind. And with that cringeworthy pun out of the way, let's discuss why it did and how it did so.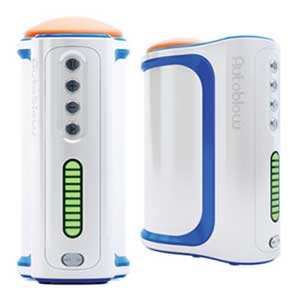 Autoblow A.I.+

Hands free blowjob toy

Heavy duty motor

Powered by artificial intelligence

Interchangeable sleeves

Body-safe materials

Plug it into any electrical outlet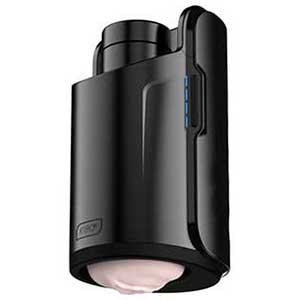 Kiiroo Keon

Automatic stroker

Sliding scale of speed

Elegant and discreet

Real-feel masturbation sleeve

Connects to video chat platform and VR porn

Easy to store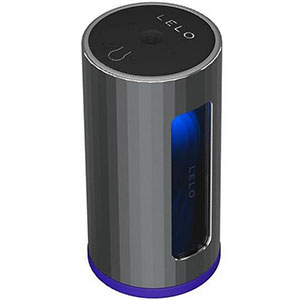 Lelo F1S V2

Hands free blowjob machine

Long-lasting charge

Fully waterproof

Powerful sensations

Realistic artificial skin material

Easy to clean

Promo Code: "HAPPYBF" - 15% Off
Your Sign of Quality
So, the Blowmotion Real-Feel Dual-Entrance, or Blowmotion for short, is a Lovehoney product. And everyone who has been reading my stuff knows that I have a bit of a soft spot for this company (or, rather, a hard spot). The good people behind Lovehoney have made some absolutely stunning masturbators in the past that my pecker has tested thoroughly. Many a liter of white liquid flowed between me and a Lovehoney stroker, and I loved every second of it.
In fact, it was the Lovehoney logo that got me interested in this little fella, to begin with. I needed something new, and since my partner didn't have any suggestions, I turned to Google. And lo and behold, it told me all about Blowmotion.
One email and invoice later, the package was on the way to Casa de Masturbacion. Having seen the pics online, I was kind of hoping this product would be as awesome in real life as it did over the website. To my shock, it looked even better than what I had imagined! I shall dissect it for you real quick.
This Baby Has Some Features, Lemme Tell You!
It's All in the Image
One look at the Blowmotion and you know what you're in for. The entire toy looks like a nice, black, sleek capsule. Rounded at the ends, straight in the middle – there's a sex joke in there somewhere, but I'm too amazed by the masturbator to think of one.
Each end is a plastic cap that twists off easily. Underneath, you get two different holes of nondescript design. I suppose one of them might look like an anus if I squint at it enough, but really, they're just regular openings. Well, regular in the sense of not resembling a body part. They are both ridged and curved enough to provide a lot of pleasure, though I'll get into that a little later in the article.
Overall, the design is fairly decent. It's been a while since I've seen a company experiment with masturbator bodies, and Lovehoney really blew it out of the park with this one. However, it is somewhat bulky, so holding it can be a hassle for the uninitiated.
Click Here To Check The Up To Date Price
Soft & Wet
Now let's get to the materials. The outer casing and the caps are standard hard plastic, while the fun bits are soft plastic. And when I say "soft", I really mean "soft". Even from touching it by hand, I've noticed just how pleasant it felt against my skin. There was no doubt in my mind that this bad boy was going to satisfy me.
The material itself is not entirely waterproof, but it is splash-proof. Furthermore, it supports water-based lubrication, so getting it a bit wet wasn't an issue.
But then we get to the part that might be a bit controversial. Namely, this device is only 4 inches long. Of course, the tradeoff is that the penis can go through all the way and actually come out of the other opening. So, there will still be stimulation, just not along the whole length of the cock. I personally know more than a few people who might have a problem with that. Granted, I didn't; the feeling of penetrating all the way through actually gave me even more of a thrill, oddly.
Shifting Gears
The Blowmotion double-barrel has a total of 3 speeds and 7 vibration patterns. And yes, that does feel a bit limiting, especially with the kind of vibes I was getting from this item. I'll be the first to say that I've had more creative sessions with masturbators that were slightly slower, but excelled in vibration pattern variety. The ones I got here were okay, but nothing revolutionary.
How Long Can You Last, Baby?
To my joy, the Blowmotion is a rechargeable device, and you recharge it via USB. It's a simple matter of sticking something inside it that doesn't look like a penis, i.e., a USB charger cable, and letting it sit there for a couple of hours.
And since we're at the couple of hours remark, let's discuss the runtime. On average, this bad boy can last up to 60 minutes. Not too much, but not too little, either. In fact, it's the perfect time frame for me, since I don't necessarily have that much time for self-pleasure. Slightly ironic, I know, considering I've literally written a novel's worth of sex toy reviews. But back to the device. Overall, I like the 60-minute cut-off point, as it is the best middle-ground solution that will satisfy both those who last longer in bed and those who ejaculate prematurely.
Travel-Friendly Capsule
I like the fact that I can take this little device everywhere with me and not be judged because of it. Now, I live in a fairly tolerant neighborhood where nobody would give me dirty looks for carrying a male sex toy with me. However, if I were to try and hide the fact that I pleasure myself with toys, this tool would be perfect for the job. After all, it looks like a Bluetooth speaker for smartphones, and is roughly the same weight.
Of course, it's not just the shape. With 4 inches in length, the Blowmotion is incredibly easy to pack in a bag and just take anywhere. More to the point, it's great to put away somewhere after use since it's compact and takes up little room. If we had more sex toys like this one in terms of compactness, millions of guys would share positive experiences (and I'd probably be out of a job!).
Don't Forget the Receipt!
Quite often, my readers ask me what the acceptable price is for a male sex toy. I can't answer it properly, since I've spent thousands of dollars on my masturbator collection. However, I'll be the first to say that you should never buy anything that's either too cheap or insanely expensive.
Now, the Blowmotion was under $60, which some consider steep. But not me. When I compare it to other masturbators I own, this fella is fairly moderately priced. Anyone can afford it, and I'd say they would definitely get their money's worth.
Related
How Does Real-Feel Really Feel?
With the gadget now out of the box, it was time to give it a go. As I usually do, I try to test each toy solo first, and then get my partner involved. That way, not only will I have another pair of eyes to judge the masturbator, but I'll also have a bit of fun along the way. And now, we judge!
The Grand Dual-Entrance
Switching it on, I noticed that the device was somewhat noisy. Granted, I was home alone and in a fairly spacious, empty room, but it still felt a bit too loud for my liking. Lube was then applied; I usually have a few tubs of the stuff around the house, just in case I run out and need more of it fast. And then, I explored the first hole.
Going in, and then out again, was an experience. The device felt a bit snug around my pecker, but nothing was obstructing entry. Once the glans were out, I did feel a bit weird, but I continued thrusting. Low speed, first vibration setting, and all was well. The device did not bug at any point, so I felt the need to speed it up. After some fiddling around, I found the sweet spot, which resulted in my sweet spot being stimulated. I nearly came, but then I remembered that this masturbator has a hole on the other side too. So, I composed myself and took a deep breath.
Click Here To Check The Up To Date Price
Round Two.
The second entrance felt a little looser than the first. It took me maybe half a minute more to work my way in, even with lube applied. But it was worth it. It was a slightly different feeling getting inside the other way. Again, I toyed around with the settings, and again it got me to a satisfying climax. Definitely worth the ticket price, folks!
Two-Timing the Thingy
Once both the Blowmotion and I were nice and clean, I gave the Mrs. a call. She actually came up with a cute idea while examining the masturbator, so consider this my first bit of advice to you when it comes to Blowmotion couple play. While the machine was on and she was stimulating me, she teased the exposed glans, first with her fingertips, then with her lips and tongue. Needless to say, I gave her all I had, if you catch my drift.
Now, my other piece of advice is for all of my LGBTQ readers. I haven't personally tested what I'm about to recommend, but I intend to lend the device to a couple of our same-sex friends for confirmation. So hear me out. If you intend to use this particular masturbator with your same-sex partner, you can genuinely try a bit of simulated docking. In other words, you can both penetrate the device on each end and have it stimulate both of you at once. Naturally, let me know about the experience in the results below.
The only real issue that the Mrs. had with the Blowmotion was its bulkiness. She had to hold it with both hands, since her tiny fingers didn't really have a good grip on it. Granted, if you're doing partner play, you can circumvent this by holding the device together. But that does defeat the purpose of having someone else take control in stimulating you.
Final Verdict
Pros:
Smooth, safe, phthalate-free material
Two entrances with different shapes
3 speeds and 7 vibration options
Rechargeable via USB
60 minutes of runtime
Compact and travel-friendly
Reasonably priced
Cons:
Slightly noisy
Not the best fit for large penises
Bulky
And Now for My Closing Statement…
When we get down to brass tacks, I can't not recommend the Blowmotion Real-Feel Dual-Entrance masturbator. Not only is it compact and perfect for carrying around, but it's also stylish, efficient, and gets the job done well. Granted, the 4-inch length does leave a bit to be desired, but overall it's a nifty little device that makes masturbation worth doing.
Have any of you used the Blowmoton Dual-Entrance yet? What about the other products Lovehoney has to offer? Make sure to let me know in the comments below!
Click Here To Check The Up To Date Price
Product Specs:
| | |
| --- | --- |
| 🏷️ Name: | ⭕ Blowmotion Real-Feel Dual-Entrance |
| 📁 Type: | ⭕ Pocket Pussies |
| ⚙️ Features: | ⭕ Compact and travel-friendly |
| 🛠️ Materials: | ⭕ TPE |
| 📅 Last updated: | ⭕ November 29, 2023 |
Disclaimer
Our articles feature affiliate links. If you appreciate our content and would like to show your support, you can consider buying your new sex toys using the links we provide. Every purchase made through our links helps us earn a small commission, without any additional cost to you.