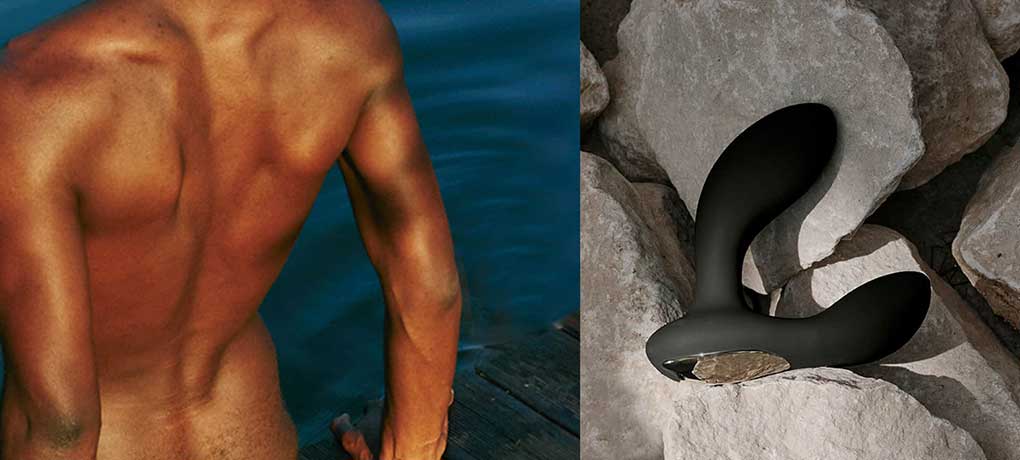 I have been dying to write a Lelo Bruno review for so long now, you guys don't even know. Even though it's not really the latest toy on the market or the most groundbreaking one, it definitely stands out from the crowd. So instead of blabbering on, let's jump right into the review, and I can show you what Bruno can do for you.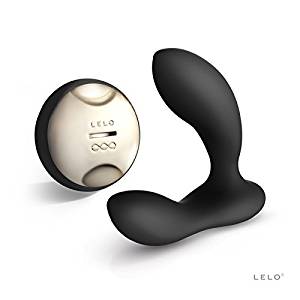 Lelo Hugo

Remote controlled

2 optional vibrators in both base and tip

Stimulation for both perineum and prostate

Medium-size suitable for all levels

100% waterproof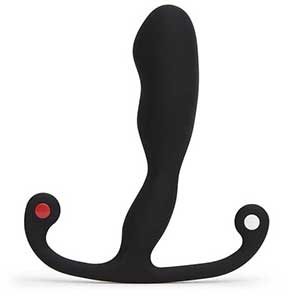 Aneros Helix Syn

Velvet touch silicone for smooth entry

Hands-free play

Good size for beginners

Anatomically designed for optimal pleasure

High quality, FDA-approved materials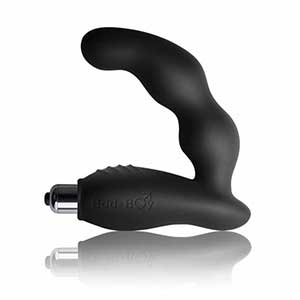 Rocks-Off Big Boy

Perineum and prostate stimulation

Optional bullet vibrator

Flexible, medical-grade silicone

Hands-free

Great size for beginners
What Is Lelo Bruno?
According to Lelo, Bruno is the world's most pleasurable prostate massager, and I've got to say, they're not far off. It's essentially a high-end, luxurious toy, and one that you can't afford to miss if you're into anal play.
Bruno's silicone shell makes it soft on the outside, but it's still firm enough on the inside to provide waves of pleasure. I honestly get tingles just thinking about it.
Now, if you've read my Lelo Hugo review, you're probably wondering what even is the difference between the two. While they do look alike, I assure you that Bruno and Hugo have their unique advantages and benefits.
But if you're still confused, no need to worry. Later on in this Lelo Bruno review, I'll do a head to head comparison of the toys, and show you which one would work for you and why.
Bruno's Specs
Right off the bat, let's dive headfirst into this Lelo Bruno review, and talk about the things that make this toy so special – the specs. For starters, the material is incredibly durable, but soft silicone. It is medical-grade, and certified body-safe.
To help make the cleaning process easier and smoother, Lelo made Bruno completely waterproof. So even though there's a battery inside, you can submerge the toy under water when you're washing it. Also, the fact that it's waterproof means that you can use it for some aquatic fun in the bathroom.
You'll also be happy to know that Bruno comes in two stylish colors. You can get in black, which looks pretty awesome, of course, but there's also a purple version. So if you're tired of black silicone and chrome, and want something that you can spot a mile away, I'd definitely go with purple.
I should also mention that Bruno is pretty quiet. It clocks in at around 50 dB, which is basically what a fridge sounds like. So if you needed to, you could absolutely fly under the radar with this thing.
Battery
Inside Bruno, there's a 420mAh lithium-ion battery, which powers the whole thing. Your toy will come with a USB charger, so you don't have to worry about that.
On a full charge, Bruno can last up to two hours, depending on which pleasure settings you're using. However, the charging time is around 120 minutes, which is not ideal.
Size
When it comes to Bruno's size, I'd say that it's a pretty decent length and width that most butt connoisseurs will appreciate. The insertable length is about 3.25 inches, but it's 4.15 inches from tip to base.
Another thing that I want to mention in my Lelo Bruno review is just how light this toy is. The massager weighs only 4 oz, which is super convenient. If you're going on holiday, and want to bring the fun with you, Bruno will be your best friend.
Putting numbers aside for a second, the reason both Bruno and Hugo became popular was that they can fit almost anyone. They're the ideal medium size, they won't cause stretching, but they're still wide enough to provide more than enough pleasure.
Even people who've been fiddling with male anal toys for years could get a kick out of it. On the other hand, thanks to the size, beginners wouldn't be intimidated to try it. So it's a win-win.
With that said, if the size specs have freaked you out a bit, and you'd like something smaller, I recommend Lelo Billy. It's soft, small, discrete, and won't pose an issue even if you've never had anything wider than a finger in you.
Click Here To Check The Up To Date Price
What's In the Box?
If you've ordered anything off the Lelo website before, I'm sure that you picked up on how much attention the company pays to its packaging. I mean, the Developer's Kit had motorcycle gloves and a Do not disturb sign, for crying out loud.
Now, Bruno's box wasn't quite as impressive, but it's still not basic. When you order the toy from Lelo's website, you'll get the massager, a USB charger, and an instruction manual. Side note, if you lost your manual, no need to worry because there's a PDF copy of it on the website.
You'll also receive a little satin pouch for Bruno, which I gotta say, I really love. Silicone toys attract a lot of dust, and unless you properly store them in a pouch, for example, they'll be a linty, dusty mess in just a couple of days.
But the most important thing that you'll receive has got to be the warranty registration card. Bruno comes with a one-year Lelo warranty, as well as a 10-year quality guarantee. Depending on how long you've had the toy, you can either get a new one, free of charge or a 50% discount on your next Lelo order.
Related
How the Lelo Bruno Feels
Now for the main event of this Lelo Bruno review, it's time to talk about how this baby feels. Having used Hugo before, I kind of knew what I was getting myself into when it comes to size and shape. But since Bruno doesn't come with a remote, I found the experience really exciting.
First, I obviously slathered both myself and Bruno in a ton of water-based lube, turned it on, and turned myself on. Then, before putting it, I found a vibration pattern that I thought I'd enjoy and popped it in.
I started off on the lower end of the intensity scale because I wanted to see what that would do. Needless to say, I was beyond turned on, but the toy alone wasn't what got me to blow my load. I used it for edging and combined that with some tugging and thrusting action to go where I needed to be.
I also wanted to see if Bruno was powerful enough on its own to get me to blow my load. And, of course, once I cracked up the intensity, the results were more than satisfying.
But here's the thing; I think that Bruno works much better when you put it on low intensity and use it almost as a plug. Basically, turn it on, leave it in, and go on about your day.
That made for the absolute best results and gave me a much bigger O then when I tried shuffling through the settings mid-play. Trying to change the pulsation settings, or finding the button to start with, while Bruno was 3 inches deep in me was next to impossible.
Playing With a Partner
There's not much to say when it comes to using Bruno for partner play because it wasn't built to be a two-person toy. Sure, your partner could slowly put it in you, and again, use the toy for edging, but that's pretty much it.
Once Bruno is inside you, your partner has pretty much no control over it. They can't use a remote to change the pulsation settings or even turn the thing on.
With that said, the universally cool thing about Bruno is that its design fits both the male and female anatomy. So no matter who you're with, you can use the massager on them with no problem. Of course, make sure to use a condom while playing, and give the male sex toy a good scrub afterward.
Lelo Bruno vs. Hugo – Head to Head Battle

Earlier on in my Lelo Bruno review, I said that I'd do an in-depth comparison of Bruno and Hugo. That moment is finally here, and I'm about to show you what makes these toys so unique. First, let's start with what they have in common.
Both Hugo and Bruno feature the same design, and they're the same size. So if you've played with one before, the other would never be a problem. Secondly, they're made from the same materials, and they're both waterproof.
Basically, from the outside looking in, Bruno and Hugo look and feel pretty much exactly the same. But there's one huge difference – SenseMotion technology.
Hugo has a bonus SenseMotion feature, which Bruno doesn't. That special feature allows you to control the toy using a remote. You or a partner could change the pulsation settings with a push of a button, which is beyond handy.
The other major difference between the two is in the price. As you can imagine, a shiny remote that controls your orgasms doesn't come cheap, so if you want SenseMotion technology, expect to pay more. But if you're looking for something that doesn't cost an arm and a leg, but is still durable and reliable, just get Bruno.
Click Here To Check The Up To Date Price
How to Clean the Lelo Bruno
At this stage of my Lelo Bruno review, I'm sure that you've picked up on the fact that the massager doesn't have a lot of moving parts. That is absolutely the best-case scenario when it comes to cleaning. Even though it's pretty straightforward, I always like to go over these things in my reviews just to make sure that you don't get confused.
First, hold Bruno by the bottom, and run the whole toy under some lukewarm water. After a few seconds, you can take some cleaning spray or soap, and really get in there. Make sure to thoroughly clean your toy because the last thing you want is a dirty toy in your chocolate starfish. Believe me.
Once you're confident that Bruno is clean, you can leave it out to air dry for a few hours. Then, once it's totally dry, put it in the satin pouch that it came with, and store it somewhere.
Remember the golden rule here: if you want your toy to stay in tip-top shape, keep it away from perfumes and oil. And that's pretty much it!
If you're sharing the toy with someone, I recommend giving it a quick rinse before you start playing with it. Also, make sure to use a condom before playing every time to ensure that you both (or all) stay safe.
What's Wrong With Lelo Bruno?
As always, I had to use a special part of my Lelo Bruno review to talk about the things I didn't like. Let me start off with the most glaring issue of them all, and that's the freaking battery.
Now, I don't think that there's absolutely anything wrong with a battery life of two hours. It's more than enough to get you off, and if it doesn't, you're probably not doing something right.
But my problem is that the charge time is also two hours. So the battery life to charge ratio is 1:1, which I find really annoying. I'm hoping that Lelo will step up its game in the future, and make the charges shorter because this sucks balls (pardon my French).
The second issue I had was the lack of interaction. Unlike with Hugo, I couldn't get a partner to control the pleasure settings. Since there's no remote, once you pop Bruno in, that's pretty much that.
Cycling through the six different pulsation patterns while the toy is inside you is next to impossible. And even if you get to the button somehow, the whole thing is so awkward.
That's why I'd say that the Lelo Bruno is best used as a sort of a vibrating butt plug. Find the pattern that you like, put it in, and go on about your day. If you mess around it with it too much while it's inside you, you might not find it too pleasurable.
Final Thoughts
That's the end of my Lelo Bruno review, and I hope you enjoyed it. I also want to say that I highly recommend this massager, and it's a 10/10 in my book. I think it's one of the best toys that have come out in the last few years, and you would get a kick out of using it.
Click Here To Check The Up To Date Price
Product Specs:
| | |
| --- | --- |
| 🏷️ Name: | ⭕ Lelo Bruno |
| 📁 Type: | ⭕ Anal Sex Toy |
| ⚙️ Features: | ⭕ Perfectly Shaped For Comfort & Sensation |
| 🛠️ Materials: | ⭕ ABS / Silicone |
| 📅 Last updated: | ⭕ September 16, 2023 |
Disclaimer
Our articles feature affiliate links. If you appreciate our content and would like to show your support, you can consider buying your new sex toys using the links we provide. Every purchase made through our links helps us earn a small commission, without any additional cost to you.