If the word donut makes you think about strokers and cock rings, you're my kind of a person! Of course, I'll accept those of you who think about the delicious pastries. However, bear in mind that today, we're doing the Dominix Deluxe review and talking exclusively about the best type of cock rings out there – stainless steel ones!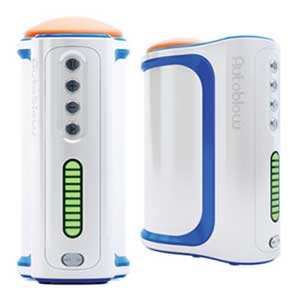 Autoblow A.I.+

Hands free blowjob toy

Heavy duty motor

Powered by artificial intelligence

Interchangeable sleeves

Body-safe materials

Plug it into any electrical outlet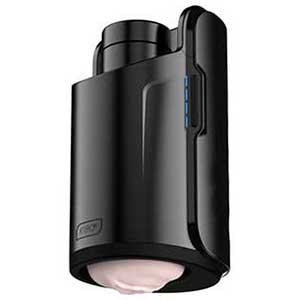 Kiiroo Keon

Automatic stroker

Sliding scale of speed

Elegant and discreet

Real-feel masturbation sleeve

Connects to video chat platform and VR porn

Easy to store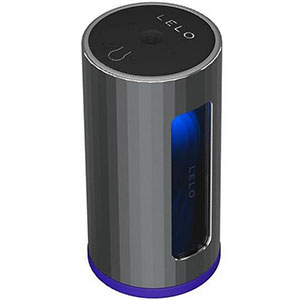 Lelo F1S V2

Hands free blowjob machine

Long-lasting charge

Fully waterproof

Powerful sensations

Realistic artificial skin material

Easy to clean

Promo Code: "HAPPYBF" - 15% Off
What Is the Dominix Deluxe?
Since you're all keen-eyed horndogs, you already know that the Dominix Deluxe is a stainless cock ring.
As many of you know, I am an avid cock ring user. When I was a youngster, my Sexcalibur was eager to please and would get hard whenever I needed him to (and, oftentimes, when I didn't need him to). But not even my cock is what it used to be.
But do I lay down and take that? Of course not! I get a cock ring, strap that bad boy on, and fuck hard as a rock all night long!
And that's precisely how I know that not all cock rings are the same. Look, I was the first one to get a three-ring set with cheap rubber rings in it and call it a day. But after I tried my first high-end product, I realized that even something as simple as a cock ring could be poorly made (or very well, depending on who's doing the making). Thus, my pursuit of the perfect cock ring began!
Recently, I've done quite a few reviews of vibrating cock rings (because I think all toys should benefit as many partners as possible), like the Tenga SVR review and the We-Vibe Verge cock ring review.
However, now's the time to introduce you to a stainless steel cock ring that will change your life.
Click Here To Check The Up To Date Price
What Makes This Ring So Special?
First of all, the Dominix Deluxe is big enough to accommodate most men, and second, it's heavy.
Now, I can already hear the comments in my head – why does it matter if it's heavy or not? It matters! A heavy cock ring, as you'll realize if you keep reading my Dominix Deluxe review, can transform the entire experience for you. You feel it around your shaft more than you would a silicone ring. That plays a twofold role during sex:
first, the ring itself keeps you nice and plumped for as long as you like (or as long as your partner can take it)
and second, the heaviness gives you the extra reassurance that the ring is there, doing its job
As a bonus, your partner will also likely feel it while you're rolling in the deep. Isn't that neat? As I said, I like toys that everyone can enjoy!
How Brightly Does It Shine? The Design
What some might call simple, I call elegant. Dominix Deluxe truly has a timeless design. I use that word, much like all others in my Dominix Deluxe review, carefully and with purpose because, as a steel cock ring, Dominix Deluxe really is timeless. It will definitely outlast many of your partners (or even you).
The steel shines brightly; there's no other way to say it. But it also stands out in the sea of other cock rings. I like to say that no two cock rings are the same, but for Dominix Deluxe, that statement really has merit because it's unlike any other ring.
Since it's girthy, it will comfortably (but snuggly) accommodate both your ding-a-ling and your tomatoes and keep you rock hard for several hours (or all night, if that's your thing).
Related
But Is It the Brightest Star? The Specs
Cock rings are simple but magnificent sex aids. They maintain a comfortable grip on your cock while you do your thing, keep you erect and ready for action, and help you last longer.
I love silicone rings that are stretchy and easy to take off. However, something about a stainless steel ring just hits different.
The Size
As you've gathered from my Dominix Deluxe review, this cock ring is quite big. It has 1.9 inches in diameter, and it's 177 grams heavy. For us who struggle with the metric system, that's around 6.2 ounces.
So, the ring is pretty big and quite heavy. Unlike other rings that swear they're so lightweight you won't even feel them as they're keeping a firm grip on you, Dominix Deluxe promises no such thing. The whole point is in the fact that you can feel it everywhere.
The Features
Understandably, a simple steel cock ring doesn't exactly have a lot of features to offer. Or does it?
Although these aren't precisely features, I would like to mention that a steel cock ring, such as the Dominix deluxe, has significant advantages. First and foremost, it's steel which means it's super easy to clean. You don't have to wait for it to air dry (or dry at all), because steel isn't a porous material. It's as body-safe as sex toys get.
Second, a steel ring means there's room for temperature play. Why keep things lukewarm when you can spice them up by cooling (or warming up) the ring?
Click Here To Check The Up To Date Price
Give It to Us Straight – the Pros and Cons
Of course, as always, I'd like to conclude my Dominix Deluxe review with a rundown of all pros and cons. No toy is without its flaws (and advantages), and Dominix Deluxe is no exception.
The Pros:
Girthy; can accommodate both your pocket rocket and your family jewels without a problem.
It's simple and easy to use. You really can't fuck up putting on a stainless steel cock ring.
It has a beveled edge that allows the ring to grip you tightly without cutting into your skin. The finish is quite smooth, which makes the ring look more elegant and glossy.
You can use it for temperature play.
You can use any type of lubricant with it.
The Cons:
It's not adjustable. Although this is a standard feature of stainless steel cock rings, I do have to mention that the ring either fits or it doesn't.
It can be a bit difficult to use if you're into rough oral (don't say I didn't warn you!)
A Few Parting Words
As we're nearing the end of my Dominix Deluxe review, I'd like to finish in style and tell you that stainless steel rings take a bit of getting used to. Don't discard them if they don't work for you right away. There's an adjustment period to having your most precious part of anatomy gripped tightly by a steel ring. But, once you do get used to it, you'll love it. Feel free to write to me and tell me I'm right, you know I love it when you do that!
Click Here To Check The Up To Date Price
Product Specs:
| | |
| --- | --- |
| 🏷️ Name: | ⭕ Dominix Deluxe |
| 📁 Type: | ⭕ Cock Ring |
| ⚙️ Features: | ⭕ Sensitive-Skin Friendly |
| 🛠️ Materials: | ⭕ Stainless Steel |
| 📅 Last updated: | ⭕ November 29, 2023 |
Disclaimer
Our articles feature affiliate links. If you appreciate our content and would like to show your support, you can consider buying your new sex toys using the links we provide. Every purchase made through our links helps us earn a small commission, without any additional cost to you.