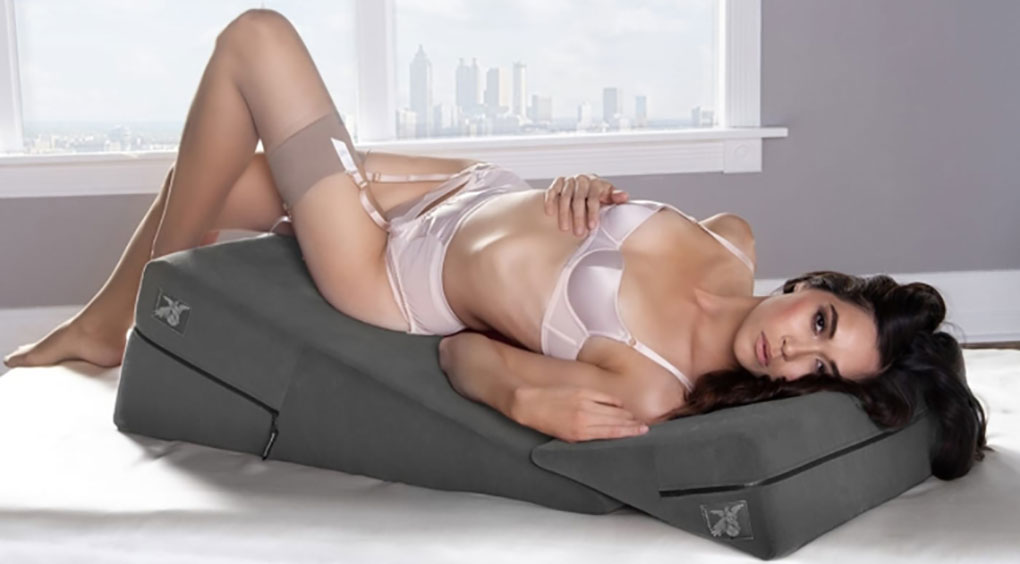 I'm going to go ahead and stop all of you naysayers right now and tell you that the answer to your question is YES. The question, of course, is, "Do I really need a sex pillow?" Yes, you do, and in my Liberator Sex Position Ramp review, you'll see that you really need one now. "Oh, but Mark, I can just use a regular pillow for support! Why waste money?"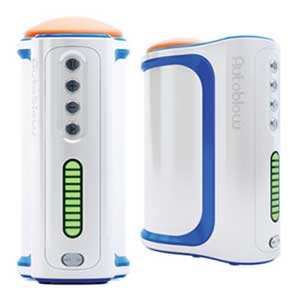 Autoblow A.I.+

Hands free blowjob toy

Heavy duty motor

Powered by artificial intelligence

Interchangeable sleeves

Body-safe materials

Plug it into any electrical outlet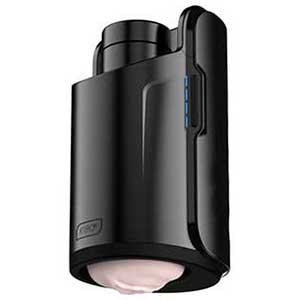 Kiiroo Keon

Automatic stroker

Sliding scale of speed

Elegant and discreet

Real-feel masturbation sleeve

Connects to video chat platform and VR porn

Easy to store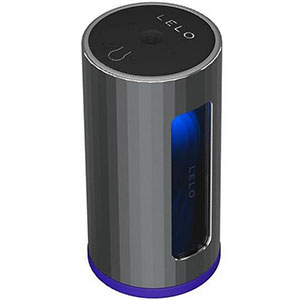 Lelo F1S V2

Hands free blowjob machine

Long-lasting charge

Fully waterproof

Powerful sensations

Realistic artificial skin material

Easy to clean

Promo Code: "HAPPYBF" - 15% Off
No, you can't. I mean, you can but it's not the same. Having appropriate support during sex can really help you ram your partner better and deeper. What's more, it can completely transform your sex life. If you think I'm exaggerating, just keep reading my Liberator Sex Position Ramp review and, by the end, you'll see that I'm right.
What is the Liberator Sex Position Ramp?
Ok, so for once, the clue is in the name. Not one to mince their words, Liberator named their product in such a way that it's pretty clear what it is. It's a sex position ramp, right?
Exactly. All jokes aside, this product is a position enhancer. Now you might think that only people who aren't able-bodied need position enhancers or "helpers" while they're having sex. However, that's not exactly the case. The Liberator Sex Position Ramp is a great product for everyone.
Of course, the lovely thing about it is that anyone can use it, which includes disabled people. That isn't always the case with sex toys (in fact, many toys aren't really accessible to disabled people).
Now, social commentary aside, the Liberator Sex Position Ramp is an excellent product that will help you be better in bed without you having to actually try to be better. And that's the dream, isn't it, boys? To be so amazing you blow your partner's mind without having to work all that hard, right?
As you'll see in my Liberator Sex Position Ramp review, this product allows your Sexcalibur to penetrate deeper without sacrificing comfort. Not all of us are Cirque du Soleil members so we can't "bend that way," which is why a little help with positioning isn't a bad thing.
Click Here To Check The Up To Date Price
Ok, But What Makes It Special?
Those of you who are already intimately familiar with sex furniture are probably wondering why I picked this product to review. In other words, what makes it special?
Well, the Liberator Sex Position Ramp is a two-pillow combo. However, you can use the pillows together or apart. Both pillows are beautifully designed with various sex positions in mind and they'll offer amble support.
The best part about sex furniture is that it's designed precisely for sex. That means the Liberator R&D team kept all the various sex positions in mind and created a two-pillow product that can help you out in most of them.
Pillows Worthy of a Prince(ss) – The Design
As always, I'll start my Liberator Sex Position Ramp review with the design.
If you don't know what it is, you might confuse it with a lounging chair. However, let me be clear right away – the design doesn't really leave a lot to be confused about. It's pretty straightforward, and people will know what it is. What I'm saying is – try to keep it out of sight.
The two angled pillows that fit together to create the Liberator Sex Position Ramp feature a "responsive core" and machine-washable covers.
Now, the responsive core is the best-selling feature of this product. It's what allows the Liberator to provide the support you need while you're squatting in the cucumber field (or dipping your joystick in the honeypot). The core is firm enough to provide support and soft enough that it doesn't make you feel as if you're lying on the floor.
Liberator really managed to hit that sweet spot of practical beauty. The pillows are black and soft to the touch which makes them feel and look high-end, but they also function better than they look (which is really saying something).
The Specs
If you've ever struggled to get yourself or your partner into that perfect position, then the Liberator Sex Position Ramp is for you. And, let's be honest, that has happened to all of us at some point. Sometimes you just need a couple of inches of height to be able to hit that sweet spot every time. But, since you can't levitate, those inches might as well be miles, right?
What can I say except: thank God for sex aids! The two pillows allow for not only better positioning but also better angles of penetration. If you use them together, you can have ample support and comfort while you're trying out new things that weren't accessible before. The pillows work with your body and not against it but, because of the design and material, they also provide enough stability and purchase.
In other words, they'll angle that pussy so you slide into it effortlessly and give you enough support that you can pound into it until you spill every last drop of jizz. If that's too graphic, I can only apologize, but this sex aid really inspires me.
Packaging
The Liberator Sex Position Ramp arrives at your place in less-than-discreet packaging. Don't say you haven't been warned! The packaging clearly states what the product is, so maybe don't order it to your work address.
Otherwise, the packaging is simple and elegant. The pillows will arrive compressed but will start to shape themselves into what you see on the pictures as soon as you take them out of the packaging. So, make sure you do it somewhere where there's enough room for that. And, speaking of room…
Size
…you'll need lots of it. As you'll gather from my Liberator Sex Position Ramp review, this product is big. That's simultaneously a great feature and it's biggest "flaw."
As mentioned, both pillows have a foam "responsive core" that's supportive and comfortable. They are also a pretty good fit for all bodies. The Ramp (the bigger pillow) is 34 inches long and 12 inches high and it has 24 inches in width. The Wedge (the smaller pillow) is 14 inches long and 7 inches high and has 24 inches in width.
So, when you put them together, you get a pretty bulky-looking sex aid. But that's kind of the point. If it were any smaller, the product wouldn't be able to support two bodies in motion.
Features
Because you can use the pillows together or separately, this sex aid is great both for solo or partnered play. The Ramp allows the bottom partner to have raised hips while the Wedge provides back support. This type of positioning also allows for deeper penetration.
You can use the pillow in any way you like. However, I'd like to spice up this Liberator Sex Position Ramp review by telling you how it can improve some basic sex positions and plays. That way, you'll know what I'm talking about when I say it's worth the money.
Click Here To Check The Up To Date Price
Missionary
The missionary might be the most vanilla position but you can make it so much better with the Liberator Sex Position Ramp. You can use either the big pillow or the small one to raise the bottom partner's hips. That way, you'll feel less strain on your knees while you're penetrating your partner, and your partner won't have back and hip pain.
Cowgirl (And Reverse Cowgirl)
If you're interested in a more intimate cowgirl position, you can use the Ramp behind your back so you're closer to your partner. The wedge can provide leg support both for you and your partner which will allow easier (and faster) riding.
Reverse cowgirl is a great position because it gives you the glorious view of your partner sitting on your dick. However, it comes with the awkward "where do you put my hands for support" moment for them. With a wedge, you won't have to worry about that.
Doggy Style
People who have partners that are much shorter (or taller) than them, know that positioning yourself for penetration isn't the easiest thing to do in those situations. The difference in height can make things awkward in the doggy position. You either have to squat or stand on your tiptoes. With this sex aid, you can position your partner to a more appropriate height.
Oral (And Your Nine to Their Six) or Solo Play
Both oral (including the 69) and solo play can be more comfortable with this sex pillow. Sometimes it's not as easy to have full access to your partner's naughty bits on the bed. As you've probably gathered by now from my Liberator Sex Position Ramp review, this aid can provide enough height to make the experience more enjoyable.
Related
Will It Really Liberate Me? The Pros and Cons
As always, I'm finishing up my Liberator Sex Position Ramp review by giving you a snippet of the best and the worst about the product. If I'm being honest, this sex aid doesn't really have many downfalls. However, just like with everything else in life, it's not perfect.
The Pros:
Because the pillows are firm but comfortable, you can use them anywhere. You don't have to stay on the bed. In fact, it might be a better idea to try out floor sex.
The material is amazing because it feels nice on the skin. It's not too rough but it also doesn't let you slide down it easily. So, not only do the pillows offer support, but the material also lets you have some purchase (even when you're all sweaty).
The Material is also easy to remove and wash.
The Liberator Sex Position Ramp keeps you in place while you're going to town on your partner's honeypot, and it allows you to try out and hold positions you thought weren't accessible to you before.
The Cons:
The product is overall quite large and bulky.
Storing the Liberator Sex Position Ramp might be a problem. Keep in mind that you'll need some closet space before you click on that "buy" button.
The pillows work great together but they can easily get separated if you go too rough. During regular play, they hold up quite nicely though.
Although helpful, the pillows do take away some spontaneity. You have to stop to reposition them if you're switching positions. But, hey, otherwise you'd have to stop because of back problems or knee pain. So let's focus on what really matters here, OK?
A Few Parting Words
So, what do you say? Did my Liberator Sex Position Ramp review change your mind about sex furniture? Was I right in the beginning? Well, of course I was. I only offer you the best of the best and the Liberator Sex Position Ramp is what your sex toy collection has been missing all this time. So get shopping, cause you'll thank me later!
Click Here To Check The Up To Date Price
Product Specs:
| | |
| --- | --- |
| 🏷️ Name: | ⭕ Liberator Sex Position Ramp |
| 📁 Type: | ⭕ Sex Toys for Couples |
| ⚙️ Features: | ⭕ Responsive Core |
| 🛠️ Materials: | ⭕ Microfiber |
| 📅 Last updated: | ⭕ September 16, 2023 |
Disclaimer
Our articles feature affiliate links. If you appreciate our content and would like to show your support, you can consider buying your new sex toys using the links we provide. Every purchase made through our links helps us earn a small commission, without any additional cost to you.