It's no secret that cock rings are magical male sex toys that can give you crazy hard erections, right? They are some of my favorite toys for extended pleasure, kinky couple play, huge veiny boners, and massive cumshots that look like they belong in a Peter North movie. But what about a dual-motor vibrating cock ring that's so strong it basically turns your dick into a pulsating orgasm machine for your girlfriend? Well, in my Hot Octopuss Atom Plus Lux review, I've tested out this new interactive C-ring from one of the most famous sex toy companies out there. I'll give you the full scope of what it can do for your solo or coupled sex adventures!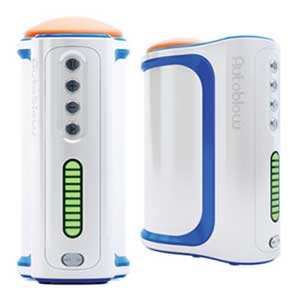 Autoblow A.I.+

Hands free blowjob toy

Heavy duty motor

Powered by artificial intelligence

Interchangeable sleeves

Body-safe materials

Plug it into any electrical outlet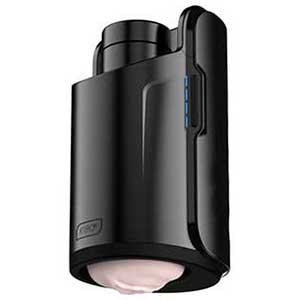 Kiiroo Keon

Automatic stroker

Sliding scale of speed

Elegant and discreet

Real-feel masturbation sleeve

Connects to video chat platform and VR porn

Easy to store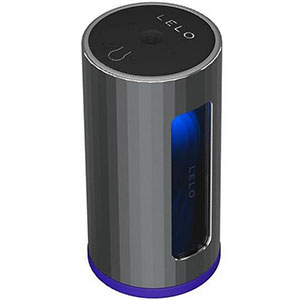 Lelo F1S V2

Hands free blowjob machine

Long-lasting charge

Fully waterproof

Powerful sensations

Realistic artificial skin material

Easy to clean

Promo Code: "HAPPYBF" - 15% Off
And let me explain: this innovative cock ring has milked me dry more times than I can count. "Holy shit, you came like a fucking rocket!!!" were the exact words my GF used to describe the first time I popped this bad boy around my dong. I shot my load across the room while using her booty as target practice! This toy gave me some of the fastest and strongest orgasms of my life. Also, it packs a lot of juice. I was able to use its powerful vibrating motors to make my bae gush as I pushed my cock deeper and deeper inside her.
But what makes the Hot Octopuss Atom Plus Lux different from other C-rings on the market? Is this the best male sex toy for you? Check out my Hot Octopuss Atom Plus Lux review to learn more!
Hot Octopuss Atom Plus Lux: Lord of the of Cock Rings?
For starters, if you're already familiar with Hot Octopuss, you know that their creations are some of the finest in the sex toy market right now. This company is famous for making the world's first-ever Guybrator. Moreover, Hot Octopuss has also created the amazing Pulse Solo Interactive that I've recently had the pleasure to review. And if you don't have the slightest idea of what I'm talking about, Hot Octopuss was established in 2011 in the UK. Its unique approach to sex toy design has quickly made it stand out amongst competitors. The company focuses most on male and female masturbation, orgasm enhancement, and couple play.
Honestly, it seems that their designers know exactly what makes us all tick. Their toys are engineered to push our sweet, sweet orgasms to the next level! Before I go deeper into my Hot Octopuss Atom Plus Lux review, Hot Octopuss' use of science and technology to maximize the capabilities of your orgasm is something that could certainly catch your monkey's attention.
Seriously, this company has gone to great lengths to examine the science of stimulation. It has created ergonomic toys with premium materials and unique oscillating vibration functions to make you have the most legendary orgasm every time. And the Atom Plus Lux cock ring is the perfect example of that!
Click Here To Check The Up To Date Price
The World's First Remote Control C-Ring with Dual Motors
At first glance, the Atom Plus Lux appears to be the most advanced pleasure ring in the Atom series. It's the bigger brother to the single-motor Atom and the dual-motor Atom Plus. What makes the Atom Plus Lux different from the other models is its versatile remote control. It allows you to switch through the settings without ever even touching the ring. Meaning, if you want to get your balls milked without using your hands, this C-ring could be the perfect toy for you!
Obviously, remote-controlled vibrating cock rings have been around for a while now. Yet, Hot Octopuss claims that the Atom Plus Lux is the world's first remote control pleasure ring with dual motors. It has a larger shape than most standard pleasure rings. Plus, it has two large contact areas. They produce some of the most powerful vibrations you'll ever get out of a cock ring. When used solo, it will give you deep perineum stimulation. Plus, you'll get powerful vibrations all over your shaft. Even better, check out its curved design and raised clit nub. It will also stimulate your partner to take penetrative sex to a whole new level!
First Look
Now, it's all a big blur, but I seem to recall my GF screaming out the words: "Harder, Daddy, fuck me until I squirt like your dirty little cumslut!" when we used this thing together. It should definitely give you some idea of how much fun during my Hot Octopuss Atom Plus Lux review. But when it comes to my first impression, I couldn't wait to get this unique pleasure ring out of its elegantly designed packaging.
What you'll notice straight away is that the Atom Plus Lux is bigger and beefier than other C-rings on the market. When I took it out, its big and black shape looked mysterious. It looked super serious and encouraged me to do some damage! The curvy shape alone made me smile. It opened up all kinds of kinky ideas in my mind. What's more, you'll also find a few other things inside the shiny metallic packaging. That includes a soft carrying pouch, a charging cable, and the instruction manual.
Key Features
Here's what you'll get with the Atom Plus Lux remote controlled cock ring:
Two powerful motors
5 intensity levels
5 vibration patterns
100% waterproof
Body-safe materials
USB rechargeable
Design and Shape
Before I get to the juicy parts of my Hot Octopuss Atom Plus Lux review, I want to tell you a bit about the innovative design of this thing. The Atom Plus Lux is 4.7 inches long and 2.3 inches wide. Also, it has a depth of 1.1 inches. These measurements are much larger compared to standard cock rings. Yet, that's exactly what makes the Atom Plus Lux special. IMO, you'll be hard pressed to find a cock ring from another brand with a similar design.
Additionally, the extra-long, dual-sided, and curved shape fits neatly around my johnson. Even though the design looks a bit rigid, the opening is stretchy enough to accommodate most sizes. It's supposed to stretch enough to cover your cock and balls. The goal is to, of course, enhance your erection and make your cock look juiced up. I found that the thicker material truly works wonders here. It feels comfy while emphasizing any tiny vein or curve along my cock. Oh, and it lets out that "bring it on" look on my babe's face.
Material
Regarding the material, the Atom Plus Lux uses premium silicone. This is pretty much the best and safest choice for male sex toys. It feels soft, smooth, and stretchy. Plus, it doesn't pinch my skin too hard or make my dick turn blue like some other C-rings. Moreover, the shiny silver borders of the ring are made of body-safe ABS plastic.
One negative to mention here is that the added thickness of the ring means that your partner will have 1.1 inches less of you inside them. It's not a major deal-breaker for me. Also, it didn't bother my GF. Still, if you or your partner are concerned with the size reduction, it could be a show-stopper for you.
Click Here To Check The Up To Date Price
Dual Motors
The dual integrated motors are built into each end of the ring. I think they do exactly what most fans of vibrating toys are looking for. The motor at the top will deliver intense and rumbly pulsations to your shaft. Also, the one at the bottom has a raised nub. It will target your perineum with fizzy and energetic vibrations. I had fun with both vibration types during my Hot Octopuss Atom Plus Lux review. The ergonomic shape and the material of the Atom Plus Lux delivered the vibes just right.
What's more, I think this is one of the best couples toys due to the angled vibrator at the top. The larger contact area cups my bae's clit just right. Then, I can play around with the settings to give her extremely intense orgasms while making her feel full of cock! That's more than enough to make her lose her mind! A fun tip here: if your GF needs more direct stimulation, just wear the ring upside down. You can use the small raised perineum stimulator to hit her clit just like a bullet vibrator would.
Related
Vibration
Another thing that impressed me during this Hot Octopuss Atom Plus Lux review was the noise level. The vibrator is not dead quiet. However, it's not nearly as noticeable as some of my baby's full-sized vibrators. I also loved cycling through all 5 different vibration modes and speeds to switch up the fun.
Now, on to the fucking. The highest settings can feel a bit too overwhelming. You should try to take it easy to get used to the sensations when you first use this toy. Honestly, I love strong vibrations on my dong. Still, some people could feel that they are a bit too much. You'll need to pay attention to the extra strength during couple play. The vibrations could cause your partner's clit to go numb. It would be a better idea to let your GF use the remote to change the settings based on her preferences.
Granted, if you're going to use this ring with your partner, she'll feel the strongest vibrations during deep penetration. Even if I pull back a bit, the vibrations are strong enough to transfer through my cock and inside her, which is honestly mind-blowing. She's gotten through two or three orgasms in a row with this thing set on the highest speed. However, just note that you'll need to be careful with the vibration strength.
Also, remember what I said about flipping it around? While your partner will get some extra precise clit vibrations that way, my GF loves it when the other end massages her butt. I usually flip it around when she gets to her second or third orgasm. That's when the added anal rumbles really make her scream.
Remote
The Atom Plus Lux is essentially the same toy as the standard Atom Plus, but with an included remote controller. You can still use the buttons on the silver ABS borders to change the settings just like on the Atom Plus, but I've had the most fun using the remote. The remote is compact and it features four different buttons.
What I liked here is that you can keep your finger on the "+" button to activate the "turbo" mode. This gradually ramps up the speed and intensity. I loved this setting the most for hands-free milking orgasms. It certainly added a lot of kink to everything when my GF tied me up and forced me to cum using just the remote! The range is also quite impressive and my GF was able to use the remote on me from a few feet away.
What I Loved
The Atom Plus Lux is the most uniquely-shaped cock ring I've ever used!
The extra strong vibrations for solo or coupled play will give you some unforgettable orgasms.
The battery lasts 45 minutes on a single charge. This is more than enough since you should use a C-ring for more than 30 minutes.
It's not deadly silent, but it's still very stealthy and your neighbors won't be able to hear you.
What I Didn't Enjoy
The width will take off 1.1 inches from the total length of your dick during penetration.
The vibrations can be too strong for some people, but this will depend on your preferences.
It feels best if you want to wrap it over your cock and balls, but the extra size might feel a little clumsy if you only want to wear it around your shaft.
Final Thoughts in My Hot Octopuss Atom Plus Lux Review
To finish off my Hot Octopuss Atom Plus Lux review, I'd recommend this toy to anyone who wants a remote-controlled C-ring with a wide range of strong vibrations and a highly classy look. The dual-motor action is incredibly unique and versatile. There's just so much you can do with this thing to bring you and your partner pleasure! So give your cock and your GF's pussy a big treat right now and get your Atom Plus Lux cock ring today!
Click Here To Check The Up To Date Price
Product Specs:
| | |
| --- | --- |
| 🏷️ Name: | ⭕ Hot Octopuss Atom Plus Lux |
| 📁 Type: | ⭕ Cock Rings |
| ⚙️ Features: | ⭕ Intense Perineum Stimulation |
| 🛠️ Materials: | ⭕ Silicone |
| 📅 Last updated: | ⭕ September 16, 2023 |
Disclaimer
Our articles feature affiliate links. If you appreciate our content and would like to show your support, you can consider buying your new sex toys using the links we provide. Every purchase made through our links helps us earn a small commission, without any additional cost to you.