Good news, everyone! My Debauched City of sex dolls recently got another resident. Yup, I've finally taken the plunge and got myself a sweet little muscular lady Raven. After thorough testing (that included deep research and multiple sessions), I've finally gotten enough information to write my Raven Sex Doll review for you guys. I've been waiting for a long while to have a gym bunny in my collection. Now that the time has finally come, I'm beyond excited to share my thoughts and impressions with you. And you know me; I have a lot of them! So buckle up, boys, and let's start this Raven Sex Doll review!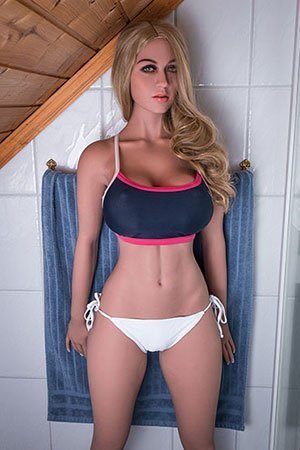 Blake - Athletic

Realistic weight makes realistic play

Great value for price

Super athletic, blonde and sexy

Customizable vagina

Feels incredibly sexy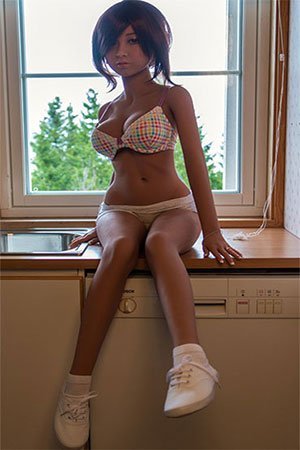 Lana - Japanese

Petite in size, but very curvy

Customizable facial features

50lbs means easier to carry

Very realistic skin

High quality materials and production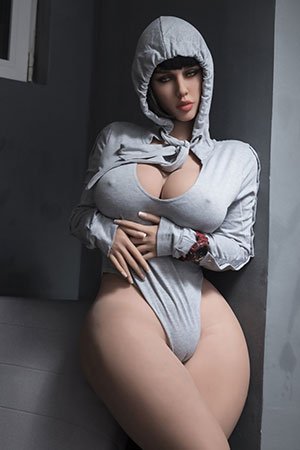 Jasmine - Porn Star

Thick and curvy

107lbs allows for realistic sex

Lots of customizable options

She's very flexible and loves to bend

Nice, tight fit
Raven Is a Sexy Haven
If you're still wondering what this Raven Sex Doll review is about, you need to pay more attention. Seriously, man.
Anyway, Raven is a gorgeous sex doll from the famous Silicon Wives company. They are titans of the sex doll market, and all their girls are life-like, affordable, and stunning.
However, Raven is special. This muscular TPE gym head is looking for her perfect dad-bod-having, commitment-seeking guy who's willing to dick her down good and dedicate himself to her. If that's you, you're in for a real treat. If it isn't, then don't worry; you can always give Raven a different backstory.
Raven is a fitness freak, which is clearly visible in her physique. She has a six-pack that will make your mouth water and C-cup breasts that jiggle heavenly when you move her around (or thrust into her). What's more, she also has three orifices that are ready and willing to service your pocket rocket until you're completely milked and spent.
First Look: Raven Sex Doll Review
If you've ever dreamed of having the fittest girl in your gym squatting in your cucumber patch, then Raven is the girl for you. This New Jersey native is the best fitness coach you could ever have. Her passions include training men both in the gym and outside of it.
And, look, if fitness isn't really your thing, don't worry. Raven will be more than happy to show you the ropes of other forms of physical activity. She'll readily spread her toned legs for you and reveal her delicious pussy so you can stuff your beaver basher inside. Not to mention, her ass is beyond this world! It's so juicy and bouncy!
But, before I get lost in describing just how fucking awesome Raven is, let's move on with our Raven Sex Doll review and see what she has to offer.
Give It to Me, Baby! The Full Specs
I know that I've had your interest from the very start, but now that I have your attention as well, let's check out what Raven really has to offer and whether she's worth the money.
Click Here To Check The Up To Date Price
The Material
Like most Silicone Wives girls, such as Auburn and Jasmine, Raven is a TPE doll. The company puts a lot of thought and research into developing their own high-quality TPE, which means all their dolls are top-notch.
Of course, that's not all. SW really goes hard on the realism. Each doll, including Raven, looks and feels like a real woman. The TPE is soft and supple, which makes it feel like real skin. The details on every doll are amazing and done with such craftsmanship that you simply have to admire them.
If you're like me, you'll admire them after jizzing all over your doll, but still!
Although everyone is aware of my undying love of silicone, I actually adore TPE sex dolls. TPE has plenty of advantages, even though it's not as durable as silicone. It:
Has more flexibility and give to it
Feels like real skin and not an artificial material
Allows for more bounce (of the tits and ass, of course)
Retains heat much better than other materials, which comes in handy when you're pretending to thrust into a real person
Of course, before you accuse me of being a complete traitor of my own principles, I will say that TPE can't be sterilized (like silicone can). But, oh well, it's worth it in the end.
The Best Bod in the Squad
Raven is a beautiful girl. She's 5'5 and weighs 73 pounds. However, that's 73 pounds of pure muscle, as you can see in the pics. Everything is not only thick but also defined. The muscle definition might not seem important, but you can feel it under your hand. That's a great treat for men who like fit girls.
With her C-cup, 32-inch bust and a tiny, 20-inch waist, Raven is the perfect girl to fuck from all sides. Her 33-inch hips are the perfect resting place for your hands, and they'll sway deliciously when you take her doggy-style.
Of course, if you prefer your fit girls with DDs, you can order your Raven with more milk in her jugs. Pretty much everything is customizable except for the standard waist and hips proportions.
That Face Is Pure Grace
Aside from being a total hottie, Raven also has a gorgeous face. She has signature raven hair that compliments her face and a nice tan that makes her look as if she's been soaking up the sun for days.
If you're not into brunettes, you can order your Raven with auburn or blonde hair. However, I prefer her in her original state because dark beauties are my biggest weakness ever.
Although she's a fitness freak, she's also a girly girl, which means her face is flawless. Her lips have a bit of a gloss on them which means they sparkle and invite you to stuff them full of your cum gun. Just imagine your jizz seeping out of those gorgeous lips, dribbling down her chin, and onto her bouncy breasts. Mmm, man, that's not something you want to miss out on.
Related
Her Juicy Holes Are Inviting
Just like all other SW dolls, Raven has three orifices that you can play with. And, as gorgeous as her face and body are, if we're being honest, her holes are the most important parts, aren't they?
This is arguably the naughtiest part of my Raven Sex Doll review because I'm about to tell you how it feels to breach each of Raven's three holes and burrow deep within her.
The most important hole, the vagina, is 6.7 inches deep. It can be built-in or removable. Although the removable vagina makes clean-up easier, if you're like me, and you like to jizz all over your partners, that won't really matter much. I adore making a mess while I do the dirty, so a removable vagina is only somewhat helpful. It also costs extra, just so you know.
Her delicious ass has an orifice of 6.7 inches and is tighter than the vaginal opening. If you're into anal, you'll have a blast with Raven. Just don't be surprised if you nut as soon as you thrust further than the tip. She's that good!
The third and final orifice is the mouth. It's more shallow than the other two (which adds to the realism) and has a depth of 5.1 inches. Her full, luscious lips will part for your skin flute beautifully and wrap around it in an inviting, gorgeous way. If you last more than a minute the first time you fuck Raven's mouth, I'll be surprised!
Flexible, Adaptable, and Customizable
One of the best benefits of most SW girls is that they are customizable. You can change the hair and eye color, the size of the breasts, as well as the type of breasts. Now, this feature is quite important, given how often you'll be handling Raven's jugs. The breasts can be standard, hollow, or gel-filled. I went with the standard option because it's the most realistic.
Aside from that, you can also:
Pick the vagina options as well as pubic hair
Customize the feet (there are two options: standard feet and standing feet)
Order a storage case
Order extras
Anything Extra?
Well, I'm glad you asked. Raven does have quite a bit of extra accessories to offer. You know I love when I get extras in the package. However, for these, you'll have to pay a hefty price. But some of the extras are worth it.
For example, you can order your Raven with built-in heating. If realism is essential to you, then this feature will be worth the money because it makes the doll feel even more realistic. Of course, TPE already retains heat in an excellent way, so the doll will warm up as you use it (or at least the crucial bits will), but the built-in heating will come in handy if you want to imagine a warm body underneath you.
If you're a blowjob man, you'll be happy to hear that your Raven can come with an enhanced mouth that has a tongue and a realistic texture. Aside from that, you can also order a doll with shrugging shoulders. These make repositioning the doll much easier.
Other extras include:
Extra jiggly breasts
A sound system that allows Raven to moan as you bone her
Articulated hand skeleton that will enhance handjobs
And a penis attachment
Click Here To Check The Up To Date Price
Raven Sex Doll Review: Overview
There you have it, my fellow sex doll aficionados. Raven is an excellent doll, both for novices and those of us who have a bit of a collection. But does that mean she's perfect? Of course not!
Let's finish this Raven Sex Doll review strong and do a little overview of all her qualities and flaws.
What I Adored
The muscular look isn't overdone. She looks fit but not over the top.
There's a storage case that makes it easier for you to store Raven after you're done playing. Of course, you have to pay extra for it.
All three orifices are beautiful and tight enough for you to have the time of your life (every time).
Raven is completely customizable.
The heating and sound features are amazing additions and add to the realism.
What I Could Have Done Without
TPE is a great material for realism, but it's not as durable as silicone. You'll see signs of wear and tear sooner than you would with a silicone doll (especially on the feet, knees, and elbows).
She can be hard to shop for. If you like dressing your dolls, finding pants that are a perfect fit for Raven's muscular legs might be a hassle. But you can always opt for a skirt (or nothing at all!).
Click Here To Check The Up To Date Price
Product Specs:
| | |
| --- | --- |
| 🏷️ Name: | ⭕ Raven Sex Doll |
| 📁 Type: | ⭕ Sex Doll |
| ⚙️ Features: | ⭕ Steel Skeleton With Movable Joints |
| 🛠️ Materials: | ⭕ TPE |
| 📅 Last updated: | ⭕ January 2, 2023 |