I love big boobs. There's nothing better than feeling a deliciously huge badonkadonk in my hand. I know that's a weird way to start my Nicole Sex Doll review, but I'm just being honest. Plus, it's kind of pertinent (you'll see why).
To be perfectly honest, all the sex dolls I've tried and tested in the past have had big boobs. From Blake, the Venezuelan hottie, to Tanya, the freckled beauty, they all had pretty big tits. However, Nicole definitely takes the cake with her massive breasts that will have your mouth watering as soon as you see them.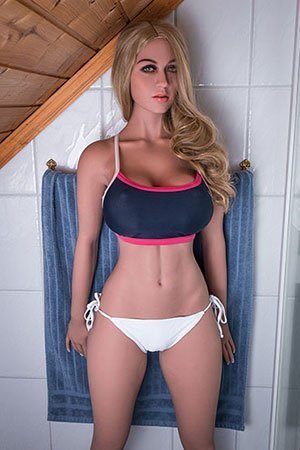 Blake - Athletic

Realistic weight makes realistic play

Great value for price

Super athletic, blonde and sexy

Customizable vagina

Feels incredibly sexy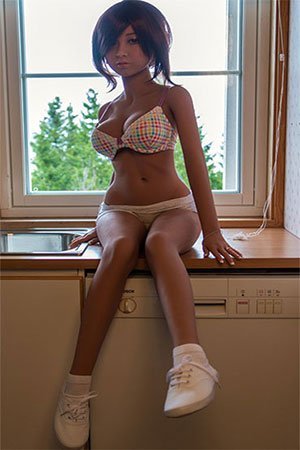 Lana - Japanese

Petite in size, but very curvy

Customizable facial features

50lbs means easier to carry

Very realistic skin

High quality materials and production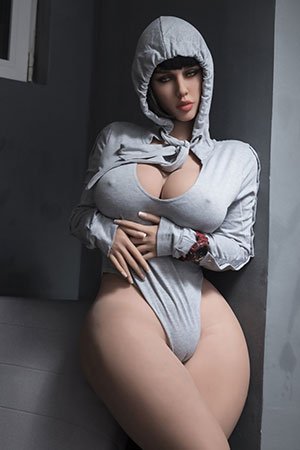 Jasmine - Porn Star

Thick and curvy

107lbs allows for realistic sex

Lots of customizable options

She's very flexible and loves to bend

Nice, tight fit
But are big boobs all that she has to offer? Read my full Nicole Sex Doll review to find out.
The Fan-Service Product of Silicone Wives
Nicole is a busty beauty that's the product of the innovative Silicone Wives company. She's a TPE sex doll with pink hair and H-cup breasts, which is more than enough to make me want to take her for a ride (or a dozen).
Some of you may know I'm a big fan of this company. I've fucked many of their gorgeous girls and was more than pleased (and spent) on the other end. However, that doesn't mean I am completely blind to their faults.
Not that long ago, I did a review of one of Nicole's sisters and mentioned how the customization, although a great feature, doesn't really offer much when it comes to variety. Well, they heard me (and my hoard of horndogs) and did their best to provide what we needed.
Now, there are more customization options than ever before, which means you can somewhat modify your sex dolls to your heart's desire.
Nicole isn't the first SW doll to offer this variety of customization options, but she's definitely a part of that new "fan-service" wave of dolls.
So, let's see what she's packing, shall we?
Click Here To Check The Up To Date Price
The Dirty Dozen (Or So of Details)
So, we already know that Nicole is a big-boobed hottie. But what we don't know is her backstory.
Unfortunately, that seems to be the reality we must accept. Unlike many other SW dolls, Nicole doesn't have a backstory that the company usually provides in order to make the doll seem more life-like.
Of course, this isn't a dealbreaker for most people, given that, if you're anything like me, you give your doll your own story (and maybe even a new name).
Either way, if you think this is a huge downside, here, I'll help – that's what this Nicole sex doll review is for, after all. Nicole is the rebellious girl next door who dyed her hair pink and is on the lookout for a strong, confident man who can introduce her to the world of sex. She's busty and aware of her stunning beauty, and she's looking for a good time. Are you going to be the one to show it to her?
Now that we covered that, let's see what other features Nicole has.
The Velvet-Soft Skin
Like all other Silicone Wives dolls, Nicole is a TPE doll. Silicone Wives is a well-respected company that specializes in sex dolls. That means that not only do they know what they are doing, but they have perfected the manufacturing process.
The end result is that this brand makes exceptional dolls that are made to last and tickle all your naughty bones.
SW TPE dolls are super soft to the touch. Although some people would prefer silicone dolls, TPE dolls actually come with many advantages. Sure, they'll show wear and tear sooner, but they'll also be more realistic.
TPE is a polymer that feels almost like real skin under the hand. It's super soft, which gives the illusion that you're caressing a real person. However, that's not the only advantage. TPE is also more flexible. That allows the doll's skin to have a life-like appearance and features. It bends and has a lot of give, so you won't feel as if you have a piece of rubber in your hand.
TPE also retains body heat better than other materials. That means that your doll will heat up a bit as it absorbs your body heat which also contributes to the real feel.
Ultimately, TPE is what allows your doll to jiggle, wiggle, and bob while you bounce her on your beaver basher. Nicole will be a delight to not only sink your pocket rocket into but also caress, hug, and spoon.
Body-Ody-Ody
Nicole's body is, of course, one of her best features. But this wouldn't be an honest Nicole sex doll review if I didn't give you the dirty details straight away.
She's not a petite girl, let me tell you that. Although it might seem like she's tiny, since she's only 5 foot 2, she weighs just under 100 pounds. That is by no means light.
If you've never owned a sex doll before, you might think that 100 pounds aren't much. But considering that Nicole can't move on her own, it's essentially 100 pounds of dead weight. Remember, you're the one who has to reposition Nicole every time you want to switch positions or test out another one of her holes. So, consider whether her weight is something you can live with.
Of course, Nicole isn't the biggest sex doll out there. She's built like a porn star and has super sexy thick thighs that balance out her gorgeous H-cup breasts. Her tiny 25-inch waist will be the perfect spot for you to grab onto while you ram into her from behind, and her wide 43-inch hips will tempt you as soon as you see them.
It's also important to note that Nicole has a huge ass. Like, her butt is really beautiful. It jiggles almost as much as her breasts.
Thanks to the excellent craftsmanship, Nicole also has a steel skeleton and flexible joints. The joints make it easier for you to move and reposition her, while the skeleton keeps her stable and sturdy. That means that you can thrust into her with no abandon and not worry about pushing her off the bed (or whatever surface you're boinking her on).
Related
The Face That Could Launch a Thousand Ships
Nicole's exceptionally attractive. Her body is amazing, but her face and sexy long hair also contribute to her overall attractiveness.
She has piercing blue eyes and a small, perky nose. Her lips are full and inviting (which is a great thing, considering that they are hiding one of her delicious holes). She's definitely a hot chick and has a smug smile to prove it.
The Penetration Station
The most important feature of this doll are her holes. Let's not beat around the bush here. The holes that we can thrust into and that are tight and constricted are what matters. Sure, it's nice that she's pretty, and her huge boobs are a big plus. But her holes are what you're buying her for.
Click Here To Check The Up To Date Price
Luckily, Nicole has three!
Her vagina hole is 6.7 inches deep, which means it will easily accommodate most men. The anal hole is just as deep but a bit tighter (as it should be). So, if you're more into anal play, you'll have a fantastic time with Nicole.
Finally, her mouth is 5.1 inches deep. Nicole gives amazing blowjobs (this is a personal testimony, I've nutted in her mouth more than once).
Generally speaking, all three of Nicole's holes are ideal for spunk squeezing. The only thing you have to decide is which hole to fill out (and fill) first!
Any Extras?
As I've mentioned at the beginning of my Nicole Sex Doll review, this doll is one of the girls that you can customize extensively. Therefore, if there's something that you don't like, or an extra you'd like to have, you can easily change or add it.
Her pink hair, for example, doesn't have to be pink. You can have a blonde, brunette, or redheaded beauty instead. Her eyes can be a different color, and her makeup can be different. But that's not all.
You can also customize her:
Skin tone, in case you prefer something other than the porcelain skin
Pubic hair, in case you're more of a bush man
Breasts, but only when it comes to structure. The H-cup is something that you can't change, but you can opt for standard boobs or the hollow and gel-filled version
Feet which can be standing (a great option if you're looking for more life-like qualities) or regular
Vagina, where you can opt for the built-in or removable option
Aside from that, you can also opt for several extra options:
A hard storage case that will probably come in handy, as storing sex dolls is no easy feat
An enhanced mouth that has not only a tongue that will stimulate your Sexcalibur but also a texture that's to die for
Shoulders that can shrug
A moaning feature that increases the real-feel
Extra soft TPE that also increases the real feel exponentially because it has more jiggle and bounce to it
An articulated hand skeleton that allows Nicole to give you a hand job
The biggest novelty is that the doll can now have implanted hair instead of a removable wig. This is a step toward a more realistic appearance. It also makes it easier to pull her hair because you don't have to worry about snatching her wig. Of course, you still shouldn't pull too hard unless you want to end up with a doll with bald patches.
The Meh, the Oh-Yes, And the Oh-My-God-Fuck-Yes of my Nicole Sex Doll Review
Let's finish this Nicole Sex Doll review strong and see what her greatest and lousiest features are.
What I Loved:
The big breasts are a huge advantage (if you know what I mean).
Additional features are a great benefit, especially the new hair option.
The extra long pink hair is a nice novelty.
The jiggle of her boobs, ass, and overall body is exceptional.
There's a heating feature, in case you like your sex dolls lukewarm.
What I Could Live Without:
They could have given her a backstory.
The doll is quite heavy. 100 pounds is not that easy to haul around.
TPE is sensitive and will show wear and tear if you don't care for the doll properly.
A Few Parting Words
Thanks for sticking around until the very end of my Nicole Sex Doll review. I hope this pink-haired beauty brings you happiness and mind-blowing orgasms and treats you the way you deserve. Have fun playing!
Click Here To Check The Up To Date Price
Product Specs:
| | |
| --- | --- |
| 🏷️ Name: | ⭕ Nicole Sex Doll |
| 📁 Type: | ⭕ Sex Dolls |
| ⚙️ Features: | ⭕ Steel Skeleton With Movable Joints |
| 🛠️ Materials: | ⭕ TPE |
| 📅 Last updated: | ⭕ November 29, 2023 |
Disclaimer
Our articles feature affiliate links. If you appreciate our content and would like to show your support, you can consider buying your new sex toys using the links we provide. Every purchase made through our links helps us earn a small commission, without any additional cost to you.