As many of you know, I've been on the hunt for the best blowjob machine for years now. There have been a few misses, but mostly, I've had really positive experiences overall. At least, that's what I thought before I got around to doing my Lovehoney Hot Shot review. Spoiler alert: it's probably the best bj simulator I've used so far. So get comfortable and let me blow your mind.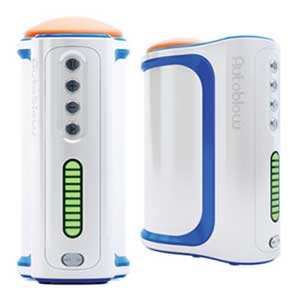 Autoblow A.I.+

Hands free blowjob toy

Heavy duty motor

Powered by artificial intelligence

Interchangeable sleeves

Body-safe materials

Plug it into any electrical outlet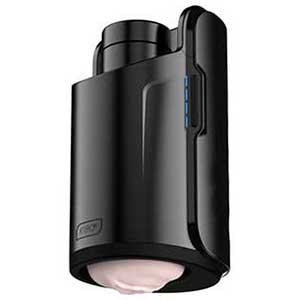 Kiiroo Keon

Automatic stroker

Sliding scale of speed

Elegant and discreet

Real-feel masturbation sleeve

Connects to video chat platform and VR porn

Easy to store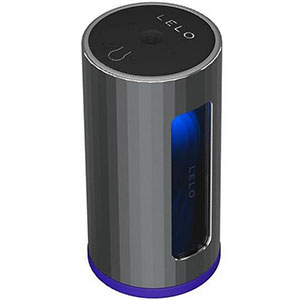 Lelo F1S V2

Hands free blowjob machine

Long-lasting charge

Fully waterproof

Powerful sensations

Realistic artificial skin material

Easy to clean

Promo Code: "HAPPYBF" - 15% Off
What Is the Lovehoney Hot Shot?
Now, the Hot Shot design is… let's call it unique. It doesn't look like your average, cookie-cutter male masturbation toy. Instead, it reminds me of a wireless Bluetooth speaker I used to take with me to every party.
That's why I want to start off my Lovehoney Hot Shot review with an explanation of what the toy is and what exactly it does. Essentially, the Hot Shot is a male masturbation toy that can mimic the sensation of getting a Lewinsky. How, you ask? By sending vibrations and warming your trouser snake, of course.
All jokes aside, the Lovehoney Hot Shot has a pretty unique inner texture that resembles the inside of a mouth. That, coupled with the pulsation patterns and the warm sensation, will send shivers down your spine. I'm not exaggerating when I say that this toy has given me some of my best orgasms.
Click Here To Visit The Official Website
The Hot Shot Features
Albeit an effective toy, the Hot Shot is pretty simple and doesn't have loads of features. The outside of the toy is made from silicone that's splash-proof, so the cleanup is pretty easy. Side note: I don't know why or how you would have jizz on there, but if you do, it'll slide right off. Also, it has these ridges so you can easily hold on to it. It basically fits right inside the palm of your hand and it will never slip. There's also super soft silicone inside the Hot Shot that feels incredible against your tip.
Another cool thing about the Lovehoney Hot Shot is that it's perfect for all of you guys who have a latex allergy. The toy is completely latex-free and phthalate-free. There's also a handy Travel Lock feature that you can activate to make sure the Hot Shot doesn't accidentally go off in your drawer or bag.
The Hot Shot is also rechargeable and comes with a USB. The charging time is around an hour and a half, maybe a couple of minutes more. Now, one thing I want to mention in my Lovehoney Hot Shot review is the difference in battery life. If you use all of the features (including the heating one), the battery will last around an hour flat.
However, if you only go through a couple of the pulsation patterns and don't heat the Hot Shot up, it can go for more than an hour. Of course, it's up to you to decide whether or not you want to warm up the toy. But my suggestion is – go all in, it's sooo worth it.
The Heating Feature
Speaking of warmth, this is the feature that caught my attention when I saw the Hot Shot in the first place. So, the Hot Shot can reach up to 104°F to mimic the temperature of a human mouth.
Now, I had to actually Google this to check, but it turns out that the average oral temperature is around 98.6°F. So when it comes to mimicking someone's mouth, I think Lovehoney pretty much nailed it.
As I suspected, the heating temperature worked like a charm and made the whole experience more realistic for me. I know some guys say that this feature is a gimmick, but I completely disagree. I heated up the Hot Shot every single time I used it, and let me tell you, it still works like a charm.
The Hot Shot Size
Okay, let's talk about the elephant in the room and discuss the Hot Shot's size. I've seen so many negative reviews online saying that the toy is way too small for them and that they couldn't fully fit inside. Well, the thing is… That's kind of the point.
You see, the total insertable length is only 3 inches, which means only your tip can fit inside. The entire Hot Shot was designed to mimic a blowjob so it only focuses on your glans, i.e. the best part of your willy.
It's not a sleeve for your whole dong, like the Tenga Spinner, for example. So it won't rotate around you and stimulate every part of your Schwanz.
With that said, the Hot Shot is still incredible and can get you off like nobody's business. Having used it a couple of times (both soft and hard), this toy made me blow a load every time. It was more than enough to stimulate me and get me to where I was going, start to finish.
But if that's not how you like to get your rocks off, just get the Tenga or the Kiiroo Onyx+. These toys will work your one-eyed monster from base to tip and you'll feel the sensations all over.
Related
What I Got out of the Lovehoney Hot Shot
No, this isn't the part where I tell you how to beat your meat; I think you probably got that figured out by now. Instead, I want to use this part of my Lovehoney Hot Shot review to explain what I did to make the toy work for me.
So the first thing I did, as always, was to grab a bottle of water-based lube and get myself ready. One thing to know here is that Lovehoney won't send you a lube sample, so you have to get your own. But Lovehoney does carry a bunch of different brands, and you can get one off the website.
I put the lube both on my little buddy and inside the Hot Shot so everything would go smoothly. Then, I scoured the blowjob category on Pornhub to find a POV video that I liked, you know, for research purposes. I hit play on my laptop and on my Hot Shot and went to town.
One key thing that I want to mention about the Hot Shot is that you don't actually have to work it or do much with it. The toy does all the work for you so you won't throw out your arm masturbating (been there, done that). As the porn progressed, I started fiddling around with the pulsation and vibration patterns, going back and forth.
From start to finish, it took me about six minutes to get off and blow my load (pretty impressive, I know). Without going into too much detail, all I have to say is that it was an O I won't forget soon.
Bonus Tip for Using the Hot Shot
As you can see from my own experience, the Hot Shot is pretty easy to use. You just lay back, put it on the tip, and wait for it to do its magic. But holding it over your third leg for a period of time can be somewhat exhausting, especially if you're lazy like me.
Fortunately, I've discovered a tip (pun intended) that can make you go hands-free and I wanted to share it in my Lovehoney Hot Shot review. All you need to pull this off is a simple bedspread or duvet cover. Lay down, put the Hot Shot on yourself, and put the sheet or whatever you got over the Hot Shot.
The weight of your duvet will ensure that the Hot Shot stays in place and you don't have to lift a finger. If the sheet is too light to keep the toy in place, just tuck it under yourself or put your arms over it. Bada bing bada boom – you've got yourself a hands-free masturbator!
Who Is Lovehoney?
I wanted to take a quick moment in my Lovehoney Hot Shot review to talk about the company behind the toy. It's actually a UK-based company that now sells sex toys, aids, and accessories worldwide. They've been in the business for over 18 years and you can see their origin story here.
I actually frequent the Lovehoney website probably more often than I'd like to admit. You see, the thing is, they sell so much more than just their own products. In fact, you can buy products from companies like: Fifty Shades of Grey (developed with the book's writer, E.L. James), Desire, Happy Rabbit, Tracey Cox, and Bondage Boutique.
Lovehoney sells a wide variety of different products, from lingerie to male, female, and couples sex toys. You can also buy cleaners, lubricants, and much much more.
Another thing I like about Lovehoney is that they send all of their products in discrete brown boxes. There are no flashy packages with the word VIBRATOR stamped on top of them. That means you can order all the cool or weird stuff you want and your neighbors will never know.
Related
 De-Spunking Your Hot Shot
Since the Hot Shot is closed-ended like a Fleshlight, you do have to be pretty thorough when cleaning it. Otherwise, your baby batter will get stuck in there, and over time, it can cause mold and just a bunch of disgusting things. So to ensure your baby maker doesn't fall off, get every last bit of jizz out of the Hot Shot.
If you don't have any fancy sex toy soaps or cleaners, a bit of mild natural soap and tepid water will do the trick. Pour a couple of soap drops inside the toy, put your fingers inside, and clean it thoroughly. Then, rinse it out with water and dry it with some paper towels.
If you have time, leave the Hot Shot to air dry before picking it up next time. You can also put it in like a pouch or bag to prevent it from collecting dust.
Sex Toy Cleaners
While I'm on the topic of cleaning male sex toys, I do want to put this out there; If you have lots of toys and gizmos, now might be the time to invest in a good cleaner. For obvious reasons, I constantly have a buttload of toys in my house. So over the years, I've decided to dabble in some cleaners to see what works.
Personally, I love the ones that Lovehoney makes and I've always had pretty good results with them. Depending on what you like, you can buy wet wipes, powders, or sprays. I use different combinations for toys, but most often I just go back to the wipes. They're safe for both the toys and your body and require little effort. But you do you.
What's Not to Like?
At this point in my Lovehoney Hot Shot review, you probably knew this was coming – I have to talk about some of the faults. The first thing I have to deduct points for is the noise. When you first turn on the Hot Shot and leave it on the lower vibration levels, it's not that loud. I have toys that are much louder than that and they don't bother me or distract me at all.
However, the problem appeared when I started upping the vibration patterns. Once it gets going, you'll definitely hear it. Now, I do want to say that it's not by any means a deafening noise. But if you live with someone and want to fly under the radar, you're better off staying on the lower vibration levels.
Also, I do want to mention the size thing again. As I said, the Hot Shot has a pretty standard size, considering you're only going to use it on your tip. With that said, if you're particularly girthy, I wouldn't recommend the Hot Shot. Even with a ton of lube, you might not be able to fit inside the toy or it will feel uncomfortable.
If you do have a lot of girth (poor you), I suggest buying something with a bit more to give. For example, you could get the Tenga or the Fun Factory Manta, completely up to you.
My Final Verdict
All things considered, I really liked using the Lovehoney Hot Shot. It's small, discrete, easy to use, and gave me mind-blowing orgasms. I could totally see myself packing this bad boy and taking it with me when I'm traveling somewhere.
I hope my Lovehoney Hot Shot review was helpful and that it answered some questions you might've had. And if not, don't hesitate to get in touch with me. I'm always more than happy to help my readers find their next orgasm (as weird as that sounds).
Click Here To Visit The Official Website
Product Specs:
| | |
| --- | --- |
| 🏷️ Name: | ⭕ Lovehoney Hot Shot |
| 📁 Type: | ⭕ Male Masturbator |
| ⚙️ Features: | ⭕ Heating Feature |
| 🛠️ Materials: | ⭕ Silicone |
| 📅 Last updated: | ⭕ September 16, 2023 |
Disclaimer
Our articles feature affiliate links. If you appreciate our content and would like to show your support, you can consider buying your new sex toys using the links we provide. Every purchase made through our links helps us earn a small commission, without any additional cost to you.