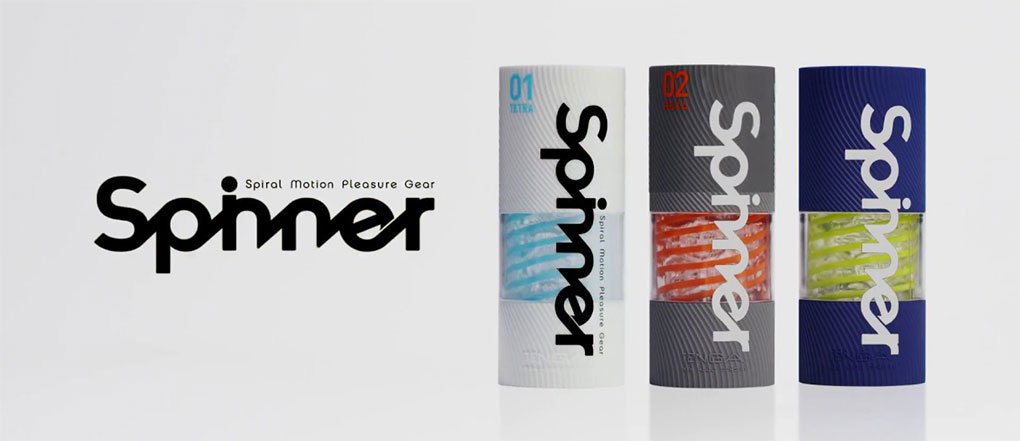 I've been searching high and low for years now, trying to find the absolute best male pleasure toy – and I think the Tenga Spinner might be it. This silky smooth male masturbator has been around for a while, and honestly, I can't believe I'm just getting around to doing a full Tenga Spinner review.
So if you want to learn more about the pleasures that the Tenga Spinner can give you – read on.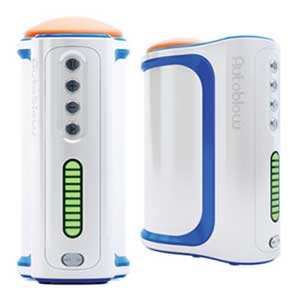 Autoblow A.I.+

Hands free blowjob toy

Heavy duty motor

Powered by artificial intelligence

Interchangeable sleeves

Body-safe materials

Plug it into any electrical outlet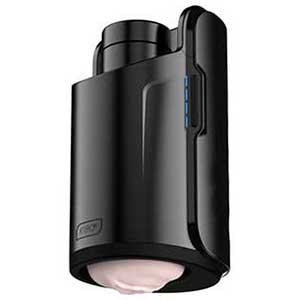 Kiiroo Keon

Automatic stroker

Sliding scale of speed

Elegant and discreet

Real-feel masturbation sleeve

Connects to video chat platform and VR porn

Easy to store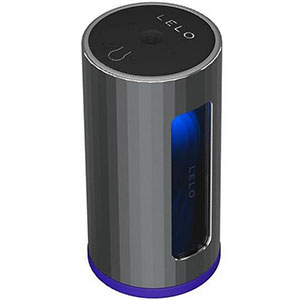 Lelo F1S V2

Hands free blowjob machine

Long-lasting charge

Fully waterproof

Powerful sensations

Realistic artificial skin material

Easy to clean

Promo Code: "HAPPYBF" - 15% Off
What Exactly Is the Tenga Spinner?
The Tenga Spinner is a reusable masturbation sleeve, made out of elastomer, which is a soft, but sturdy, polymer. It has coils inside of it that help it twist when you pull it over your manhood.
You can buy the Spinner in three different versions that all promise to do something a bit different, but more on that later. Every model has a specific shape inside that helps it give an extremely unique and fun sensation.
Essentially, the unique elastomer materials stick to your skin to provide suction. In the meantime, the coils allow the Spinner to wrap around and twist, mimicking the motions of a blowjob.
But like most other men's sex toy in the world, I had to thoroughly lubricate the Spinner. Fortunately, Tenga does send a small packet of its Hole lube with every Spinner purchase. The company does that to ensure we can start playing right away.
The Perks of Using the Spinner
One of my favorite things about the Tenga Spinner is that it's washable, and therefore, reusable. I washed mine after every use with a bit of mild soap and some cold water and it's still as good as new.
But putting that aside for a sec, unlike some other, unnecessarily bulk male masturbators, the Spinner is lightweight and only weighs 0.29 lbs. I was able to hold it using only one hand and its ergonomic design fit perfectly into my palm.
I have yet to try it with a partner, but I imagine it'd be extremely pleasurable and like a super soft and beautiful handjob.
What I Like About the Tenga Spinner
Yes, it's super fun, reusable, and lightweight, but I haven't even gotten to the best part yet – the sound. Allow me to explain.
Since there's no hole at the top of the sleeve, the air can't escape. That's why it makes this distinct sloshing sound when you're going to town on your one-eyed
monster.
Personally, I love that sound because it makes the whole experience feel more realistic to me. It's as if I was getting a mind-blowing blowjob, sound effects and all.
But I get that not everyone's a fan, which is why I thought I should at least put it out there in my review. Again, it's not any louder or quieter than most other masturbation sleeves on the market.
Does the Tenga Spinner Have Any Shortcomings?
Well, there was only one literal shortcoming I had to talk about in my Tenga Spinner review and it has to do with the size of the toy. When completely stretched out, it won't go any more than 6.73 inches in length and 2.15 inches in width.
So if you're particularly well-hung or girthy (lucky you), you might not find the Tenga Spinner that enjoyable. Don't get me wrong; it will still do the job and do it well. But you might not get the same amount of satisfaction as someone who's less well-endowed.
Click Here To Check The Up To Date Price
How It Arrives
I know that discreet and secure packaging is a concern for many of you, as it always is for me. That's why I wanted to dedicate a special part of my review to it and put your minds at ease.
With Tenga, you don't have to worry about anybody knowing your business. That's because the company makes sure to always send the blowjob toy in an inconspicuous package.
Also, when I opened the box up, I found the Spinner in a sturdy plastic casing. I later found out that it doubles as a drying rack, which is really handy. In addition to the plastic box, Tenga took it one step further to show me that the toy is brand-spanking-new. The company put the whole thing in shrink wrap, which I really appreciated.
Once I removed the shrink wrap, I saw that Tenga even put a little plastic strip inside the spinner. That strip ensures that the toy doesn't rub against the packaging. The Spinner even had a tube inside to prevent the sides from touching each other and fusing while they were in the box.
All in all, I have to say I was thoroughly pleased and impressed with how much effort went into the packaging of the Spinner. I really do appreciate that the company took that extra step to protect the toy and show me that no one's ever used it before.
Related
How to Choose the Right Tenga Spinner?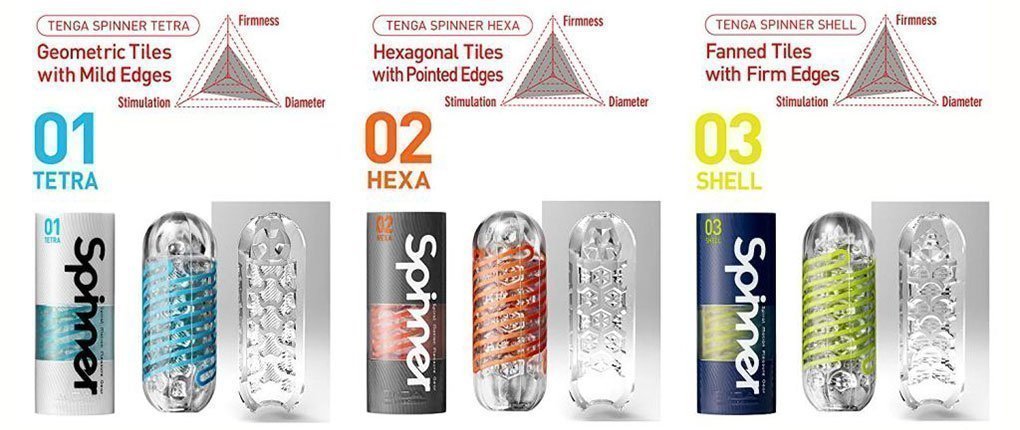 I wanted to dedicate an entire section of my Tenga Spinner review to choosing the right model for yourself. That's because I've seen some bad reviews going around, and I can guarantee that they're all because those guys didn't find the right fit for their willies.
With that said, the Tenga Spinner comes in three varieties: Tetra, Hexa, and Shell.
The Tetra
Now, the Tetra is the blue Spinner with geometric tiles and mild edges. The firmness and stimulation levels on this model are only at a 3. That means that the Tetra is the softest sleeve in the line.
I think that the Tetra is perfect for guys who are more sensitive. Also, I'd recommend it if you usually don't need much stimulation to get going or to finish. You can even use the Tetra when you're completely boner-free, but are bored and want something to do.
The Hexa
Then, we have the Hexa, the red one, which features hexagonal tiles and firm edges. It has a bigger diameter and its firmness and stimulation levels are at a 4. The Hexa is smack-dab in the middle of the range and I'd recommend it to guys who've already tried masturbation sleeves before and know what they're about.
Also, I think the Hexa is great for couples who want to enjoy the Spinner together. Since it's a bit firmer, men who want more stimulation and grip will get a real kick out of using it.
The Shell
Last, but not least, there's the Shell, which has fanned tiles and firm edges, and its coils are lime green. It's also the firmest in the line, with a 4.5 rating, but just as stimulating as the Hexa.
I think that the Shell would be a great choice if you want something to get you started and get you off. The suction is a bit more intense than any other model and it will get you in the mood like it's nobody's business.
Click Here To Check The Up To Date Price
What Else Does Tenga Make?
Now, I won't drone on too long in this review about the company's other products, because I have a full article on that already. But I wanted to take this opportunity to mention some of Tenga's latest models that I think are definitely worth a try.
Tenga

Geo
I had to mention the Tenga Geo because these toys have such a unique design and something I've never seen before. The toys are like pussy pockets, but with a twist. When they're inside out, the Geo ball looks like something you'd proudly put on a shelf to display.
But as soon as you flip them over, lube them up, and put your John Thomas inside, you'll feel a sensation like no other. Tenga claims that the innovative ridges inside the Geo will turn you on and get you off.
Tenga

SVR
I also wanted to mention the SVR, which is a vibrator attached to a silicone ring. It's a great little toy for guys who are just getting into the world of male sex toys. You can attach the SVR to the base of your love muscle for some extra intensity during sex. On the other hand, you could just use it as a standard vibrator during solo play.
Tenga

Iroha
Tenga recently came out with an entire series called Iroha, which features all sorts of different sex toys for women. It's essentially a luxury line of battery-powered massagers. They are extremely easy to use and will provide hours of fun and pleasure. If you have a partner and want to get her something for a special occasion, I say, go for the Iroha.
Tenga

VI-BO
If you want to engage in some couple play, I recommend the VI-BO line, or more specifically the Ring Orb. It's essentially a couples' vibrator that someone can put on your trouser snake to stimulate you more during sex. It's waterproof, so you can also use it for some underwater fun.
How Does the Tenga Spinner Work?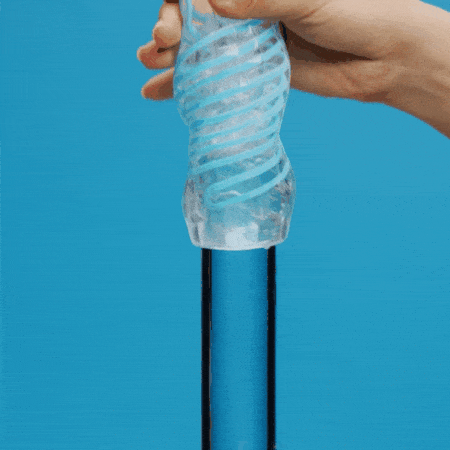 Yeah, I know that masturbation sleeve sounds pretty self-explanatory and doesn't need much introduction. But there are some things that can help enhance your experience with the Spinner. So in this part, I wanted to share some tips that I picked up while using it that I think can help you out.
First things first, you have to use a lube and lots of it. Don't send your little buddy inside on its own. For starters, you won't enjoy yourself nearly as much as you would've if you had used it.
Another thing that'll happen is the suction will be a bit too powerful when you need to pull out. It's just not a pleasant experience all-around, so use lube, and be generous with it.
Also, as a side-note, I recommend using water-based lubes, since those seem to give the best results. The silicone ones are a bit too slippery for the Spinner and won't provide enough suction to get you off. Instead, you'll just be flopping all over the place, and that's just not a nice sensation.
Spinner Techniques
Before you start using the Spinner, you should be aware of the fact that holding the toy in different places gives different results. For example, holding the Spinner at the tip will rotate the bottom of the toy and stimulate your shaft. I usually started out that way every time because it's like nice foreplay.
Then, after a while, when I wanted something more intense to get me off, I grabbed the Spinner by its bottom part. That made the tip of it start spinning, and boy, oh boy, the results were always mind blowing, to say the least.
Of course, I know that everyone has different preferences, needs, and likes, so I recommend finding the rhythm that works for you. Take it slow, get used to the Spinner, and see where it takes you.
Related
How to Clean the Tenga Spinner
Now, I don't want to give you a big speech on why it's important to clean sex toys. For obvious reasons, like bacteria and the ick factor, you want to make sure your toys are always clean and safe. Also, and this goes without saying, clean your sleeve as soon as you're done using it. Yes, I know you can't be bothered sometimes, but trust me, it's for the best.
With that said, I did want to dedicate a special part of my review to cleaning this specific product. That way, you'll never have any doubts or accidentally ruin a perfectly amazing masturbation sleeve.
So start by inverting the insertion point of the Spinner (or the hole part) all the way to the coil. Then, squirt some mild or neutral soap inside and clean it with your fingers. Once you're happy with the suds, start running some cold or tepid water over the opening.
When you're sure there's no more soap inside, take the drying rack that came with the Spinner and put the toy, hole down, in the rack. Leave it to dry for a couple of hours before using it again.
So Is the Tenga Spinner Worth the Hype?
After taking the Tenga Spinner for a few rides, I can say that it is absolutely worth the hype. The cool and innovative design is something you won't find anywhere else and the pleasure you'll get from the suction is beyond this world.
But please, oh please, don't take my word for it! Now that my Tenga Spinner review is over, I urge you all to go and find the best model for you! Trust me, after spending just a minute alone with the toy, you'll know exactly what I'm talking about (you can thank me later).
Click Here To Check The Up To Date Price
Product Specs:
| | |
| --- | --- |
| 🏷️ Name: | ⭕ Tenga Spinner |
| 📁 Type: | ⭕ Male Masturbator |
| ⚙️ Features: | ⭕ Unique Geometric Texture |
| 🛠️ Materials: | ⭕ TPE |
| 📅 Last updated: | ⭕ November 29, 2023 |
Disclaimer
Our articles feature affiliate links. If you appreciate our content and would like to show your support, you can consider buying your new sex toys using the links we provide. Every purchase made through our links helps us earn a small commission, without any additional cost to you.