Just like penises, vibrators for men come in all shapes and sizes. But finding the right one that suits all your needs can be challenging, especially if you're new to the world of men's sex toys. That's why in this Satisfyer Men Vibration review, you'll get to read about all the pros and cons of this hot sex toy so you can decide whether it's something you'd like to try.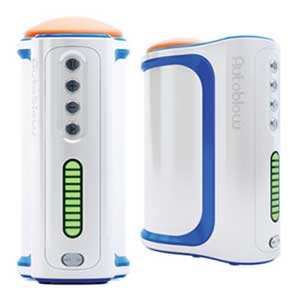 Autoblow A.I.+

Hands free blowjob toy

Heavy duty motor

Powered by artificial intelligence

Interchangeable sleeves

Body-safe materials

Plug it into any electrical outlet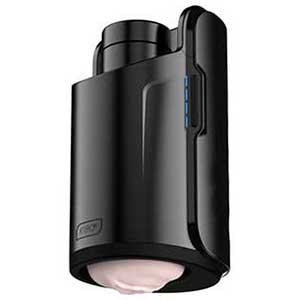 Kiiroo Keon

Automatic stroker

Sliding scale of speed

Elegant and discreet

Real-feel masturbation sleeve

Connects to video chat platform and VR porn

Easy to store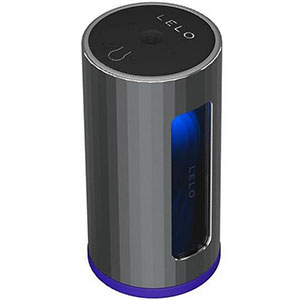 Lelo F1S V2

Hands free blowjob machine

Long-lasting charge

Fully waterproof

Powerful sensations

Realistic artificial skin material

Easy to clean

Promo Code: "HAPPYBF" - 15% Off
Spoiler alert: I think you're really going to like what I have to say about it!
What's So Great About The Satisfyer Men Vibration?
To start off my Satisfyer Men Vibration review, here are some of the things I love about this sex toy:
The sleek and classy design
Made of skin-friendly material
The toy is incredibly easy to operate
It feels like a high-quality product
Now, let's get into why you should consider purchasing one of these bad boys for yourself.
Click Here To Visit The Official Website
Satisfyer Men Vibration Review: A Closer Look at the Features
The first thing I'd like to point out, even before unboxing the Satisfyer, is the discreet packaging. Let's face it, most men prefer not to showcase their sex products to the world, so this is a pleasant surprise.
On the front of the box is a picture of the product, which looks kind of like an electric razor. That's great if you want to avoid getting dirty looks from strangers when purchasing your toy.
Although, I must admit I kinda miss having a half-naked pornstar featured on the packaging! But on the bright side, as soon as I tried out the Satisfyer, I forgot all about the box, and started focusing on the task at hand (pun intended).
Designed to Impress
When you open the box, you'll see a magnetic USB charger, a multilingual instruction guide, and of course, the Satisfyer Men Vibration. Within the guide, you get comprehensive illustrations that will explain everything you need to know about the Satisfyer, including how to use the product and the proper way to clean it.
The first thing you'll notice when you get your hands on this toy is the design. Most people will say, "Why should I care about what it looks like from the outside?" but hear me out.
The Satisfyer Men Vibration has a sleek and (dare I say) elegant design, which is a plus in my book. I mean, just because it's a male masturbator, doesn't mean it shouldn't look nice.
That's one of the things I noticed about most Satisfyer products – the manufacturer really went all out when it comes to creating an elegant design. Everything about it looks good, from the simple packaging to the detailed instructions.
Soft Touch
If there's one thing you should check before purchasing any sex toy, it's the material of the product. After all, if you want pleasure, you need something that will feel good on your skin. That's why I can confidently say that the Satisfyer Men Vibration manufacturer chose to use the best possible material: silicone and ABS plastic.
What's so great about silicone is that it quickly adjusts to your body temperature, and it's incredibly skin-friendly. In other words, it molds perfectly to your dong.
Furthermore, some sex toys contain chemicals that are unsafe for your body. These chemicals can cause burning, itching, and rashes, which is honestly something you don't need in your nether regions!
Ultimately, the most common such chemicals are phthalates, used to make plastic more flexible. Luckily, the Satisfyer Men Vibration is phthalate-free!
However, there is one thing I found a bit disappointing – the overall insert depth of the toy. Coming in at only 2.75 inches, the opening may not be accommodating to all penis sizes, which is definitely a bummer.
On the other hand, the machine is meant to stimulate the head of your penis, not the entire thing, so maybe the size won't be an issue for you. I guess it's up to you to decide.
Easy to Operate
The ergonomic design of the Satisfyer Men Vibration makes it easy to hold and operate. Thanks to this, you can fully enjoy all the benefits this sex toy has to offer, without worrying about it slipping off you in the middle of the blowjob.
The toy is equipped with a plus and minus button, and to turn it on, you need to hold the plus button for two seconds.
Next, it's up to you to decide which of the nine patterns and five speeds will bring you the most pleasure. Luckily, the buttons are easy to reach while you're using the Satisfyer, so you can change the speed and pattern whenever you feel like it.
Best of all, you get to dictate the movements with your hand. Who knows your body better than you, right?
Other than that, there is a LED light that tells you the battery status. To recharge, you need to use the magnetic USB cable included in the package and plug it into a USB port. The LED will then flash while it's charging, and remain solid white once it's full.
It takes around two and a half hours to charge the battery once it's empty. When it's fully charged, you get to play with your toy for a solid hour before it runs out of juice. For me, this is a reasonable recharge time, so thumbs up for that!
Highly Durable With a Waterproof Finish
All blowjob machines are messy to use. It just comes with the territory. That's why there's nothing better than a waterproof blowjob machine. It gives you the option of taking it into the shower for a quickie and then rinsing yourself (and the machine) off in one go!
Moreover, if you're a man who likes to take baths, I would highly recommend taking the Satisfyer with you. In fact, if you've never tried it, you definitely should. The machine can stay submerged in water up to 3.28 feet deep for as long as 30 minutes, which gives you plenty of time to play!
One more thing to note is that this machine can feel a bit heavy in your hands. However, that's by no means a bad thing. It's just proof that you're holding a high-quality gadget that's meant to work your junk until you start seeing stars!
Easy to Clean
Let's just admit it – no one likes to clean up their sex toys after they've had their fun with them. But it's got to be done!
Luckily, the Satisfyer is easy to clean in every sense of the word. All you need is some warm water and soap. After you're done with your fap session, just scrub the machine and leave it to dry. However, don't towel-dry it, or else you risk leaving cotton strands all over the silicone opening.
Click Here To Visit The Official Website
Related
Satisfyer Men Vibration Review: How to Use the Toy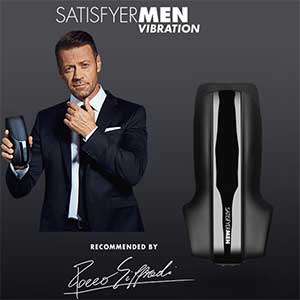 My Satisfyer Men Vibration review wouldn't be complete without an explanation of how to get the best out of this toy.
After all, with sex toys, it's all about how convenience. This one is as simple to use as you would expect from a blowjob machine, which is immediately a plus. After testing it out, here's what you need to know to get the best out of the Satisfyer Men Vibration.
For starters, remember to use plenty of lube! You can opt to place some directly onto your manhood, or slather it on the edges of the silicone opening. Also, add some on the inside of the Satisfyer to get some extra slippery action.
Don't be afraid to use plenty of lube, and don't worry about damaging the apparatus. As I mentioned, it's 100% waterproof and easy to clean up, so you won't have any trouble there.
Once you've applied a liberal amount of lubricant, it's time for the fun part!
The Lazy Man's Blowjob
If you're looking to get "the lazy man's blowjob," all you need to do is insert your penis into the silicone opening. Hold it firmly in place with your palm on the bottom part of the machine, and hold the plus button for 2 seconds. Once it turns on, let the Satisfyer do it's magic!
You'll immediately notice the inside of the machine starts to vibrate on a low setting. In my opinion, even the low setting is pretty intense, so I would recommend trying each one out until you find the right fit.
Luckily, the buttons are easy to reach, so you won't need to remove the Satisfier when changing the settings. I've been unlucky enough to test out some blowjob machines with horribly positioned buttons, so I know how important it is for everything to be within reach!
The Full Blowjob Experience
If you really want the full blowjob experience, you'll need to do some of the work. Luckily, since the Satisfyer will be vibrating, there's no need for fast hand movements. Simply moving your hand up and down at a slow-to-medium pace will suffice.
Another important thing worth mentioning is that you can easily use the machine even when you're not fully hard. To me, that is a definite game-changer!
Using It With a Partner
Everything is more fun with a partner, and using the Satisfyer is no exception! We all know that lockjaw is a real thing, so buying this blowjob machine will not only be good for you, but it will also take the pressure off your significant other!
To get the full experience, have your partner navigate the settings on the machine, so you don't know what intensity you're about to experience. I've tried this, and I can honestly say you'll be in for a mind-blowing experience!
Related
What I Enjoyed the Most
Overall, here are the things I found immensely enjoyable about the Satisfyer Men Vibration blowjob machine:
Silicone material. There's just something about feeling silicone against my skin that immediately gets me going! What's more, adding lube to my penis and the inside of the machine really made a difference.
Ergonomic design. I like to be able to keep a firm grip on the machine without the risk of cramping, and due to the ergonomic design of the Satisfyer, I can do just that. Overall, I like the fact that the machine works smoothly with my body.
Ease of use. After a stressful day, I like to know that I can whip out my trusty Satisfyer, lay back, and relax! As blowjob machines go, this one is incredibly easy to use, and it will get the job done every time.
Waterproof. I'm always in the mood for a morning quickie, so I find it refreshing that I can take my Satisfyer with me when I shower. It's far less messy.
Rechargeable batteries. I don't know if this is just a personal preference, but I'll take rechargeable batteries over disposable ones any day. When I finish using my Satisfyer, I love the fact that I can just plug it in and get ready for round two!
What Could Be Improved
As promised, this Satisfyer Men Vibration review will include a section with my thoughts on what could use some improvement.
The insert depth. I already mentioned this, but I think the insert section could be a bit deeper to accommodate all penis sizes. Again, this could just be a personal preference, but I need to mention it nevertheless.
A bit loud. Depending on your living situation, discretion can be incredibly important. If you're looking for a silent machine, the Satisfyer Men Vibration is not the best option. While the low settings are fine, the higher you go, the louder it gets. Let's just say that anyone on the other side of your door will know what you're up to.
Satisfyer Men Vibration Review: Final Thoughts
It's safe to say that sex toys have come a long way in the last decade. We started with sex toys only for women's pleasure, and now we have plenty of men's toys at our disposal too.
Blowjob machines are supposed to simulate the sensation of oral sex, and this one does a pretty good job! With so many settings to pick from, you can choose to ride the wave at any speed you like. Overall, it's complete with everything you need to feel immense pleasure!
As you can tell from my Satifyer Men Vibration review, I enjoyed every minute of using it! What's more, I plan on keeping it a part of my collection. Ultimately, this blowjob machine is a great option, especially if it's your first toy. It's easy to use, and it gets the job done – what more could you ask for?
Click Here To Visit The Official Website
Product Specs:
| | |
| --- | --- |
| 🏷️ Name: | ⭕ Satisfyer Men Vibration |
| 📁 Type: | ⭕ Blowjob Machine |
| ⚙️ Features: | ⭕ Easy To Operate |
| 🛠️ Materials: | ⭕ Silicone |
| 📅 Last updated: | ⭕ September 16, 2023 |
Disclaimer
Our articles feature affiliate links. If you appreciate our content and would like to show your support, you can consider buying your new sex toys using the links we provide. Every purchase made through our links helps us earn a small commission, without any additional cost to you.