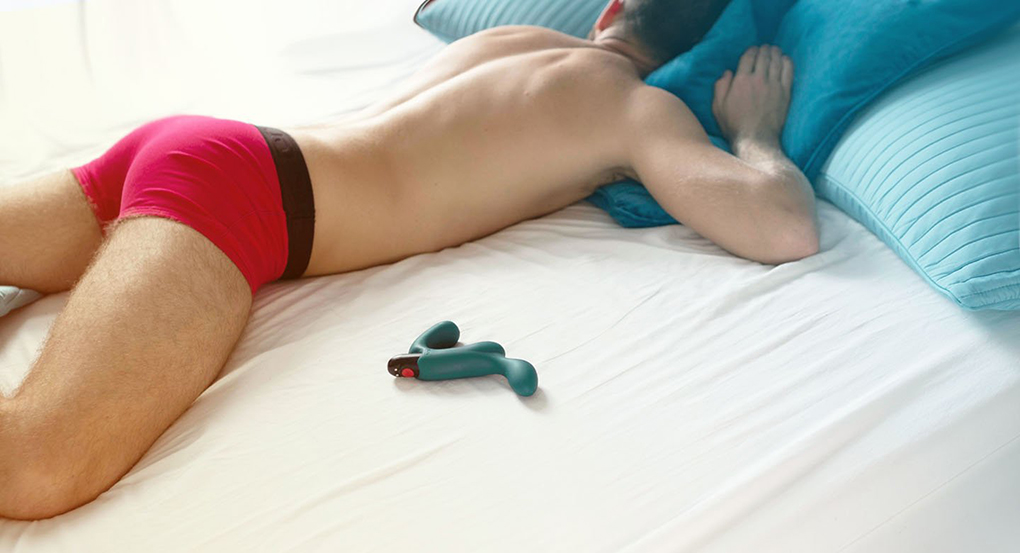 If you're checking out this Fun Factory Duke review, you're probably a big fan of male prostate play, anal stimulation, and all sorts of kinks associated with it. Also, if you're anything like me, you've likely encountered an overwhelming number of advanced toys intended for sweet backdoor orgasms. Right? But why, oh why is it so difficult to find a good toy to please your ass and not pay a fortune?!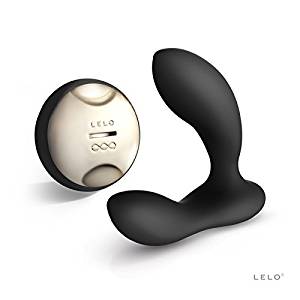 Lelo Hugo

Remote controlled

2 optional vibrators in both base and tip

Stimulation for both perineum and prostate

Medium-size suitable for all levels

100% waterproof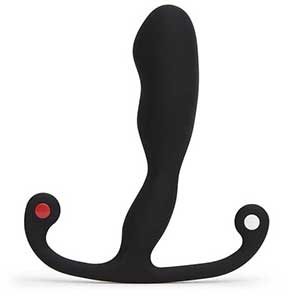 Aneros Helix Syn

Velvet touch silicone for smooth entry

Hands-free play

Good size for beginners

Anatomically designed for optimal pleasure

High quality, FDA-approved materials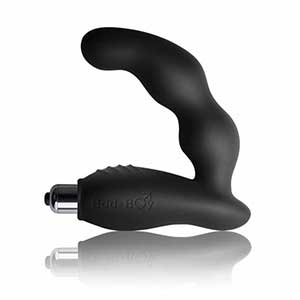 Rocks-Off Big Boy

Perineum and prostate stimulation

Optional bullet vibrator

Flexible, medical-grade silicone

Hands-free

Great size for beginners
I had my sights on the Fun Factory Duke for some time, and recently I finally had a chance to test it. How did it feel when I slipped it inside my boy hole? What are some of the features I was most impressed with?
First Look
The Fun Factory Duke is a silicone prostate massager. It looks somewhat similar to other prostate massagers on the market. However, the biggest surprise was the unusual shape of the insertable end. Namely, the toy has an S shape, which is kind of uncommon for prostate massagers. Additionally, the second end of the toy is a perineum massager. That is a fantastic addition to any prostate play toy. I definitely recommend you to try stimulating this spot if you haven't already!
So, with one end, the Duke will stimulate the deepest nooks of your bumhole, and the other will provide additional stimulation on that sensitive spot between your sphincter and your balls. The Duke milked me dry with this combination of external and eternal pleasure, and it left my body motionless!
What's more, you'll get a powerful bullet vibrator at the base (removable). Not any kind of bullet vibrator, though, but one with five vibration settings. Also, this silicone toy is waterproof and easy to clean. Plus, it uses magnetic charging.
Finally, the way the butt plug is angled makes it a great fit for all sorts of sexual acts. That includes masturbation, foreplay, partnered sex, fetish play, and so on. But…
Click Here To Check The Up To Date Price
How The Heck Do I Get This Thing Up My Ass?!?
Gasp! That was my exact reaction when I unboxed it. To be honest, this thing looks different from other prostate massagers due to the angle of its insertable end. Generally, most P-spot massagers have a long shaft. They have a tip that curves slightly forward to reach your prostate. However, the curve looks to be backwards on the Duke. How does it go inside your ass, then? How exactly does it reach that magical spot?
Actually, while it may seem odd, the design makes total sense when you test it out. The long shaft that curves backwards is actually the part that goes deeper into your rectum. If you look closely, you'll see a little nub at the base of the plug. This is the part that extends upward and directly hits your prostate. Then, the curved part at the bottom of the toy reaches and hugs your perineum when you push the toy all the way in.
According to Fun Factory, they chose this design because the rectum actually curves back toward the tailbone. The back-facing curve then provides super deep penetration. In theory, that will give you longer, fuller, and stronger orgasms!
Basically, you'll get some serious 3-in-1 action with this toy. It's kind of similar to those rabbit vibrators for women that can drive them wild by sending vibrations directly into their clits, pussies, and asses. When I figured that out, things started moving much smoother, although I felt a little intimidated before I stuffed it inside my booty without a warm-up.
A Brief How To
While the special design of the Duke impressed me, I had to study it a bit – during my Fun Factory Duke review. I see this toy as a good fit for beginners and pros, but you'll still need to take it slowly and find the best way to push it inside. So after warming up, I recommend you fiddle around with the Duke a bit and carefully guide the tip inside with your fingers.
The bottom part is actually quite flexible, and I think this is a bit of a nuisance. Namely, it was difficult to keep the Duke inside my ass without clenching my sphincter. That means you won't be able to fully relax your booty and keep the toy inside. It can be a problem, especially if you intend to use the Duke with your partner during sex.
Size and Specs
The widest section of this P-spot massager (at the bulge) measures around 1.5 in (3.7 cm). Even though the Duke looks sort of intimidating, I think it will fit into all types of anuses.
The Duke's total length is 6.5 in (16.7 cm). That includes the 4-inch-long "finger" for the perineum simulator and around 2.5 inches of insertable length. The perineum simulator also acts as a stopper that keeps it from getting stuck inside you.
Overall, I think that both newbies and advanced anal addicts will be able to enjoy the shape of the Duke as well as its size. Yet, it's possible that much of it will depend on your internal anatomy and your P-spot. For me, the nub or the bulge that stimulates the prostate was able to cup it gently and deliver the vibrations in just the right ways. It gave me loads of fun during this Fun Factory Duke review.
Click Here To Check The Up To Date Price
Look and Feel
Like many prostate massagers, the Duke is made of silicone, a common material for male anal toys. But, compared to other massagers on the market like We-Vibe or Rocks Off products, the silicone on the Duke feels incredibly soft. It gives you all that you'd expect from a silicone anal toy but with an added "premium" feel of the soft material. And it comes in two colors — black and deep-sea blue — so it looks neat, even from the aesthetic point of view.
I found that the silicone was bendy and gentle, when testing it out for this Fun Factory Duke review. Also, its matte surface felt squishy and velvety. Of course, if you are looking to get this toy, you should only try it with water-based lube because other variants could destroy its soft and life-like material.
Vibration Settings
In total, the Duke provides you with five vibration settings. That includes three speeds and three patterns. You can control this via a button on the removable bullet vibrator at the base. The toy delivers most of the vibration to the bulge that hits the prostate. You'll also feel it around your sphincter and the perineum. Moreover, the three speeds are constant. But, two of the patterns are just on/off motions that occur at different times. The third pattern was the most interesting for me. It starts out at a slow speed, speeds up, and then slows down gradually, just like a rollercoaster ride!
Generally, the intensity of the vibrations is within the medium range. This is likely due to the soft silicone. However, the Duke delivers just the right amount of vibration for the prostate, especially when paired up with the perineum stimulator. Still, while I enjoyed the third pattern, I think the toy works best when the speed is at a constant vibration.
Unfortunately, one of the drawbacks here is the awkward placement of the vibration and the on/off button. It makes it somewhat difficult to control the vibrations, especially since you have to reach all the way down, press it, and then wait one second until you can change the pattern. From there, it takes one click to change the patterns, but it could have been a bit more intuitive.
Honestly, I think the vibrations will be enough for most guys, but you'll have to spend some time getting used to the patterns before you find the one you like best. As for the controls, well, they're placed that way due to the unique shape of the toy, so I hope Fun Factory could change things up a bit by adding a Bluetooth or wireless option.
Related
Charging
The neat thing about the Duke is that you can recharge it whenever you like instead of being confined to regular replaceable batteries. The toy includes a separate charging cable (USB) and a magnetic charging station found at the base of the removable bullet vibrator. This is quite convenient since the magnets are strong. During my Fun Factory Duke review, I found that I could connect the supplied cable within seconds.
While the charging time is only two hours, the manufacturer says the battery life is around 40 to 90 minutes. When I checked out other Fun Factory Duke reviews, most users claimed that the toy lasted around 45 minutes before the battery was depleted. Some had a problem with that, but in my experience, it was enough to get me off. Honestly, I don't know if I could handle more than 40 minutes of the Duke drilling my ass. But if your prostate is not as sensitive, you might need a toy with a stronger battery.
The Duke In Action
I tested the Duke for a few weeks, and I'm honestly impressed by the way it felt while it was inside me. Sure, I mentioned some issues with the vibration settings and the location of the controls, but overall I think this sex toy for men will make your prostate and your penis incredibly happy. The thing is, its unique shape allows you to use it in so many different sexual scenarios. It would be a shame not to try it out!
It took me a while to push it in during my first try, but when I got the hang of it, it made me spray buckets as it emptied my balls! As I said, the bulge that targets the P-spot was a great fit. But, I really enjoyed the unusual angle of the plug inside my rectum along with the external perineum massager.
The vibrations were strong enough, and I could feel them all over my perineum, testicles, and sphincter. Goodness me! It took me around 30 minutes to reach that magic prostate orgasm. Once I figured out the vibration settings, the patterns weren't too strong or too weak, and the Duke handled my a-hole in all the right ways.
My GF Was Jealous
So what's next? Actually, I had the opportunity to test the Duke out during sex with my partner, and I also asked her to give me a blowjob while the toy was penetrating me. We had an awesome time together, and my GF was totally into it. But, when I came, I could tell that she was a bit jealous of the Duke because she loves to milk my prostate with her fingers. I guess this is a good sign, and that's why the Duke wins extra points from me!
If you want to use this toy for partnered sex, I think you'll have a plethora of options to explore and plenty of fun for the both of you, especially if you're into some kinkier stuff. But remember that it's a bit harder to hold this toy in with only your booty. It fell out of me a few times, and I had to keep reaching for it to push it in again.
Pros
The silicone material is soft and feels great once inserted.
The Duke has a unique shape that delivers deep anal stimulation.
I loved the three different types of stimulation from the anal plug, the prostate massager, and the perineum stimulator.
Cons
There's a learning curve to the way you insert this toy and the way you control the vibrations.
It's a bit hard to keep the toy inside you without holding it.
Battery life could be better.
Final Thoughts For My Fun Factory Duke Review
Overall, I hope my Fun Factory Duke review inspired you to check out this unique toy. While it's not perfect, it has a special design that's unlike any other prostate stimulator I've seen. And I just loved how that shape penetrated the deepest end of my ass while massaging my P-spot and bringing strong vibrations to my perineum. So check it out today and get ready for an explosive ride!
Click Here To Check The Up To Date Price
Product Specs:
| | |
| --- | --- |
| 🏷️ Name: | ⭕ Fun Factory Duke |
| 📁 Type: | ⭕ Prostate Massager |
| ⚙️ Features: | ⭕ 3 Speeds And 3 Patterns |
| 🛠️ Materials: | ⭕ Silicone |
| 📅 Last updated: | ⭕ September 16, 2023 |
Disclaimer
Our articles feature affiliate links. If you appreciate our content and would like to show your support, you can consider buying your new sex toys using the links we provide. Every purchase made through our links helps us earn a small commission, without any additional cost to you.