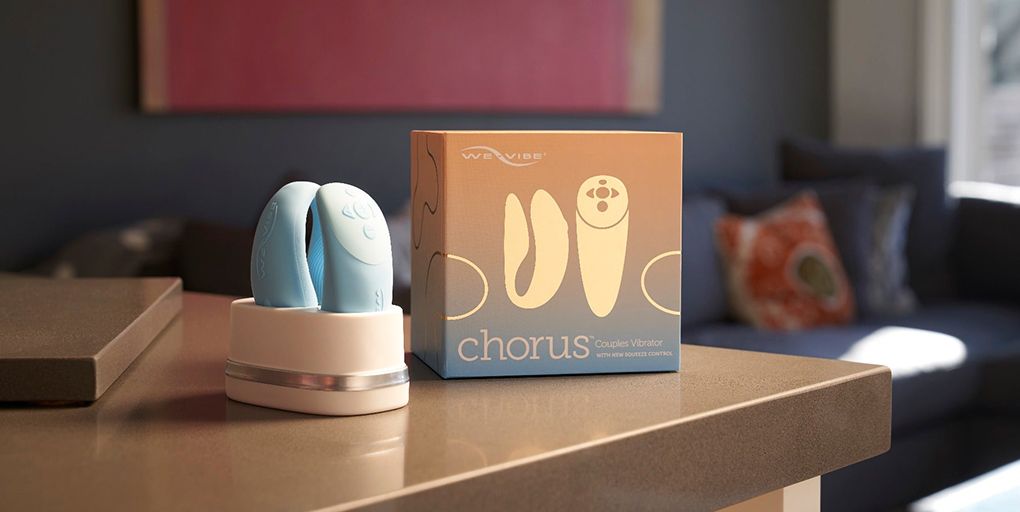 Sex can get boring. There, I said it. I am well aware of the fact that there's an army of people out there appalled by the sheer audacity of such a statement. They keep insisting that something as atrocious as the notion of boring sex is beyond their comprehension. Yeah, well, chances are they have never tried monogamy before. And let me tell you right away – it's not the most inspiring concept when it comes to sex. I mean, that's why you clicked on this We-Vibe Chorus review, right?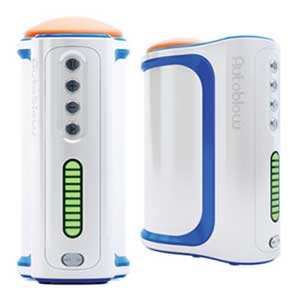 Autoblow A.I.+

Hands free blowjob toy

Heavy duty motor

Powered by artificial intelligence

Interchangeable sleeves

Body-safe materials

Plug it into any electrical outlet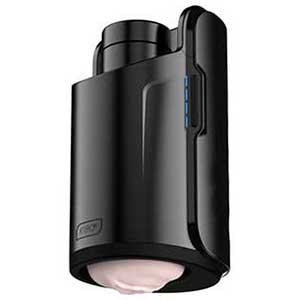 Kiiroo Keon

Automatic stroker

Sliding scale of speed

Elegant and discreet

Real-feel masturbation sleeve

Connects to video chat platform and VR porn

Easy to store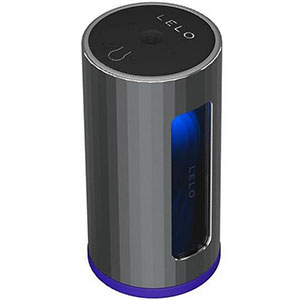 Lelo F1S V2

Hands free blowjob machine

Long-lasting charge

Fully waterproof

Powerful sensations

Realistic artificial skin material

Easy to clean

Promo Code: "HAPPYBF" - 15% Off
There is a body of evidence supporting my claim that. Yes, as opposed to genetic predisposition, monogamy in humans is a social construct that dates back to just a thousand years ago. Simply put, in modern society, we've adopted the notion of monogamy as the idea of having just one sexual partner at a time. That means it's in our nature to have an inclination towards diversity. Sure, diversity in sexual partners might not be your thing. But, after a while, you will most certainly feel the need to amp up your erotic enterprise.
Finally, we are getting to the fun part! Imagine having a threesome, but with your partner exclusively. Okay, but that's impossible, right? Au contraire! There's a whole new world of pleasurable possibilities you can unlock with just a little help from a sex toy for couples! Find out how in my We-Vibe Chorus review!
We-Vibe Chorus – Review
This little fella is a cutting-edge, state-of-the-art vibrator designed to stimulate two pleasure points at the same time. Whether you're fooling around with your partner or taking a little time for yourself, this gizmo is the perfect tool for a perfect culmination of lust.
Chorus has two sides: one to be inserted in a female's vagina with the goal of stimulating her G spot, with the other one pressed against the clitoris. So, when this baby starts vibrating, it sends wave after wave of unprecedented pleasure surging through your whole body.
In addition, you and/or your partner can choose from ten different power modes by simply squeezing the remote control with matching strength. Isn't that wild? Not only that, but you can use a mobile app to up your sexual exploration journey with WARP speed.
Be that as it may, why should you choose this toy among such an abundance of similar products? Well, any We-Vibe Chorus review will let you know, it's not just because of one of the features, but the perfect combination of shape, options, and functionality.
If I had to make a comparison, I would say it's most definitely an SS Enterprise of hi-tech vibrators (as to justify my previous "Star Trek" reference). I'll try to familiarize you with all the perks of giving this little gadget a try in the sack.
Click Here To Check The Up To Date Price
 More Than Meets The Eye
My inner geek believes that this verse from "The Transformers" theme song is a perfect way to describe Chorus' ability to change shape in order to better fit over your desirable spots and erogenous zones with the goal of maximizing your pleasure. It's not just easy adjusting it to your body's unique anatomy. Oh, no! It will also stay in the desired position for as long as you wish.
 Hands-Free
Unlike most vibrators, the phrase "it's all in the wrist" does not apply here. Enjoy your positive vibes without any handiwork.
 Touch Sense Technology
Touch-sensitive receptors will give you the opportunity to choose from three Touch Sense modes for the ultimate pleasure for your partner and yourself alike.
 Silky Smooth
Chorus' surface is very gentle and soft to touch, designed with your comfort and ultimate pleasure in mind.
 Right Kind Of Remote
Having to deal with a complicated remote control while enjoying the moment can really dishearten you and dispel the much-needed impulsiveness. There are no such issues with the Chorus: there are ten different modes of vibration depending on the strength of your squeeze.
 We-Connect™ App
Satisfy your partner's needs from the other side of the world, create unique and personalized vibing patterns, sync the toy with your favorite tunes, turn your special time into a whole new experience – it's all possible with the Chorus! The possibilities are numerous and only limited by your imagination.
 Best Connection For Your "Connection"
AnkorLink™ is a proprietary technology creating the most stable connection between your device and the app. Bluetooth technology and connectivity measured in feet is a thing of the past.
 Eco-Friendly
Unlike most of the other similar sex toys, Chorus doesn't require batteries. It's USB rechargeable, with 90 minutes of active usage. I bet you didn't expect environment awareness in a freakin' We-Vibe Chorus review, huh?
 Squirt-friendly
The We-Vibe Chorus vibrator is fully waterproof, while the remote is splash-proof, so there's no room for worrying if the situation gets… wet.
Click Here To Check The Up To Date Price
Could You Elaborate on These Intriguing New Features?
More than happy to. Let's start with We-Vibe Chorus' unique form.
Chorus is a C-shaped wearable device consisting of two arms of different sizes. The slimmer one is inserted into the vaginal canal for stimulation of the G spot, while the function of the more robust arm is to be adjusted for resting position over the clitoris or in its nearest vicinity (depending on your anatomy).
Both arms are ribbed on the inside to provide a more tactile surface, while the outer surface is smooth, allowing the penis to slide against it easily. That, however, does not limit its practical application among heterosexual partners (or during so-called PIV penetration). It just gives them more options in the bedroom, really.
There are two joints within the device, making it easily adjustable and very versatile. One might say that the vibrator constructed for dual pleasure points stimulation is nothing new on the market. But it's the toy's versatility that sets it apart from other similar products.
The device's bending shaft allows it to conform to your body perfectly while presenting no obstacle to your partner's member. Although it most surely counts as a blessing in most situations that I can think of, having a large penis might be an issue in this case. To be more precise, the girth of your schlong might put your partner and yourself in a tight spot (see what I did there?). My suggestion is to begin slowly and carefully and see how far you can go without making your partner uncomfortable. After all – and all We-Vibe Chorus reviewers will at least agree on this – the main idea behind sex is mutual pleasure, not struggle.
The Wonders Of Tech
Being hands-free means more comfort and one less action to distract you from your and your partner's pleasure. But that's not all. Being able to wear this toy outside the bedroom gives you and your partner an abundance of new possibilities and creative erotic endeavors.
Imagine your partner giving you a pulsating sense in your nether region during your company presentation. Or what about biting your lip while trying not to scream in pleasure in a public park? Just be sure not to use it while your partner is performing heart surgery or something crazy like that – it's all fun and games until someone suffers a severed artery.
While we're on the subject, the technology that gives you the above-mentioned possibilities is the famous AnkorLink™ technology. This proprietary piece of the future of fornication makes Bluetooth connection obsolete and gives you the possibility of establishing a connection from any place on Earth. That is, provided you have a solid internet connection. Complemented with a little remote controller and the We-Connect mobile app, you got yourself a sci-fi joyride to the sky!
When it comes to the remote, I am happy to say that this kind of solution beats every other similar controller out there. Up until now, it was easier to do a fatality in "Mortal Kombat" with one hand while wearing a blindfold than to successfully adjust the strength and the mode of vibration using those old-school vibrator remotes.
It's hard enough to find the clitoris (don't leave me hanging here, guys). Now imagine having to guess the right combination of buttons while trying to surrender yourself to the ecstasy of merging with another human being.
Something For Everyone
Chorus' controls are literally "easy peasy remote squeezy" – you just take it in your hand and squeeze! Depending on the force of your grip, you will alter the vibration modes. Their intensity will vary in accordance with the strength of your fingers.
There are ten modes of vibration: Low, Medium, High, Pulse, Wave, Ultra, Echo, Tide, Surf, and Crest. Just a heads up – having some fun in a bathtub with it is doable. Well, provided you keep the remote out of the water.
Unlike most of the products of a similar kind on the market, Chorus does not require a colony of Energizer bunnies to get you through the month. It has a built-in USB rechargeable battery that can handle a full 90 minutes in Heaven before needing a recharge and is ready for round two after a 120-minutes-charging period.
In addition, thanks to its low-key bash-stash, you don't even have to hide it while charging. That means one less chance of a cringey situation happening while explaining the nature of the device to your friends, co-workers, parents, or, God forbid, children.
Related
How About A Few Ideas on How to Use It?
Not a problem – I have some tips and tricks up my sleeve in this We-Vibe Chorus review.
Even though I mentioned earlier that there are ways for gay, lesbian, and other couples to enjoy the Chorus, it is mainly tailored for heterosexual intercourse. That is why I'll explain the most common usage step by step:
Using the previously mentioned two joints, adjust your We-Vibe Chorus to comfortably fit your body.
Before inserting this handy device, make sure you found the right vibration setting for you and your partner.
Introduce the slimmer arm of the vibrator into the vagina. Just make sure that the other arm does not point to her "exit-only" area but her clitoris instead.
If you opt for a missionary position, the upper side of your penis will be able to slide over the slimmer arm's smooth surface while penetrating into the vagina.
In case you prefer doggy style, it will be the bottom side that comes into contact with the device.
If you have followed all the instructions to the letter, all the important parts should be in place now.
Turn the Chorus on, which, in turn, will turn you and your partner on. Set your sails over the waves of good vibrations from your new best friend – We-Vibe Chorus!
Of course, as I have already mentioned, there are many ways you can use this toy, as other We-Vibe Chorus reviewers have demonstrated. But, every time I come across a new device, I start with "default settings." "Customization" and "personalization" are my two favorite steps forward when I am accustomed to the toy.
The Maintenance Must Be A Bother, Though?
A bother? Quite the contrary. Even though it may come into contact with two different sets of genitals, the cleaning is as easy as with any other similar device.
Make sure you wash the vibrator (but not the remote) thoroughly. Feel free to use shampoo or soap, and give it a good rinse. Then, dry it off, and you're all set.
The procedure is the same for before and after use. So, be sure to repeat the same steps before placing the toy into its spacey-looking box – or your partner's vagina.
Don't be stingy on the lube, though, since it will drastically decrease the pressure on the device itself. Just be sure to use water-based lubes with this baby.
We-Vibe Chorus Review – Final Verdict
If a monogamous relationship is your "final frontier," keeping it fresh in the sheets should certainly be one of your prerogatives. And what better way to do so than to level up with modern technology and its helping hand(s).
Great design, anatomical accuracy, a multitude of functions, ease of use, and lots of opportunities for showing your creative side. Those are just some of the perks of having this state-of-the-art fella as a part of your new sexual exploration.
So, to conclude this We-Vibe Chorus review, we say to you – make haste! Get to your nearest "toy store" and treat yourself with a brand new, cutting-edge, guilt-free bed companion. You'll sing in chorus with your partner as you "boldly go where no couple has gone before."
Click Here To Check The Up To Date Price
Product Specs:
| | |
| --- | --- |
| 🏷️ Name: | ⭕ We-Vibe Chorus |
| 📁 Type: | ⭕ Couples Sex Toy |
| ⚙️ Features: | ⭕ Long-Distance Play Via We-Connect App |
| 🛠️ Materials: | ⭕ Silicone |
| 📅 Last updated: | ⭕ November 29, 2023 |
Disclaimer
Our articles feature affiliate links. If you appreciate our content and would like to show your support, you can consider buying your new sex toys using the links we provide. Every purchase made through our links helps us earn a small commission, without any additional cost to you.