A while back, I wrote a review on one of Blowmotion's bestselling warming masturbators that had the most unfortunate name. Today, I'm back, doing a Blowmotion Blowjob Masturbator review, and tell you, boys, how the new toy compares. As always, I'll give you all the specs, features, pros, and cons so that you know exactly what you're getting. Let's get to it, shall we?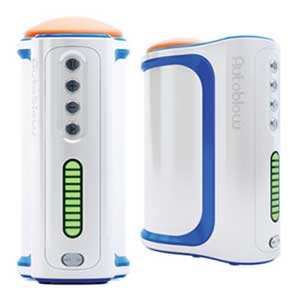 Autoblow A.I.+

Hands free blowjob toy

Heavy duty motor

Powered by artificial intelligence

Interchangeable sleeves

Body-safe materials

Plug it into any electrical outlet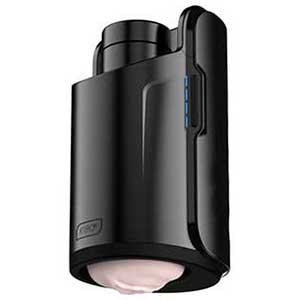 Kiiroo Keon

Automatic stroker

Sliding scale of speed

Elegant and discreet

Real-feel masturbation sleeve

Connects to video chat platform and VR porn

Easy to store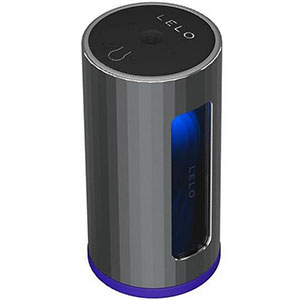 Lelo F1S V2

Hands free blowjob machine

Long-lasting charge

Fully waterproof

Powerful sensations

Realistic artificial skin material

Easy to clean

Promo Code: "HAPPYBF" - 15% Off
What Is the Blowmotion Blowjob Masturbator?
First off, I want to say that I'm sensing a pattern here with how Lovehoney names its male sex toys, and I'm not really digging it. Anyway, now introducing the Blowmotion Blowjob Rechargeable Real-Feel Suction Male Masturbator. Yeah, I know.
Well, as you probably guess from the name, the Blowjob Real-Feel is a male masturbator with a sleek look to it, and it's made by Lovehoney. It's meant to simulate the feeling of a blowjob and deepthroat, and fulfill your fantasies on demand.
To do that, it has a ribbed canal, suction patterns, vibration modes, and so much more. You can use it alone or with a partner, and it can be part of your foreplay or get you off. The choice is completely and totally up to you, and your possibilities with it are almost endless.
What Are the Blowjob Masturbator's Specs?
As promised at the start of my Blowmotion Blowjob Masturbator review, I have to talk about the incredible specs that make up this toy. It's a rechargeable masturbator, with pretty solid battery life. It takes about two hours to charge, and you'll get about 75 minutes of uninterrupted playtime.
Of course, that all depends on how you're using it, and which patterns you're exploring. Overall, it's a pretty solid run time, although I do wish that the charge time was a bit shorter.
But I will say that I really like the fact that Blowmotion put a USB type C charger, which is so much more common these days. So even if you lose the cable, you can easily replace it.
Another key thing to mention is that the Blowjob Masturbator isn't waterproof. So if you were looking to splash around with a toy, I'd go for something else, like the Lelo F1s Developer's Kit or the Arcwave Ion.
The Case
Now, let's talk about the case, which I do really like, even though it kind of looks like a high-tech water bottle.
It's a shiny, black ABS plastic that's pretty durable, with some blue details. The design is quite subtle, and it doesn't really scream masturbator. Also, I do like the fact that it's glossy because that means the lube fingerprints are easier to clean.
But here's my issue with it; I hate the position/look of the buttons. They're all bunched up at the top, and they're all right next to each other. What's more, the four buttons are black, without the blue details, which makes telling them apart super difficult.
I mean, I'm sure that I could see what I was doing if I was jerking off under huge, supermarket-type neon lights. However, since I'm usually in a dark room, telling the difference between the suction and vibration buttons is tricky.
Not to mention, but when I'm doing the deed, I like to be in the moment, and I don't want to be staring at the buttons, trying to figure out what I'm pressing. All in all, I'm just saying that the button design could've been done better to ensure ease of use.
The Sleeve
When it comes to the Blowmotion's sleeve, I've got nothing but great things to say about it. The opening is totally neutral, which I was so stoked about. Since there aren't any overly-graphic, often anatomically incorrect body parts, I'm sure that it'll appeal to a lot of guys.
Another bonus of having a neutral opening is that it's easier to remain discrete. Even if someone accidentally stumbles upon your masturbator, its overall design and the sleeve won't give much away. So if you're in a pinch, you could always say that it's a water bottle/spice grinder/blender or make something up.
The sleeve is also TPR, which makes it really soft and squishy. Inside, it's full of these ridges and ribs that are supposed to simulate a person's mouth. The unique texture allows the masturbator to create much better pressure inside, and basically grip your King Kong monster dong.
Click Here To Check The Up To Date Price
The Blowjob Masturbator's Features

Lovehoney's toy is a little cave with many wonders, all of which I'm going to show you in my Blowmotion Blowjob Masturbator review. There's the automatic suction, a manual one, vibration patterns, and an air release. With so many options, I wanted to take a second and talk about which ones I loved most, and if any of them flopped.
The only feature that I'm not going into too much detail about is the travel lock. It's pretty straightforward, and it'll just ensure that the Masturbator doesn't accidentally go off in your bag or drawer. I do think that it's a good idea to have it, especially considering how subtle the design is.
The Suction Patterns
The suction patterns are why I wanted to do a Blowmotion Blowjob Masturbator review, and they're what drew me to the toy. They're on the right-hand side of the power button, and they look like sperm with arrows on their heads. Just me? Okay.
You can cycle through three different patterns, all of which vary in some way. I can't really describe them all, but you have to take my word for it that they're amazing.
Here's the part where I say, even though the Masturbator gave it its best, it can't really simulate a deepthroat BJ, nothing can. But actually, Blowmotion really surprised me with how lifelike it all felt.
Don't get me wrong, it's still not like the real deal, but it's damn close. The trick is to push your soldier all the way up so that you're basically touching it with your tip. Then, put on a specific suction pattern that you like or even mix them up, and bingo bongo!
The Oopsie
At this point, you might be wondering, Oh, Mark, the suction patterns sound incredible. Surely there's nothing wrong with them? Well, I'm sorry to burst your bubble, but the patterns do have one fatal flaw – the noise.
No matter which pattern you choose, you'll hear a (I want to say obnoxious) buzzing sound. It's pretty loud, and it can be distracting, especially if you can't drown it out with something else.
Then again, if we were to look at things objectively, a good deepthroating session isn't ever quiet, is it? So I guess that there's always some give and take.
The Vibration Settings
On the other hand, the vibration settings are more classic, and something you've probably seen before. But I did want to give them their own moment in my Blowmotion Blowjob Masturbator review because they're still solid.
You can choose between four different vibration settings, and they all differ in their own ways. Again, they're nothing groundbreaking, but they will get you to where you need to go and do it quickly.
But the true appeal of the vibrations is the fact they're almost silent. So unlike the suction patterns, you won't hear a peep out of the Masturbator.
Manual Suction
I do like the fact that the Blowjob Masturbator has a manual suction feature because it allows for a bit of customization. You can use it when you don't want to hear anymore buzzing, or when you're in the mood for a regular stroker.
However, you can also combine the manual suction with any of the vibrations and patterns. It even helps when you want to apply more pressure, and have a tighter grip on your masturbator.
Air Release
The Air Release feature, which is right below the power button is a nifty little thing. If you ever feel like the pressure's too much or it's too tight for you in there, you can just press it. It will automatically release air and free your willy. It's honestly that simple, but I thought that it was worth mentioning because it's really unique.
Related
How to Play With the Blowjob Masturbator
Now, for my favorite part of the Blowmotion Blowjob Masturbator review, and that's telling you how the toy and I got on. I've pressed every single button, squeezed and released the toy, and did it in every position I could think of just for this moment.
First, I naturally started with the vibrations because I needed to see if they could get me to blow my load. Sure enough, that's exactly what they did, but it took some finessing.
After a while, I realized that the vibrations work much better for edging and foreplay. They took the pressure off finishing, and they got me really hot and heavy for the main course, which was the patterns.
Then, I kicked into high gear and started fiddling with the suction, going back and forth between the three. Using the technique I explained earlier (tip to top), I really did feel like someone was sucking me off. Then, once I did the dirty deed, I clicked the Air Release button and finished like a champ.
Of course, before doing any of this, I prepped both my baby maker and the masturbator with water-based lube. I ended up using the Lovehoney lube because I tend to have dozens of bottles of it around my house.
But you can use whatever you want, as long as it's water-based. Just remember to buy some beforehand because the Blowmotion doesn't come with lube.
Click Here To Check The Up To Date Price
De-Spunking Your Masturbator
So here's the thing; the blowjob mastrubator is both easy and difficult to clean. It's like the Schrödinger's cat of male masturbators, which is why I had to dedicate part of my Blowmotion Blowjob Masturbator review to talk about the de-spunking.
The first time you clean it, you might find it trickier, and it could take a while, but it should be smooth sailing from there. The trick is just to untwist both sides of the toy before you get to the scrubbing.
Then, gently start twisting and pulling the sleeve until it's completely out. I know that I'm making it sound like it's really simple, but there is a technique to it.
After you get the sleeve out, you should let some of your spunk drain out into the sink. The next step is to rinse it with lukewarm water and spritz some toy cleaner onto the sleeve. Wash again, and leave it to dry.
I also recommend using some renewing powder/cornstarch on the sleeve every once in a while. That should keep your sleeve soft and supple for a long time, which is great because Blowmotion doesn't sell it separately.
What's Wrong With the Blowjob Masturbator?
Even though I've mentioned a couple of minor issues throughout my Blowmotion Blowjob Masturbator review, I wouldn't say that any of them are deal-breakers. But the noise definitely is.
When you turn on the suction patterns, this male masturbator kicks into high gear. While I certainly appreciate that they're strong enough to get me off, they do make quite a lot of noise.
Since I live alone and review male sex toys for a living, it isn't that big of a problem for me. However, if you're trying to keep your sexy habits on the down-low, it'll be almost impossible to do it with the Blowjob Mastubator.
Also, and this is something I often point out in my reviews, I wish that a bit more thought went into the packaging. All you get is the toy, charging cable, and an instruction manual. I would've loved to see a sample of lube, or maybe even a pouch for storage. But alas, a man can dream.
To Sum Up
Like it or not, my friends, we've come to the end of the Blowmotion Blowjob Masturbator review. I'll say that I'm definitely a fan, even though I think Lovehoney still has to work out a few kinks. If they want their toy to be as discreet as they claim, they need to fix the noise. So overall, I'd give the Blowjob Masturbator an 8/10, and I think that it could be a great toy for both beginners and pros.
Click Here To Check The Up To Date Price
Product Specs:
| | |
| --- | --- |
| 🏷️ Name: | ⭕ Blowmotion Blowjob Masturbator |
| 📁 Type: | ⭕ Blowjob Machine |
| ⚙️ Features: | ⭕ Four Vibration Settings |
| 🛠️ Materials: | ⭕ TPR |
| 📅 Last updated: | ⭕ September 16, 2023 |
Disclaimer
Our articles feature affiliate links. If you appreciate our content and would like to show your support, you can consider buying your new sex toys using the links we provide. Every purchase made through our links helps us earn a small commission, without any additional cost to you.