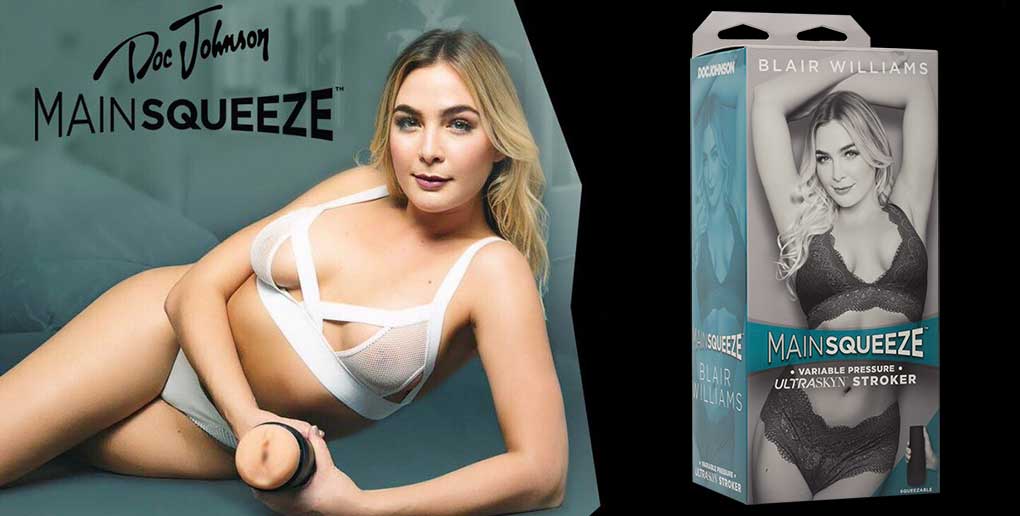 Have you ever wanted to know what it's like to do it with an adult actress? Well, after reading my Main Squeeze Blair Williams review, you'll never have to wonder again. As always, I'll break down everything you ever wanted to know about this pocket pussy, and share how she and I got along. So let's jump right into it.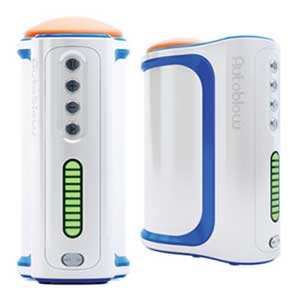 Autoblow A.I.+

Hands free blowjob toy

Heavy duty motor

Powered by artificial intelligence

Interchangeable sleeves

Body-safe materials

Plug it into any electrical outlet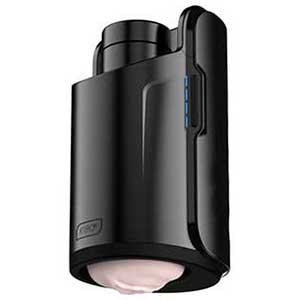 Kiiroo Keon

Automatic stroker

Sliding scale of speed

Elegant and discreet

Real-feel masturbation sleeve

Connects to video chat platform and VR porn

Easy to store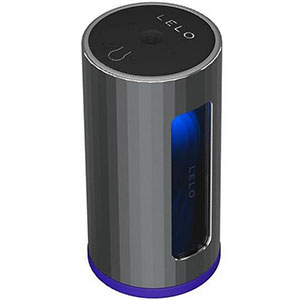 Lelo F1S V2

Hands free blowjob machine

Long-lasting charge

Fully waterproof

Powerful sensations

Realistic artificial skin material

Easy to clean

Promo Code: "HAPPYBF" - 15% Off
Who Is Blair Williams?
Most of you are probably here, reading my Main Squeeze Blair Williams review because you already know who the superstar is. You also probably just want to know what nutting in her feels like. But for those of you out of the loop, let's catch you up to speed.
Blair Williams rose to fame when she first appeared in the Sex Factor, which was an original series hosted by XHamster. She won the title of The Next Big Name in Porn, along with a cool half-million dollars.
From then on, Blair started acting in high-budget productions and made a name for herself in the industry. Soon after, Doc Johnson took notice and decided to make Blair one of their feature models in the Main Squeeze line.
So after a lot of, what I'm guessing was uncomfortable molding, here she finally is, in all her glory.
What Is Main Squeeze Blair Williams?
Doc Johnson's Main Squeeze Blair Williams is a male masturbator with an opening that's modeled after the famous pornstar. It doesn't have any high-tech, ultra-fancy features, and to be honest, it doesn't even need them.
The Main Squeeze is an extremely high-quality stroker, which is ideal for both beginners and pros. It's somewhat similar to a standard Fleshlight but significantly cheaper.
When it comes to the entire Main Squeeze line, which I'll get to a little later, Doc Johnson put all of its effort into the textures and materials. As a man who's tried his fair-share of sub-par strokers, I love having something that feels this luxurious.
Click Here To Check The Up To Date Price
The Blair Williams Specs
The Blair Williams masturbator really shines when it comes to the specs. But as always, I want to break them all down in my Main Squeeze Blair Williams review so that you know exactly what you're getting yourself (and your soldier) into.
The Size
One of the best things about Blair Williams (or her toy to be exact) is that she welcomes men of all shapes and sizes. The masturbator was designed so that almost any guy could comfortably use it without any issue.
You see, the sleeve is basically the same size as the toy itself, and it fills out pretty much every inch of it. But more importantly, it's all completely usable, and there's not an inch wasted.
The total length of both the sleeve and case is 7.5 inches, while the width is exactly 3 inches. That means that as far as the case goes, it's still pretty discrete, and won't attract much attention. But the sleeve is more than long enough to accommodate any guy.
But if you've got a monster hog between your legs, and Blair is too small for you, don't worry, there is a solution. By twisting the cap off, you'll get all the extra inches that you need.
Sure, you'll be poking out on the other side, and it might look like a pig in a blanket, but it's all in a day's work. Unfortunately, you then won't be able to use the pressure valve because you need the cap for it to work.
The Sleeve
At this point in the Main Squeeze Blair Williams review, we've established that the sleeve is long and soft. But I'm sure that you need a bit more to go off before you hit Add to Cart.
What first surprised me when I ordered the Blair masturbator off SheVibe is that it wasn't silicone. Doc Johnson uses something that they call UltraSkyn, which is essentially TPE.
If you're not familiar with TPE, it's a super-soft type of rubber that's really stretchy. It feels supple in your hands, and it's as close to the real deal as you can get. The only issue with TPE is that it takes quite a bit of maintenance, but I'll get to that a little later.
Another really important thing that I wanted to mention is that the UltraSkyn is made with a trademark Sil-a-Gel formula. That particular blend is antibacterial, latex, cadmium, and phthalate-free. It's perfect for those of you who have had allergic reactions to toys in the past or if you have sensitive skin in general.
The Texture
Before I go on and talk about the case, I have to use this part of my Main Squeeze Blair Williams review to explain the textures. For obvious reasons, it's not exactly like her cooter, but I think that it's even better.
Even though I've probably used the phrase cave of wonders to describe masturbators in the past, I don't think anything sums up Blair better. When you first enter the sleeve, you'll be greeted by these four little ridges, which are incredibly hot.
Then, there's the first little cave, which lets you basically rest your tip into it. It's the ideal depth for when you're just edging or teasing, and don't want to go any deeper.
But if you do decide to explore further, you'll feel two more sets of ridges and another little cave. At the very top of the sleeve, there's a rounded hole, which again, is the perfect place to rest your tip.
Honestly, that's the best I can do to describe the texture, and I don't think I'm doing it any justice. Don't get me wrong, it definitely isn't something utterly groundbreaking that I haven't experienced ever before. However, it's well done, and it'll, without a doubt, make you blow your load in only a few minutes.
The Case
Blair Williams' tight little cooch comes in a matt black, ABS plastic case, which is really fancy. From the outside, it doesn't even look like a masturbator, which is always a plus in my book.
Having such a discrete case means that you can easily store or carry your masturbator without tipping off the entire world. It also won't stand out much when you put it away, which is perfect if you've got nosy roommates or family members.
There are two caps on both sides of Blair's stroker, and they're there for different purposes. The top part (the vag one) is there to ensure that the toy doesn't collect any dust. However, the bottom side holds a cap that controls the pressure.
Another thing that'll help you adjust the pressure or tightness is the squeeze plate. All the masturbators in the Main Squeeze line have it, which is, I guess, why they're called that.
By pressing the plate down, the pressure inside the sleeve will start to increase, and Blair will become even tighter. Can't do that with the real one, can you?
Related
Playing With Blair Williams
Gather 'round ye horndogs, and let me tell you the story of how Blair and I made sweet love in the boudoir. Or, in normal words, it's now the best part of my Main Squeeze Blair Williams review, when I tell you what freaky things I did with the pornstar. Don't worry, I'll try to keep it as PG as possible.
First, I got all lubed up and squirted a few drops directly into the opening. Then, to set the mood, I (obviously) put on Blair's best movie, and got busy.
The first time I played with Blair, I didn't fiddle with the bottom cap because I wanted to see what she could do on her own. I did, however, press down on the plate, and adjust the tightness to be the way I like it. Without much effort, I was able to cream my corn in under ten minutes.
The following day, I picked her up again and decided to take the cap off. Since that wasn't tight enough for me, I put it back on, but I didn't screw it all the way down. That honestly hit all the right spots for me, and it felt incredible.
What I can tell you from playing with Blair quite a few times is that it's best when you experiment with it. Since it doesn't have any fancy gadgets, being creative is what's going to make the experience better for you.
You should definitely play with both the cap and the plate, and adjust them as you go. Also, try a couple of different positions, or maybe have a partner use Blair on you.
Click Here To Check The Up To Date Price
Other Main Squeeze Toys

As I mentioned earlier, the Main Squeeze line is chock-full of some fantastic masturbators. I want to give some of them a shoutout in my Main Squeeze Blair Williams review because they're really one-of-a-kind.
Like Blair, all the sex toys for men in the series have been modeled by some famous pornstars. So you can get Jenna Jameson, Belladonna, Lela Star, and of course, the queen herself, Sasha Gray.
These are only a few of the Main Squeeze masturbators that I personally liked, but there are a ton more. Depending on who your favorite girl is, you can browse the entire line, and find the woman of your dreams.
Cleaning Blair Williams
If you know me, you know just how much emphasis I always put on properly cleaning your sex toys. No matter if they're open-ended, with a sleeve, or for your butt; you have to scrub everything down after use.
So for this part of my Main Squeeze Blair Williams review, I want to talk to you about the best ways to sanitize your masturbator. Luckily for both you and me, it's so simple, there's no chance you could mess it up.
All you have to do to get the sleeve out is to untwist both caps. Then, put your thumb and index fingers into the case, and slowly pull out the sleeve.
Once you have the sleeve out, pour out its contents (aka your baby batter) into a sink. You should then spritz some sex toy cleaner directly into the opening and a little around it.
Doc Johnson makes their own toy cleaner, which is triclosan-free. Also, it doesn't contain any parabens, colorants, or sulfates, and it's vegan-friendly. All in all, a pretty sweet deal.
You don't even have to wash out the cleaner after using it, but I usually do, just to be safe. After you've done all the steps, leave Blair out to air dry, and you can go on about your day.
When she's fully dry, which takes a few hours, you can use some renewing powder on her. That'll keep your masturbator really soft and supple for years to come. Pop Blair back into the case, maybe clean that with a wipe if it's got lube on it, and that's it.
What's Not to Like About Blair Williams?
I hate to do this to her, but I've just got to talk about some of the negatives in my Main Squeeze Blair Williams review. Fortunately, there aren't that many, and not one of them would scare me off buying Doc Johnson's masturbator again.
First, let's start with the thing I so often bitch about in my reviews, which is the lack of flair when it comes to the packaging. All you get is the toy in a flimsy cardboard box, and not much else. I would've loved to see at least a sample of Doc Johnson's water-based lube because I heard that it was really good. But I guess we'll never know now.
Another thing that you should know about Blair is that this girl takes her sweet time to dry. Since the sleeve is so long and thick, it takes a couple of hours, which is not ideal. With that said, drying tends to be a problem with most TPE sleeves, so I'm not taking any points off for that.
My biggest gripe has to be with the plate on the case. Yes, it does what it should, and it will improve tightness. However, if you press down on it too hard, it starts moving around, and kind of slips into the case. I've also had that happened to me while cleaning, which was unfortunate.
You can pop the plate back in, but I don't understand why it's even moving around in the first place. Hopefully, Doc Johnson will soon see the error of its ways and fix the plate.
Bottom Line
Writing this Main Squeeze Blair Williams review has really been a hoot and a half, and I've had a blast playing with the toy. I have to give Blair five out of five stars, and I would wholeheartedly recommend her to everyone. No matter if you're a beginner or a seasoned pro, I am certain that Ms. Williams will deliver on all your expectations.
Click Here To Check The Up To Date Price
Product Specs:
| | |
| --- | --- |
| 🏷️ Name: | ⭕ Main Squeeze Blair Williams |
| 📁 Type: | ⭕ Pocket Pussy |
| ⚙️ Features: | ⭕ End Cap Creates Intense Suction |
| 🛠️ Materials: | ⭕ Ultraskyn |
| 📅 Last updated: | ⭕ November 29, 2023 |
Disclaimer
Our articles feature affiliate links. If you appreciate our content and would like to show your support, you can consider buying your new sex toys using the links we provide. Every purchase made through our links helps us earn a small commission, without any additional cost to you.