I am about to share with you the absolute best sex toys for couples that I have had the pleasure (pun intended) of trying out. "But if you have a partner, why do you need sex toys?" I've heard so often… to which I reply "Because sex toys are fun! And they add some spice and variety to your sex life!" And of course, they're amazing for those couples who are giving it a go long-distance, or simply lead such busy lives that you can't connect in person as frequently as you'd like. Plus, I know some people who get weirded out when they know their partner is using a toy on there own – and so this a great way to spice things up while feeling comfortable because you're actually interacting (with our own toys). #technologyisamazing
Best Couples Sex Toys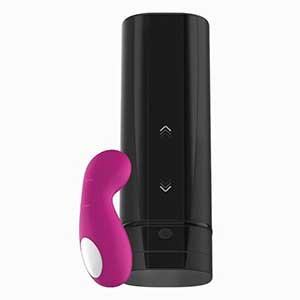 Kiiroo Onyx+ & Cliona

Play together with bluetooth technology

Several pleasure modes for each toy

Control each other's pleasure

Women's toy fits snugly in your palm

Fully rechargeable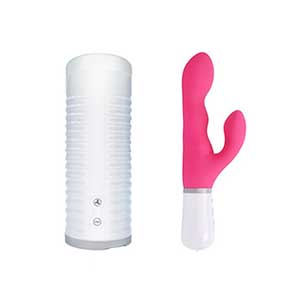 Lovense Max 2 & Nora

Local or long-distance control

Great for long-distance couples

3 pleasure settings on each toy

Sense & Sync to your partner's movements

Fully rechargeable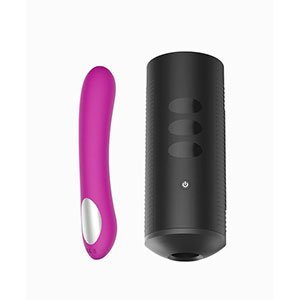 Kiiroo Titan & Pearl 2

Sense & sync to your partner's movements

Sleek and modern design

Fully rechargeable

Long-last charge for lengthy playtimes

Control your lover's pleasure
The Kiiroo Onyx+ & Cliora couples' set is one for the books! The Onyx 2 is for him, and it's like nothing you've ever experienced before. There are 10 contracting rings inside to give it a very realistic and incredibly pleasurable feeling. And of course, it connects with the Kiiroo Onyx which is a great vibrator for her. Both toys are bluetooth compatible and so they can be synced through an app on the phone. No matter your distance, you can control your partners' toy, and set it to sync up with your own choice of vibrations – so you're essentially feeling the same things no matter where you are. Keep in mind, thought, that the shaft of this toy isn't all that long – so if intense internal stimulation is something she's looking for, you may want to see what else is out there.
That of course brings me to the Lovesense Max 2 & Nora. In my opinion, the technology on the man's toy isn't quite as high end as the Kiiroo Onyx, but it still feels really great, and it's honestly a very personal decision as to which feeling you like best. This one does have a sweet air vent though that creates a unique suction feeling! And for her… this one is your (in)famous rabbit vibrator which gives simultaneous clitoral and vaginal stimulation – a must-have for many women! The rotating head is going to help her reach her g-spot. And of course, like all of the adult toys for couples that I have on this list – technology wins again by synching these two amazing toys so you can control each other's pleasure individually, or sync them up so you can feel similar sensations.
And last but not least on my list of the top sex toys for couples is the Kiiroo Titan and Pearl 2 combo. The Titan is an incredibly male sex toy that has 9 vibrating bullets inside the shaft which deliver intense sensations and gives you a lot of control over what you're feeling. And for her? The Pearl 2 looks fairly basic, with a long, sleek look to it – but the powerful vibrations are going to drive her wild. The length of the toy is great for g-spot stimulation, or it can be used as a clitoral vibrator too – whatever the mood calls for. And of course, the couple sex toy can be synced up to eachother so you can experience pleasure as a couple in the same room or across the continent – whatever your needs may be.
5 things you should know before buying a couple sex toy
1.

You won't always use it together.
Even if you both make a deal that you'll only use this toy together, I bet that you'll cave at some point, and end up using it on your own. And so will she. So make sure you both are satisfied with the toy that you're buying. There are lots of options on the market, so you don't have to settle. This experience can be (and SHOULD be) awesome for both of you.
2.

They aren't all made equally.
If you're looking at $60 for a set of couple sex toy, then I can bet you're basically getting garbage. I've tried a couple that I found out there – and let me tell you. Save your money. When you're getting into toys that are this high-tech, and that are meant to sync with one another, you're only going to run into frustrations if you don't buy from a reputable and high-end company.
3.

More expensive doesn't always mean better.
This kind of piggy-backs off the last one, but it's important to note that unfortunately there ARE companies out there looking to completely gouge people of their hard-earned money for inferior products. Do your research and only buy from brands and websites that have a good reputation, and that can offer your a guarantee of an authentic product, and great customer satisfaction.
4.

Choose the toys based on her pleasure.
I know, you're using it too… but you want to make sure that she's happy. All of the fun sex toys for couples that I mentioned above are your typical male strokers with a female counterpart. You're going to like all of the male versions I listed – trust me on that. But when it comes to HER pleasure, make sure she gets what she wants… not all women want internal stimulation, but some women need it. You want to make sure she loves playing with these toys as much as you do so that you get some real use out of them!
5.

You're going to be so happy you did this.
Seriously – these toys are so much fun to play with! Whether you're looking for sex toys for married couples, long-distance couples, or simply couples who like to add a bit of extra excitement into the bedroom in different ways, you're BOTH going to enjoy this. Being able to control each other's pleasure and connect in this new way is really exciting, and you won't be disappointed.
Related
What you should avoid when buying sex toys for couples
Crappy or illegitimate websites. – I state this over and over again when I talk about sex toys on my site, or with friends. There are tons of websites out there that are seriously not cool. Websites that promise discreet shipping, and then end up sending you your toys wrapped in what might as well be fluorescent pink paper with the words 'SEX TOY' written on it in magic marker. Or sites that promise you a toy at a HUGE discount, and then of course you get a total knock-off. Instead of Kiiroo you'll get Kiiirrooo (you totally know what I'm talking about). So make sure you're buying from an official, reputable site.
Cheap materials. – The toys I mentioned above are all made of high quality materials – and yes, those can be expensive. But when you're putting them up next to your most intimate parts, don't you want to know that they're hypo-allergenic, and safe for your skin's contact? Don't you want to know that they're going to deliver the smoothest, most realistic and most pleasurable experience? The materials that these toys are made of most definitely count – so don't go buying some cheap plastic toys. Your dick (and her V) will most definitely thank you for spending that little bit of extra cash on something worth the time of your intimate places.
Buying with your own pleasure in mind. – I know, I know… I've mentioned this before. But it's incredibly important. As the man, I will personally guarantee you that you will be satisfied with any of the above options, as far as the male counterpart is concerned. It's going to stroke your cock, it's going to feel awesome, and it's going to get you off. But you know what's going to REALLY matter? The size and type of toy that SHE is playing with. Does she want clitoral stimulation? Vaginal stimulation? Both? These are the things that really matter. If you're buying it as a surprise, I say… "get the one that does it all!" And oh yeah… you're welcome.
Conclusion
Whether you're looking for a long-term relationship, a long-distance relationship, or even just a fling, I must say that I'm completely floored with how far technology has come in the way of sex toys. The fact that you can actually sync up with one another and feel the same vibrations as she does, at the same time – and control each other's sensations – I mean, this is something out of Back to the Future, don't you think?? And one of the coolest parts about these toys, is that most of them have a ton of capabilities that can be used on their own too. Things like virtual porn adaptability and so much more. And please trust me.. . the ones I mentioned above are top of the line! You will not be disappointed.