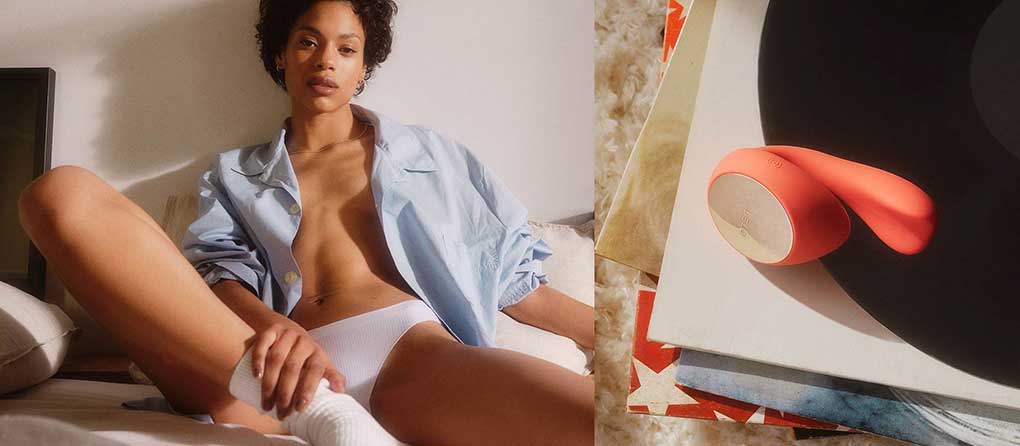 Welcome, pleasure-seekers and bedroom adventurers! Today, we'll be diving under the sheets to explore the rambunctious rendezvous maker, Lelo's very own Ida. This naughty little gadget is here to add some extra sizzle, sparkle, and, dare I say, 'buzz' to your most intimate moments. So, prepare for a scintillating soiree of teasing, pleasing, and delightfully mischievous escapades, all orchestrated by the touch of a button. Oh, and did I mention it's got more moves than a salsa dancer on a sugar high? Whether you're a couple looking to spice up your love life or simply feeling frisky and craving a giggle, I'm ready to guide you through a Lelo Ida Wave review.
Lelo Ida Wave Remote Control Vibrators
So, my partner and I are seasoned explorers of the exciting world of adult gadgets that bring us closer physically and amplify the irresistible spark between us. That's precisely why the couple's vibrators have earned a VIP spot in our saucy treasure chest (and boudoir). Crafted for simultaneous pleasure during steamy encounters, these frisky devices dance a sultry waltz with both lady's bits and the gentleman's most prized asset.
However, a truly irresistible couple's vibrator must walk a fine line, teetering between petite proportions and titillating thrills. In other words, it must be small enough to avoid stealing the show but still packing enough 'oomph' to earn an enthusiastic encore. And let's not forget the importance of a steadfast embrace, keeping the rhythm without any pesky interruptions or adjustments.
And that leads us to the Lelo Ida Wave review. This brand has been setting hearts (and bedrooms) ablaze since 2003, taking the world of pleasure by storm. Lelo is synonymous with luxury, making toys that tease and satisfy with precision and power. Boasting a lineup of 100% medical-grade silicone playthings, Lelo's exquisite delights usually come with a price tag that matches their quality.
The Ida, a fan-favorite amongst couples, is no exception. Positioned as the revolutionary new kid on the block, the Ida claims to be the world's premiere couple's vibrator with a double dose of fun: rotation and remote control. This saucy little number has a medley of delightful features that have both men and women singing its praises (and hitting those high notes).
First Impressions
The Lelo Ida Wave presents itself as a tantalizing twosome: the Ida massager and its trusty sidekick, the remote control. In a nutshell, it is a cheeky little toy meant to be inserted into those lady orifices, with the mission of turning the heat up for both partners during their intimate sexcapades.
On paper, Ida's twirling talents give it a leg up (or two) over its pleasure-seeking competitors. The device's built-in rotation is crafted to lavish the G-spot with undivided affection. The rotations should have both women and their partners swooning in delight.
But Ida's external vibrations don't shy away from making a statement, either. These potent pulses pave the way for rapturous clitoral stimulation, inviting couples to climb aboard the express train to ecstasy and unparalleled intimacy.
Ida also boasts of holding the key to synchronized pleasure, guiding both partners to reach their crescendos in perfect harmony. No longer will anyone be left behind on the journey to the blissful realm of complete relaxation and satisfaction!
Click Here To Check The Up To Date Price
The Buzz Behind the Ballet: Ida's Sensational Feature Lineup
Material
This mischievous playmate is crafted from 100% body-safe silicone. At the same time, it has a touch of ABS plastic adorning the portion graced by the Lelo logo.
Size and Design
When it comes to size, the Ida struts its stuff at 6.5″ x 1.4″ x 1.3″. Moreover, it flaunts a diameter of 1.5″ at its most voluptuous point.
The toy is meant to be enjoyed in its full glory, with the clitoral cradle nestling cozily atop your most sensitive spot. Boasting a curve reminiscent of a sassy coat hook, its unique silhouette is designed to hit the G-spot. But fear not, the adaptable vaginal arm bends and flexes to accommodate a wide array of body types. That way, it ensures that you and Ida are a match made in pleasure heaven.
Vibrations
Ida's vaginal arm is a veritable powerhouse of pleasure, if I may say so myself. With a touch of twirling finesse, this sassy appendage pirouettes a full 360°, accompanied by a rousing performance of quivering vibrations. The clitoral portion takes the lead, orchestrating the buzz down the length of the toy.
While the most potent pulsations are reserved for the clitoris, the rotating finale ensures that no sensation is left behind. This tango of vibrations is a duet for both partners, treating the woman to a symphony of clitoral and vaginal caresses and serenading the man with an invigorating massage for his loving dangler.
Furthermore, Ida dazzles you with a tantalizing octet of vibration patterns, offering a diverse repertoire of sensations from rhythmic ripples to teasing tremors. Each sensual tune can be amplified or softened with the press of the plus or minus buttons, orchestrating a personalized ecstasy.
But that's not all. Lelo's SenseTouch technology waltzes into the spotlight as the remote's secret weapon. To unleash this feature, simply glide past the initial eight vibration patterns and let the remote's motion take the lead. The more you dance with the remote, the more intense the crescendo of pleasure.
Noise
While the thrill of a noisy vibrator adds a dash of risk to the mix, the practicality of hushed pleasure can't be understated. Maybe it's just me, but I prefer to avoid those cringe-worthy talks with household members.
The Lelo Ida Wave pledges to keep things under wraps with a maximum noise output of 50 dB. Now, I can't claim to be an expert in decibel measurement. Still, in my experience, Ida's hum was a bit more vocal than anticipated.
Waterproof
For those who find steamy aquatic escapades irresistible, the Lelo Ida Wave has you covered (and then some). This fully submersible playmate is eager to dive into both bath and shower adventures, transforming even a solitary Sunday hair wash into a tantalizing rendezvous.
But Ida's aquatic prowess doesn't stop at pleasure; its waterproof design also ensures a breeze of clean-up and top-notch hygiene. That means you can dive into worry-free washing without a second thought about water damage and emerge with an immaculate toy, ready for your next amorous encounter.
Batteries and Charging
When it comes to fueling your pleasure, the Ida and its remote boast a dynamic duo of energy sources. The remote springs to life with the help of 2 AAA batteries, kindly included in the package. Meanwhile, the Ida itself prefers a more modern approach, sipping energy from a USB charger.
A leisurely 100-120 minute power-up prepares the toy for an equally indulgent playtime. However, the duration may vary depending on how much you crank up the intensity.
Click Here To Check The Up To Date Price
Related
Test Drive Delights: Putting Ida Through Its Paces
I embarked on a steamy expedition in the name of pleasure and this tantalizing Lelo Ida Wave review. I also enlisted my partner for some sizzling teamwork. Here's the juicy scoop on my intimate discoveries.
Solo Soirée
Being a firm believer in "ladies first," I handed the Ida over to my delightful partner for the inaugural test run. Naturally, I claimed the exclusive privilege of enjoying the spectacle from a front-row seat, eagerly anticipating the playfulness to unfold.
My partner's experience with Ida's clitoral prowess left her grinning from ear to ear; the most powerful vibrations hit just the right spot for her pleasure-seeking journey. After a thorough romp, she declared her favorite pattern: the enticing tease of a slow crescendo of intensity, only to retreat and rise again.
While the rotating head doesn't quite live up to Lelo's theatrical promises, its subtle dance managed to keep my partner utterly enchanted. This gentle pirouette compensated for the softer vibrations at the toy's far end, allowing her to savor a well-rounded experience that kept her guessing and craving more.
Tandem Pleasure Pursuits With the Lelo Ida Wave
First up, the grand entrance: inserting the toy was smooth sailing. But before diving in, we had to ensure everyone – and everything – was slicked up and ready to glide. Also, once nestled in place, the Ida proved to be a steadfast companion.
However, kicking off our rendezvous proved to be a bit of a tight squeeze as I navigated my way beneath the toy. In addition, our usual breakneck pace and intensity had to be dialed down due to the close quarters in her pleasure palace, but we adapted and embraced the cozy encounter.
All in all, while the Ida may not star in your classic, picture-perfect lovemaking scene, it does shine as an inventive means to share simultaneous pleasure with your partner. And honestly, wielding the remote for SenseTouch mode can feel like a high-stakes game of Twister – exhilarating but demanding enough that we sometimes choose to forgo the challenge altogether.
What I Loved About the Lelo Ida Wave
Rotating and vibrating stimulation
Safe for both vaginal and anal use
Remote control and hands-free play
Waterproof
Decent battery life
Suitable for solo and partner play
What I Didn't Like
Not very quiet
It can get a bit crowded – in there
Lelo Ida Wave Review: The Verdict
And there you have it – my Lelo Ida Wave Review. Generally speaking, this is a versatile vibe that knows how to party for two. However, it may need extra lube if you're packing some serious heat. While it might not be a one-size-fits-all wonder for couple play, it does excel in solo performances, whether you're craving vaginal or anal stimulation.
In the realm of pleasure gadgets, Ida has its niche, but remember: compatibility is key for the ultimate experience. So, choose wisely and play on!
I'd love to hear your saucy tales with the Lelo Ida Wave too! So, don't be shy. Share your steamy experiences and playful moments with me.
Click Here To Check The Up To Date Price
Product Specs:
| | |
| --- | --- |
| 🏷️ Name: | ⭕ Lelo Ida Wave |
| 📁 Type: | ⭕ Sex Toys for Couples |
| ⚙️ Features: | ⭕ Rotating and vibrating stimulation |
| 🛠️ Materials: | ⭕ Silicone |
| 📅 Last updated: | ⭕ September 16, 2023 |
Disclaimer
Our articles feature affiliate links. If you appreciate our content and would like to show your support, you can consider buying your new sex toys using the links we provide. Every purchase made through our links helps us earn a small commission, without any additional cost to you.