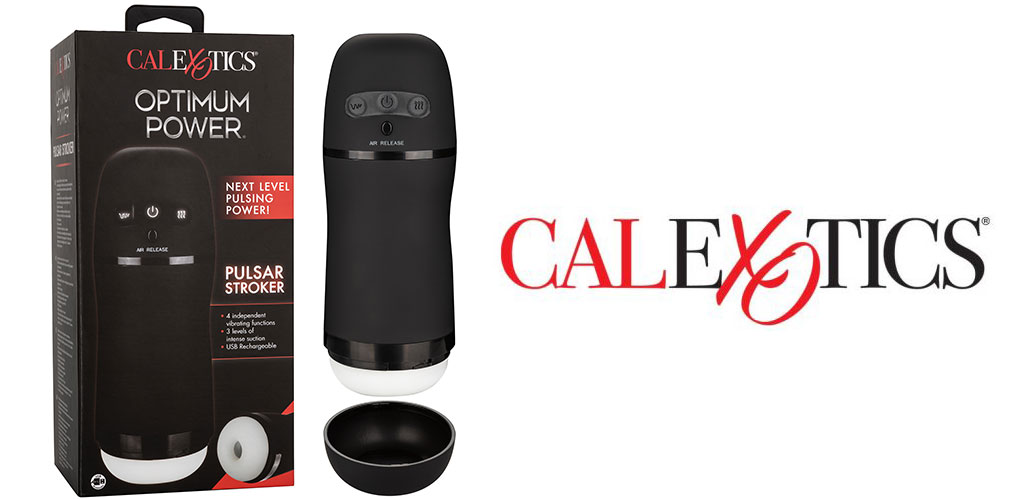 Another day, another review of a sex toy with a weird-ass name. Look, I have no issue with companies that don't like to pick fun, punny names (although I think they should reconsider), and, given that I'm actually writing this Calexotics Optimum Power Pulsar review, I clearly don't hold weird names against the company. But c'mon! Just try NOT naming your toy, so it sounds like motor oil, huh?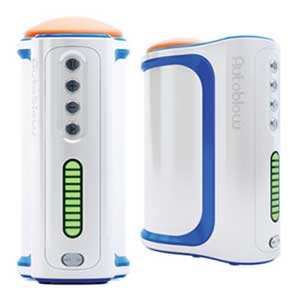 Autoblow A.I.+

Hands free blowjob toy

Heavy duty motor

Powered by artificial intelligence

Interchangeable sleeves

Body-safe materials

Plug it into any electrical outlet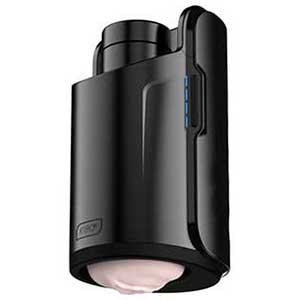 Kiiroo Keon

Automatic stroker

Sliding scale of speed

Elegant and discreet

Real-feel masturbation sleeve

Connects to video chat platform and VR porn

Easy to store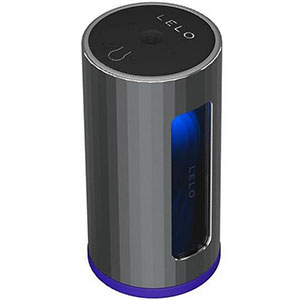 Lelo F1S V2

Hands free blowjob machine

Long-lasting charge

Fully waterproof

Powerful sensations

Realistic artificial skin material

Easy to clean

Promo Code: "HAPPYBF" - 15% Off
Anyway, name aside, the Optimum Power Pulsar is actually a great toy, which is why I opted to tell you all about it. At the end of the day, the name doesn't really matter much as long as the toy makes you empty your nuts in style.
If you're on the lookout for the ideal stroker that has a bit of a kick to it, then you're at the right place. Keep reading my Calexotics Optimum Power Pulsar review to find out why you should make it a part of your collection.
What Even Is the Optimum Power Pulsar?
I'm so glad you asked. Since it's not obvious from the name, the Optimus Power Pulsar is a male stroker. However, if you think that makes it a simple male masturbator, you're dead wrong, and I'll prove it to you.
This stroker comes with a few extra functions that will definitely make skinning your buffalo a real adventure. It has a divine texture that makes dipping your dong into it feel heavenly, as well as a vibrating and suction function (yes, I made that rhyme on purpose).
Ah, now I have your attention, don't I? Let's move on with my Calexotics Optimum Power Pulsar review to see what else this bad boy has to offer.
Calexotics Optimum Power Pulsar Review: First Look
When your home gets a visit from the sex toy fairy (otherwise known as the delivery person), you'll get a pretty inconspicuous box that looks just like a regular package. Once you tear through it with the excitement of an ADHD kid on Christmas morning, you'll find a much sleeker, shiny, black box inside. That, my friend, is your Christmas miracle (that's a few months early).
Click Here To Check The Up To Date Price
The Packaging
The packaging, just like the product itself, is quite high-quality. Inside the box, you'll find the essentials – the actual toy, the USB charger, and a booklet that will help you understand how the toy works.
If you're like me, you'll throw the little book out and try to figure things out on your own. To be fair, I do that to figure out how easy to use the toys I review are, and not because I don't like being told what to do (not at all).
Once you get your hands on the toy, you'll see that it's surprisingly heavy for a stroker of that size. The sleeve felt soft and supple under the hand, and as soon as I touched it, I imagined it wrapped around my dick, sending sweet, pulsating sensations up and down my length. Before I knew it, I was in the bathroom, washing and drying the sleeve so I could stuff my beaver basher into its new temporary home.
Is It the Same as Others?
I tend to only review toys that are special, so the answer to that question is, of course, no. Therefore, since I'm writing a Calexotics Optimum Power Pulsar review, it's clear the toy isn't your run-of-the-mill stroker. It provides specific sensations (on their own or simultaneously). How do vibrating, stroking, sucking, and pulsating sensations sound? Good? Fucking amazing? Yeah, I thought so.
It's a True Beauty of Innovative Design
Calexotics went for style and beauty when they were designing this toy. The matte black plastic of the outer shell looks not only luxurious but also well-made. The stark contrast it makes with the white sleeve draws your eye to the toy immediately. Once your eye is there, it can't help but slide down the length of the toy and absorb those sleek, clean lines.
I know it sounds like I got a bit carried away here, but believe me when I say that the Optimum Power Pulsar is a pretty toy.
The Full Frontal (of the Specs)
But, as I always say, looks don't mean diddly squat if the toy hasn't gotten the features to back them up. Well, worry not, my fellow jizzers; this toy has plenty to offer.
It Can Handle Your Pocket Rocket
Although it may seem small in the pictures, the Optimum Power Pulsar is actually a bulky toy. It has 8.5 inches in length and 3 inches in diameter. The length of the inner sleeve is around 5.5 inches.
So, this stroker has a bit of a curvy body to it, doesn't it?
The outer casing is made from sturdy, matte ABS plastic. That means the shell will withstand both travel and accidental droppings (we know those happen when our wrists get a bit overeager when we're shaking hands with the milkman).
The inner sleeve is made out of TPE, so it's soft and skin-like. That adds a bit of realism to your lone-rangering because it makes you feel as if you're thrusting into a real vagina.
Of course, once the stroker starts vibrating, all realism goes out the window, but that's a story for the following chapters of my Calexotics Optimum Power Pulsar review.
Click Here To Check The Up To Date Price
But How Will It Treat It?
As always, the most important part of my review is the one where I talk about features. So buckle up, boys; it's going to be a wild ride!
Easy to Control
One of the best features of the Optimum Power Pulsar is that it's easy to use. It only has three control buttons on the front that you can use to shuffle through all possible vibrating and sucking patterns.
What's interesting is that the buttons are made out of silicone. I really appreciate that detail, even though it's quite tiny because it means you'll have an easier time pressing on the buttons while your hand is all slippery from the lube. Plus, silicone will show less wear and tear than plastic buttons would.
Aside from the three control buttons, this toy also has another button for air release. This is like an emergency break that you can press on in order to make the toy stop trying to suck your soul out of your body via your dong.
What I'm trying to say is – the suction is strong but don't worry; you can always opt out.
The Beauty of Vibration
When it comes to the vibrating function, there are four different options to choose from. The Optimus Power Pulsar gives you the option to pick the preset vibrating and sucking patterns or go through them manually.
Personally, I went with the manual option because it gave me the chance to try out each vibrating pattern on its own.
Aside from vibrating, the male sex toy also offers suction and pulsation (as was promised in the name. Kind of.).
The Holy Suction
A real money-maker of a feature, the suction function is the best thing about this toy. There are three different patterns that you can choose between. Alternatively, you can control the suction by pushing the suction button and the air release button alternately.
The suction can be felt throughout the entire length of the sleeve. Sadly, I can't say the same for vibration. The motor is on the far end of the toy, which is why the vibration is stronger the further inside you push. That's great if you like your tip stimulated, but it's not exactly a picnic for those of us who like consistent stimulation.
Step Into My Chamber
The inner sleeve is TPE, as I mentioned, and it has a real-like texture to it. There are both ridges and bumps on the inner texture of the sleeve. Those will hit and massage your beaver basher as you stroke it with the toy.
These feel great when you're using the toy just like a regular stroker. However, they really come to life when you turn on the sucking function (and so will you!).
It Will Live a Long And Healthy Life
One of the biggest advantages of the Calexotics Optimum Power Pulsar is that it has excellent battery life. It's USB-rechargeable, which is awesome, and 2 hours of charging will give you around 75 minutes of play.
Now, you can prolong your play to 90 minutes if you use a low speed of sucking and vibrating. However, if you're anything like me, you believe in the cliche of "go big or go home," which means you'll amp up the poor Pulsar to maximum speed until you feel it full of your warm nut juice.
Related
The Dirty Dozen (Or So Details)
As always, I'm going to finish this Calexotics Optimum Power Pulsar review strong. It's time for a little overview of my impressions. It's probably beyond clear by now that I'm a huge fan of the toy. However, take a look at why exactly that is.
What I Loved
The toy has a luxurious look and feel to it.
It's a rechargeable toy that will last up to 90 minutes per use.
The vibrating function is decent, and there are multiple vibrating patterns to choose from.
The suction is out of this world! It's super strong, and it feels as if someone is really going to town on your dick. It might even be too strong for some people. Luckily, there's an air release button that will help you control it.
The texture of the sleeve is pleasant and prominent enough that you actually feel it. What's more, the sleeve is tight enough (even for smaller dongs).
What Made Me Go, "Ah, Shame"
The toy is quite heavy and bulky. If you have small hands, you might have some trouble keeping your grip on it.
When the suction is on, and you try to stroke your dick with the toy (as the name suggests you should), the excess air comes out in the form of a "stroker fart." This isn't exactly pleasant.
The toy isn't waterproof. It is splash-proof, however.
Click Here To Check The Up To Date Price
Product Specs:
| | |
| --- | --- |
| 🏷️ Name: | ⭕ Calexotics Optimum Power Pulsar |
| 📁 Type: | ⭕ Male Masturbator |
| ⚙️ Features: | ⭕ Textured Chamber For Added Sensations |
| 🛠️ Materials: | ⭕ TPE |
| 📅 Last updated: | ⭕ September 16, 2023 |
Disclaimer
Our articles feature affiliate links. If you appreciate our content and would like to show your support, you can consider buying your new sex toys using the links we provide. Every purchase made through our links helps us earn a small commission, without any additional cost to you.