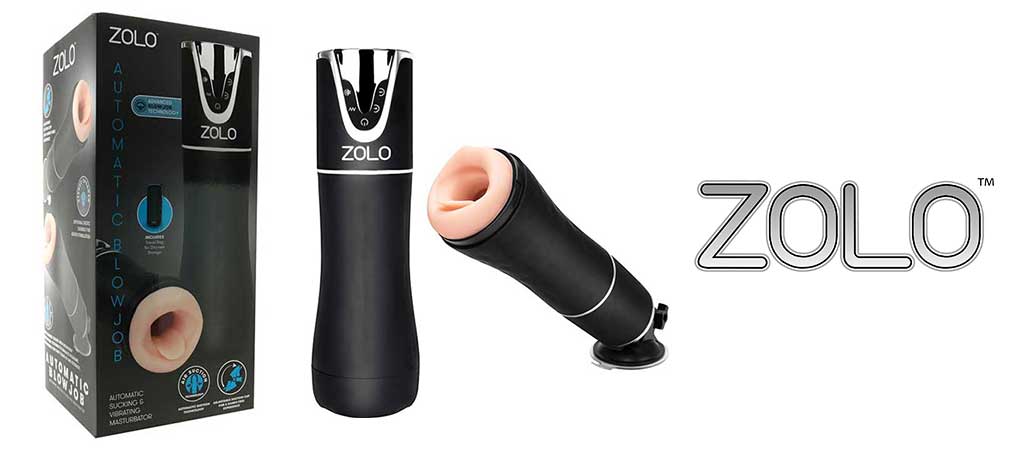 As my loyal readers know, there's a place for every sex toy on my page. However, I do try to favor blow job machines (hence the name). So, after a while, I'm back in that BJ saddle with my Zolo Automatic Blowjob review!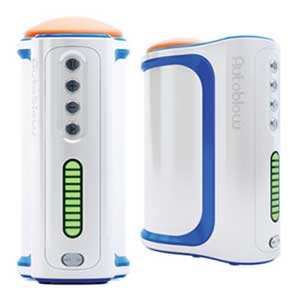 Autoblow A.I.+

Hands free blowjob toy

Heavy duty motor

Powered by artificial intelligence

Interchangeable sleeves

Body-safe materials

Plug it into any electrical outlet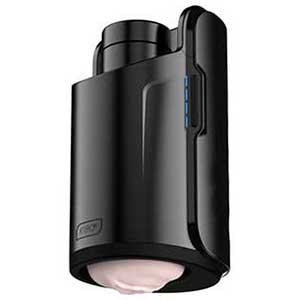 Kiiroo Keon

Automatic stroker

Sliding scale of speed

Elegant and discreet

Real-feel masturbation sleeve

Connects to video chat platform and VR porn

Easy to store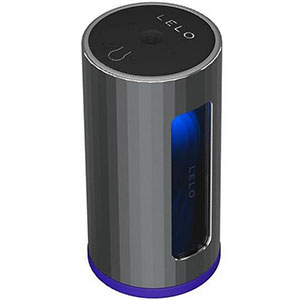 Lelo F1S V2

Hands free blowjob machine

Long-lasting charge

Fully waterproof

Powerful sensations

Realistic artificial skin material

Easy to clean

Promo Code: "HAPPYBF" - 15% Off
Zolo didn't make the cut when I made my top five blowjob machines, but that's simply because I didn't know about the lovely Zolo Automatic Blowjob machine. I hate to admit this, but sometimes particular sex toys get lost in the sea of products I test out and review. However, Zolo has been on my to-do list for more than a few months, and I'm excited to share my thoughts with you!
What Is the Zolo Automatic Blowjob?
Thanks to the completely transparent, no-nonsense name, I'm sure you already know that this is a BJ machine. Of course, not all BJ machines are made equal, but they do have some common ground.
Much like other toys that have the goal of sucking your brains through your purple helmeted warrior of love, Zolo's BJ machine will suck your dick expertly. And, as the name suggests, it will also do so automatically, so there's really no need for you to do anything.
You can just lie back and imagine having a beautiful creature in your lap sliding their wet, hot tongue up and down your monster dong. Except, unlike in real life, this imaginary creature has a tongue that's a bit cold at first (be warned, the material takes a while to warm up). However, the creature can also vibrate and suck you in two different ways. Sounds like a dream, right?
Well, it isn't. Zolo made sure their automatic BJ machine does what's advertised (and more!). It will empty your balls in no time!
Click Here To Check The Up To Date Price
What Makes It Special?
As you already know by now, not every sex toy warrants a full Mark analysis. Some are too simple, while others are so well-known, a review would be a waste of space and time. So, what does this Zolo specimen have that justifies a full Zolo Automatic Blowjob review?
In short, the answer is automatic sucking technology. However, I also have to say that the design is spectacular as well. So, basically, the way this BJ machine looks and acts were the main reasons I decided to take matters into my own hands, stick my dick where it hasn't been before, and tell you all about the experience.
The automatic sucking technology really makes a difference when it comes to replicating that real-life feel. Of course, no machine can ever replace a real person sucking you off. However, they can come pretty close or even do things in a better (although different) way.
That's kind of what Zolo Automatic Blowjob does. Is it like the real thing? Not exactly. Is it mind-blowing? HELL YES.
The Design
As I mentioned already, Zolo Automatic Blowjob has an exquisite design. It's sleek and elegant, without looking like a kitchen tool. Don't laugh; sometimes these toys come out of the factory looking like blenders, hand mixers, and various other appliances you definitely don't want to stick your rocket man into.
Zolo has a soft, velvety matte case and shiny metal control display. The juxtaposition of the two really makes it look high-end and expensive. Of course, I'm not going to lie; it's not as if the machine is cheap. However, it doesn't put as big a dent in your budget as some others do.
Overall, you get plenty for your money. Zolo has a peekaboo sleeve that peeks out of the outer casing. The sleeve looks like a mouth (tongue included) for that ultimate real-life experience. I know it seems as if the design is the most significant part of my Zolo Automatic Blowjob review, but don't worry – there's more to it than that.
Click Here To Check The Up To Date Price
The Specs
Zolo looks like it would give you a night to remember, and that's precisely what it can do. But then again, so can many other toys. For that matter, so can your right (or left) hand. So, let's see what sets Zolo Automatic Blowjob apart from others.
Size
Size-wise, Zolo is a hefty fella. With 3.6 pounds in weight and 12.8 inches in length, it's not exactly an inconspicuous toy. The toy's circumference is 5.9 inches at the top and bottom and 5.8 inches in the middle. The different girths give the toy a superior, ergonomic look that contributes to the overall pleasing aesthetics.
The Sleeve
Out of the 12.8 inches, around ten are insertable. That's more than enough for the average Joe (and yours truly). The supple TPR sleeve is long enough to accommodate most men and soft enough to please us all.
Of course, the softness isn't its only feature. The sleeve is thoroughly ribbed, which enhances the real-life feeling of getting your Sexcalibur sucked. It's also very tight. That means the Zolo can stand in as a regular male masturbator.
In other words, even if your battery drains and you can't be bothered to get up to fetch your USB charger, you can still finish the session in style. Sure, you'll miss the vibrations and the sucking motions, but, hey, if you're too lazy to get up, then get pumpin'!
As I mentioned, the sleeve looks like a mouth. I actually really appreciate this. It's a small, seemingly insignificant feature, but if a toy lacks those, it can't really compete in the "how realistic is this toy really" category. And before you start squinting at your screen, yes, that category is entirely made up. But if you think I don't have a list of every toy I own with a score for realism next to its name, you're sorely mistaken.
But, to get back on topic, the sleeve is mouth-like, and it even has a little tongue protruding from it.
Does the Tongue Play a Role?
Unfortunately, not really. As excited as I was to have a (fake) tongue sliding up and down my dong, I realize that's not exactly a realistic option (at least for now). The tongue is more of an extra that enhances the entire blowjob experience.
It does, however, play a small role. Well, it played it for me; I'm not sure if you'll feel the same. Because the Zolo Automatic Blowjob has a mouth sleeve with a tongue, you can opt-out of coming down its throat and instead blast your load all over the opening. That's where the tongue will shine in all its (granted, limited) glory. Because it sticks out, it looks as if it's the hot tongue of a girl who's kneeling down and patiently and obediently waiting for you to spray her face with your goodies.
Features
OK, now that we've gotten the particulars and novelties out of the way, we can get to the juicy part of my Zolo Automatic Blowjob review. I'm talking about the features, of course.
Now, there are two different features to the Zolo. That might not seem like much, but they are done right, which is the most important thing.
Sucking Modes
The first feature is, of course, the sucking feature. I already spoke a bit about it, but let's dig a bit deeper, shall we?
The automatic sucking technology allows for two different modes of sucking. You can switch between them (or just stick to your favorite) via the two buttons on the top front of the toy. If I had to describe these two modes (and I do, because that's why you're here), I'd say that you can take your pick between the up and down sucking motion. In other words, you can get sucked with an upwards sucking motion or with a downwards one.
If you think there isn't any difference, you're mistaken. I thought the same thing and expected there to be no change at all when I hit the two buttons. Oh, boy, was I mistaken! I can't really pick my favorite because both are really close to my tender, loving heart, so you'll have to do that on your own after you pick up your toy.
The Vibrating Feature
The second feature is the vibrating one. After I tried out the two sucking modes, the vibrations seemed like overkill. So, I finished my business, had a snack, cleaned the toy, and went again (and again, and again… I'm nothing if not a thorough researcher).
The second time around, I tried out the vibrating feature on its own, as it is completely separate from the rest and has its own button.
I wanted to see just how strong it is and whether it could possibly make me tip over. It couldn't, but it was a close call. The vibrations are excellent and rumbly, so you feel them deep within your ballsack.
However, as lovely as they are, they aren't enough to do much on their own. So, for the second act of my second round, I combined the sucking and the vibrating features and saw stars. It really didn't take long for the toy to have me on my knees, coming all over it.
General Features
Besides having the two glorious (magnificent, highly efficient, wonderful) features, Zolo Automatic Blowjob also has some standard, run-of-the-mill characteristics. It's rechargeable, comes with a (long) USB cable, and has a 90-minute charge time.
It also comes with its own storage case. Now, as a clean-freak, I love this because I know that, after I wash it, I can be sure the toy will stay clean. Also, it's always nice to see a company care for their customers' satisfaction levels.
A Lil' Something-Something Extra
If you've looked at the picture of the Zolo Automatic Blowjob, you've probably seen there's one button I haven't mentioned. I call that one the good-time-button because it makes the toy much more fun.
After you hit that bad boy, the Zolo BJ machine will start to moan, groan, sigh, and even let out a dirty sentence or two. The erotic sounds are realistic, loud enough to be clear, and oh-so-hot!
If I'm honest, they are the main reason I decided to do the Zolo Automatic Blowjob review in the first place. I'm primarily a visual creature, but nothing can substitute a sexy moan in the bedroom. It gets me going faster than any male sex toy ever could!
Aside from the sexy sounds, Zolo also has a suction cup that you can put on the bottom in order to have a hands-free experience. This enhances the entire experience and lets you avoid the awkward toy-holding that takes away from the fantasy.
Related
How to Put Your Zoro in the Zolo
Overall, the Zolo Automatic Blowjob machine is easy to use. The bottom part is screwed on, so you can easily take the sleeve out to wash it before you stick your willy inside. Of course, as always, make sure the sleeve is completely dry after washing.
Then, all you have to do is apply lube (generously) to your one-eyed monster, squirt a bit more into the toy and, to be crude, stick it in.
Yup, It's Time to Tidy Up
After sticking it in comes the fun. However, after the fun times are over, it's time for cleanup. I suggest you do this immediately after finishing. If you let your load dry, it will get extraordinarily crusty, and the cleanup will turn into a hassle.
No matter where you finished (deep inside or on the supple tongue), make sure you take the sleeve out and clean it with warm water and some mild, unscented soap. Then, leave it out so it can completely dry before putting it back into the case and putting the case into the complimentary storage.
What Zolo Might Be Lacking
As fun as it was to try out the Zolo Automatic Blowjob, I did have some grievances. Granted, there really aren't that many, but Zolo missed the mark on the following:
It's a one-size-fits-most toy. That means that the sleeve fits the average guy as a glove. However, if you're below or above that arbitrary line on the size chart, playing with the Zolo will either be impossible or underwhelming.
There were no extras in the packaging. Sure, you get a complimentary storage case, but what about some lube and renew powder? It's always nice to find extra goodies in a box, so I was a bit disappointed there weren't any.
A Few Parting Words
That's all, folks! This marks the end of my Zolo Automatic Blowjob review! It's an amazing toy that's affordable, functional, and satisfying. There really isn't much more a toy could give you, at least when it comes to standard blowjob machines. I loved the erotic sounds feature and the fact that it comes with its own storage case. What was your favorite part? Let me know!
Click Here To Check The Up To Date Price
Product Specs:
| | |
| --- | --- |
| 🏷️ Name: | ⭕ Zolo Automatic Blowjob |
| 📁 Type: | ⭕ Blowjob Machine |
| ⚙️ Features: | ⭕ USB Rechargeable |
| 🛠️ Materials: | ⭕ TPR / ABS |
| 📅 Last updated: | ⭕ September 16, 2023 |
Disclaimer
Our articles feature affiliate links. If you appreciate our content and would like to show your support, you can consider buying your new sex toys using the links we provide. Every purchase made through our links helps us earn a small commission, without any additional cost to you.