Even though I'm not the most well-endowed guy out there, I do sometimes struggle with the size of my masturbators. They're either too small, too narrow, or just uncomfortable (I am the Goldilocks of masturbation sleeves, apparently). In my search to find something that my readers with monster dongs could use, I discovered the THRUST Pro Mini line. After some fiddling and fondling, I'm finally ready to write my THRUST Pro Mini Lea review. Here we go.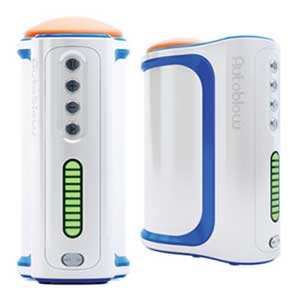 Autoblow A.I.+

Hands free blowjob toy

Heavy duty motor

Powered by artificial intelligence

Interchangeable sleeves

Body-safe materials

Plug it into any electrical outlet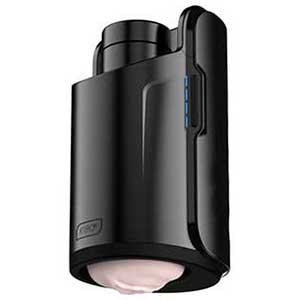 Kiiroo Keon

Automatic stroker

Sliding scale of speed

Elegant and discreet

Real-feel masturbation sleeve

Connects to video chat platform and VR porn

Easy to store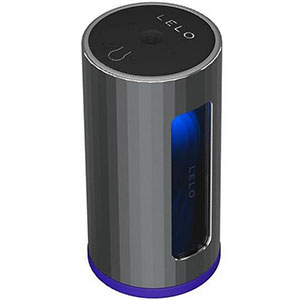 Lelo F1S V2

Hands free blowjob machine

Long-lasting charge

Fully waterproof

Powerful sensations

Realistic artificial skin material

Easy to clean

Promo Code: "HAPPYBF" - 15% Off
What Is THRUST Pro Mini Lea?
Let me kick off this THRUST Pro Mini Lea review with an explanation of what this toy is since it seems to be causing some confusion. Lea is a pocket pussy/masturbation sleeve that features a pink taco opening. The cooter is shaved, beautiful, and inviting. It welcomes men of all sizes and shapes with a hole that's surprisingly wide.
But the reason that the Pro Mini line, and Lea herself, got so popular is that there's no case. Unlike most regular pocket pussies or Fleshlights, there's no plastic case that will hold you down and restrict your movement. The sleeve will stretch and bend any way you want it to, and you'll be able to comfortably wiggle inside.
Even though Lea is a pretty straightforward toy, it does have a few surprise twists. For one, there's a pocket for a bullet vibrator at the bottom of the toy. There's also another hole at the top, which is directly connected to the opening. Both of these things, either together or alone, will make you finish harder, better, faster, stronger. But I'll get to that in a second.
Is There Anything Else in the Pro Mini Line?
Well, my curious and horny friends, I'm glad you asked. Yes, the Pro Mini line is quite extensive, and there are a ton of toys for you to choose from. The first toy in the line that I want to talk about in my THRUST Pro Mini Lea review is my favorite, and it's the Ruby model. The lovely Ruby has gigantic lips, and a hole wide enough to accommodate any and all third legs.
My second favorite is the Pro Mini Andi because it has a really interesting and unique texture inside. The topper is a chocolate starfish that looks oh-so-smooth and inviting.
Then, you have some of the less exciting models (for me at least), which kind of resemble Lea. There's Ella, Eva, and Mona, and all of them have vaginal lips that look a bit different on the outside. But they're all the same on the inside, which is all that matters, I guess.
Lastly, there are two double-ended pocket pussies, that I (unfortunately) haven't had a chance to try yet. There's the Kendra Mini, which has a butt and vag openings, and Stella, who has a mouth and vag. The appeal here is that you could put your dong in one opening, and have it come out the other side. Even though I haven't played with them yet, they look like so much fun, and they're both on my wishlist.
Click Here To Check The Up To Date Price
What Are Lea's Specs?
For starters, Lea is made out of thermoplastic elastomer (TPE), which makes it really soft and squishy. When you're holding it, it'll stick a little bit to your hands, which is kind of perfect, since there aren't really any grips. But a word to the wise here — make sure to clean lube off your hands before you start playing. Otherwise, Lea might slip away from your fingers, which is definitely not something you want.
The internal length of the canal is 5 inches, but as I said, it is open-ended. So even if your hog is more than 5 inches, you can still have so much fun with the toy, peeking through the other side.
Another cool thing about Lea is that it weighs only 11.1 oz. Since it is so small and lightweight, it would be the perfect travel buddy, as you could take it with you wherever you go.
I also want to say that the Pro Mini is waterproof and submersible. However, since there's no case, you'd have a tough time sticking it to a wall and going hands-free.
Putting that aside, the real reason I bought Lea, and even decided to write this THRUST Pro Mini Lea review in the first place, is the bullet vibrator pocket. At the bottom of the sleeve, there's a little pocket where you can stick a tiny vibrator into. That alone will take your solo sex sesh to a whole new level. More on that in a bit.
The Texture
I want to dedicate a special heading in my THRUST Pro Mini Lea review to talk about the sleeve's texture because it just blows my mind. There are four different shapes and sensations that will stroke your ego until you blow a batch.
When you first enter the TPE cave of wonders, your womb raider will feel little bumps softly massaging it. Then, as you go in deeper, you'll reach these wonderful waves that will caress you. But oh wait, there's a little twist. Midway through the sleeve, there are a few mounds on the waves that are such a pleasant surprise.
From there on, it's all ribs and ridges right up until the end, which is totally smooth. Like I said earlier, depending on the size of your John Thomas and how you're beating your meat, you can pop out the other side.
I also want to mention that the entire sleeve has these asymmetric ridges all the way through. Lea feels really tight and snug while you're inside her, and the pressure feels incredible. Even if you're a girthy dude, your one-eyed monster will never feel cramped or claustrophobic.
The Bullet Pocket
THRUST put a nifty little pocket in both the Pro and Pro Mini lines, where you can fit a bullet vibrator. If you buy a banging vibrator with various speeds and intensities, your fap sessions will never be the same again. Not only is it beyond fun to use when you're alone, but it can also improve partner sex by a factor of a million (probably).
All you have to do is buy a bullet vibrator, like Tracey Cox Supersex or Lovehoney Magic Bullet, and slide it into the pocket. Then, fiddle around with the different speeds while stroking your little buddy with the Pro Mini. If you're using the sleeve with a partner, you can ask them how they like it, and try to finish together.
I personally think that this bullet vibrator pocket is one of the best features of the Pro Mini Lea. The only minor issue I have is that the bullet vibrator doesn't come with the toy. I mean, unless you have a mini vibrator already, you have to buy one just to unlock this feature. Hopefully, there will be a vibrating THRUST toy in the future because that's something I could definitely get behind.
Related
Washing Lea
Thanks to the hole that I mentioned earlier in my THRUST Pro Mini Lea review, the pocket pussy is surprisingly easy to clean. Once your spunk has left your Schwanz, go over to your sink, and run your toy under water. You can run the water on either side, but I found it better when the lips were facing the tap.
Then, get some mild soap, squirt a couple of drops into the hole, and use your fingers to clean inside the sleeve. When there are no more suds coming out, turn the tap on again and rinse once more. If you don't want to use soap, I can instead recommend this antibacterial foam from ID Glide. It honestly works like a charm every time, and it sanitizes your toys as an added bonus.
But the secret to keeping Lea soft and supple for as long as possible is in renewing powder. THRUST has its own powder that's pretty good, and all you have to do is sprinkle some on it when your toy is dry. After that, you can pack up the Pro Mini, and store it somewhere dark and dry. Remember to keep it away from any oils or perfumes because they will ruin your toy.
Click Here To Check The Up To Date Price
How to Play With Lea

Now for my favorite part of the THRUST Pro Mini Lea review, which is talking about how I got along with the toy. As per usual, I started my session by putting on a high-quality video from Pornhub and lubed both my baby maker, as well as Lea's hole.
I then slowly but surely slipped inside the Pro Mini and started working it up and down over my Johnson. Watching the moment I enter Lea is, surprisingly, quite a turn on and made me even hornier. As I got deeper inside, the texture inside kept getting better and better, and it was giving me a soft massage, kind of resembling a beej. Then, once I got to the end, my baby maker popped out the other side, which actually made me chuckle.
If I'm being straight with you, I'm not the biggest fan of having my tip stick out during solo sessions. However, if you're with a partner, it's beyond useful, and I'll get to that in a second.
After successfully busting a nut the first time, I decided to pop my old and trusty vibrator into the hole. Even though I had high expectations, Lea blew them all out of the water. Having my pocket pussy vibrate while I'm stroking it up and down is truly something that I'd recommend everyone to try.
It Takes Two to Tango
As I've said above, you can (and should) absolutely use Lea when you're all alone. It'll feel amazing no matter which techniques you use. However, if you have a partner, you can employ the Pro Mini's two most interesting features and create magic. I am, of course, talking about the hole and the pocket.
For the ultimate experience, slip in the vibrator, and slip yourself inside so that your tip is poking out. Then, get close to your partner, and lay your tip so that you're touching them. You or they can move Lea up and down to provide pleasure, while you're teasing and playing with your sex buddy. You can either take the Pro Mini off and finish without it, or leave it on and have a threesome (sort of). I cannot put into words how amazing it feels, and how strongly I believe that everyone should try it. Just do it. Trust me.
What's Not to Like
The first and most obvious flaw that I want to discuss in my THRUST Pro Mini Lea review has to be the lack of grips. I know that it might sound like I'm nitpicking, but hear me out.
Both the Pro and Pro Ultra lines have some sort of handles or ribs, or just basically anything you can use to hold the toy. But not the Pro Mini. Right now, even if you don't have any lube on your hands, holding Lea with one hand is kind of tricky. If your hands are wet or have lube on them, the chances of Lea slipping from your fingers are pretty high.
Another minor issue I had with the Pro Mini is the case, or lack thereof. Since it's a TPE male sex toy, it attracts a lot of dust that's just a bitch to clean later. Unless you put Lea in some sort of storage or pouch when you're done cleaning her, you'll have to wash her again before use. To avoid that annoying process, I recommend buying a storage pouch and sticking Lea into it.
Final Thoughts on the THRUST Pro Mini Lea
It's safe to say that the Pro Mini has not only delivered on all of its promises, but gone way above. I've had a blast playing with it and writing my THRUST Pro Mini Lea review, and I can't wait to get my hands on more of the products from this line. If you want to read about those, let me know.
Click Here To Check The Up To Date Price
Product Specs:
| | |
| --- | --- |
| 🏷️ Name: | ⭕ Thrust Pro Mini Lea |
| 📁 Type: | ⭕ Pocket Pussy |
| ⚙️ Features: | ⭕ Incredible Texture |
| 🛠️ Materials: | ⭕ TPE |
| 📅 Last updated: | ⭕ September 16, 2023 |
Disclaimer
Our articles feature affiliate links. If you appreciate our content and would like to show your support, you can consider buying your new sex toys using the links we provide. Every purchase made through our links helps us earn a small commission, without any additional cost to you.