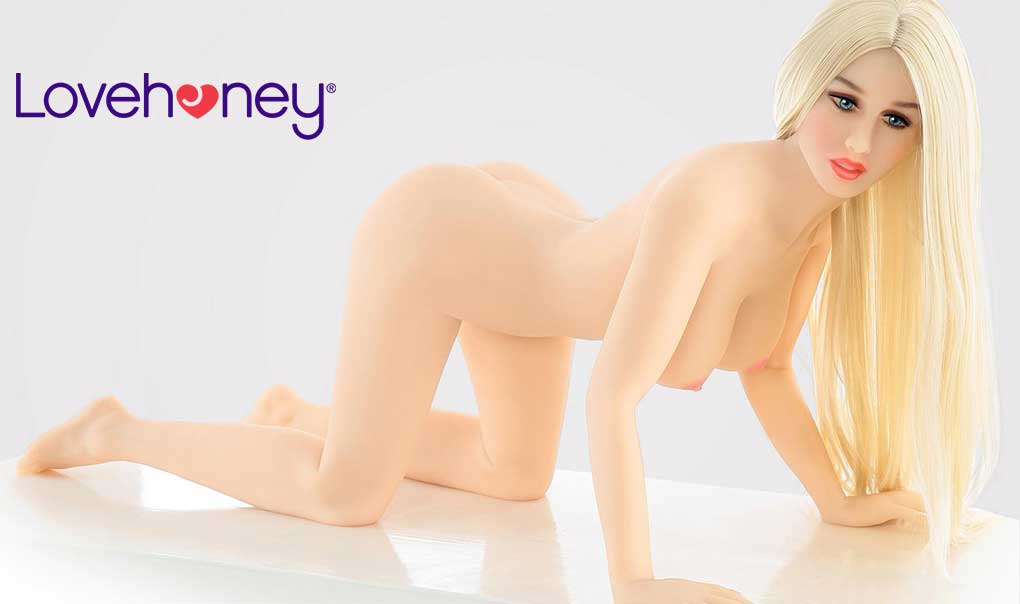 Many of you horndogs weren't satisfied with my short (although exceptionally good, if I do say so myself) description of Natalia in my top ten realistic sex dolls piece. So, because you asked and I live to please, here's a full Thrust Pro Elite Natalia review!
So, I already introduced you to the busty Natalia and told you about how her gorgeous blond hair cascades down her (realistic) shoulders while you're pounding into one of her three fully functional holes. But, what I didn't tell you is that there's so much more to her than that!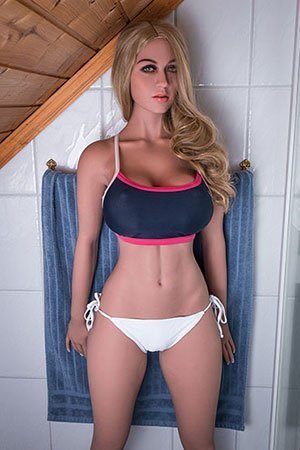 Blake - Athletic

Realistic weight makes realistic play

Great value for price

Super athletic, blonde and sexy

Customizable vagina

Feels incredibly sexy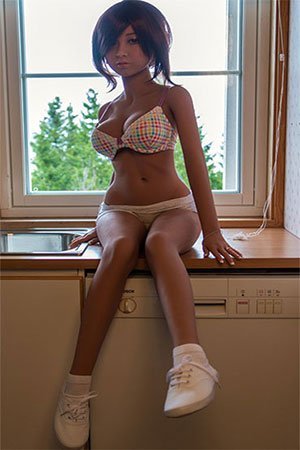 Lana - Japanese

Petite in size, but very curvy

Customizable facial features

50lbs means easier to carry

Very realistic skin

High quality materials and production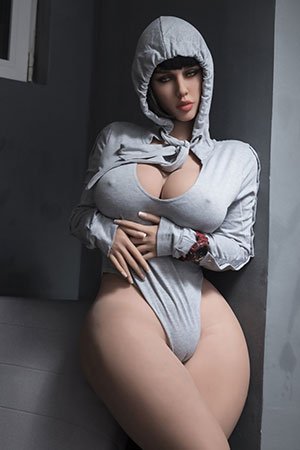 Jasmine - Porn Star

Thick and curvy

107lbs allows for realistic sex

Lots of customizable options

She's very flexible and loves to bend

Nice, tight fit
There's a good rule of thumb on the sex doll market – you get what you pay for. If you want an incredibly realistic doll that's as close to a real human as technology can get it, you'll have to pay a hefty price for it. On the other hand, if you have a limited budget, you can't really expect a fantastic doll.
Well, that's not really true, at least not for everyone. If you know how to pick 'em, getting a realistic doll that will fit all your needs and won't cost as much as a new car IS a real option.
That brings me back to my Thrust Pro Elite Natalia review. Or, better said, it brings me back to the reason I'm writing it. Natalia is a sexy, luscious, curvy realistic doll that won't make a massive dent in your budget. She's an affordable girl. And, even though that's amazing, it's not her best feature.
So, let's see what is, shall we?
Who Is This Natalia Chick Again?
Those of you who haven't read my piece about the top ten realistic sex dolls might be puzzled by my intro. I get it; you have no idea who Natalia is. But, then again, what's stopping you from reading my brilliant overview of sex dolls?
It's ok; you can do that later. Now, let's get the rundown on Natalia.
She's a gorgeous 5'2″ blonde sex doll with the most delicious 30DD breasts. As far as realistic sex dolls go, Natalia checks every box. She has a beautiful face with piercing blue eyes, long blonde hair that adds to the overall sex appeal and body of a goddess.
She's the perfect companion for those who love variety. As I mentioned already, she has three fully functional holes, which means she's a triple threat when it comes to penetration. No matter where you decide to stick your pocket rocket, you'll have the time of your life.
Click Here To Check The Up To Date Price
Natalia 101 – Design and Features
Design-wise, Natalia is a sight to behold. Her facial features are incredibly life-like. What's more, thanks to the TPE material, she feels real under your hand.
It seems that the manufacturers really did all they could to make Natalia as realistic as possible. Her eyes practically sparkle, and her mouth is pink and inviting. The body is not that bad either (I'm just kidding, it's incredible).
However, before you get to enjoy Natalia in all the positions you can think of, you first have to assemble her.
Assembly
Unfortunately, as hard as groundbreaking technology and innovative R&D teams of the sex toy industry try, sex dolls are yet to get to your door fully assembled and ready for use.
Natalia is no different. Now, if this part of my Thrust Pro Elite Natalia review reads a bit bitter, that's because I get frustrated remembering this part. Natalia comes in a box the size of a coffin, which isn't that surprising considering that, although petite in stature, Natalia is a heavy girl (or rather, sex toy). So, I wouldn't recommend you lifting the box on your own. You might throw your back, and then who will show Natalia the good times she came to your place to have?
I had some help getting the box inside my house, and I dove right in as soon as we were away from prying eyes. When I opened the box, I saw that Natalia came with all the parts necessary for a fantastic time. Her head wasn't screwed onto her body (which is logical), so I had to do that on my own. I also had to screw the steel screws into her feet.
Now, this is all typical for sex dolls. But, unfortunately, there weren't sufficient instructions included regarding the assembly. I'm not going to lie; it was an uphill battle to get Natalia presentable.
However, once I did, I realized it was completely worth it. Once I had a whole doll with all her pieces where they should be in front of me, I had to take a step back and admire her a bit.
I quickly forgot the labor that assembly required, and I'm sure that once you lay your eyes (and hands) on Natalia's body, so will you.
Overall Appearance
So, once you get Natalia in one piece and fix her hair so it looks presentable, you'll see that she's a beautiful girl. She seems like a bright, naive student who needs a strong man to show her some good loving.
OK, I might be letting my imagination run wild for a bit there. You're free to give Natalia whatever background story you think fits her best.
As I mentioned, her breasts are her most noticeable feature. The 30DD knockers fill your hand beautifully. Actually, there's plenty of breast to go around (it's more than a handful, let's just say that). They are firm enough to be played with and yet soft enough to remind you of real breasts. They jiggle, and you can use them for more than just looking if you know what I mean.
If you don't, let me enlighten you – you can stick your joystick between them. What's more, with a bit of lube, they'll make for perfect playthings and will look even more beautiful with your jizz all over them.
Size
Now that we've gotten the fantasy portion of my Thrust Pro Elite Natalia review out of the way let's see what her specs are like.
Size-wise, Natalia is not that easy to handle. She's 5'2" and quite heavy (she has around 40 or so pounds). That means that moving her isn't exactly an easy feat. However, once you get her into the position you want her in, the weight doesn't matter.
Natalia has a slim waist (23.8 inches) and hips that are ideal for you to grip them while you're pounding into her. At 33.8 inches, they are just wide enough to align with yours perfectly.
If you want to dress up your doll, you'll have to buy some clothes. Luckily, Natalia is easy to shop for since she's a size M and wears size 4.5 shoes.
Related
The Penetration Trifecta
Of course, as gorgeous as she is, it isn't Natalia's face that makes her a great companion. As always, it's what's on the inside that counts.
Luckily, Natalia has plenty to offer. Her mouth is deliciously pink, and you can thrust into it as much as you want. With a depth of 4.5 inches, it's going to be one of the best blow jobs in your life. Just imagine those bright blue eyes looking up at you while you're plunging yourself deep into her mouth. Ah, the bliss!
If mouths aren't really your thing, you can also bam-bam the ham. Well, both hams – they are yours for pounding. The vaginal canal is 6.5 inches deep, while the anal canal is a bit shorter (5.5 inches). The anal canal is also relatively narrower, of course, so you can enjoy its firm grip on you.
Of course, the vaginal canal is almost as tight – Natalia has no loose holes! However, how long they stay nice and tight is up to you. As with any other sex toy for men which mimics the human body, it's prone to stretching. However, I can tell you that I've used Natalia's glory(ous) holes quite a bit (I had to do thorough research after all), and everything is still as taut as it was when she first came to me.
Material
Like many realistic sex dolls, Natalia has a TPE body. I'm not that big of a TPE fan, as some of you know, but I do admit that it has many benefits over silicone. It's more supple and delicate to the touch, so it feels almost like real skin under your hand.
Honestly, as much as I preach about silicone, the best dolls I've ever had the pleasure of sticking my rocket man into were all TPE. The softness and flexibility of the material make every part of the doll beautiful to touch. TPE boobs are especially gorgeous, given that they jiggle just like the real thing.
Extra Features
Natalia isn't really customizable as some other dolls are. I'd mind that much more if she wasn't near perfect as-is. Her overall look and the three orifices are more than enough to keep you entertained for a while.
However, she has more than that to offer. When it comes to extra features, Natalia has an extreme flexibility and posable feet.
Why does that matter? Well, aside from the obvious – taking her in every pose imaginable – it makes her easier to handle. Beginners might not know this, but sex dolls can be quite heavy. When you're in the throes of passion, and you want to switch positions, you want it to happen as naturally and smoothly as possible. That's why flexible limbs are a huge plus.
Aside from that, Natalia has steel screws in her feet, which allow her to stand on her own. So, if you want a little action up against the wall, Natalia will be more than happy (and able) to accommodate.
Click Here To Check The Up To Date Price
How to Play With the Naughty Natalia
As always, the most enjoyable part of my Thrust Pro Elite Natalia review is this one – where I tell you how to play with her and use her to her full potential.
Now, I'm not going to give you advice on the poses, but I must say she looks almost prettier from behind than she does from the front. Because she's easily movable, you can position Natalia any way you want her, and no matter which poses you pick, her holes will always be in the perfect position for penetration.
Her naughty area sticks out a bit more than it would be in real life, so it allows easy, unrestricted access. That means you can smash her from any angle.
So, the poses you pick are up to you, just always remember to put enough lube both on yourself and into Natalia's magnificent holes. Sadly, she can't self-lubricate, so she will need some help with that. After you lube up, you can slide in nice and easy (or hard and fast, whatever floats your boat).
Rinse, Dry, and Repeat
I'm sure you're well aware that you have to clean your toys after each use. The rule is the same no matter what type of toy you're using. You need to take proper care of everything – from a small vibrator to a huge-ass doll. That's how things last.
Natalia comes with her own cleaning kit. That's a great feature that makes me love the brand that much more. Given that Natalia doesn't have vagina or butt sleeves that you can take out, cleaning her could have been a hassle were it not for the douche I got within the packaging.
Of course, the cleaning manual could have been more extensive, but the douche works like any other, and it's easy to figure out. After you clean her, make sure she's completely dry before you store her (or go back to playing with her) and be generous with the renewal powder.
The Other Side of the Coin
As gorgeous as Natalia is (and as great a lay she is), she's not without faults. As I already mentioned, the instructions manual is scarce when it comes to information about the assembly. I wasn't a big fan of that. As straightforward as it is, the cleaning wasn't hard to figure out, but the lack of info about maintenance isn't something I could just forgive easily. The doll does come with renewal powder (which is a plus), but I'd love to see more info about its proper use. Not everyone is a sex doll veteran like I am.
Aside from that, some people might mind the fact that Natalia isn't really customizable. You can't change anything about her. What you see is what you get.
A Few Parting Words
When it comes to realistic sex dolls, Natalia has one of the greatest value for money ratios. She has a lot to offer and, although she isn't customizable, she's almost perfect just the way she is. She makes up for any flaws with the tightness of her holes and the beauty of her realistic face. And the boobs aren't too bad either!
Hopefully, you enjoyed my Thrust Pro Elite Natalia review as much as I enjoyed writing it. If you had the pleasure of playing with Natalia, let me know what you thought of her. Did she blow your mind (while she blew you)?
Click Here To Check The Up To Date Price
Product Specs:
| | |
| --- | --- |
| 🏷️ Name: | ⭕ Thrust Pro Elite Natalia |
| 📁 Type: | ⭕ Sex Doll |
| ⚙️ Features: | ⭕ Measures 158cm (5'2″) Tall, With 60cm (23.8″) Waist And 85.8cm (33.8″) Hips |
| 🛠️ Materials: | ⭕ TPE |
| 📅 Last updated: | ⭕ November 29, 2023 |
Disclaimer
Our articles feature affiliate links. If you appreciate our content and would like to show your support, you can consider buying your new sex toys using the links we provide. Every purchase made through our links helps us earn a small commission, without any additional cost to you.