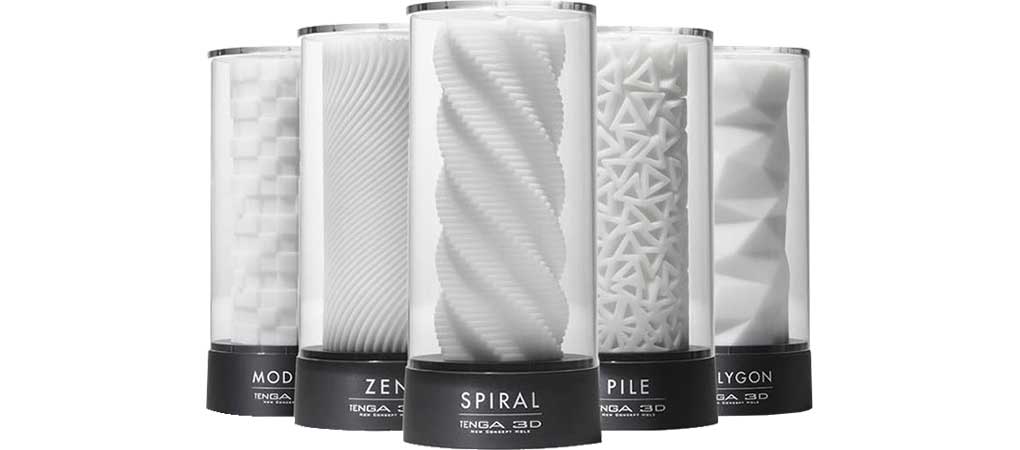 Tenga's whole marketing plan is developed around not making their toys anatomical, and of course not developing marketing plans around erotic or sexual imagery. OK, cool. But when you see the Tenga 3D series you'll agree that they've gone in the COMPLETE opposite direction! The Tenga sleeves look like modern sculptures that you could use to decorate your home – but they hold a beautiful little secret. They feel incredible stroking your manhood!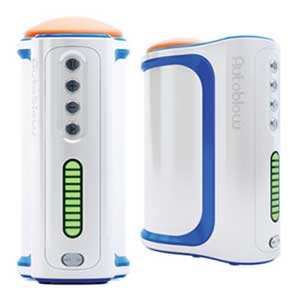 Autoblow A.I.+

Hands free blowjob toy

Heavy duty motor

Powered by artificial intelligence

Interchangeable sleeves

Body-safe materials

Plug it into any electrical outlet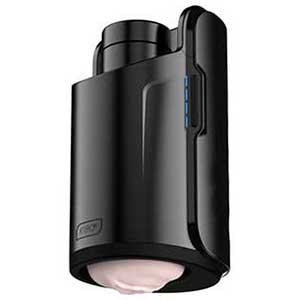 Kiiroo Keon

Automatic stroker

Sliding scale of speed

Elegant and discreet

Real-feel masturbation sleeve

Connects to video chat platform and VR porn

Easy to store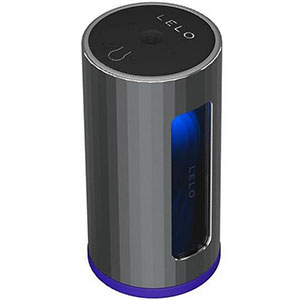 Lelo F1S V2

Hands free blowjob machine

Long-lasting charge

Fully waterproof

Powerful sensations

Realistic artificial skin material

Easy to clean

Promo Code: "HAPPYBF" - 15% Off
What is the Tenga 3D?
The Tenga 3D is an artistically designed male masturbation sleeve. At first glance, I would say that nobody would guess what this is actually used for. It's sleek and modern in design, and it's lightweight and easy to throw in your bag or what have you, depending on where you'd like to use thing. And the plus side? Why not leave it out on your dresser as a decoration when you're not using it? You could even try telling people that you got it at some fancy modern art museum – that is, unless they're well versed on their sex toys and then your cover is blown.
Okay – so moving on. The Tenga 3D is a pretty basic masturbation sleeve as far as design goes. What I mean, is that there are no buttons, or control panels. It's a simple male masturbator. You put it on, you stroke it back and forth and voila – orgasm takes place. However, the design is built around making it easy to use, and even more important – easy to clean.
Related
The Unique Design of the Sleeve
So the Tenga 3D is a little white "sculpture" that sits on a black base, with a clear boxy cover over it – kind of resembling a display case actually. There are 5 different models that have different patterns or sculpted features on the outside. For example, one has a spiraled outside, the other has mini boxes at all different depths, and another looks like it's got small triangles pasted all over the outside.
Each model is very unique. But why is there all of this texture and design on the OUTSIDE of the toy? Simple. That's actually the inside. When you're looking at the Tenga 3D sleeve in its case, it's actually turned inside-out. When you actually want to use the blowjob masturbator, you've got to roll the sleeve the other way – so that the textured design side is INSIDE. And what you'll find is that the other side is actually very smooth.
Then of course, you add some lubricant inside through the hole, place it on your member and away you go. Oh. And don't be put off my the size. The Tenga 3D sleeve is about 4.5 inches in length. If you're bigger than that, however, you'll be pleased to know that the toy is made of antibacterial elastomer which is incredibly stretchy. Even though it may look like a small toy, it stretches a lot and should be able to accommodate most sizes of men.
How to Use the Sleeve
Like I explained above- it's a pretty simple toy to use.
Step 1: Turn the toy inside out. Or would that be rightside in? Okay, just make sure the design is on the inside.
Step 2: Pour some lubricant (water-based only) through the hole of the sleeve, making sure to get some around the actual entrance point as well.
Step 3: Slide inside, and stroke your way to bliss.
Step 4: Flip it back so the design is on the outside, and clean it up! You can use a mild hand soap and cool water to clean it, and then place it on the stand again to let it dry. Once completely dry, you can replace the case cover to keep it from collecting any dust and debris.
Because of its lightweight design, you can get extra creative about where you play with this toy. Throw it in your gym bag, or take it on a flight with you. It's a great toy for travel!
Tenga 3D Models
As I mentioned, there are 5 different Tenga 3D sleeves, which are as follows:
Tenga 3D

Spiral
As the name suggests, this is a fairly large spiral design around the outside (inside?) with each spiral wave ribbed again for your pleasure. The two contrasting stimuli create for both hard and soft sensations.
Tenga 3D

Module
The module is covered in different levels of blocks. The blocks that stick out are designed to give a more firm pressure during play, while the blocks that are actually indented help to creation more of a suction.
Tenga 3D

Zen
This one is covered in very delicate waves. This is the smoothest or gentlest as the name 'zen' may imply.
Tenga 3D

Polygon
This one has juts and ruts which remind me of a rock face – bumping out and falling inward randomly. The multitude of different levels and shapes gives it a distinctly unique feeling!
Tenga 3D

Pile
This one looks like it's got little triangles stuck all over it. This is another sleeve that gives you many different hard and soft sensations simultaneously. Pretty cool actually.
Click Here To Check The Up To Date Price
What I Like About the Sleeves
These unique masturbation sleeves are definitely worth adding to your sex toy collection, and here's why:
Unique design creates unique pleasure. I've never seen a sex toy that looks like this, and I've never seen a sex toy that feels like this either. Because of their unique and artistic-looking designs, they create a pleasure that is not commonly found in other conventional sex toys.
Easy to clean. Because you can flip these so that the design is on the outside, they're incredibly easy to clean. You can actually see the inside of the stroker to ensure you've got everything. Plus, the fact that the storage unit doubles as a drying rack is an added bonus for ease and simplicity.
I like the stretch in the material. I wasn't sure at first how they would fit properly over all men since they're not exactly large toys. However, they do a great job of stretching, and it's actually a pretty cool sensation that I'm not used to with other toys.
There are Also Some Things That I Think Could be Improved…
Although I do think that these toys are worth trying out, there are a couple issues that I think could be attended to.
There was a strange white powder on the toy when I opened it. I wasn't sure what it was, and smelled it – but it didn't have a scent. I washed it off, and everything seemed fine, but it's something they should probably deal with back at the factory since it doesn't look appealing when you open the package.
The texture is a bit strange. Now, don't get me wrong – I actually really liked the way it felt when the toy was stretching over my manhood but it's still a bit of a strange feeling. The material is almost bouncy – and although I enjoyed it I could see how perhaps some people might find it unappealing – so just something to keep in mind if you're a person that gets weirded out by some textures.
My Final Tenga 3D Review…
Overall, I would recommend this product to pretty much everyone. It's a great starter toy for any newbies because it's so simple to use. And it's a great addition to any seasoned veterans' arsenal because of the unique design (and feelings). As you know. I've tried a lot of male sex toys in my life, and these provide a very unique sensation.
As well, the simplicity of not only the use, but also the clean up, makes it a great go-to for those days where I'm feeling tired and just want to get myself quickly without much work involved. I just invert one of these guys, fill it up with lube, and get going. Easy.
However, that being said – I'll stress once again the importance of using lubricant. It's made of a pretty soft material, but without lube it will stick to your skin during play which of course, it's not comfortable. Also, besides perhaps chafing your own member, you run the risk of damaging the material at the same time. So take the manufacturer's (and my) advice and always be sure to use lube! You don't want to stick it in a dry woman, right? So why would you stick it in a dry sleeve?
Also, a selling feature for me is that if I were to accidentally leave this toy out while it was drying, and a friend or someone came over to my place and saw it, it wouldn't be as glaringly obvious that it was a sex toy. I could totally make up some story about how I got this gadget at a modern art museum or something.
Click Here To Check The Up To Date Price
Product Specs:
| | |
| --- | --- |
| 🏷️ Name: | ⭕ Tenga 3D |
| 📁 Type: | ⭕ Tenga Sex Toy |
| ⚙️ Features: | ⭕ Easy To Clean |
| 🛠️ Materials: | ⭕ TPE |
| 📅 Last updated: | ⭕ November 29, 2023 |
Disclaimer
Our articles feature affiliate links. If you appreciate our content and would like to show your support, you can consider buying your new sex toys using the links we provide. Every purchase made through our links helps us earn a small commission, without any additional cost to you.